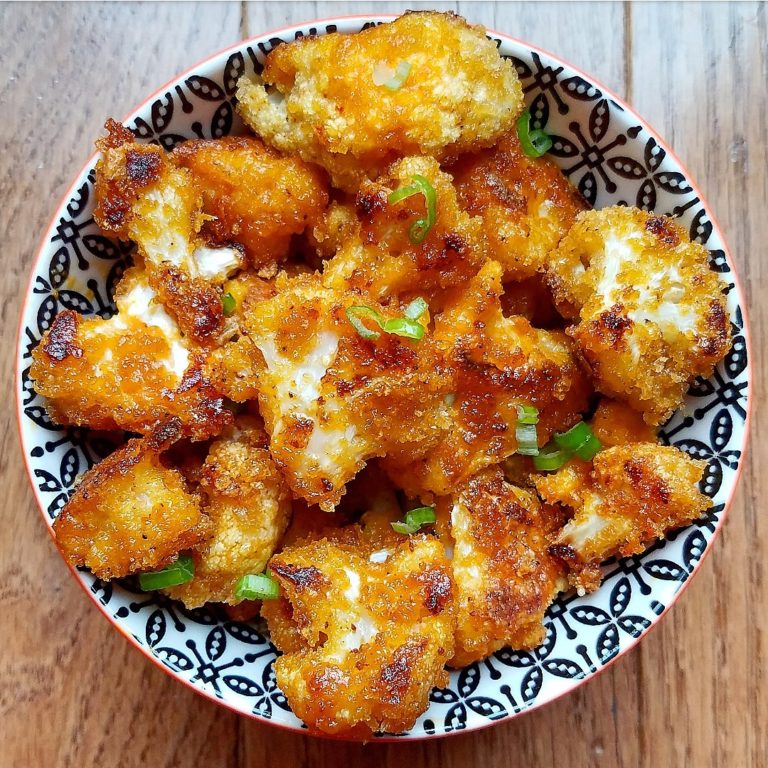 Pork Rind Crusted Buffalo Cauliflower
Buffalo Cauliflower + Pork Rind "bread" crumbs! This week I gave Cauliflower the royal pork treatment. Eat these alone or throw these on a salad, with some ranch dressing and bacon bits. Super tasty while enjoying a healthy dose of veggies!
Ingredients:
1 bag of Cauliflower Florets or 1 whole Cauliflower cut into florets
1 bag of Pork Rinds
2 eggs
1/2 tsp smoked paprika
1/8 – 1/4 tsp salt
1/2 tsp garlic powder
1/2 stick butter
3 tbsp Franks Red Hot
1. Preheat Oven to 375°F
2. Crush pork rinds until they resemble breadcrumbs. You can do this by putting in a ziplock bag and pounding them, or by putting it in a food processor.
3. Crack eggs into a bowl with the spices. Beat well. Add florets and coat well.
4. Add florets to the crumb mixture a few at a time making sure to get the crumbs into all the nooks and crannies.  Place on a baking sheet when done.
5. Bake for 15 minutes.
6. While the cauliflower is baking, combine the butter and hot sauce in a pan on very low heat. Heat until melted and stir to combine.
7. When the 15 minutes is over, flip each floret over and baste with hot sauce mixture.  Bake for another 10 minutes or until nicely browned. Once you remove them from the oven, leave them undisturbed to cool for about 10 minutes.
Eat!