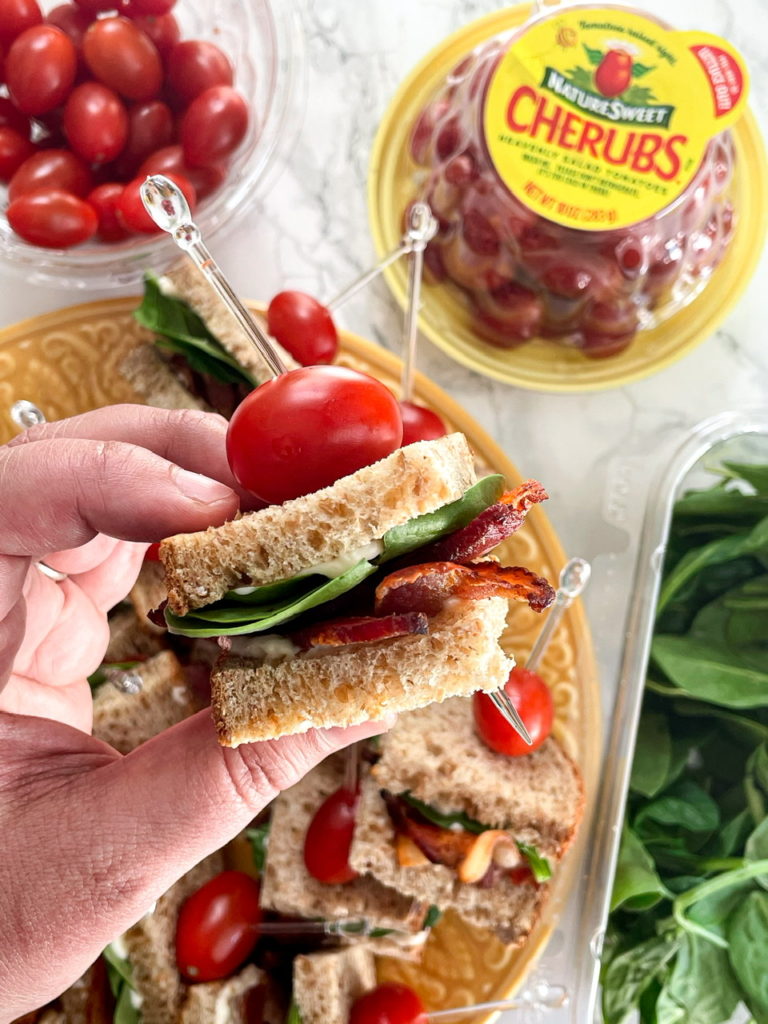 Mini BST (Bacon, Spinach, Tomato) Sandwiches
The B.S.T. (Bacon, Spinach, Tomato) sandwich is my favorite type of sandwich, and what better way to make them, than to make them mini and with Cherub tomatoes. Mini BST (Bacon, Spinach, Tomato) Sandwiches are delicious and such a crowd pleaser.
Mini BST (Bacon, Spinach, Tomato) Sandwiches are simple to make – and so adorable! Just look at them! I love serving them with a cute little skewer to make them portable, and when you take that first bite into the tomato and sandwich, it is an absolute flavor explosion.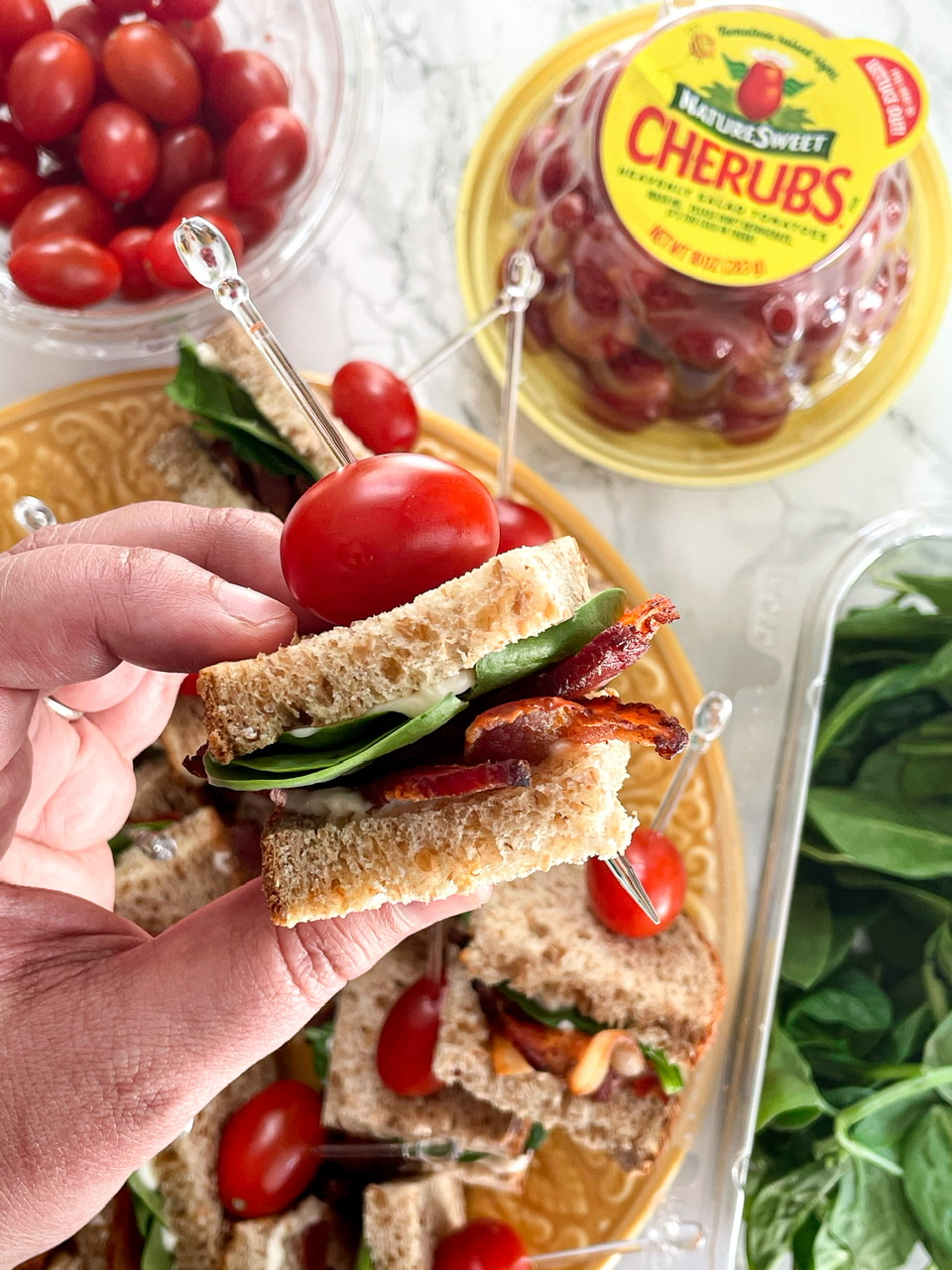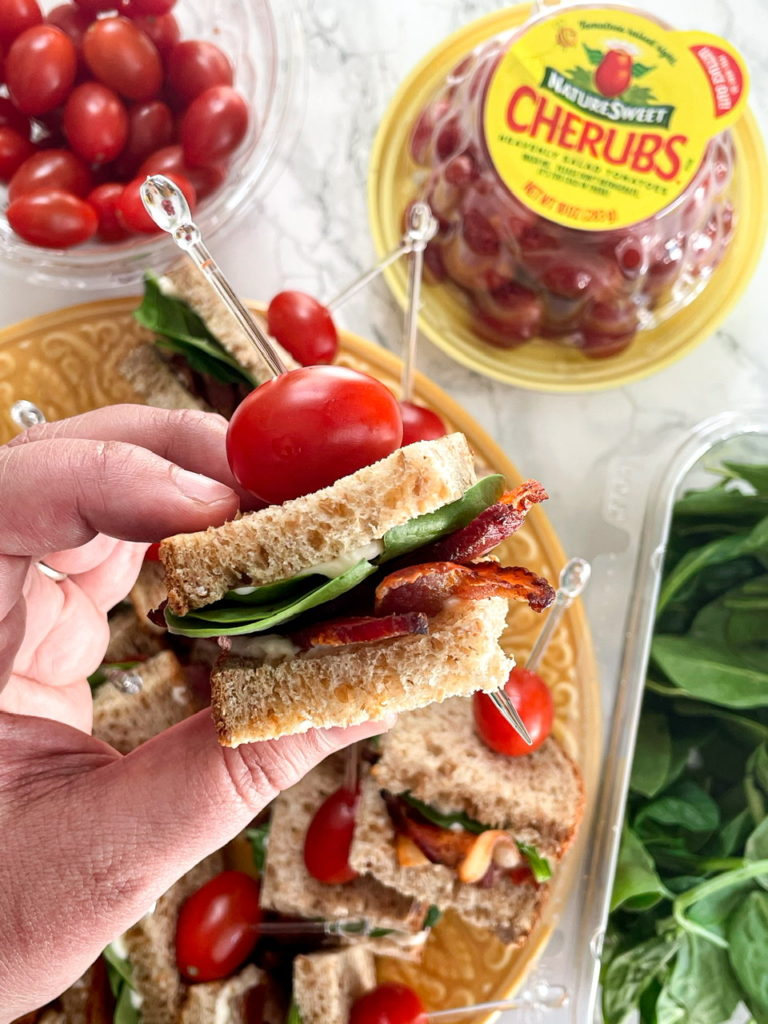 Which Lettuce is best for BLT?
Spinach makes an even more delicious (and healthier) sandwich than using lettuce.
What do you put on a BLT sandwich?
Normally you put Bacon, Lettuce, Tomato, and Mayonnaise. I prefer the addition of Spinach instead of lettuce. The taste is almost identical, but Spinach has more vitamins than lettuce. It is an easy way to sneak more vegetables in your diet.
Ingredients: (makes 16 mini BST sandwiches)
1 pack NatureSweet Cherubs
12 slices of Bacon, each slice cut into thirds
1 pack of fresh Spinach
8 slices of bread
3 to 4 TBSP mayonnaise
Directions:
Fully cook the bacon and set aside.
Put two slices of bread together and cut into fours. This will ensure your bread has matching
pieces. Repeat with the rest of the bread, and then put in a toaster and toast lightly, or put on a baking
sheet and bake for a few minutes at 350F.
Layer the sandwich, one at a time. Bread, mayonnaise, bacon x 2, spinach x 3, mayonnaise, and
bread. Then choose a perfectly plump Cherub Tomato, use a skewer, and push through the sandwich to hold it together.
Repeat with the remaining ingredients.