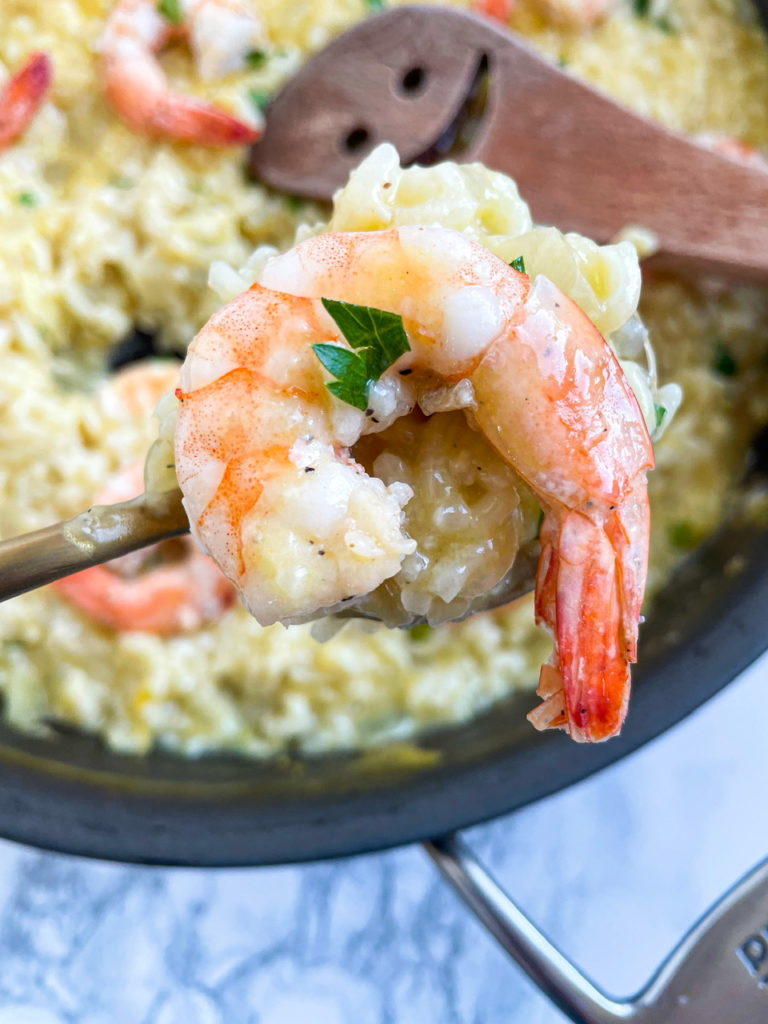 Shrimp Risotto Recipe
This Shrimp Risotto Recipe is heavenly! Risotto is one of those dishes that I was always scared to make because it is known to be "temperamental". The thing is though, I don't actually think it is. I feel like all it needs is a few extra stirs and it always ends up turning delicious. The only thing that may be "extra" about risotto is that you need to buy a specific type of rice. Risotto uses Arborio Rice. Most people don't keep Arborio rice in their pantry, so you may have to plan this recipe in advanced. This recipe may not be considered a "quick" weeknight meal, but I do believe it is easy to make. Especially on a night when you have a bit more time or on a Sunday afternoon.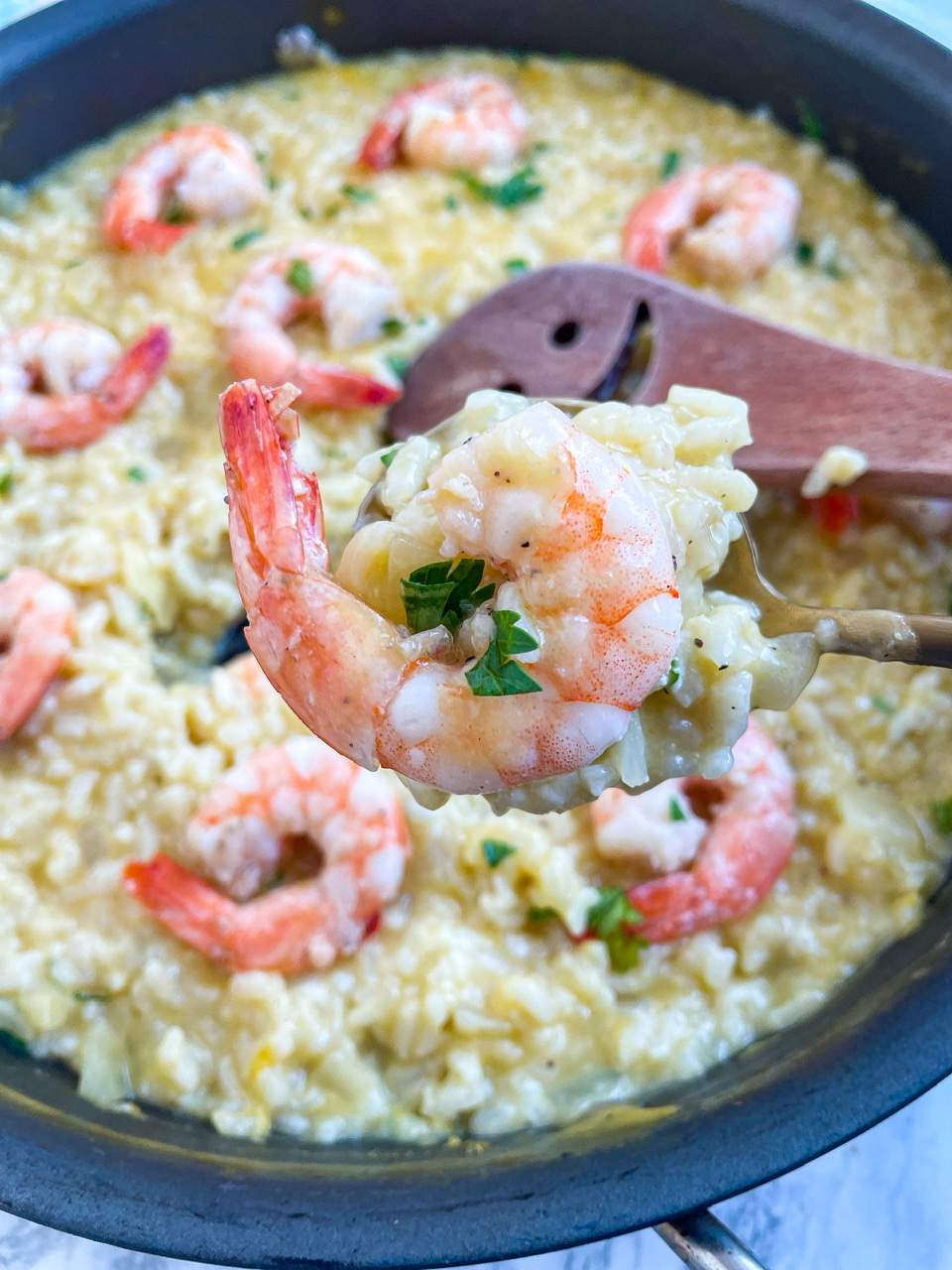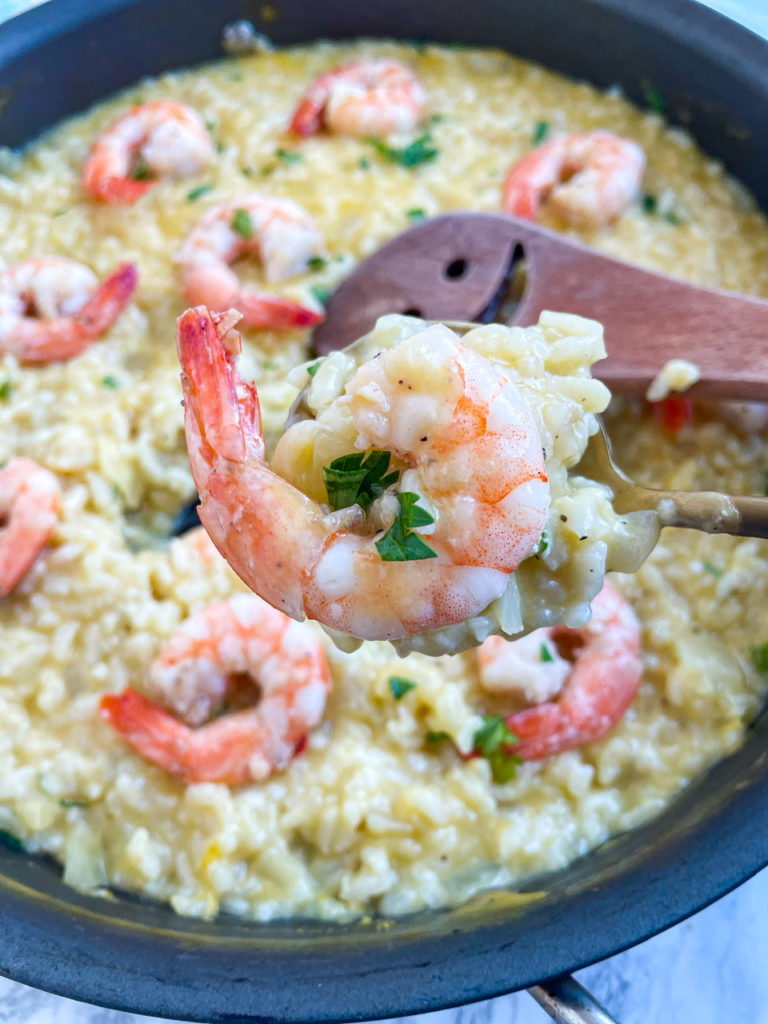 I didn't use white wine in this shrimp risotto recipe, but if you have some on hand, add a splash or two. I have been on a shrimp kick lately because it is such a quick and easy protein to cook. This recipe cooks the shrimp first with some garlic and butter (or olive oil) and then they get set aside. Once the creamy cheesy risotto is done cooking, spoon it into some bowls and top with the garlic shrimp. It is such a delicious dish!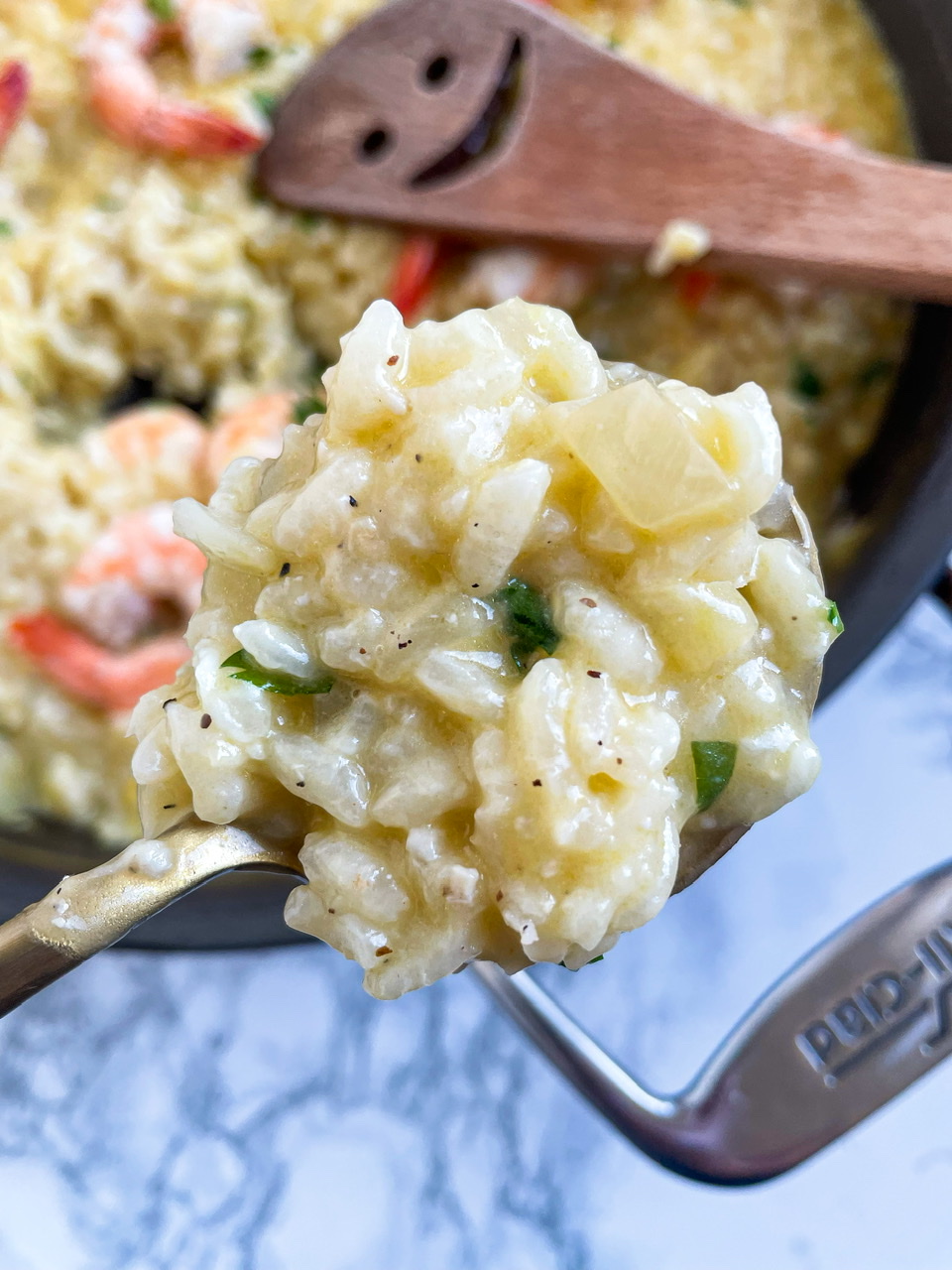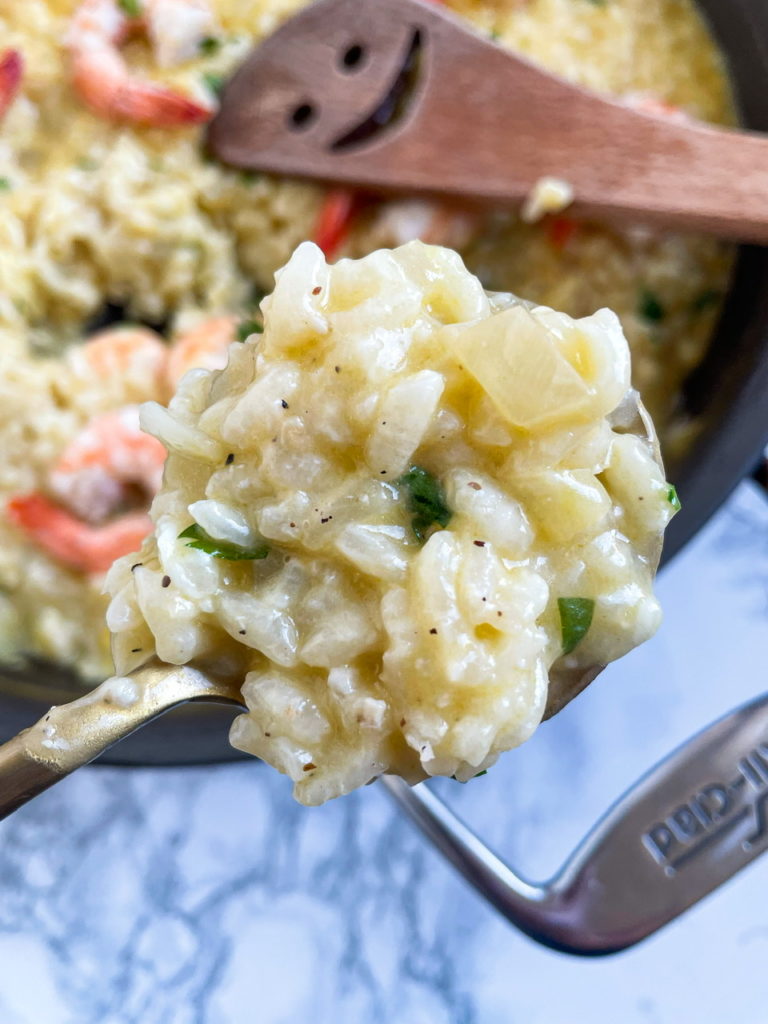 What is Risotto?
Risotto is an Italian rice dish combining a short grain rice with liquids and slowly cooking it until creamy. The type of rice that is used is "Arborio".
Is Risotto difficult to make?
Risotto definitely needs more stiring than making regular rice, but the stirring is not constant and it is cooked in under 20 minutes. I think Risotto is pretty easy to make, it just requires a bit of attention.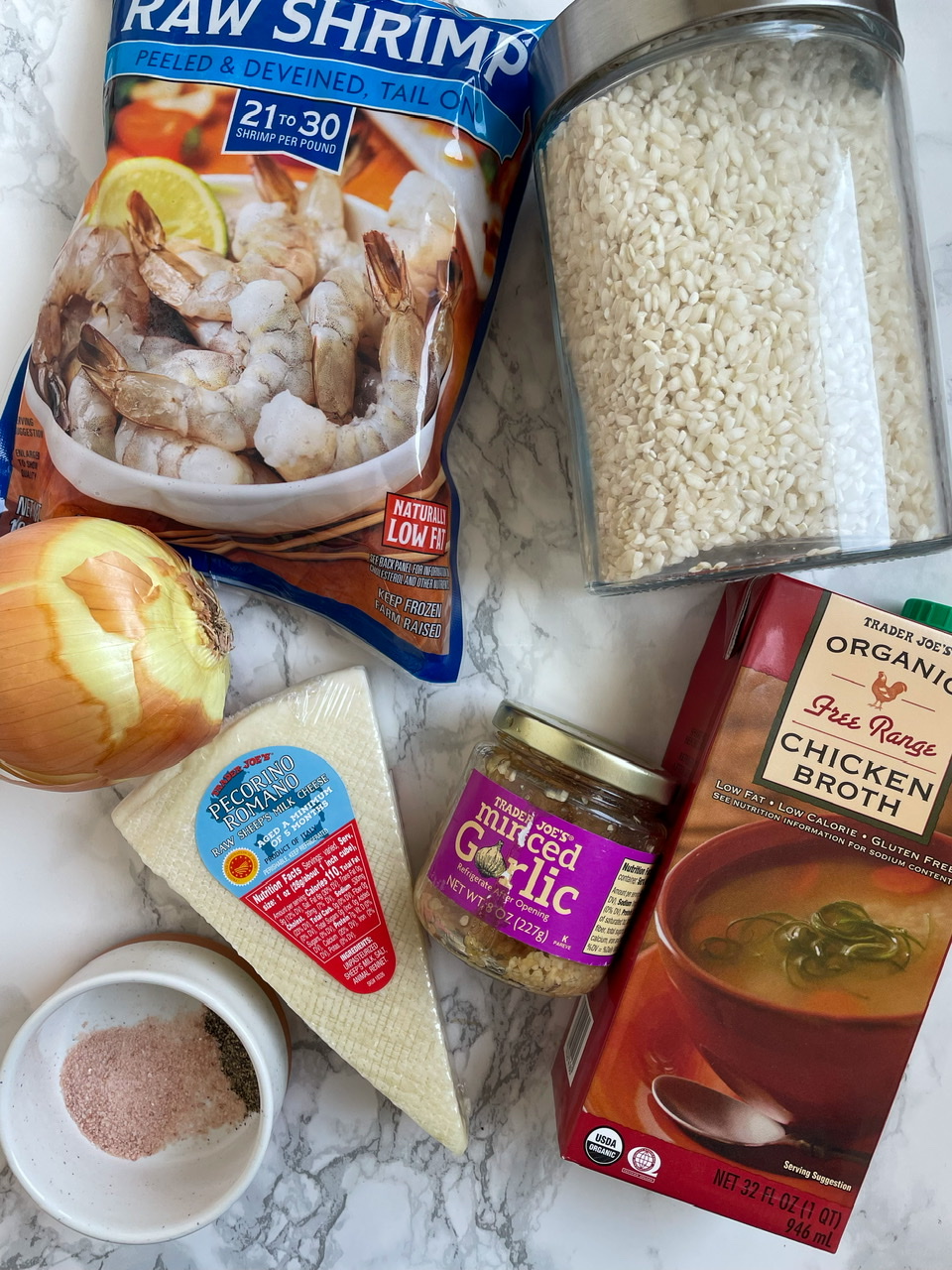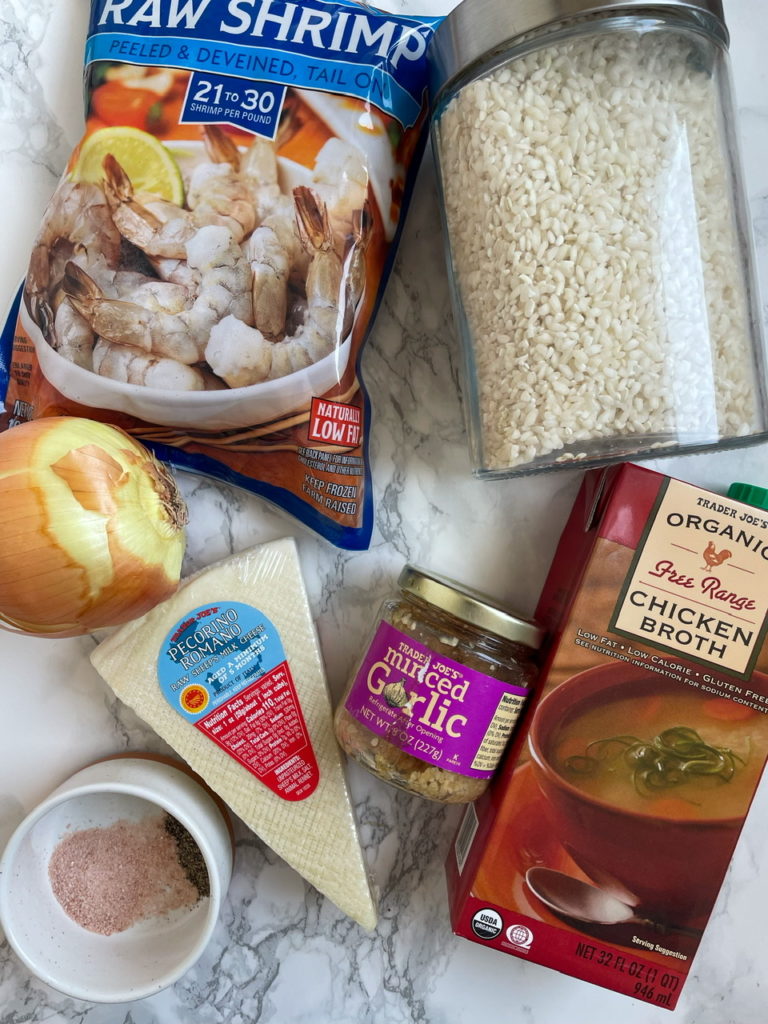 If you like this Shrimp Risotto Recipe, you may also like: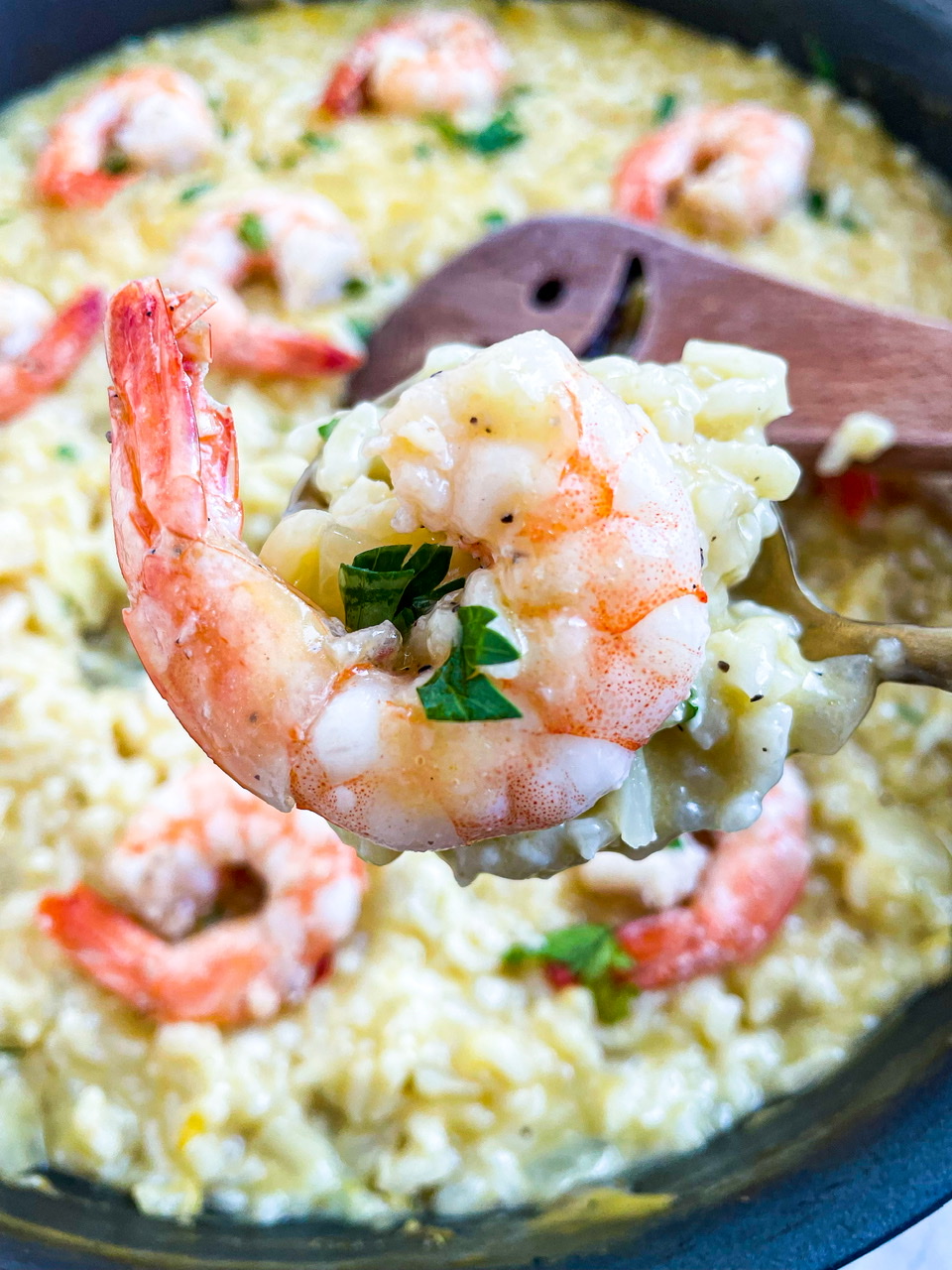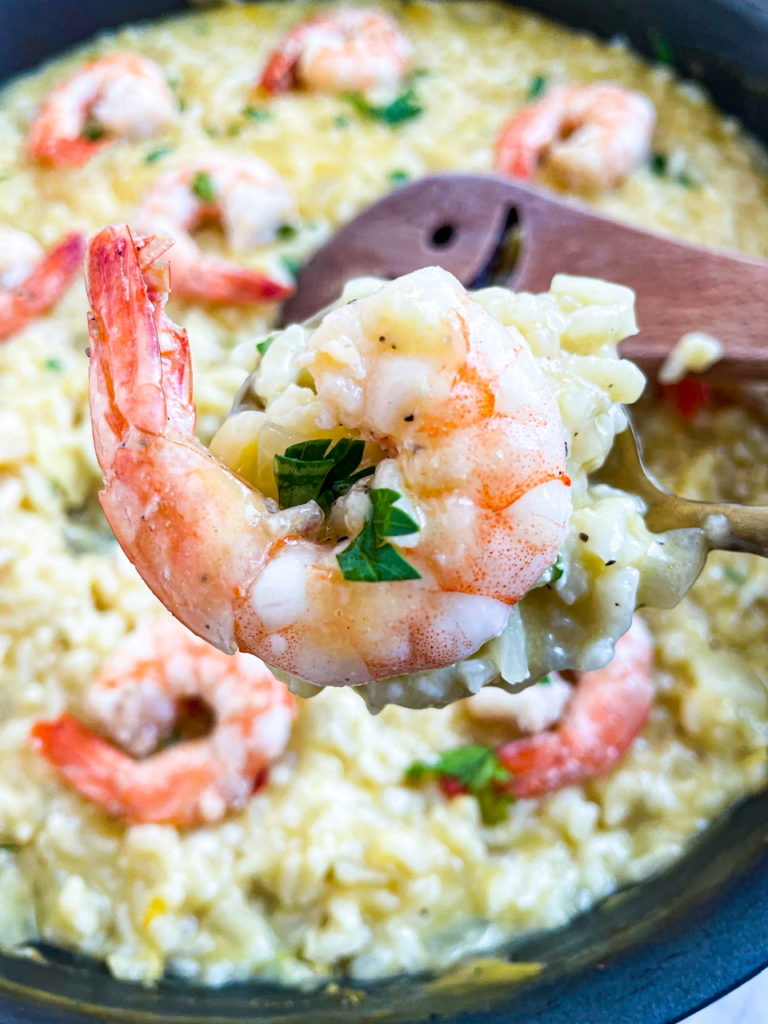 Shrimp Risotto Recipe
This Shrimp Risotto Recipe is a delicious combination of creamy risotto and perfectly cooked shrimp
Ingredients
1

lb

raw shrimp

2

tbsp

Butter

1/2

tsp

Sea Salt

1/4

tsp

Black Pepper

3

tbsp

Minced Garlic

1/2

Large Vidalia Onion

diced

5

cups

Chicken Broth

1

cup

Arborio Rice

1/2

cup

Pecorino Romano Cheese

grated

1/4

cup

Parsley

chopped
Instructions
Add 1 tbsp butter to a pan and heat it on medium heat.

Add 2 tbsp minced Garlic to the pan and stir. Once the garlic is heated, add the shrimp in a single layer and add the salt and pepper. Cook the shrimp until pink, about 1-2 minutes on each side.

Once the shrimp are done cooking, add them to a plate and set them aside.

Add remaining butter to the pan, and once it is melted, add the diced onion and the remaining garlic. Stir until the onion becomes translucent.

Add the rice to the pan and stir to mix it with the onions and garlic. Add two cups of the broth and cook on medium heat until liquid is almost evaporated. Give this a good stir every couple of minutes.

Continuing adding the broth one cup at a time. After you add the fourth cup of broth to this recipe, you should see that the dish is becoming very creamy. When adding your final cup of broth, add it a little at a time as you may not need the full cup. Stir every couple of minutes and take a taste of the risotto. You want the rice to be soft when you eat it. The risotto should feel soft and creamy.

Once risotto is fully cooked, remove it from the heat and stir in the cheese and parsley. Serve the risotto topped with garlic shrimp.