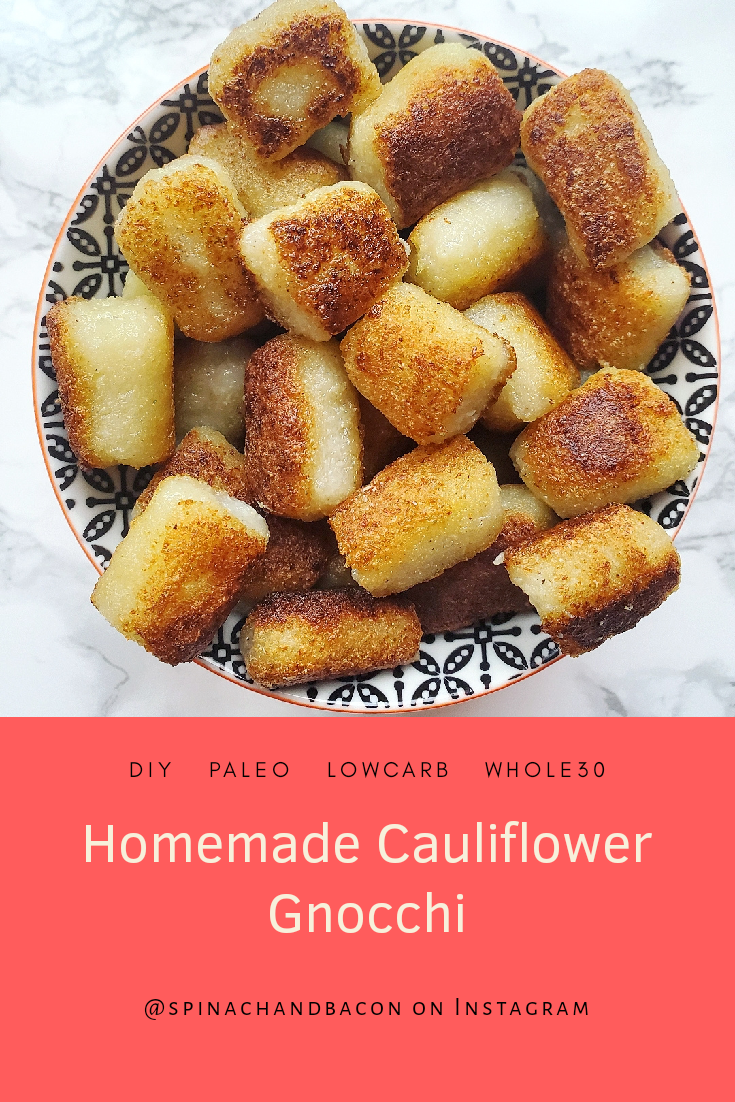 Homemade Cauliflower Gnocchi
One of my favorite parts about cooking is being able to re-create dishes I love. Many of these dishes I've eaten at restaurants, but most are things I've ordered from a questionable streetcart, tasted abroad, or, in this case, found in the freezer section of Trader Joe's. Over the past year, "Cauliflower Gnocchi Mania" has swept over this nation. People have gone crazy over these deliciously chewy grain-free gnocchi. It is normal for Trader Joe's to be sold out, because some people buy 10 bags at a time.🙄 Some customers even call ahead and reserve bags to avoid being let down. (I know. I have a reliable inside source 😎) I love a fun food challenge so I spent a couple of hours last weekend to figure out how to make my own version of Cauliflower Gnocchi. Only 5 ingredients, including salt!
Ingredients:
1 large head of cauliflower 
*1/2 cup Cassava Flour
1/4 cup Arrowroot Flour
2.5 tbsp Garlic Infused Oil (or regular olive oil plus 1tsp garlic powder)
1/2 tsp Salt
*Notes- if you are not limiting carbs, you can add  additional cassava flour, but do not add more than 1/4 cup additional flour. 
Directions:
1. Break cauliflower into florets, steam cauliflower, and pulse in a food processor until it resembles mashed potatoes. You may need to scrape the sides of the food processor bowl to get everything. (You can also use frozen cauliflower rice. If you use rice, just cook the rice about 5 to 10 minutes so that it is soft. Then put into the food processor)
2. Squeeze ALL of the water out of the cauliflower. I put mine in a nut milk bag and let it drain and then squeezed it really well. The remaining cauliflower equals about 2.5 cups. My favorite nut milk bag is the "Bigger Better Nut Milk Bag" by Ellies Best. You can use my code "Spinachandbacon" to receive 10% off of one at http://www.elliesbest.com
3. Stir Cauliflower, and add other ingredients to the bowl slowly and mix well.
4. Once ingredients resemble dough, seperate into 16 balls by first cutting in half, then half again, then half again, etc.
5. Roll each ball into a log shape carefully and cut 4 pieces from each log. You should end up with 64 pieces of gnocchi. (16 x 4 = 64)
6. Boil water and place the gnocchi into the boiling water in batches. After a few minutes the gnocchi will rise to the top. Remove with a slotted spoon.
7. Pan fry! After all gnocchi are done boiling, heat up a little oil in a pan and pan fry the gnocchi until golden brown. Top with sauce and enjoy!
* Some of the links on this page are affiliate links for products that I truly love and recommend. By clicking on one of the links, I may receive a small amount of commission. This helps me continue to provide you with new spinachandbacon recipes. Thank you for all of your support!


Follow me on Instagram @spinachandbacon