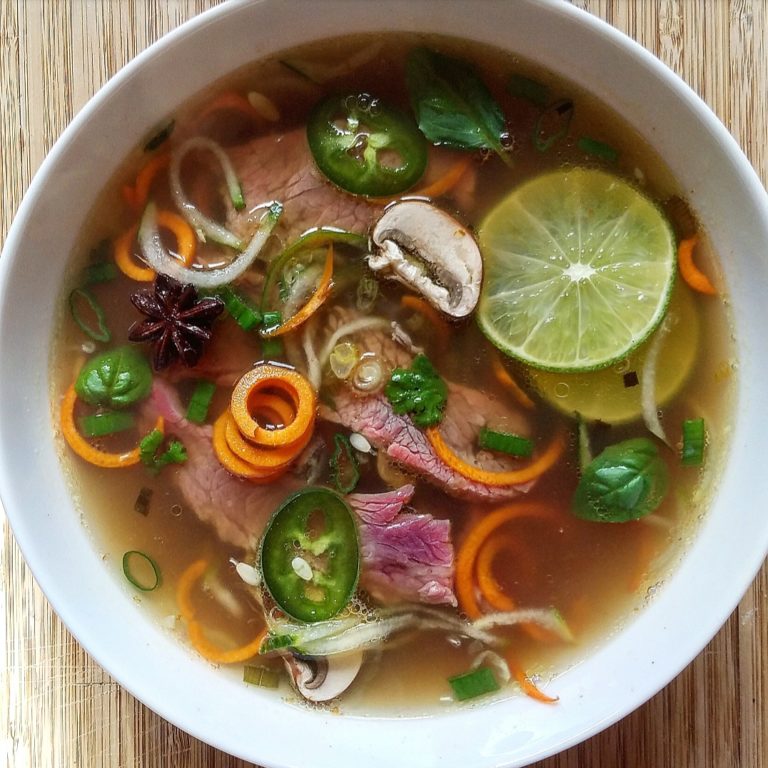 Pho with Homemade Bone Broth
Pho Pho Pho! Hey Everyone! If you viewed my Instagram stories this weekend then you know I made bone broth. I can't think of a better reason to make bone broth than Homemade Pho! It's always great to have this broth on hand, so I made a big batch and then basically used half of it for this. Since the most time consuming part is the broth, I made it in the instant pot on Saturday, and then on Sunday I made the rest of the soup on the stove. I have seen so many people roast the bones first. You do not need to do that extra step. You will still have a gelatinous soup full of collagen and I have the video for proof.  Haha! Just make sure you use high quality bones and vinegar.
Bone Broth Recipe:
3 lbs of grass fed bones, including marrow and knuckle bones
6-8 cups of Water
4 Green onions, cut in 3 inch pieces
3 cloves of Garlic, smashed
3 large Carrots, cut into big pieces
1 tbsp Apple Cider Vinegar
1 tbsp kosher salt
1. Put all ingredients in the instant pot, being careful not to go past the max fill line. Set on "Soup" for 120 minutes.
2. Take a nap 🙂
3. Let this have a natural release.
4. Once pressure is released, remove bones with a slotted spoon and strain the rest of the soup.
5. Pour into soup containers. Put in the fridge overnight.
6. Once the soup has solidified, I like to remove the top portion of fat and I use it as oil to cook other things.
Now this broth is ready for anything, including pho!
Pho Recipe:
1 tbsp reserved bone broth fat(or avocado oil)
1lb Flank or Sirloin Steak, partially frozen
5 Green Onions, sliced
1 piece of ginger, sliced (about 2 inches)
2 cloves garlic, chopped
2 star anise, whole
3 cloves, whole
1 cinnamon stick, whole
5 cups of Beef Bone Broth
1.5 tbsp fish sauce
1.5 tsp coconut sugar
salt and pepper
filtered water
Toppings:
Spiralized Veggies (or rice noodles)
Bean Sprouts
Fresh herbs (Basil, Cilantro, and Mint)
Sliced Jalapenos
Limes
1. Add oil to a stock pot. Heat up and then add onions, garlic, and ginger. Cook until slightly brown.
2. Add star anise, cloves, and cinnamon stick. Stir for about 1 minute.
3. Add Bone broth, fish sauce, coconut sugar, 1/2 tsp salt, and 2 cups of water.
4. Bring to a boil, and then cover and simmer on low for about 15 minutes.
5. While soup is cooking, take steak out of the freezer, and slice it very thin against the grain. You want to make sure it is only partially frozen, so that you are still able to cut the meat. Freezing it a little helps to slice it easily.
6. Arrange your toppings in a bowl, top with a couple of slices of raw sliced meat. Once you pour the hot broth on top, the meat will cook. It is ok for the meat to be slightly pink.
7. Pour hot broth on top of toppings. Let the soup sit for a couple of minutes so that the beef cooks! Enjoy!