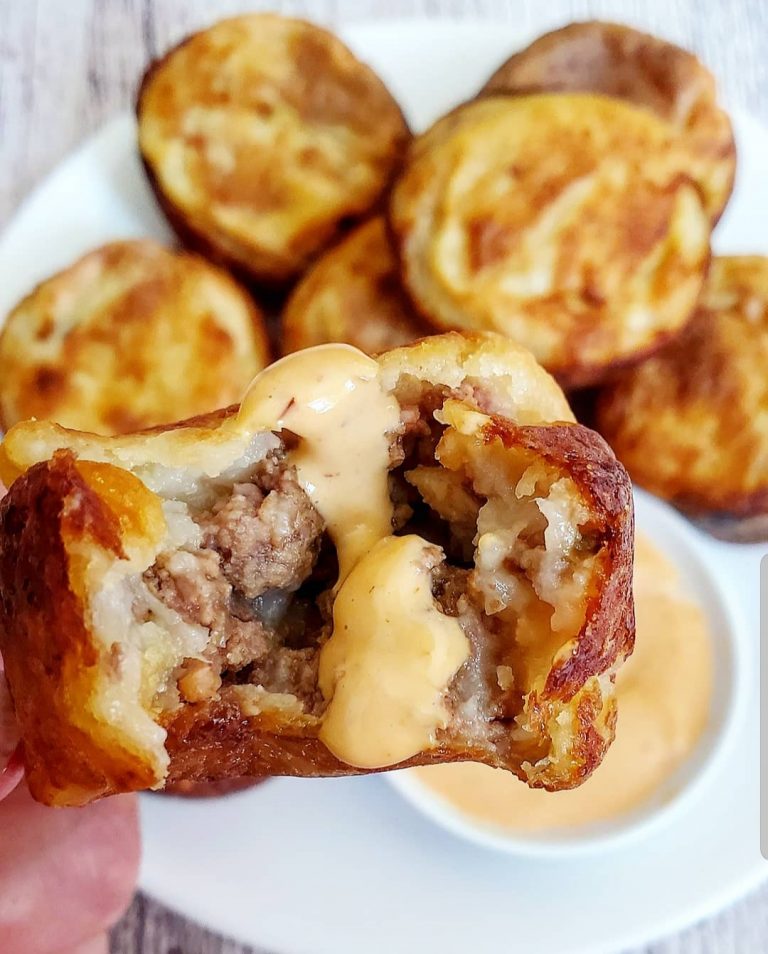 Papas Rellenas (Stuffed Potatoes)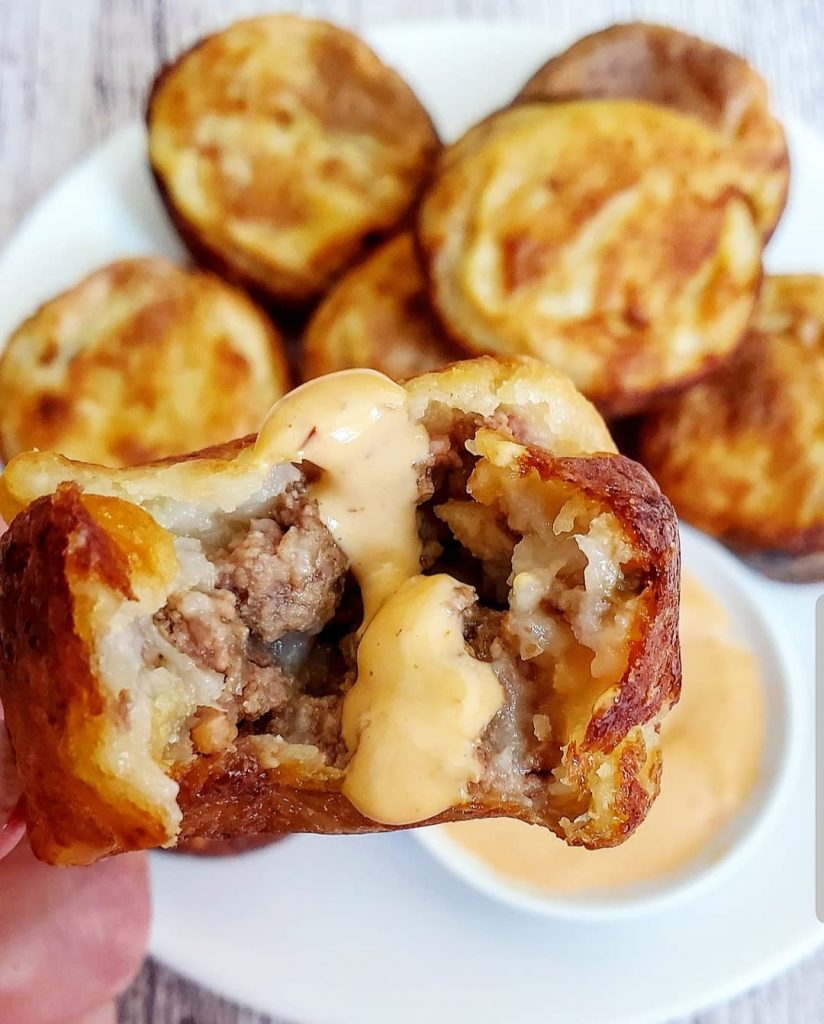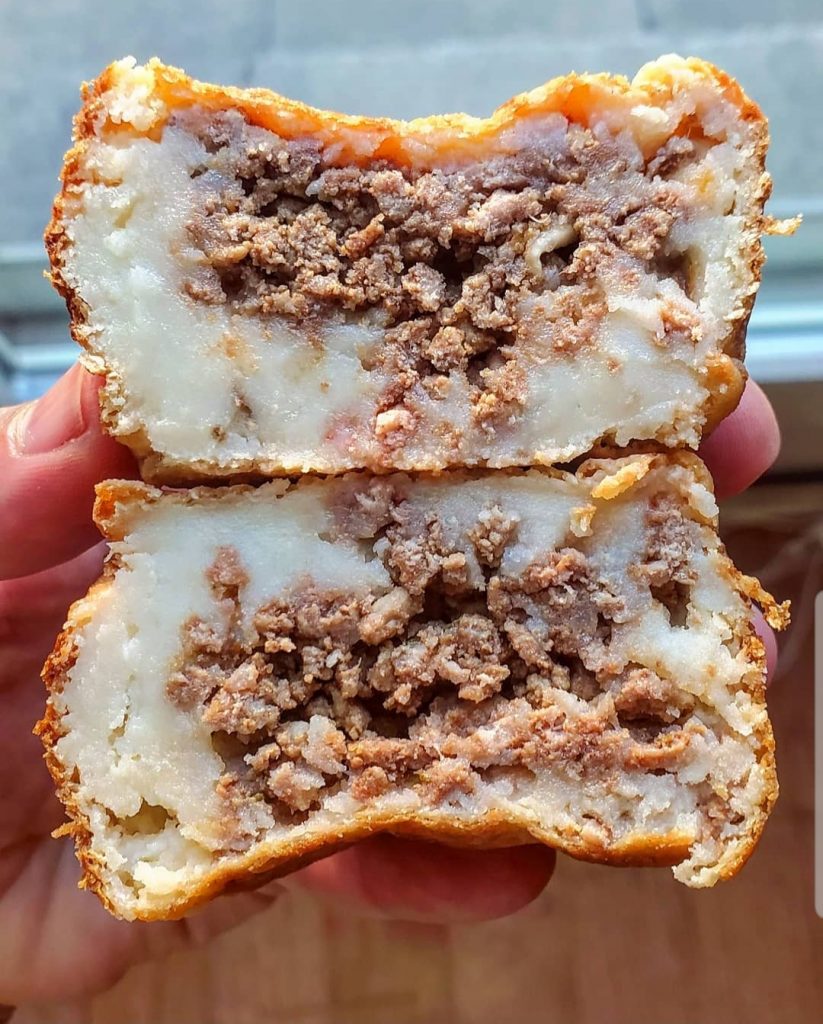 Papas Rellenas, also known as Stuffed Potatoes, are one of the most popular types of croquettes in Latin America. Many countries have their own versions, but they all consist of mashed potatoes on the outside, with a savory filling in the inside. These delicious snacks are usually deep fried, but I figured out how to bake them so that I can relax on the couch as they cook. 🙂 It's a lot better than standing up for 30 minutes, hovering over a deep fryer, making sure nothing burns. My mom used to make these for my family as a weekend snack and I used to inhale them! During my recent Whole 30, I fell back in love with root veggies. I had them nearly everyday. I decided to try a healthier take on this classic appetizer and I was really surprised with how good they came out. Try them out too and tag me on Instagram @spinachandbacon
Papas Rellenas
Papas Rellenas are a popular Latin American croquette. It is made with mashed potato on the outside and a savory ground beef mix on the inside. Then, it is usually deep fried, but I baked mine.
Ingredients
4

Russet Potatoes

2

lbs

Beef

4

TBSP

Sofrito

mix of garlic, onion, pepper, culantro, and cilantro. I have a recipe for this on my blog.

2

TBSP

Tomato Paste

1.5

tsp

Salt

1/2

tsp

Garlic Powder

1/4

tsp

Adobo Seasoning

2

TBSP

Arrowroot Powder

1

Egg

1.5

TBSP

Butter
Instructions
Peel and cut the potatoes in chunks

Boil the potatoes for 15-20 minutes until they are soft enough to mash

While potatoes are boiling, cook the meal with sofrito, 1 tsp salt, garlic powder, tomato paste, and adobo. Cook until done and add more salt at the end if needed.

Mash the potatoes with buttter and 1/2 tsp of salt. Taste and add more salt or black pepper if you want.

Let potatoes cool and then add arrowroot and egg to potatoes.

Take a heaping 1/4 cup of mashed potatoes and form a flat cirlce in your palm. Then add about 1.5 TBSP of meat mixture to the center. Form potato around the meat filling carefully. Dust the ball with extra arrowroot powder and then place it on a plate. Note – I usually have to quickly rinse my hands in between making each one or else they start to stick to my hands after I make them.

Repeat until all the potatoes are used up. Place potato balls in the refridgerator to firm up for 30 minutes.

Remove from refridgerator and grease a cupcake or muffin pan. Fill the pan with the potato balls. Spray avocado oil, coconut oil, or any cooking oil on the potato balls.

Cook at 375F for 50 minutes. Remove from the oven and flip each potato ball carefully. Then cook for an additional 15 minutes. You may need to push them into the mold once you flip them. That's ok, it won't be ruined.

Remove from oven and let them cool. Serve with salsa, guacamole, or a spicy mayo!
Keyword
gluten free, grain free, whole 30