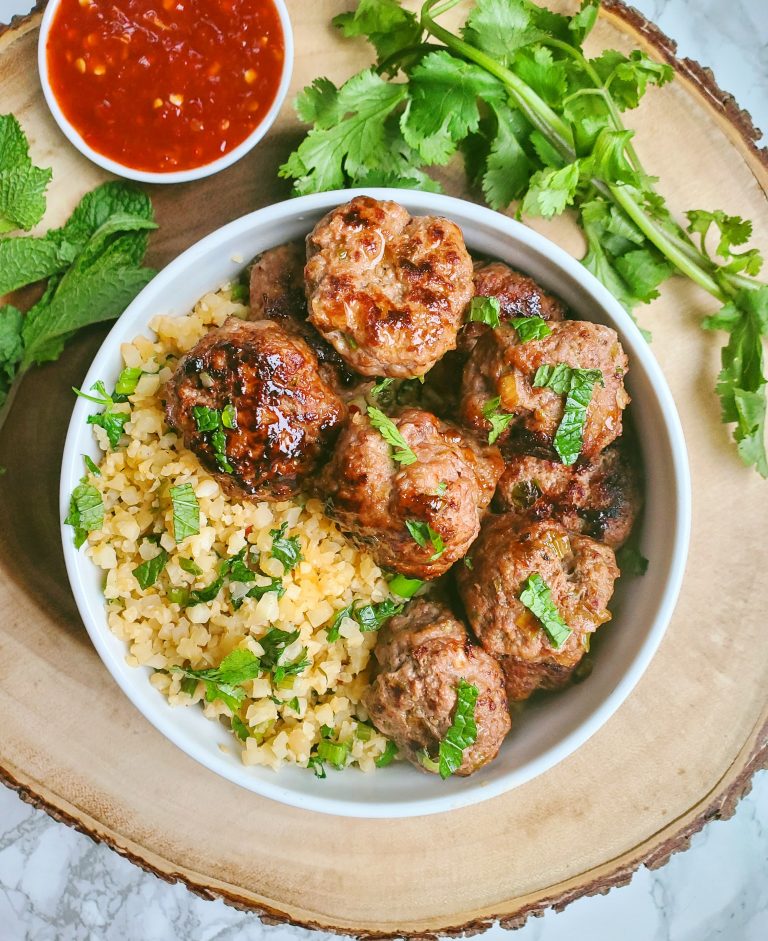 Vietnamese Meatballs with Cilantro Mint Cauliflower Rice
| VIETNAMESE MEATBALLS | 🇻🇳 with CILANTRO MINT CAULIFLOWER RICE! 🍚!! I am not doing an official Whole30 this January but my taste buds are craving some wholesome deliciousness. There will be several new paleo recipes in the coming weeks! How many of you are trying to change your way of eating this year? No pressure, just curious! 😚 What ingredients are you trying to add more of to your life? I use Sambal Oelek in this recipe which is a ground paste made from red chili peppers. While it doesn't include sugar, some of the store bought versions have a sulfite that isn't allowed on whole 30. BUT there are a few recipes on the internet so that you can make your own!
Meatball Recipe:
Ingredients:
7 green onions, diced (just the white and light green parts)
1lb ground pork
1lb ground beef
3 garlic cloves, minced
2 tbsp fish sauce
2 tbsp coconut aminos
1.5 tbsp olive oil
1.5 tbsp ginger paste
1 tbsp Sambal Oelek
Juice of whole lime
1 tbsp sesame oil
1/2 tsp salt

Directions:
1. Combine all ingredients
2. Let sit for at least 10 minutes for flavors to combine
3. Form into balls
4. Cook meatbals on medium low heat in a pan until each side is browned. (About 2 to 3 minutes per side)
5. Put meatballs on a baking sheet and bake for 15 minutes at 350°F.
Cauliflower Rice Recipe:
Ingredients:
1 bag of frozen Cauliflower Rice
Dark green parts of 7 green onions, diced (use leftovers from Vietnamese Meatball recipe)
Heaping 1/4 cup of cilantro leaves, washed, and chopped
5 mint leaves, washed and chopped
1 tsp Coconut aminos
1 tbsp olive oil
Half of a lime
1/2 tbsp fish sauce
1/4 tsp salt
1/2 tbsp rice vinegar(or apple Cider vinegar)

Directions:
1. Add cauliflower rice to a large pan (medium heat) and let it defrost.(about 10 minutes)
2. Try to break up the chunks as it thaws.
3. Once cauliflower rice is mostly thawed, add oil to the pan.
4. Add the onions, coconut aminos, fish sauce, salt, and vinegar to the rice. Stir and let cook for 3 minutes or until starting to brown.
5. Add lime, majority of cilantro and mint and stir. (Keep some herbs on the side to garnish)
5. Cook for 2 minutes and then serve.
6. Top with additional cilantro and mint.