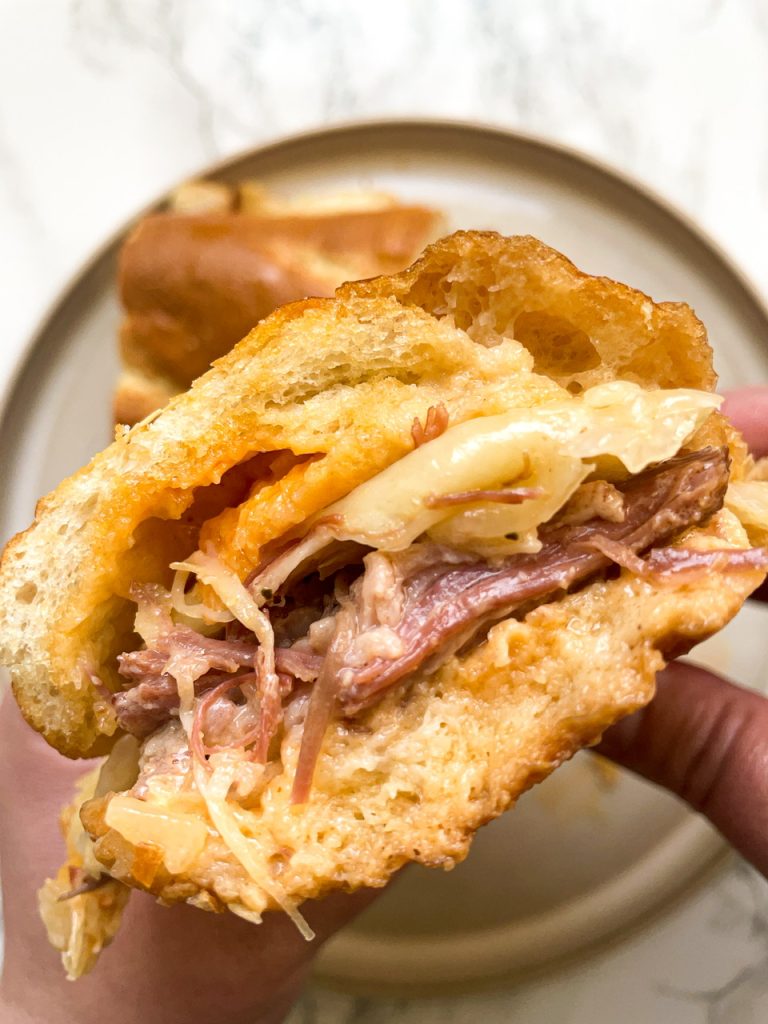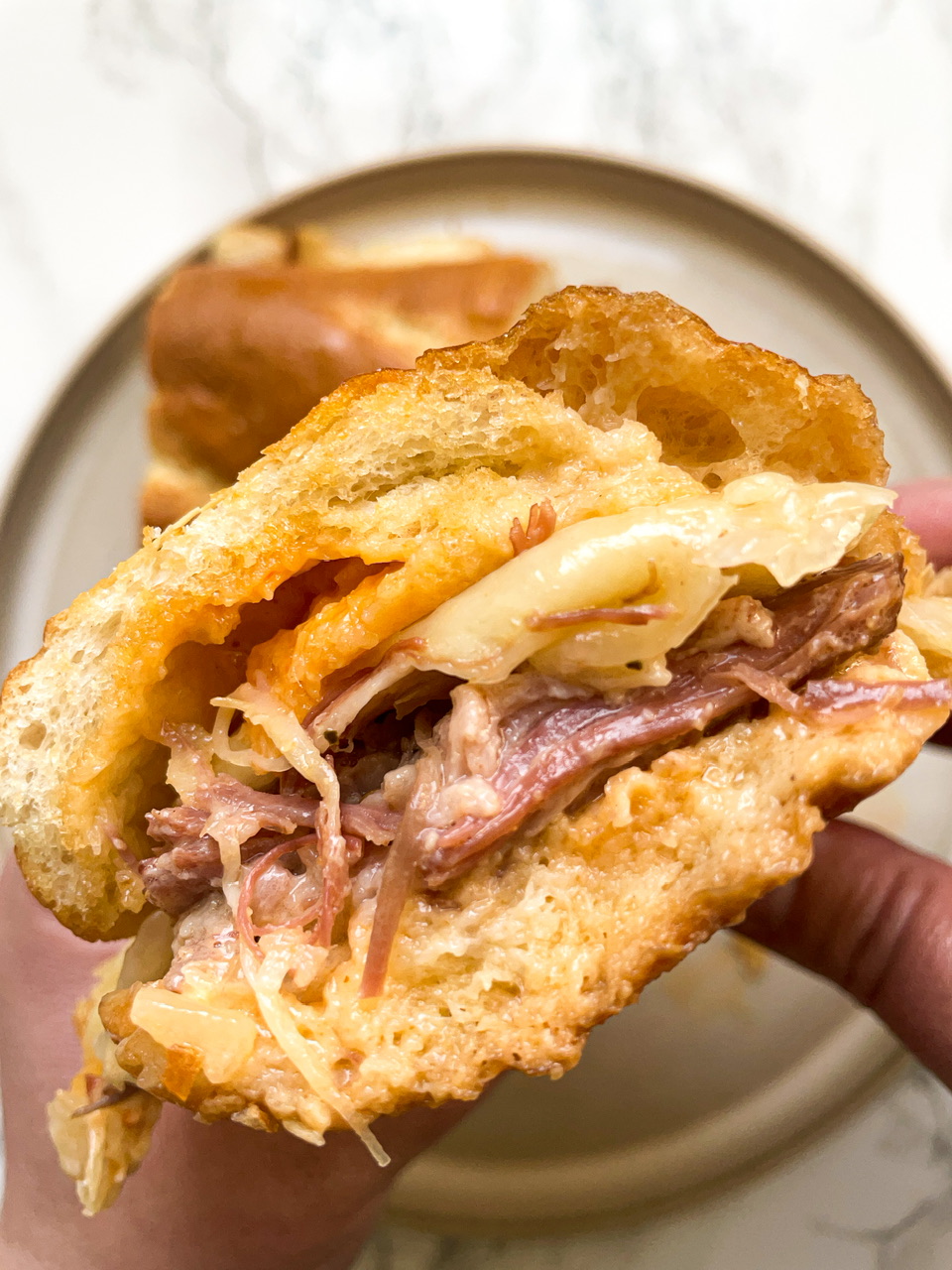 Baked Reuben Hoagie
This Baked Reuben Hoagie is made with deliciously tender corned beef, Swiss cheese, sauerkraut, and Russian dressing on Italian Bread and oven baked in foil until warm and melty. It is the best way to serve Reubens for a party or event.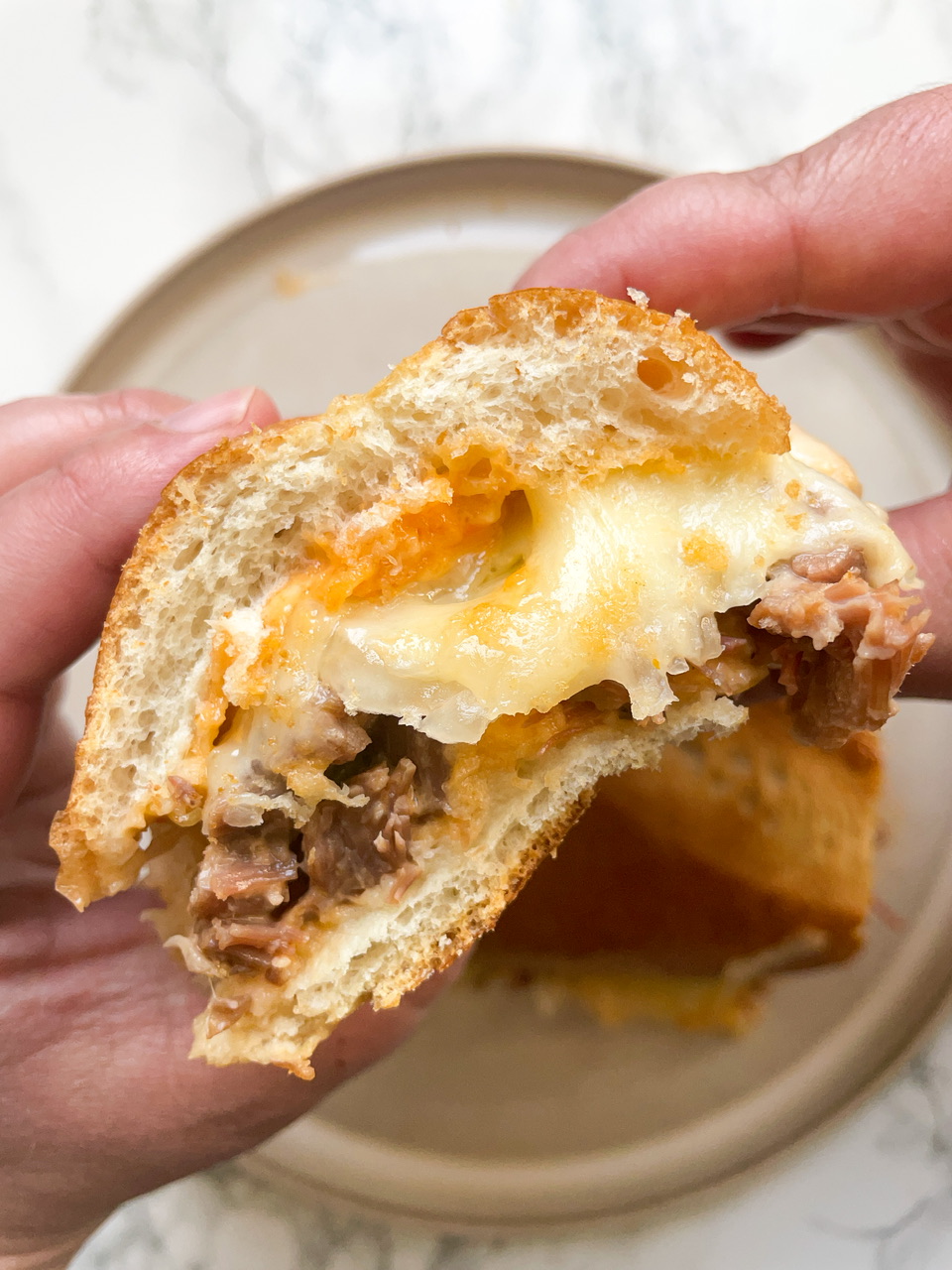 What is in a Reuben?
A traditional reuben sandwich is made using rye bread, thinly sliced corned beef, swiss cheese, Russian dressing, and sauerkraut. The sandwich is then grilled like a grilled cheese until the swiss cheese melts. If you have ever tried this sandwich you would know how delicious it is. Even people who don't care for sauerkraut still love this sandwich because of the interesting flavor combination.
I made these baked reuben hoagies on fresh Italian bread from my local bakery. If I could find long hoagie bread made out of rye, that would have been ideal, but I have never seen that, and tbh my bakery makes such amazing bread so I am happy to have gone with this choice. The last time I made a baked hoagie, it went viral. In case you haven't see it, check it out here: Turkey and Cheese Sandwich.
Corned Beef Reuben Hoagie
This baked reuben is not a regular sandwich, it is a gourmet sandwich. When you make this for someone, I promise they will look at you with more loving eyes. My wife certainly did, but, to be honest, she is very easy to impress when it comes to food.
I remember about 15 years ago, one of my friends was having a potluck and I decided to make two different types of baked sandwiches. Some may call what I made a "hoagie", since I don't use sandwich bread, I used fresh bakery baguettes and Italian Bread. Whatever you call it, just note that they were delicious. I think back then I made my sandwiches with turkey, cheese, spinach, and garlicky spinach. But after receiving feedback that day, I always knew that making these warm crispy sandwiches are a good option when feeding about 15 people. These baked reuben hoagies are the perfect sandwich to make for a St. Pattys Day Party or for any group of Reuben lovers.
Each hoagie makes about 5 pieces, so if you are cooking for 10 people, you should make 2. Also, clean up is a breeze with these. You can make them a couple of hours ahead of time, and then just bake them up when you want to serve them.
Instant Pot Corned Beef for Reubens
Corned beef is usually made by salt-curing a brisket cut of beef. Brisket is normally a tough cut of meat so it is made tender by a long cooking process. Using a pressure cooker like an instant pot will give you "slow cooked" results in much less time. I like to use my instant pot corned beef to make Reuben Sliders, a Corned Beef Reuben Hoagie, or Irish Nachos.
Usually, the brisket cut is brined in a pickling liquid. The pickling liquid usually includes seeds like mustard seed, allspice, peppercorn, coriander, and cloves. You can choose to rinse off some of the seeds off before you cook the corned beef, or keep them on the corned beef as you cook it.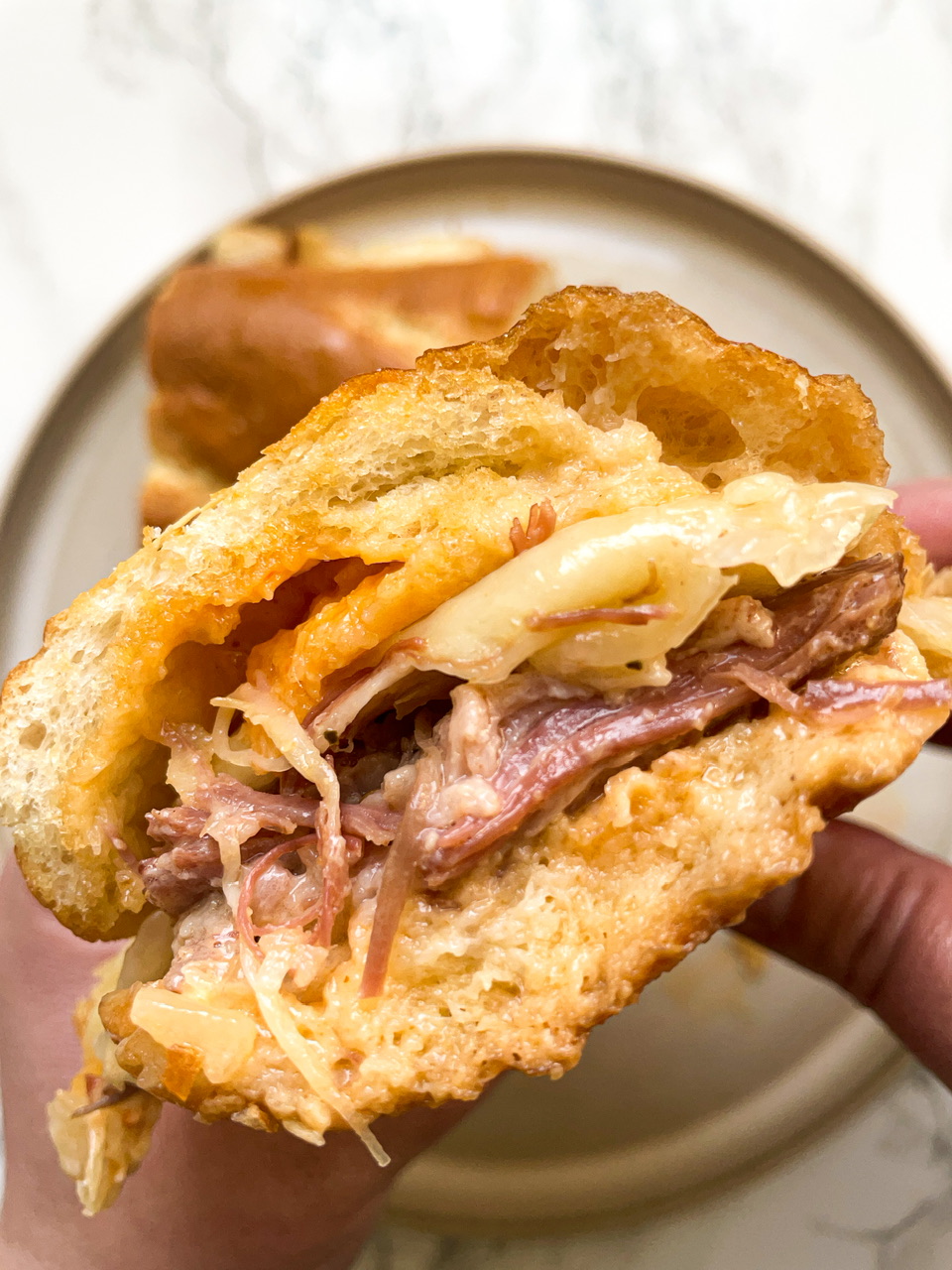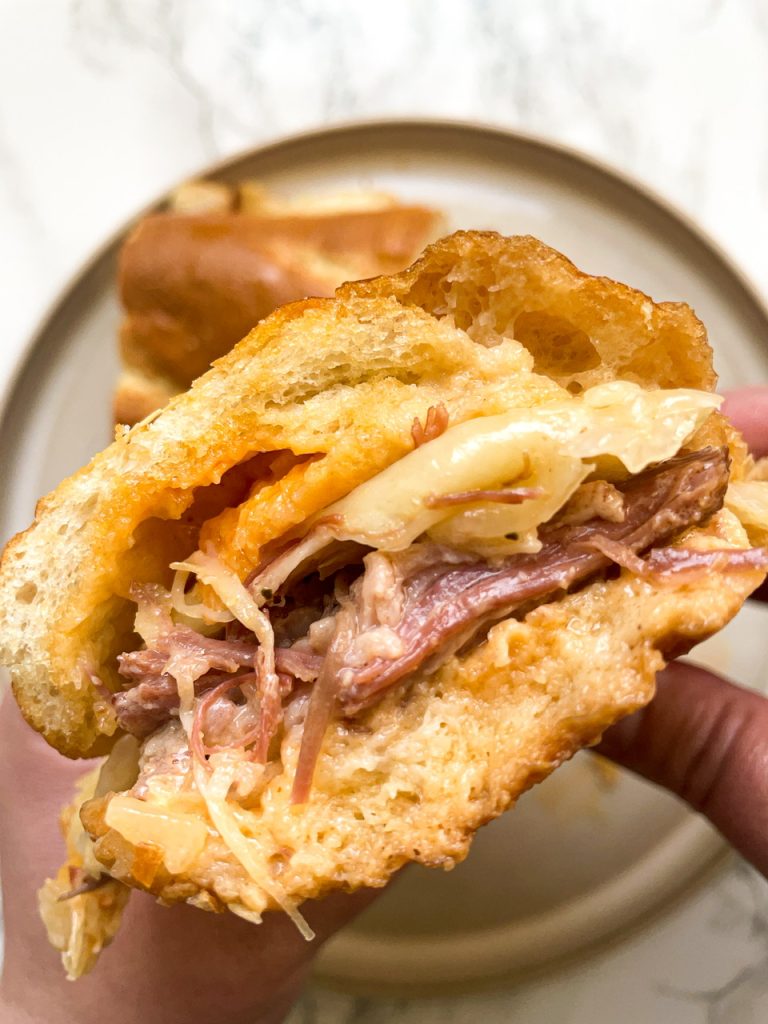 Substitutions for Baked Reuben Hoagie
In addition to subbing sliced turkey for corned beef, you can also use pastrami. In Montreal, they have something called the Montreal Reuben. Montreal is famous for their smoked meat and pastrami. So naturally, their version uses pastrami. This is actually my favorite variation. Pastrami reminds me of kosher delis in the same way that corned beef does, so if I was going to sub anything for corned beef it would be pastrami.
Another popular substitute is the use of thousand island dressing in place of Russian dressing. I don't really have a strong opinion about this, as they both taste similar to me. Russian dressing is the traditional dressing used so I that is what I used here but thousand island dressing would be just as delicious.
Sometimes people like cole slaw on their reuben in place of sauerkraut. This variation is called the "Rachel Sandwich" instead of the "Reuben Sandwich".
Here is a round up of the Reuben Sliders substitutions:
Instead of corned beef, try turkey or pastrami
Instead of Russian dressing, try thousand island dressing
Instead of sauerkraut, try cole slaw
INGREDIENTS FOR BAKED REUBEN HOAGIE
1 long Italian Bread
12 oz Corned Beef You can use as little or as much as you want, but just make sure it was pre cooked
8 slices Swiss Cheese
4 tbsp Russian Dressing
3/4 cup Sauerkraut or more
Aluminum Foil for wrapping
INSTRUCTIONS
Make sure your corned beef is pre cooked.
Preheat your oven to 350F
Slice open your Italian Bread
Lay down a thin layer of russian dressing. Do not add too much dressing to the bottom of the bread as this can create a soggy sandwich. You can add a thin layer of dressing to the top of the sandwich too.
Add your corned beef. If you are using leftover corned beef, I suggest heating it slightly so that some of the juice comes out before you use it. This will prevent a soggy sandwich
Add some sauerkraut on top of the corned beef
Add your slices of Swiss Cheese
Add another thin layer of Russian Dressing
Fold over the top of the sandwich, wrap the sandwich in aluminum foil and bake it in the oven for 20-25 minutes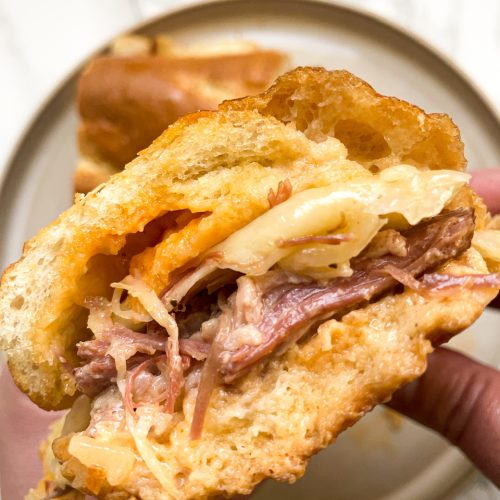 Baked Reuben Hoagie
This Baked Reuben Hoagie is made with deliciously tender corned beef, Swiss cheese, sauerkraut, and Russian dressing on Italian Bread
Ingredients
1

long

Italian Bread

12

oz

Corned Beef

You can use as little or as much as you want, but just make sure it was pre cooked

8

slices

Swiss Cheese

4

tbsp

Russian Dressing

3/4

cup

Sauerkraut

or more

Aluminum Foil for wrapping
Instructions
Make sure your corned beef is pre cooked.

Preheat your oven to 350F

Slice open your Italian Bread

Lay down a thin layer of russian dressing. Do not add too much dressing to the bottom of the bread as this can create a soggy sandwich. You can add a thin layer of dressing to the top of the sandwich too.

Add your corned beef. If you are using leftover corned beef, I suggest heating it slightly so that some of the juice comes out before you use it. This will prevent a soggy sandwich

Add some sauerkraut on top of the corned beef

Add your slices of Swiss Cheese

Add another thin layer of Russian Dressing

Fold over the top of the sandwich, wrap the sandwich in aluminum foil and bake it in the oven for 20-25 minutes