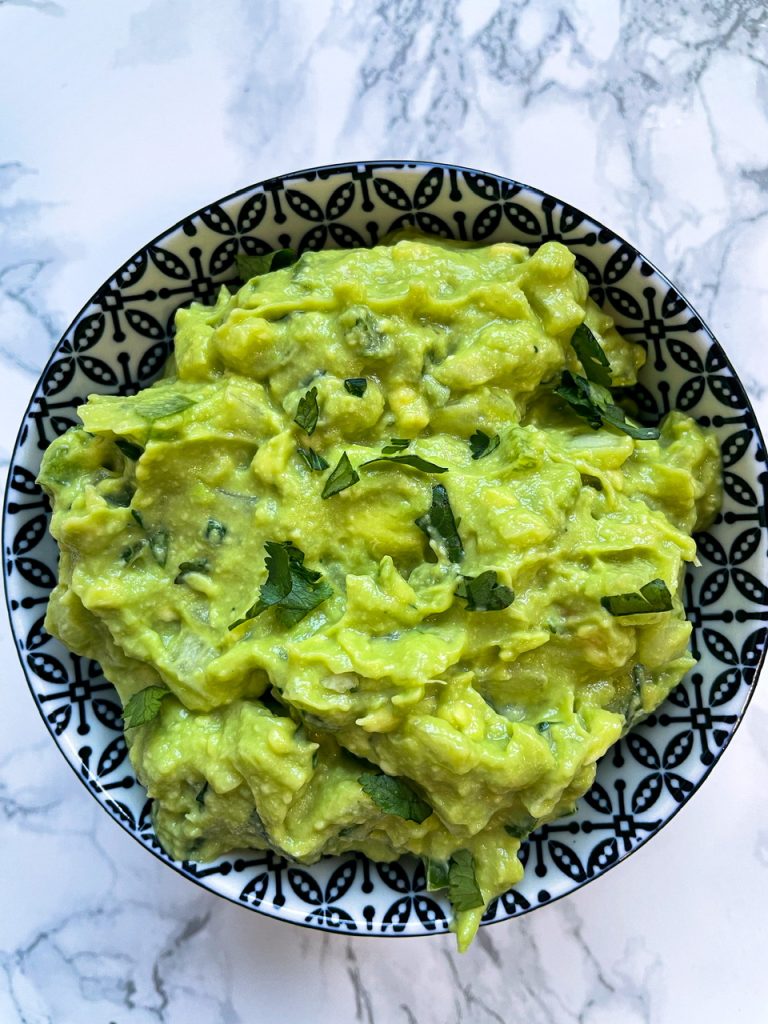 Best Guacamole Recipe
All you need is 6 ingredients + salt to create the best guacamole recipe you will ever taste. After eating guacamole for over 20 years, this is the recipe that I make every single time.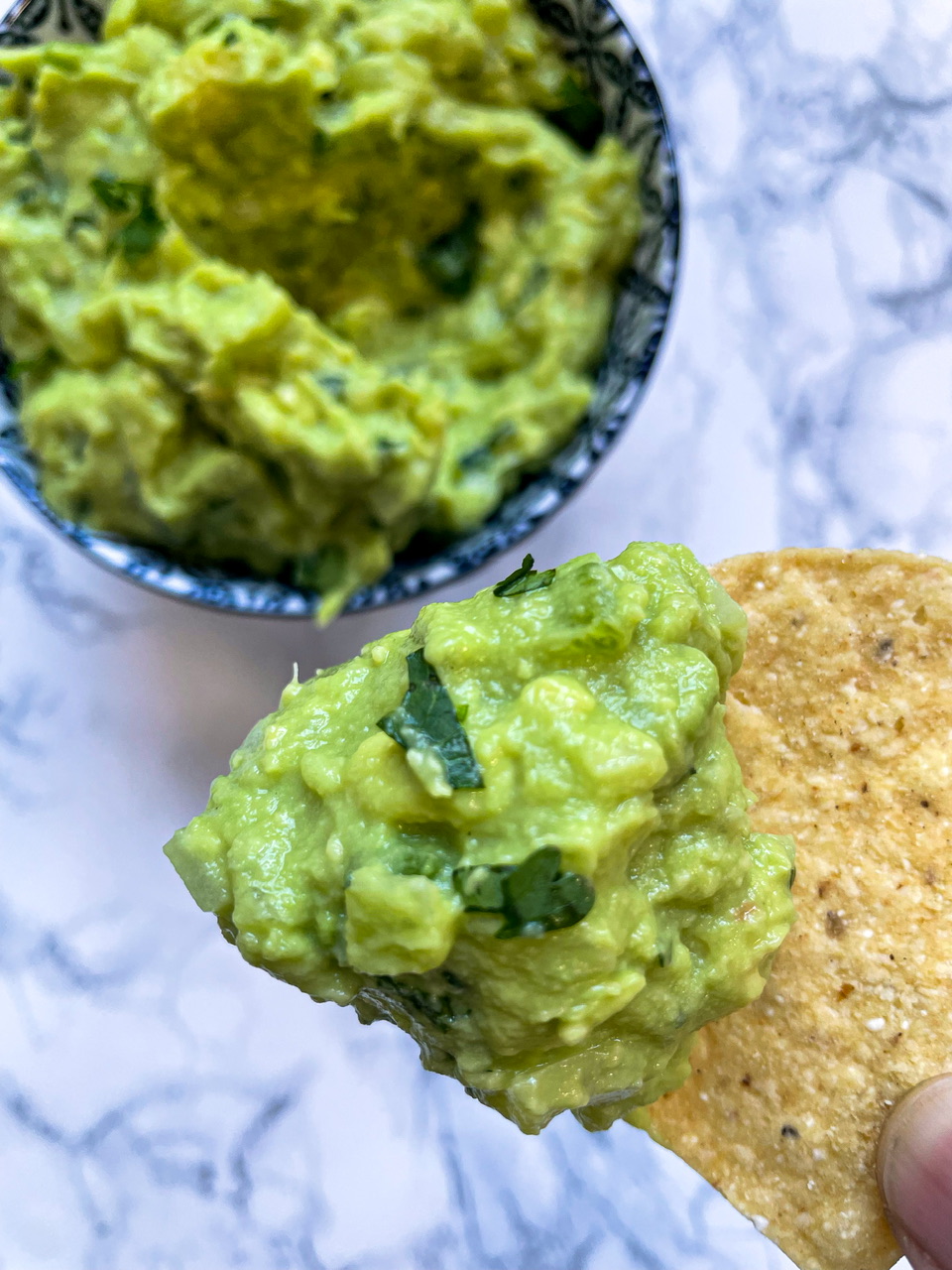 How do you make the best guacamole?
Raise your hand if you have eaten guacamole and chips for dinner at some point in your life. <raising my hand proudly> I have been told that I make amazing guacamole and I want to share all my tips with you. Making guacamole from scratch is really easy and no cooking is required. You chop a few ingredients and then you combine. I use this guacamole to make my recipe for Guacamole Nachos, which are nachos baked with melted cheese and served with a pile of fresh guacamole in the middle. You take a cheesy nacho and then you scoop up some guacamole and it tastes so good!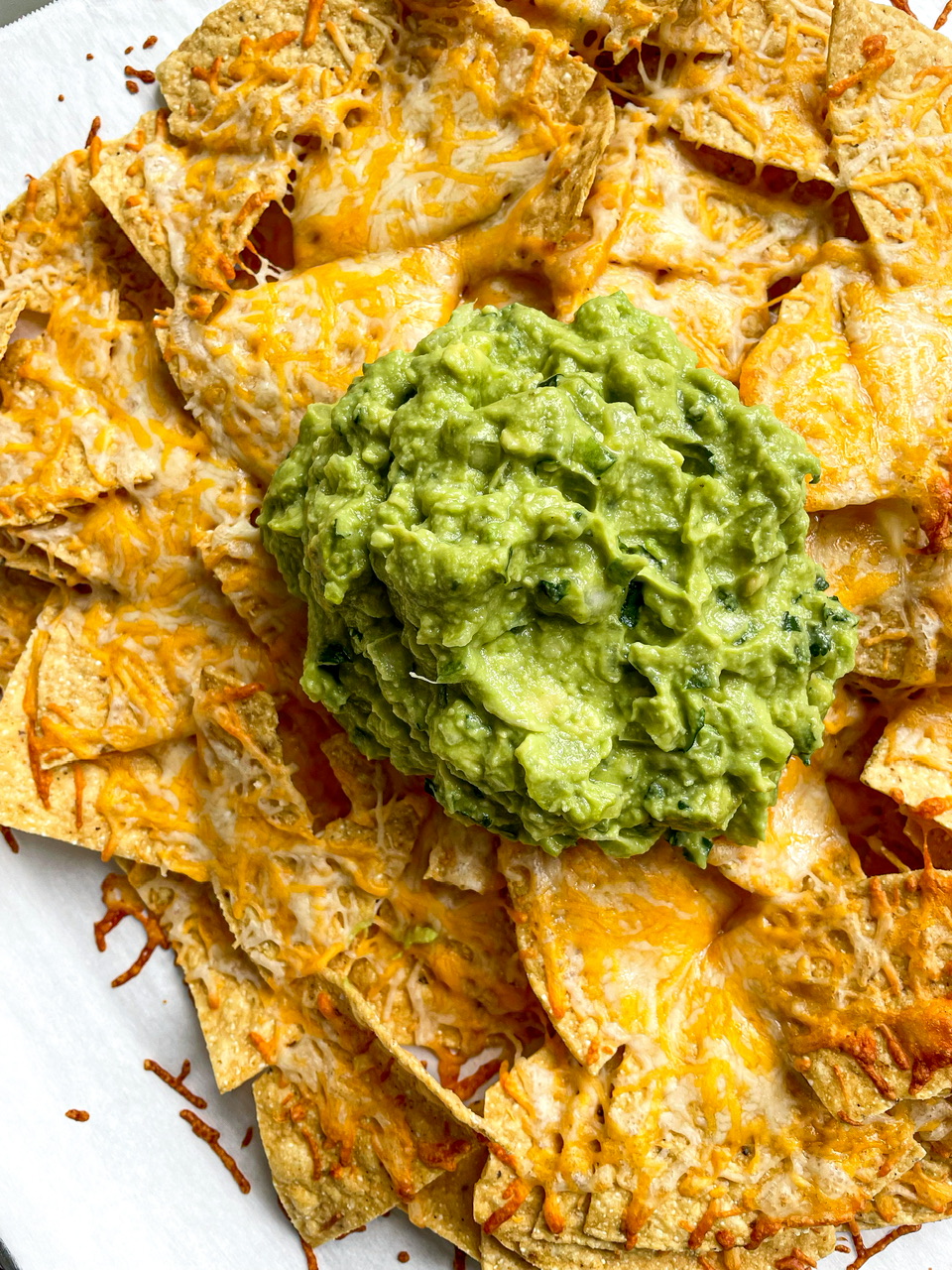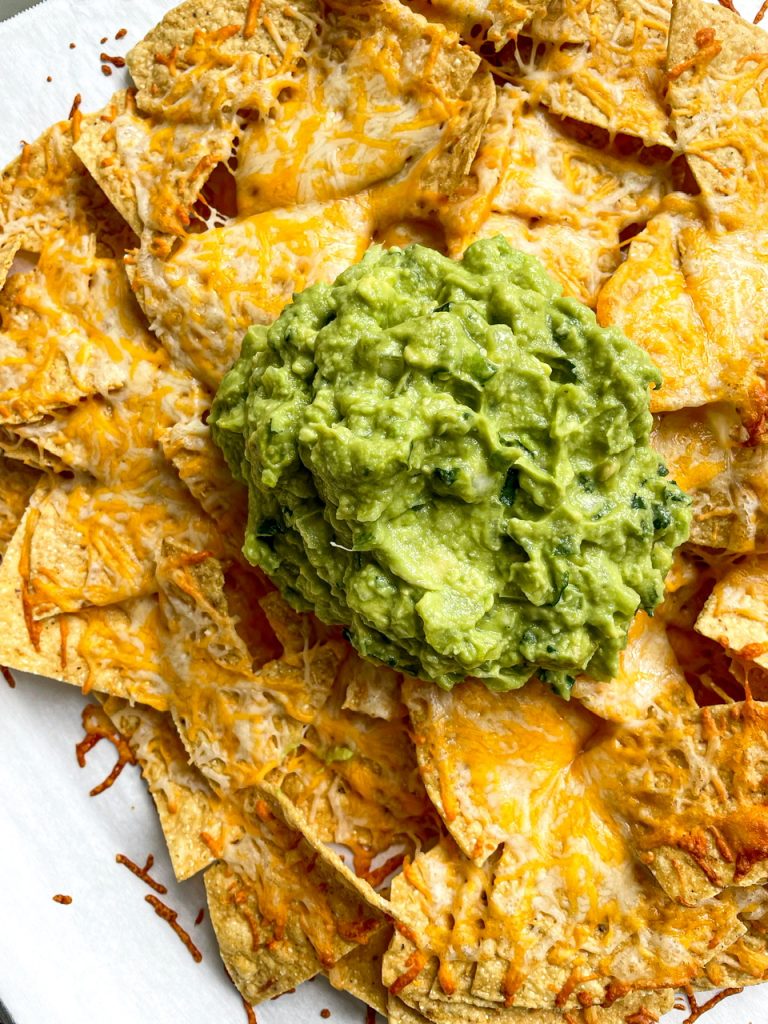 Here are my tips to make the Best Guacamole Recipe
For one, I do not add tomatoes to my guacamole. I think there is an internet debate about whether or not tomatoes belong in guacamole and I am definitely team "no tomatoes". I love salsa and I love pico de gallo, but I don't like tomatoes in my guacamole. My guacamole gets all of the acidity it needs from the lime. In fact, I never saw tomatoes in any guacamole that I ate all of the times I have been to Mexico, but I have not visited all parts of Mexico, so maybe it is a "thing" somewhere.
In order for a guacamole recipe to be the Best Guacamole Recipe, you have to start off with great avocados. I know it is always difficult to plan for when a guacamole will be the perfect type of ripeness, but you definitely have a good 2 day window where it is at peak ripeness. If you choose over ripe, brown on the inside, avocadoes, your guacamole will also taste over ripe and look brown, no matter how much lime you add.
Another important detail is that there has to be a good lime to avocado ratio. A good ratio brings out a fresh taste, but also adds to the creaminess of the guacamole. The lime has acidity that is absolutely necessary in guacamole.
As far as onions are concerned, I have used red onion and white onion, and I don't see a huge difference there. The important part is to not use too much, and to make sure your onion is chopped very fine. All onion, garlic, cilantro, and jalapeno should be uniformly chopped. Oh, and salt! There must be salt!
I use a 1/2 teaspoon of salt for 2 avocados, but some people even like a little more. I would start with 1/2 teaspoon and if you feel it needs more, then you can add it.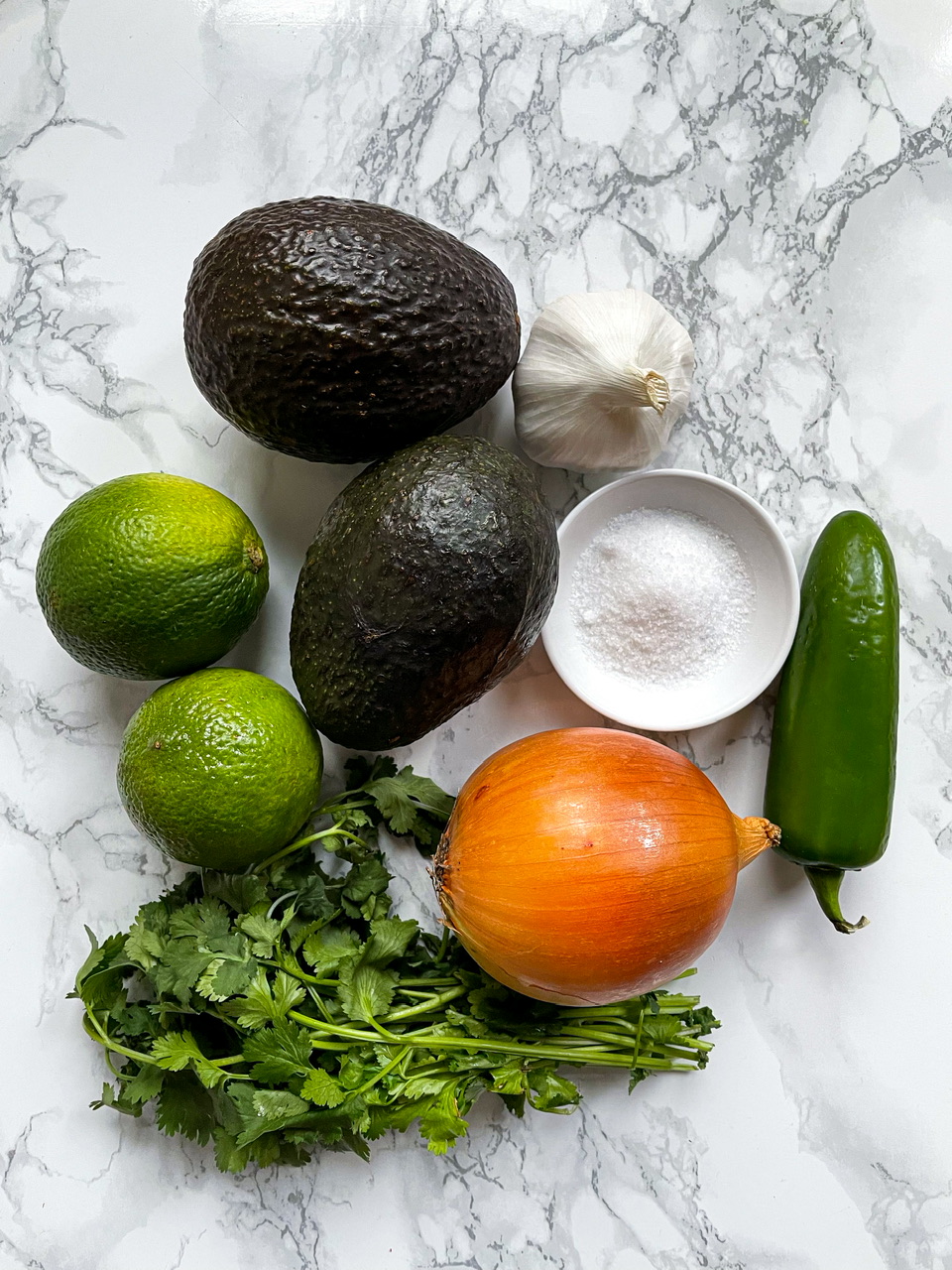 How do you keep your Avocados ripe?
My favorite trick for making sure I always have a ripe avocado is buying avocado when they are still very hard. I keep them near my bananas in my fruit bowl. This helps them soften a little faster. Once my avocado feels soft, I put it in the refrigerator. This will stall the ripening phase and it will keep them perfect for a long time. It works every time!
What ingredients are in Guacamole?
Best Guacamole Recipe Ingredients
2 Ripe Avocados
1/4 of a cup of finely chopped onion
2 large Cloves of Garlic
1 small Jalapeño
2 Limes
1/2 tsp Sea Salt
1/4 cup Cilantro Leaves loosely packed
Best Guacamole Recipe Instructions
Guacamole
Chop up your onions, garlic, jalapeño, and cilantro. When you chop your jalapeño, you want to remove all of the seeds and throw those away.
Scoop out your avocados and add them to a medium size bowl.
Add your onions, garlic, jalapeño, and cilantro to the bowl.
Squeeze the juice of both limes into the bowl.
Add the salt and mix it up.
Guacamole Variations
The best non traditional guacamole I ever tasted was in Philadelphia at a restaurant named El Vez. They make a guacamole with goat cheese and lemon and then add chopped pistachios and a little roasted tomato on top. it is absolutely amazing!
I absolutely love the taste of a little crumbled cheese on top of my guacamole. Avocados can take a lot of salt, so adding some cheese on top really brings it over the edge. Plus the color of the cheese is a beautiful contract on top of the guacamole. You can try adding goat cheese, queso fresco, or feta.
If you like the Best Guacamole Recipe, you may also like: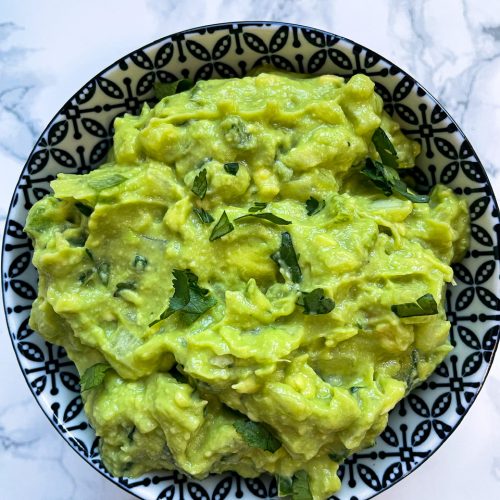 Best Guacamole Recipe
Fresh guacamole made from 6 ingredients! It is absolutely perfect!
Ingredients
2

Ripe Avocados

1/4

cup

Yellow Onion

finely chopped

2

large

Garlic Cloves

finely minced

1

small

Jalapeno, seeds removed

finely chopped

2

Limes

1/2

tsp

Sea Salt

1/4

cup

Cilantro

finely chopped
Instructions
Chop up your onions, garlic, jalapeño, and cilantro. When you chop your jalapeño, you want to remove all of the seeds and throw those away.  

Scoop out your avocados and add them to a medium size bowl.

Add your onions, garlic, jalapeño, and cilantro to the bowl.

Squeeze the juice of both limes into the bowl.

Add the salt and mix it up.

Serve with Tortilla Chips