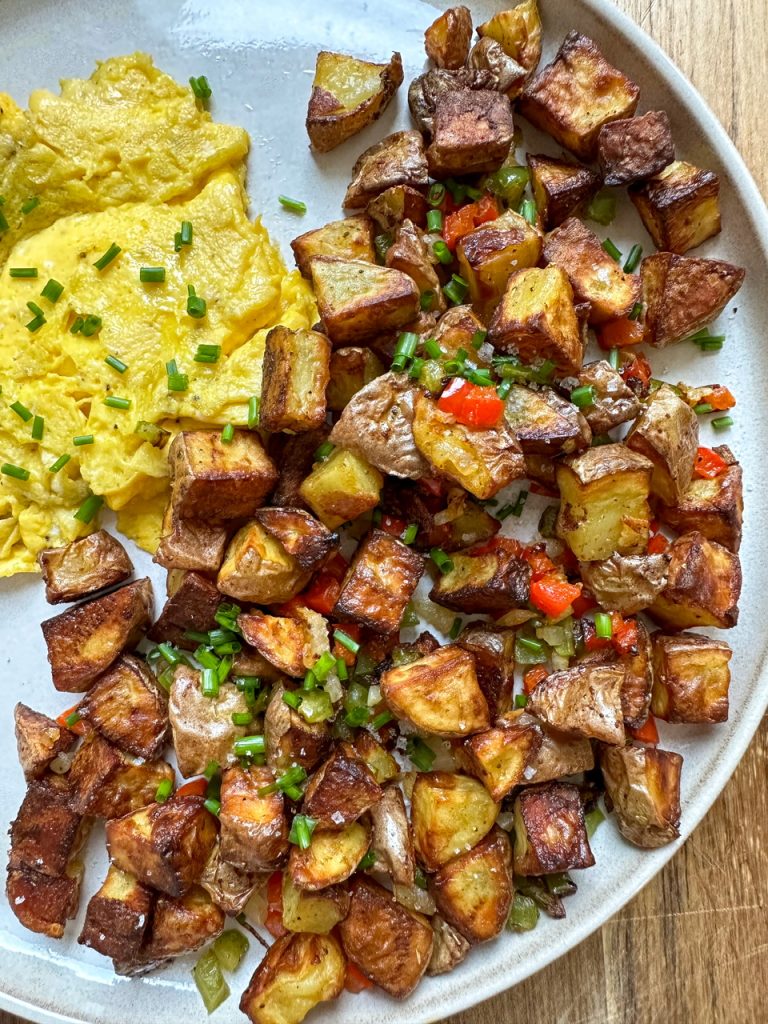 Air Fryer Home Fries
These restaurant-style home fries are deliciously seasoned and made right in your air fryer. These air fryer home fries are made with potatoes, peppers, onions, and the perfect seasoning! They are sure to be a hit on your breakfast table or even for brunch!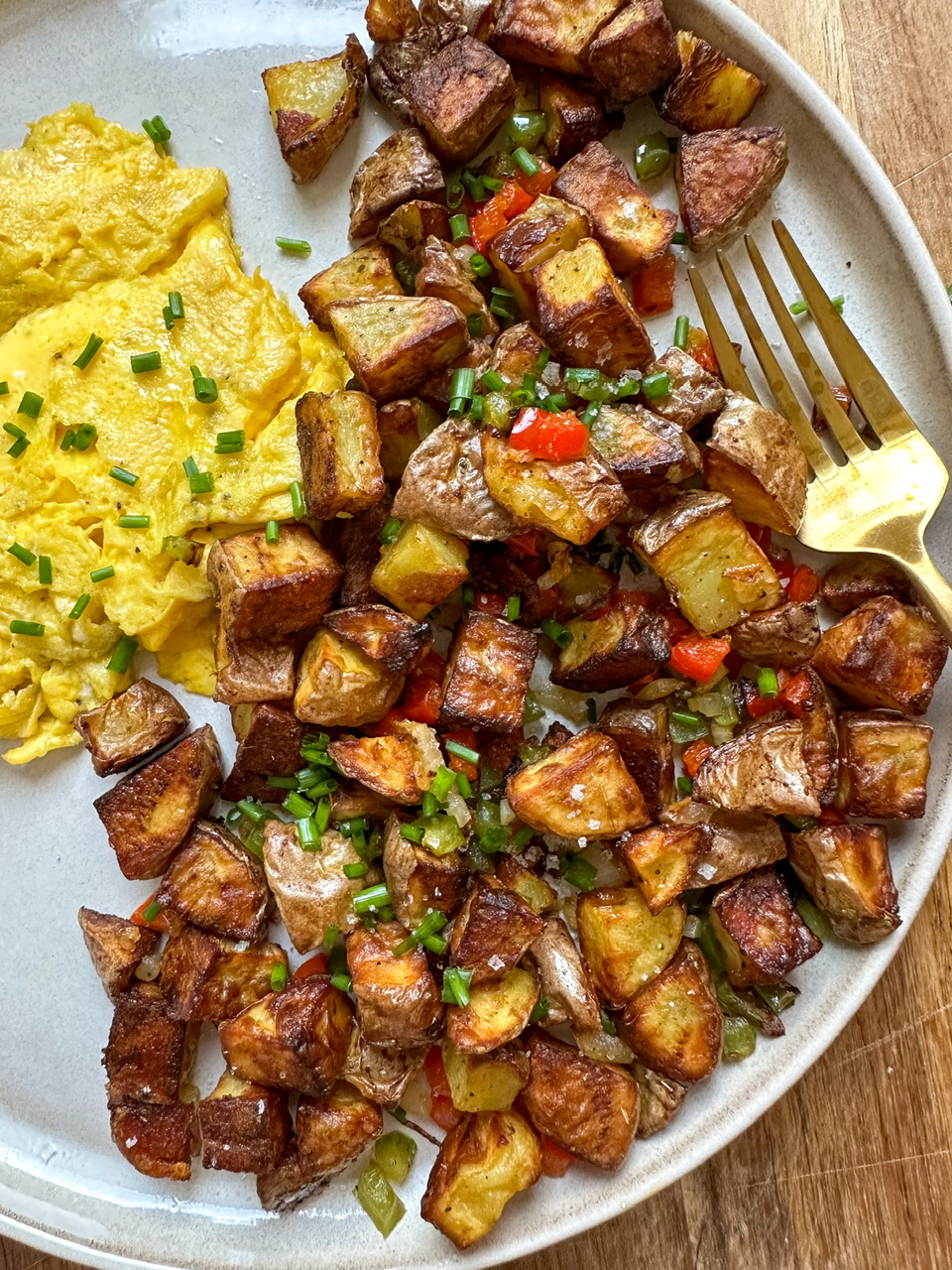 Air Fryer Home Fries with Peppers and Onions
I am one of those people who has never met a potato she didn't like. Plus, I really love using my air fryer instead of deep frying any chance I get. I decided to marry these two ideas and create some delicious air fryer home fries. Making home fries in the air fryer is easier than you think and they make such a wonderful breakfast side dish. They are so tasty with some eggs or even some of my copycat starbucks egg bites.
I made these a couple of times to figure out how to truly make them "restaurant-style" and to be honest, I think they are better than restaurant style. A lot of times when I order home fries at a diner I get soggy, pale, barely cooked potatoes. My recipe ensures crispy and delicious potatoes. Nothing soggy here. These home fries also use so much less oil, which is a huge plus.
I like to make my air fryer home fries with peppers and onions. I chose a mix of red and green peppers because I love the different colors mixed in with the onion and potatoes. It makes them look even tastier. I also prefer to chop my peppers and onions pretty small so that you get just a hint of pepper and onion with every potato bite. I top the home fries with chives and sea salt because I love the freshness of flavor and they balance out the whole dish.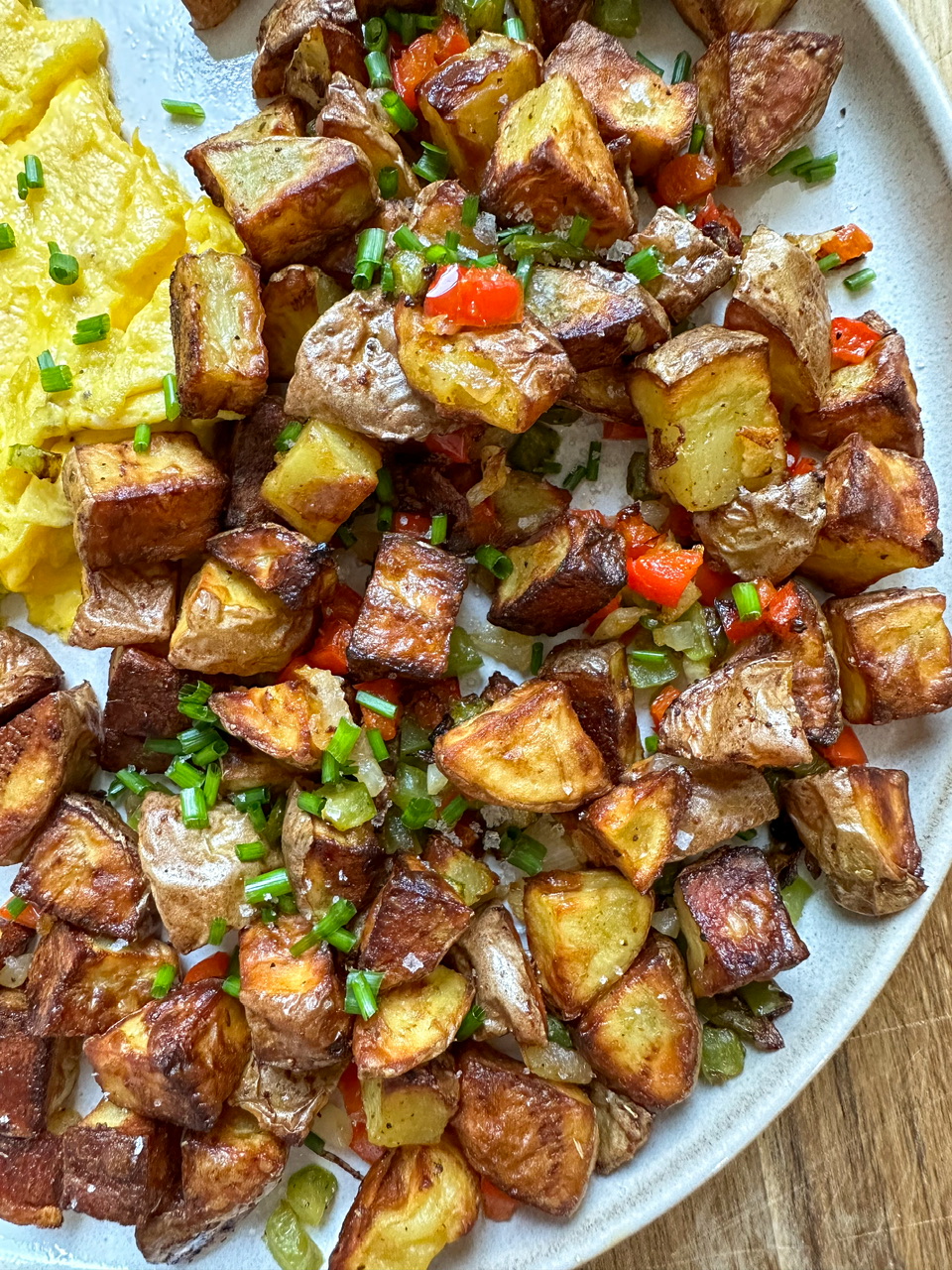 Home Fries in Air Fryer Cook Time
I cooked my potatoes for 20 minutes at 375F and then at 350F for an additional ten minutes after I add in my peppers and onions. If you are not adding in any peppers and onions, you should still cook the potatoes for 30 minutes, and still change the temperature after 20 minutes.
I cut up my peppers and onions during the 20 minutes that the potatoes are cooking alone. This helps me multitask better. I then add the peppers and onions to the same bowl I used to season the potatoes because it helps get some of that yummy seasoning on the peppers and onions too.
How to make Home Fries in Air Fryer
INGREDIENTS
1.5 lbs gold or yellow potatoes
1.5 tbsp olive oil
3/4 tsp seasoning with salt you can use seasoning salt, adobo, garlic and herb, or meat and potato seasoning or any combo of these. i used 1/4 tsp Goya Adobo plus 1/2 tsp Meat and Potato Seasoning by Primal Palate
1/4 yellow onion finely chopped
1/2 cup Bell Pepper red, green, orange, or yellow or any combo of these
1/2 tsp coarse salt for topping
1 tbsp chives diced
INSTRUCTIONS
cut your potatoes into 1" cubes
throw the potatoes into a bowl and add 1 tbsp olive oil and 3/4 tsp seasoning with salt. mix well
add the potatoes to the basket of an air fryer, making sure they are evenly distributed. Cook at 375F for 20 minutes without preheating.
do not rinse your bowl as you will add your onion and peppers to it and want to keep the leftover oil and spices in there.
cut your onion and peppers and add to the bowl with the additional 1/2 tbsp of oil. mix well.
reduce the heat of the air fryer to 350F, add mix the potatoes around, add the onions and peppers and cook for an additional 10 mins.
Once the potatoes are done cooking, add to a bowl or plates and top with fresh chives and coarse salt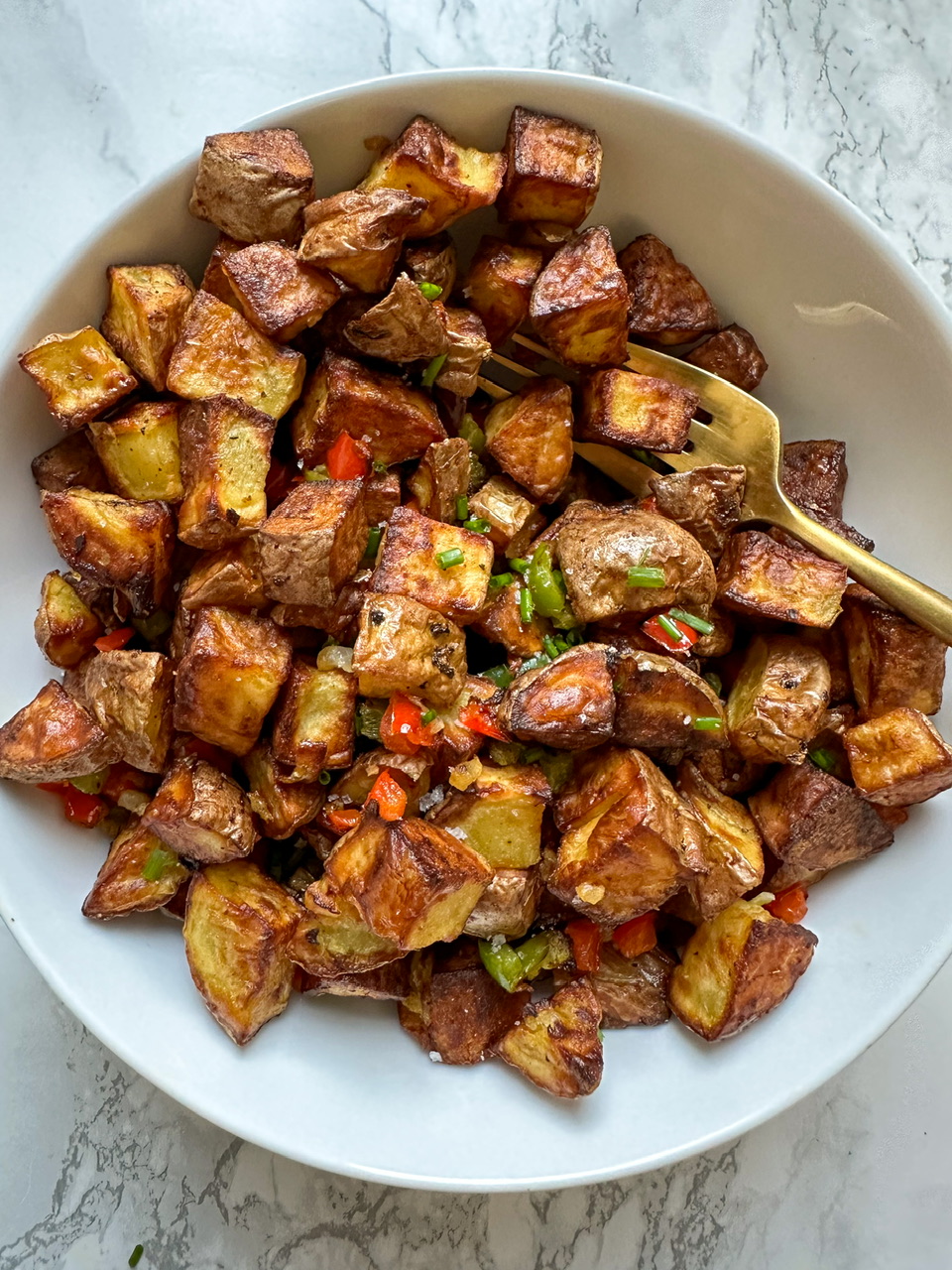 Substitutions/Tips
Using Leftover Potatoes – You can make air fryer home fries with leftover potatoes! Since the potatoes are already cooked, you don't need to cook them in the oven for 20 minutes on their own. Just cut up your already cooked potatoes. Then, add them to a bowl with some seasoning, oil, and the diced peppers and onions. Cook them all together at 350F for 10 minutes.
Mushrooms – If you like mushrooms, add them to the peppers and onions mixture and cook them for the same amount of time as the peppers and onions.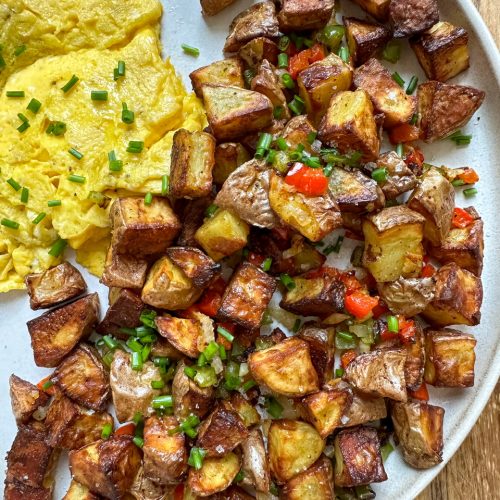 Ingredients
1.5

lbs

gold or yellow potatoes

1.5

tbsp

olive oil

3/4

tsp

seasoning with salt

you can use seasoning salt, adobo, garlic and herb, or meat and potato seasoning or any combo of these. i used 1/4 tsp Goya Adobo plus 1/2 tsp Meat and Potato Seasoning by Primal Palate

1/4

yellow onion

finely chopped

1/2

cup

Bell Pepper

red, green, orange, or yellow or any combo of these

1/2

tsp

coarse salt

for topping

1

tbsp

chives

diced
Instructions
cut your potatoes into 1" cubes

throw the potatoes into a bowl and add 1 tbsp olive oil and 3/4 tsp seasoning with salt. mix well

add the potatoes to the basket of an air fryer, making sure they are evenly distributed. Cook at 375F for 20 minutes without preheating.

do not rinse your bowl as you will add your onion and peppers to it and want to keep the leftover oil and spices in there.

cut your onion and peppers and add to the bowl with the additional 1/2 tbsp of oil. mix well.

reduce the heat of the air fryer to 350F, add mix the potatoes around, add the onions and peppers and cook for an additional 10 mins.

Once the potatoes are done cooking, add to a bowl or plates and top with fresh chives and coarse salt