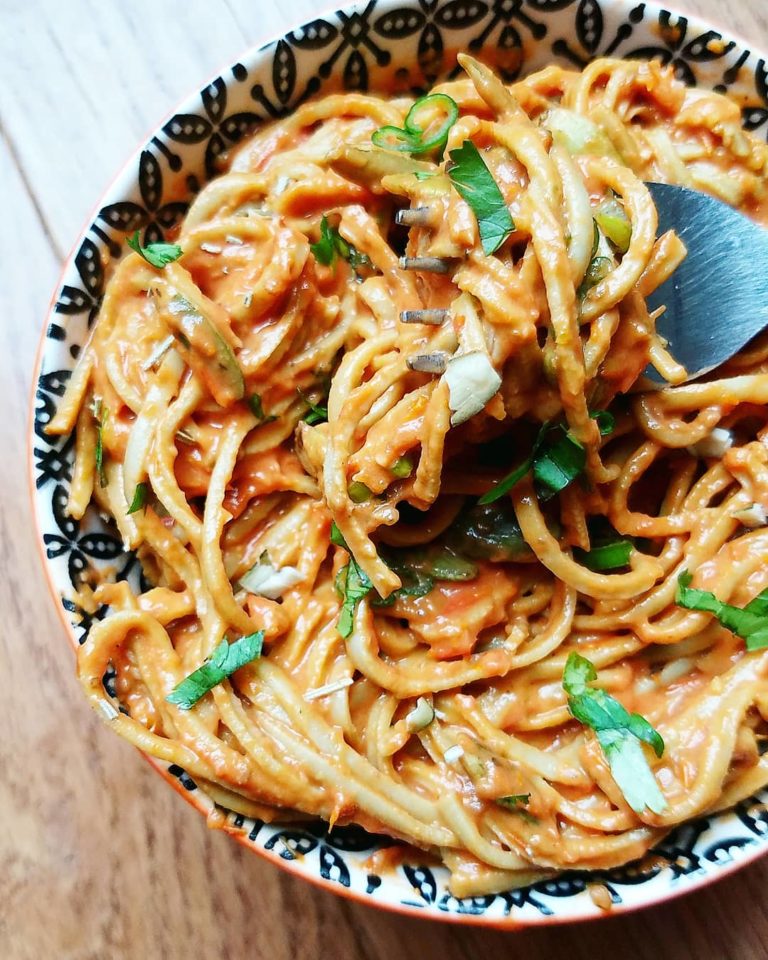 Tomato Coconut Cream Pasta Sauce
Edamame Pasta + Tomato Coconut Cream Sauce! When I found out that Aldi was now selling this pasta, I got really excited. I texted my mom, sister, all my titis, cousins, everyone! Everyone had a box within 24 hours, and we all shared what we did with it and we all love it! This pasta has allll the fiber making it a great staple for the low carb peeps! I decided to go completely vegan with mine and I created a tomato cream sauce using grape tomatoes that I had on hand. This ultra creamy sauce is sooo comforting and delicious!
Ingredients:
1tbsp Olive Oil
2 Pk (16 oz) Grape Tomatoes
5 Green Onions(just white parts), chopped
3 Cloves of Garlic, minced
1/4 tsp Dried Basil (or 1 tsp Fresh Basil, diced)
A pinch of Oregano
1/2 tsp of Sea Salt
1/2 Cup Coconut Cream
Optional Toppings: Raw Pumpkin Seeds and Fresh Basil
Directions:
Add oil to a pan and turn heat to low. Add tomatoes to the pan and cook for 25 minutes on low.  When water starts to release from the tomatoes, add 1/4 tsp of salt and stir.  Let simmer for remainder of 25 mins.
Add onions and garlic, dried herbs, and remainder of salt. Cook for 5 minutes on low.
Add 6 to 8 TBSP of coconut cream and stir. Taste mixture after 6 tablespoons and decide if you want more of a coconutty taste. Once mixture is hot, remove from heat.
While tomatoes are cooking, boil water and cook pasta. Drain and set aside.
Once tomato mixture is done cooking, pour contents of pan into a food processor and pulse until well blended. Add additional salt at this point if needed.
Pour sauce over pasta, top with pumpkin seeds and Enjoy!