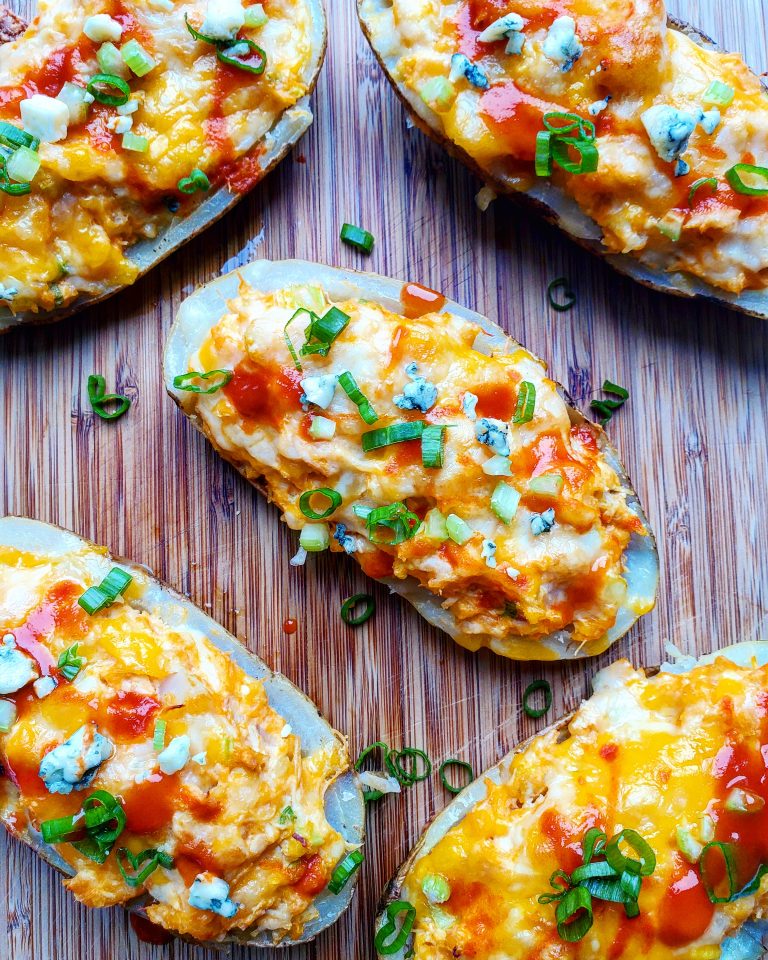 Buffalo Chicken Stuffed Potatoes
BUFFALO CHICKEN STUFFED TATERRRS! Yo….These were super deliciouss! They are like baked potatoes stuffed with buffalo chicken dip and that makes me so happy! All of my favorite things! It really hit the spot this week! Can't wait for you all to try it!

Ingredients:
4 Russet Potatoes
1/4 cup Franks Red Hot
1 cup Sour Cream
1 16oz can Chicken Breast
3/4 cup Shredded Cheddar Cheese
2 stalks celery, diced
2 Green Onions, finely chopped
Optional – Crumbled blue cheese

Directions:
1. Preheat the Oven to 425°F
2. Wash and Dry the potatoes
3. Place whole potatoes on a parchment paper lined baking sheet.
4. Poke holes in each potatoes. Drizzle a little olive oil on each potato and thrn sprinkle each potato with salt and pepper. Bake for 45 mins.
5. Once potatoes are done baking, let them cool enough to handle them.
6. Cut potatoes in half and scoop out the potato insides, being careful not to tear the skins. Leave about a 1/4 inch of potato around the edges. Throw the scooped out potato into a large bowl.
7. Combine scooped potato with chicken breast, Franks red hot, Sour Cream, half of the shredded cheese, diced celery, and majority of sliced green onions.
8. Add mixture to scooped out potatoes, top with remainder of shredded cheese and blue cheese
9. Baked at 400°F for 20 mins. You can also broil for a few minutes to brown the cheese on top.
10. Top with green onions.
**This post contains affiliate links
Follow me on Instagram @spinachandbacon