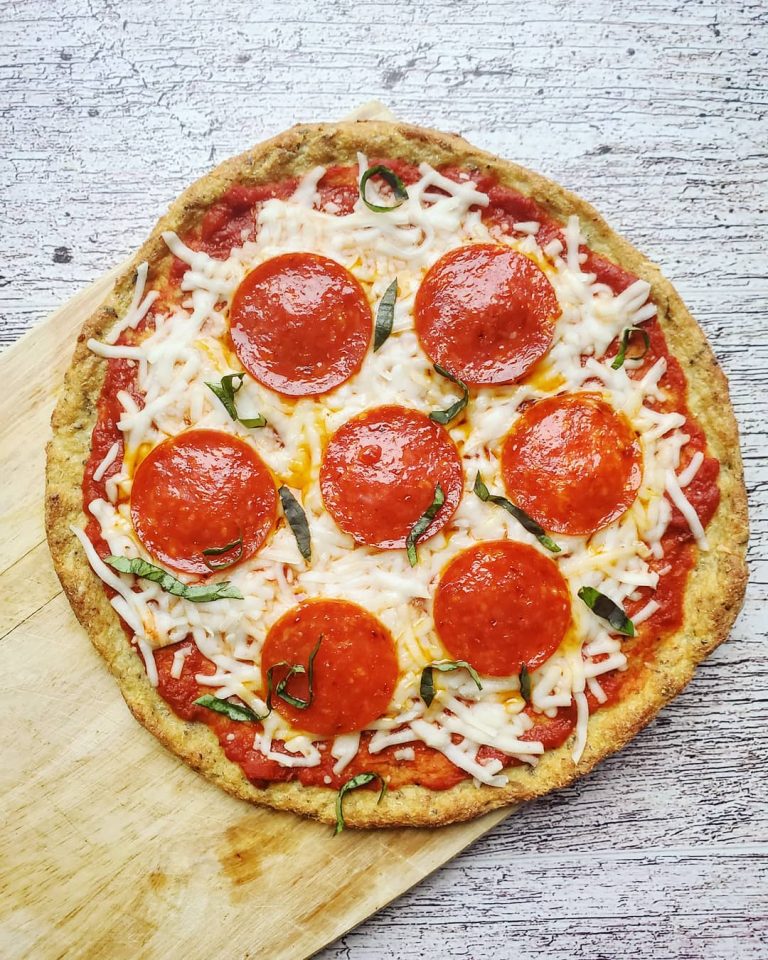 Cauliflower Pizza Crust
Here is my grain free dairy free pizza crust that I shared on my Instagram account @spinachandbacon a few weeks ago. Most cauliflower pizza crusts use cheese to firm up the crust, but I used a limited amount of cassava flour. I LOVE cheese, but sometimes I feel like I eat my weight in cheese (🙈) and it's nice to have a break. Head to @spinachandbacon to see two variations I made. As you can see, I rarely eat pizza without pepperoni – It is my favorite!
Ingredients:
1 Bag @traderjoes frozen Cauliflower Rice
1/8 Cup Cassava Flour*
1.5 tbsp Almond Meal
1/2 tbsp Olive Oil
1 Egg
1 Garlic Clove
1/4 tsp salt
1/2 tsp garlic powder
1/4 tsp basil
1/8 tsp oregano
1 tsp xanthan gum
*If you are not counting carbs, you can use a bit more cassava flour, up to 1/4 cup total.
Directions:
Preheat oven to 400°F
Heat cauliflower in a pan with a 2 tbsp of water. Cook until soft, but not brown.
Add cauliflower to a food processor with 1 garlic clove. Process until it resembles mashed cauliflower. You can add a bit of water if needed.
Squeeze all water from the cauliflower by adding it to a nut milk bag or fine mesh colander. I use an ellies best nut milk bag. You can use code "spinachandbacon" at elliesbest.com for a 10% discount. It is important to squeeze out all of the water. This is key for a crispier crust.
Add cauliflower to a bowl. You should have a little less than 1 cup of cauliflower.
Add remainder of ingredients and mix.
Line a baking sheet with parchment paper.
Put cauliflower mixture on the pan and form a pizza crust with your hands. Wetting your hands slightly makes it easier to spread out the dough. You will want to make it about 8-10 inches across, being careful not to make any area too thin.
Bake the pizza without toppings for 35 minutes. After about 25 minutes, slide a spatula carefully underneath to make sure it doesn't stick. Put back in the oven to finish cooking.
Add toppings and cook for another 10 – 12 minutes. Be careful with how much sauce you use. This is a cauliflower crust so if you use too much, you may make a soggy crust.