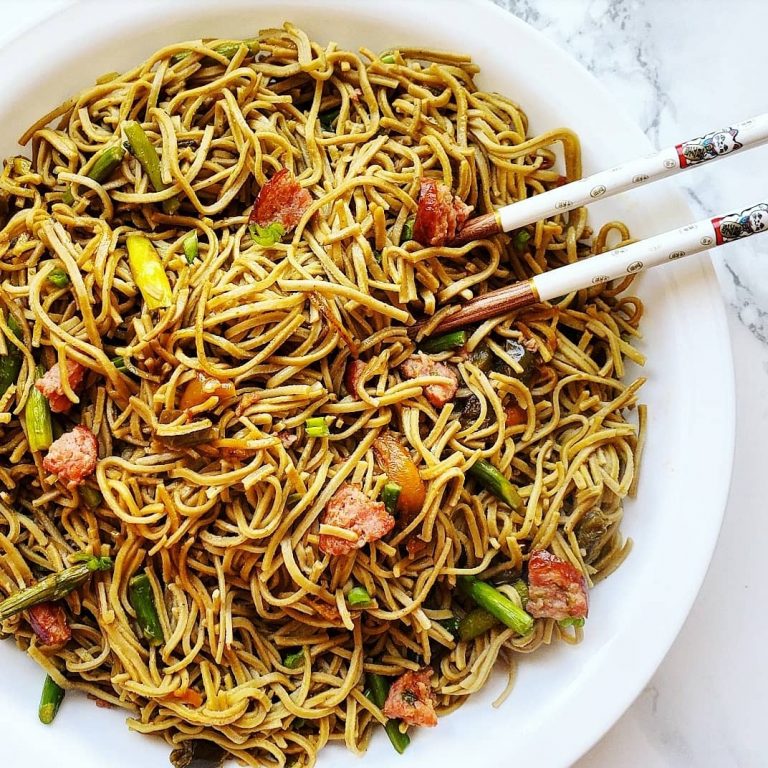 Edamame Noodle Stir-Fry
| EDAMAME NOODLES | These noodz are made 100% from organic non-GMO Edamame bean flour. They are such a delicious substitute for pasta and they hold up well. I've tried lentil, chickpea, and other types of Grain free pasta but these are my favorite. I found these at costco, but I usually buy them at aldi. I threw this dish together based on what was leftover in my fridge this week. I am on my way to Colorado this weekend, and I am a "no waste" kind of gal! I've listed out ingredients just to make this official, but just know that you can use any sausage and veggies in this dish.

Ingredients:
2 – 3 Sausage Links (I used leftover Kielbasa)
4 servings of Edamame Noodles (You can find this at Aldi or Costco)
2 Bell Peppers, sliced (any color)
1/2 bunch of Asparagus, chopped into 1 inch pieces
2 Green Onions, chopped thin
1/2 tbsp Ginger, minced
2 cloves of Garlic, minced
*Optional* – Mushrooms, Carrots, Cabbage, or anything you want to use up
1 tbsp Avocado Oil
2 tsp Sesame Oil
1/4 Cup LOW-SODIUM Tamari (can be subbed with coconut aminos but you may have to add some additional salt)
1/4 tsp Black Pepper
A few dashes of hot sauce

Directions:
1. Boil a pot of water, big enough to hold your edamame noodles. Once water boils, cook noodles for 3 -4 minutes. Then drain, rinse with cold water and set aside. (I use a scissor to cut the noodles a few times before I add them to my pan)
2. Cut sausage links in half long ways, then chop it into half moon pieces.
3. Add sausage to pan on medium heat.
4. Once sausage has started to produce some oil, add the sliced bell peppers and asparagus.
5. Stir and cook for 2 minutes then add minced garlic and ginger. Then add half of the green onions.
6. Continue to cook until sausage has browned lightly. Do not over cook the vegetables.
7. Once sausage has browned, add avocado oil, noodles, LOW SODIUM Tamari, sesame oil, black pepper, hot sauce, and remainder of onions. Stir until fully incorporated and serve immediately.