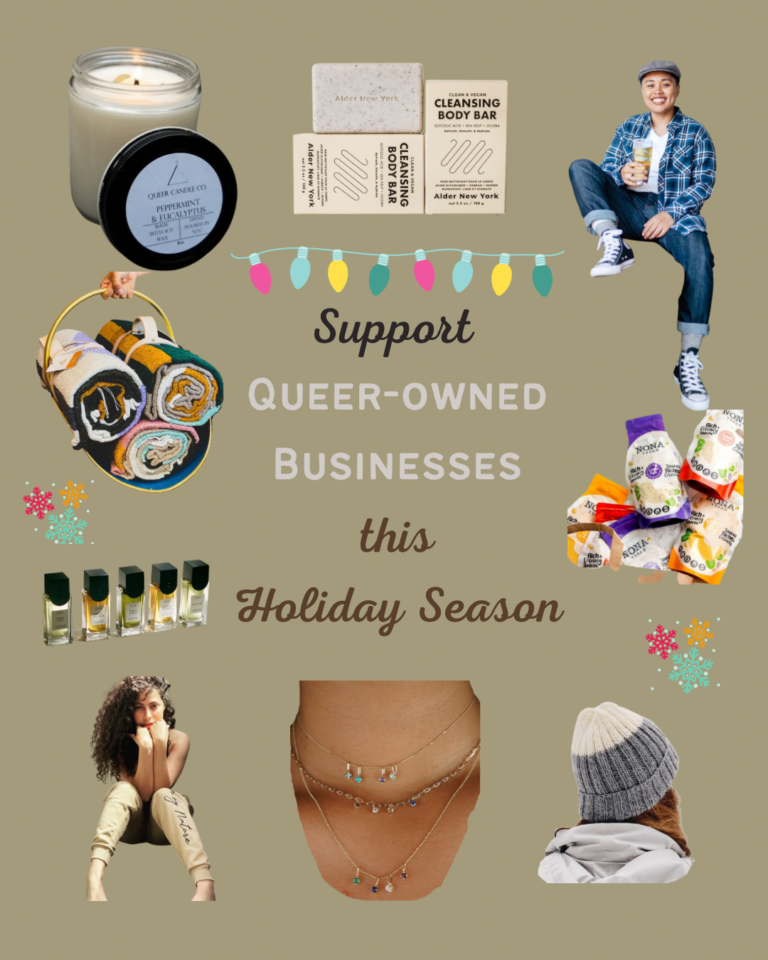 Holiday Gift Guide 2021: Queer-Owned Businesses
Every time we give a gift, we have the opportunity to leave a huge impact on the receiver. I know it is super easy to buy something quickly on Amazon and have it delivered in 1 or 2 days to the recipient. But, what if we could be more mindful about where we spend our money? What if we could support small business, specifically small businesses created by minority groups? We are lucky to have so many options these days, and social media makes it easy to find businesses to support. That is why I curated this list of Queer-Owned Businesses that are selling some really fantastic goods.
Items in this guide are not just for queer people, they are for everyone who wants to support these amazing small businesses. The LGBTQIA+ community is so creative and diverse. It is full of artists, creatives, and entrepreneurs who grew up during a time when it wasn't popular to be queer. The fact that they thrived and built these businesses is so inspiring. Please consider supporting these creators this holiday season.
Dapper Boi – Dapper Boi creates gender neutral clothing in a wide range of sizes. All of the clothes are stylish and high quality. My wife loves this company. She finds it difficult to find clothing that she feels comfortable in. She is always looking for a more tailored and androgynous look when she is hanging out with friends, and the regular stores in the mall just won't cut it. Dapper Boi is perfect for her tomboy style and I know it will also be perfect for yours.
2. Queer Candle Co – What's better than a great smelling candle made by a queer? 🙂 I love candles! My wife jokes that I have a candle problem, and maybe she is right but I don't care. Aromatherapy is a very real thing, and when I have lovely scents around me, I am happy. I love that this company also donates 10% of their monthly earnings to the Sylvia Rivera Law Project, which is an organization working to "guarantee that all people are free to self-determine gender identity and expression, regardless of income or race, and without facing harassment, discrimination or violence."
3. Nona Vegan – Nona Vegan makes creamy Italian sauces that are gluten free, vegan, and keto friendly! I have tried to go dairy free a few times but the one thing I always miss is that creamy texture when it comes to pasta dishes. Nona Vegan makes a completely vegan Carbonara, Alfredo, and "Cheese" sauce to whip up fast and easy meals that are creamy and delicious.
4. Automic Gold – "Radically Wearable Pure Gold" This NYC based company is making high quality gold jewelry that is size inclusive and genderless. I especially love that they absolutely do not photoshop any of their models, and their models are all people of color. All jewelry is made from reclaimed gold, so each piece has history.
5. Stuzo – A gender free clothing company for all humans. Stuzo was created for the non-comforming and bold at heart. I really love this quote from their webpage "Our pieces are gender free as we prefer to call them because clothes don't have any organs last time we checked." 🙂
6. Alder New York – Skin Care for all bodies! They are a queer and woman-owned independent skincare brand that makes products designed to work for all skin types, no matter your age, gender, or ethnicity. I also really love the sleek looking packaging on these products.
7. Meus Shop – This queer owned and woman owned business is a home and lifestyle shop that supports independent designers and artisans. All items are unique and design focused. The shop is located in Maplewood, NJ in an adorable cozy shop and has the most beautiful items from jewelry and crystals to candles and other home goods.
8. Sigil Scent – Sigil Scent is a truly natural gender fluid fine fragrance and beauty company. These scents are long wearing and are inspired by ancient traditions. Sigil Scent has been featured in W, Vogue, Allure, Vanity Fair, and more! This is perfect for anyone who loves perfume but doesn't want to smell overly girly or overly masculine.
9. Tif Knits – Tif Knits is a NYC made to order hand knits company. The definition of "slow fashion". Turn around time is 2-3 weeks because each hat is hand knit with love. Very different than the mass-produced hats you will find in the mall. I love wearing hand knit items. You really appreciate every turn of the needle it took to make the item you are now wearing.
This concludes my 2021 Holiday Gift Guide. By clicking on the photos above, it will take you directly to each company's instagram account so that you may browse all that they offer. There are so many more amazing queer businesses to support, so I encourage you to do your own research as well. If you are a queer business and would like to be included in my Holiday Gift Guide post next year, or would like a shout out on my Instagram account this holiday season, please send me a DM so that I can check out your page.
Have a great holiday season, friends! XOXO Erin