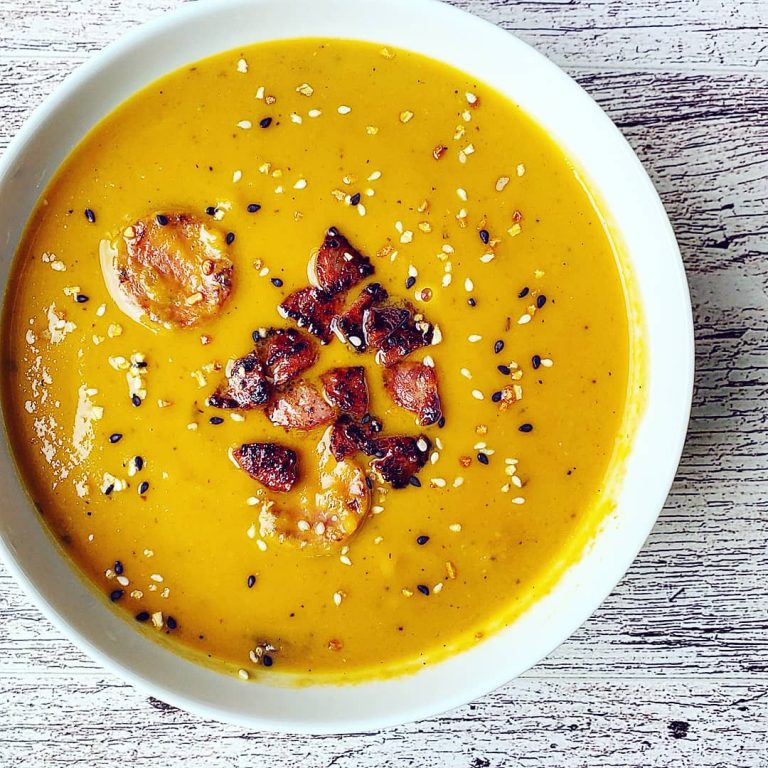 Sweet Potato Soup (DF/Paleo/Whole 30)
| SWEET POTATO | Breakfast Soup with Chicken and Apple Sausage.
I have been creating some Whole 30 recipes for my upcoming whole 30 and I knew that I needed at least one egg free breakfast option. Although, tbh.. most likely I'd add a poached egg on top. This recipe is so easy because I used canned Sweet Potato puree. I usually stock up on canned pumpkin, butternut squash, and sweet potato around the holidays. I then use these to make quick and easy soups and curries all year long. If you cannot find canned sweet potato puree you can just use diced sweet potatoes and they will get soft during the cooking process. Note – There should only be one ingredient in any canned vegetable puree that you buy.
Ingredients:
(3 – 4 Servings)
1 shallot, sliced
Half Large Yellow or Spanish Onion, Sliced
1 cup Carrots, sliced
2 tbsp Coconut or Avocado Oil
1 tsp salt
1/2 tsp black pepper
1/4 tsp dried rosemary
1 can Sweet Potato Puree (1lb)
1/2 tsp everything Bagel seasoning
2.5 cups of chicken broth
2 Aidell's Chicken and Apple Sausage
1/4 cup coconut cream
Step 1: Cook the shallot, onion, carrots, oil, 1/4 tsp salt, 1/4 tsp black pepper, and rosemary in a soup pot until soft but not burned
Step 2: Add 3/4 tsp salt, 1/4 tsp black pepper, everything Bagel seasoning, and chicken broth to the pot and bring to a boil then reduce the heat to low and cook for 20 minutes.
Step 3: While the soup is cooking, slice two aidells sausage links (or more if you like) and saute them in a pan. Set aside and add to the soup once it is done.

Step 4: Once soup is done, use an immersion blender or vitamix to create a creamy consistency. Then, stir in 1/4 cup coconut cream and sausage.

Step 5: Optional – Top with more everything Bagel seasoning