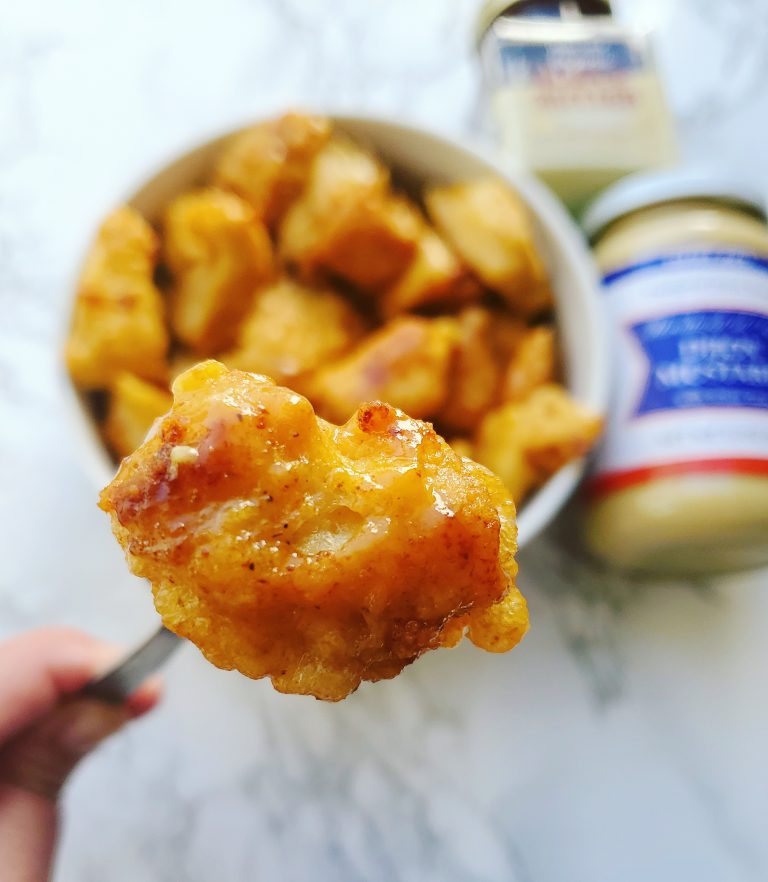 Maple Dijon Nuggets
| MAPLE DIJON NUGGETS | 🍁🐓 After making my Honey Walnut Shrimp, I started to think about all of the other delicious things I can make with a tapioca flour batter. The batter is so simple, just whisk together some tapioca flour and egg whites. I had some chicken breasts in the fridge, so I decided to try some nuggets. The tapioca flour gives this dish the most delicious and lightest crisp EVER anddddd it is grain-free so it gets all the checks ✔✔. Also, I've been loving maple/dijon everything this Fall. It is super similar to honey mustard, but I just really enjoy it more. I'm team Maple for sure!
Ingredients:
2 egg whites
3 tbsp tapioca starch
1/2 cup oil
3 chicken breasts, cut into nugget size pieces
3/4 tsp salt
2 tbsp Dijon Mustard
1 tbsp Mayo
1.5 tbsp Maple Syrup
A few drops of sriracha
Squeeze of lemon
Directions:
1. Add two egg whites to a new medium sized bowl and whisk until it is very frothy. Next, add 3 tbsp tapioca starch to the egg whites. Whisk until smooth and batter forms.
2. Coat chicken pieces with 3/4 tsp salt, then put into the bowl with the batter and mix thoroughly.
3. Heat up oil on medium heat
4. Cook in oil for about 2 to 3 minutes per side.
5. Remove from heat, and place on a wire rack until all pieces are finished cooking.
6. Make the sauce as the chicken cools slightly.
7. Combine all sauce ingredients in a bowl(dijon, mayo, maple syrup, sriracha, and lemon) and mix until smooth
8. Coat chicken pieces in sauce and enjoy!