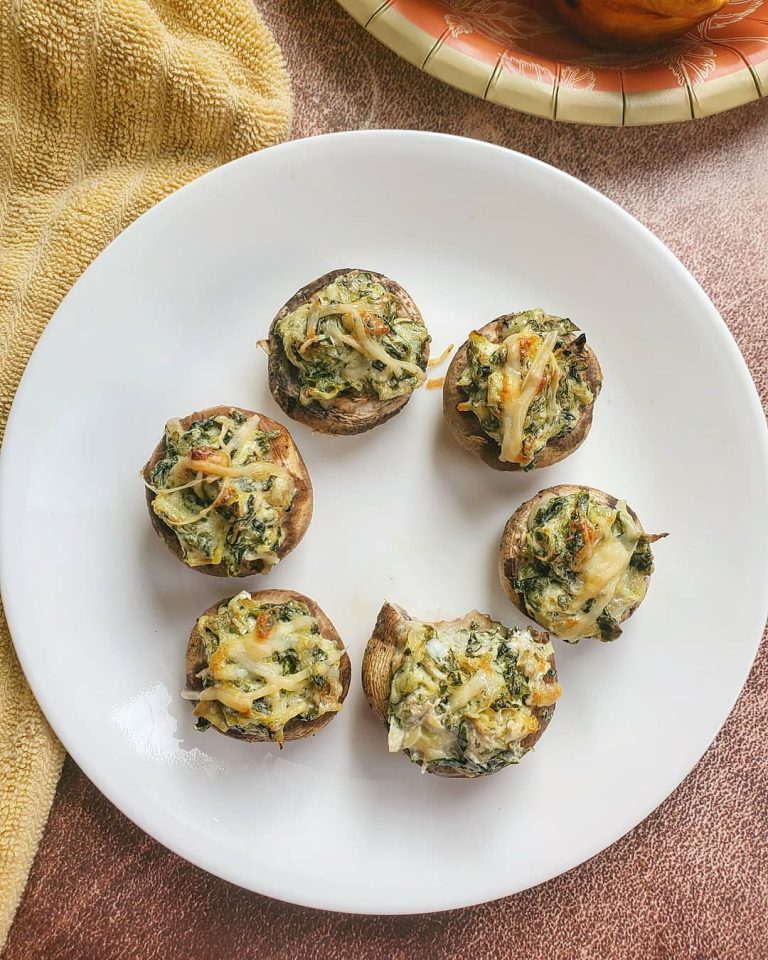 Spinach and Artichoke Stuffed Mushrooms
| SPINACH AND ARTICHOKE STUFFED MUSHROOMS | 🍄🌱🧀 Save room for 'shrooms! These mushrooms were scooped out and stuffed with spinach, artichokes, garlic, and a mix of melty cheeses. This grain-free appetizer uses the same filling as my Spinach Artichoke Puff Pastry Bites, so you can make big batch of the dip and make both! I love making stuffed mushrooms for parties because I feel like they can be stuffed with all sorts of creative and decadent fillings, but they still always feel kind of healthy! I never liked mushrooms as a kid, but once I realized that I could stuff them, everything changed for me. How about you? Are you team mushroom?? 🍄🍄 All ingredients are from Trader Joe's.
Ingredients:
25 mushrooms(either baby bella or white button)
8 oz cream cheese
1/2 cup mayo
1 – 15 oz can artichokes, rinse, drained, and chopped
1 – 16 oz bag frozen spinach, thawed, and strained to remove water.
1/2 cup shredded mozzarella cheese
1/4 cup shredded parmesan
1 tbsp garlic powder
1/2 tsp salt
1 tsp hot sauce
Dash of black pepper

Directions:
*Preheat Oven to 400°F*
1. Take a wet cloth and gently remove dirt from mushrooms.
2. Gently pop off the stems from the mushroom, making sure to remove enough to create an area in the mushroom to add the filling. (Photo below)
3. Arrange mushrooms, in a casserole dish. (Photo below)
4. Mix together all of the dip ingredients
5. Add about 1.5 tbsp of the dip to the middle of each of the mushrooms. Make sure to push down into the hole of the mushroom.
6. When they are all filled, place in the oven for 20 minutes..or until you see the cheese bubbling and the mushrooms have released water.