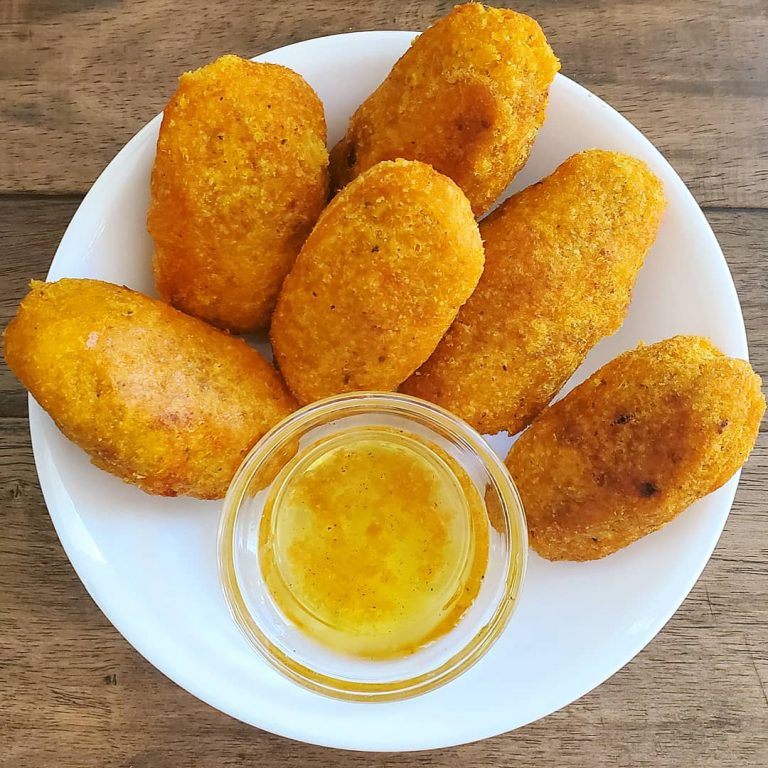 Stuffed Yuca Fritters
| YUCA FRITTERS | This is one of my favorite bites from Puerto Rico. Their native name is "Alcapurrias". Double points for whoever can roll those "r"s! Alcapurrias are usually made with Guineos, which are small green bananas, but you can also make them with Yuca! A video of the whole cooking process is on @spinachandbacon on Instagram! This is one of my family's most beloved recipes and we make a big batch of these a few times a year. Alcapurrias are usually fried, but for real..HONESTLY, I prefer the yuca variety baked instead of fried. There is just this unbelievable texture that cannot be duplicated any other way. The way it feels when you bite into them is just incredible.
*Some of the links on this page are affiliate links for products that I truly love and recommend. By clicking on one of the links, I may receive a small amount of commission. This helps me continue to provide you with new spinachandbacon recipes. Thank you for all of your support!
Ingredients:
6 lbs Grated Yuca (I find this in the frozen section at the latin grocery)
2.5 lbs of Ground Beef
Meat Seasoning:
3 tbsp sofrito (recipe at spinachandbacon.com)
1 tbsp garlic powder
1 tsp black pepper
2 tsp salt
1 tsp non-msg sazon
1 tbsp chopped onion
1 tsp oregano
1.25 tsp cumin
Yuca Seasoning:
1tsp garlic powder
1tsp dried chopped onion
1tsp oregano
1 tsp sea salt
1/2 tsp black pepper
1/4 tsp achiote powder
1 tbsp Adobo
For added orange color use 1 tbsp prepared achiote oil (homemade)
1. Cook the meat and set aside.
2. While meat is cooking, remove yuca from package and squeeze out all of the water. I use my beloved nut milk bag from Ellies Best because it does a better job than any other colander. Use code "spinachandbacon" at elliesbest.com for 10% off the purchase of one.
3. Once all water is squeezed out, mix yuca and spices until completely combined. Make around 25 equal sized balls of yuca. You can do this by using a small ladle or 1/4 cup measuring cup, or an ice cream scooper.
4. Flatten out each ball in your hands, add 1 tbsp meat to the middle and wrap the yuca around the meat..creating ovals.
5. Once all are made, decide if you will bake or fry them.
Frying Method: Fry in a deep Dutch oven on medium high heat for 30 minutes, turning half way. Fry till golden.
Baking Method: Tightly Wrap each piece in aluminum foil at 400°F for 1 hour and 20 minutes.