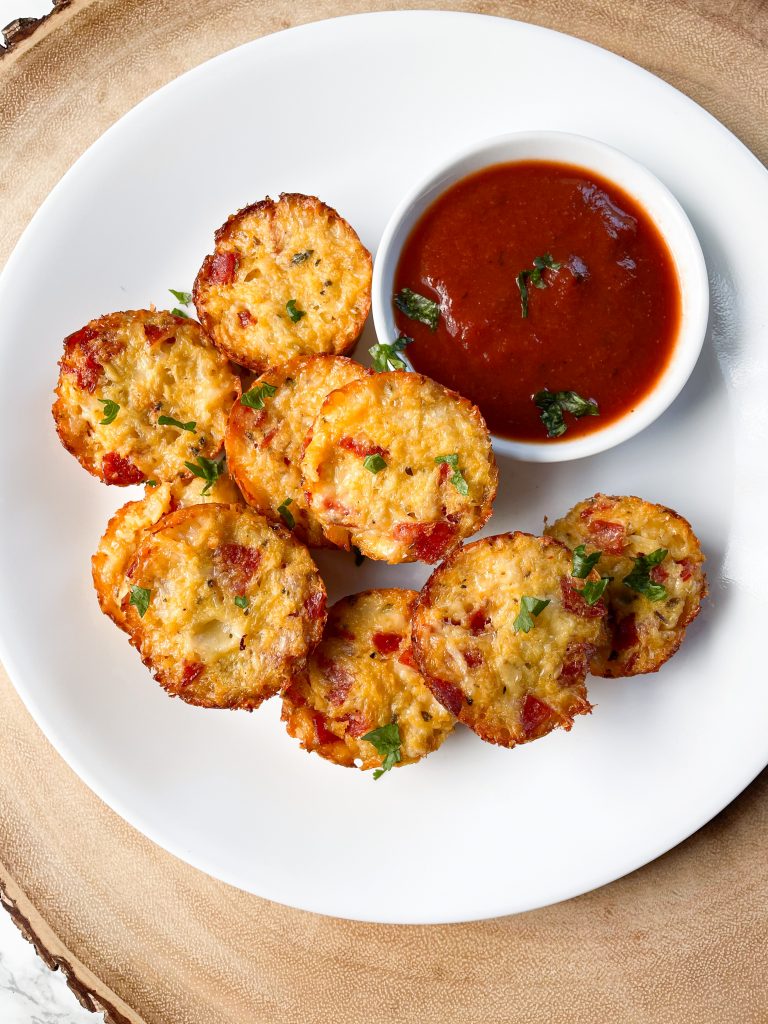 Pepperoni Pizza Cauliflower Bites
I am one of those people who honestly love Cauliflower – I love it for what it is, and I also love it for everything it can become! I hadn't made anything with Cauliflower for a few months but my adoration for this cruciferous veggie is back and in the form of little Pepperoni Pizza Cauliflower Bites! These little grain-free snacks are easy enough to make for a relaxing day in, yet fancy enough to add to your game day spread!
Is cauliflower pizza crust good for you?
It can be but it all comes down to the other ingredients. Since cauliflower is healthy on it's own, the addition of it in your pizza will give you an extra serving or two of vegetables. These pepperoni pizza cauliflower bites have 1lb of cauliflower in them!
Is cauliflower pizza crust really low carb?
It depends on how it is made. Cauliflower pizza crust is a delicious gluten free and low carb pizza recipe. It's a simple blend of cauliflower, eggs, cheese, and a few spices that's flattened and baked into a golden crust. However, I have seen some frozen cauliflower pizza crusts but they have tapioca flour or potato flour in them. Those are not low in carbs because of the additional flour.
Recipe:
INGREDIENTS
1 lb Cauliflower Rice Microwave 6-8 minutes, squeeze and drain all water
3 oz Pepperoni Chopped
4 oz Shredded Mozzarella and Cheddar Cheese
1/2 tsp Oregano
1/2 tsp Garlic Powder
1 Egg
INSTRUCTIONS
Preheat the oven to 375F
Microwave the cauliflower for 6 to 8 minutes until soft
While the cauliflower is in the microwave, chop the pepperoni and organize your ingredients
Once the cauliflower is steamed, let it cool, and then squeeze all the water out. I like using a nut milk bag
Combine all ingredients in a bowl. Make sure the mixture is cool before you add the egg
Grease a mini muffin tray and add 1 tbsp of the mixture to each mold. Press the mixture down into each mold. If you do not have a mini muffin, you can also just make little discs of the mixture on a parchment lined baking sheet.
Bake at 375F for 15 minutes or until the edges are nicely browned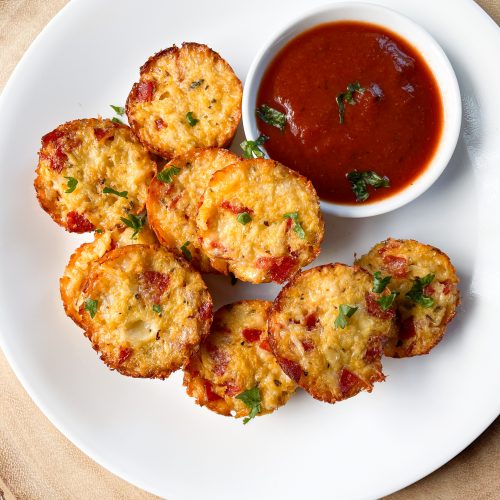 Pepperoni Pizza Cauliflower Bites
Delicious Pepperoni Pizza Bites made with Cauliflower! Grain Free, Gluten Free, and Keto
Ingredients
1

lb

Cauliflower Rice

Microwave 6-8 minutes, squeeze and drain all water

3

oz

Pepperoni

Chopped

4

oz

Shredded Mozzarella and Cheddar Cheese

1/2

tsp

Oregano

1/2

tsp

Garlic Powder

1

Egg
Instructions
Microwave the cauliflower for 6 to 8 minutes until soft

While the cauliflower is in the microwave, chop the pepperoni and organize your ingredients

Once the cauliflower is steamed, let it cool, and then squeeze all the water out

Combine all ingredients in a bowl. Make sure the mixture is cool before you add the egg

Grease a mini muffin tray and add 1 tbsp of the mixture to each mold. Press the mixture down into each mold. If you do not have a mini muffin, you can also just make little discs of the mixture on a parchment lined baking sheet.

Bake at 375F for 15 minutes or until the edges are nicely browned