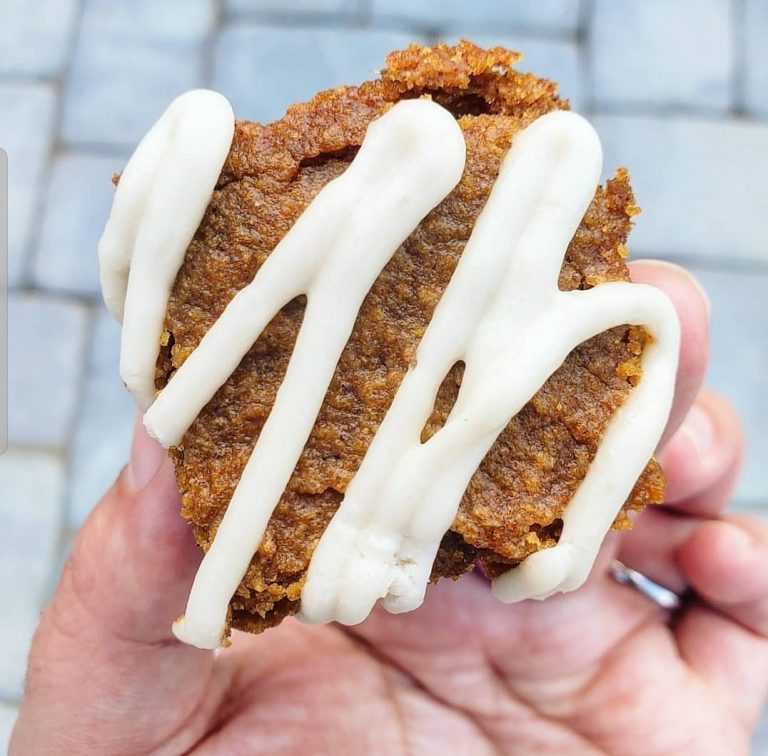 Pumpkin Spice Blondies
| PUMPKIN SPICE BLONDIES | 🎃 With a #dairyfree Cream Cheese Drizzzzzle❗Ohhh hey…is it still August? I hardly noticed/I don't actually care. 🤷‍♀️ The swampy oppressive weather of Philadelphia released it's grip just long enough for me to bake up some Pumpkin Spiced treats! You know what's funny/a little embarrassing? I never removed my Fall themed window decals from last year..so actually..now I look like I am ahead of the curve…but really it's because I never willingly let Fall go last year. –
I have been playing around with using some cassava flour in my baking recipes instead of 100% almond flour. I REALLY love almond flour, but it is really high in fat, and not the good kind of fat. SURE, the cassava flour adds some carbs, but I am not too worried…since it is only a bit for the whole recipe.
Ingredients:
3/4 cup blanched almond Flour
1/2 cup cassava flour
1/2 tsp baking soda
1/4 cup coconut oil
1/2 cup smooth almond butter
1/4 tsp salt
1 egg
1 tbsp maple syrup
1/2 cup coconut sugar
2.5 tsp pure vanilla extract
1 cup pumpkin puree
2.5 tsp pumpkin pie spice
Directions
1.Preheat oven to 350°F
2.Grease an 8×8 baking dish
3.Combine flours, baking soda, and salt in a small bowl.
4.In a separate bowl, combine egg, pumpkin puree, melted coconut oil, almond butter, vanilla, coconut sugar, pumpkin pie spice, and maple syrup
5.Mix the dry ingredients into the wet ingredients little by little until fully incorporated
6.Add mixture to the 8×8 pan. In order to move the batter around, don't be afraid to wet your hands slightly and mold batter to fit the inside of the greased pan.
7.Bake for 30 mins
Dairy Free Cream Cheese Frosting:
(recipe Adapted from 40aprons.com)
4 ounces @kitehillfoods Dairy Free Cream Cheese
2 tbsp Pure Maple Syrup
2 tbsp coconut oil, Melted (or grass fed butter if you can tolerate it)
1/4 tsp Vanilla Extract
Beat ingredients together with a hand mixer.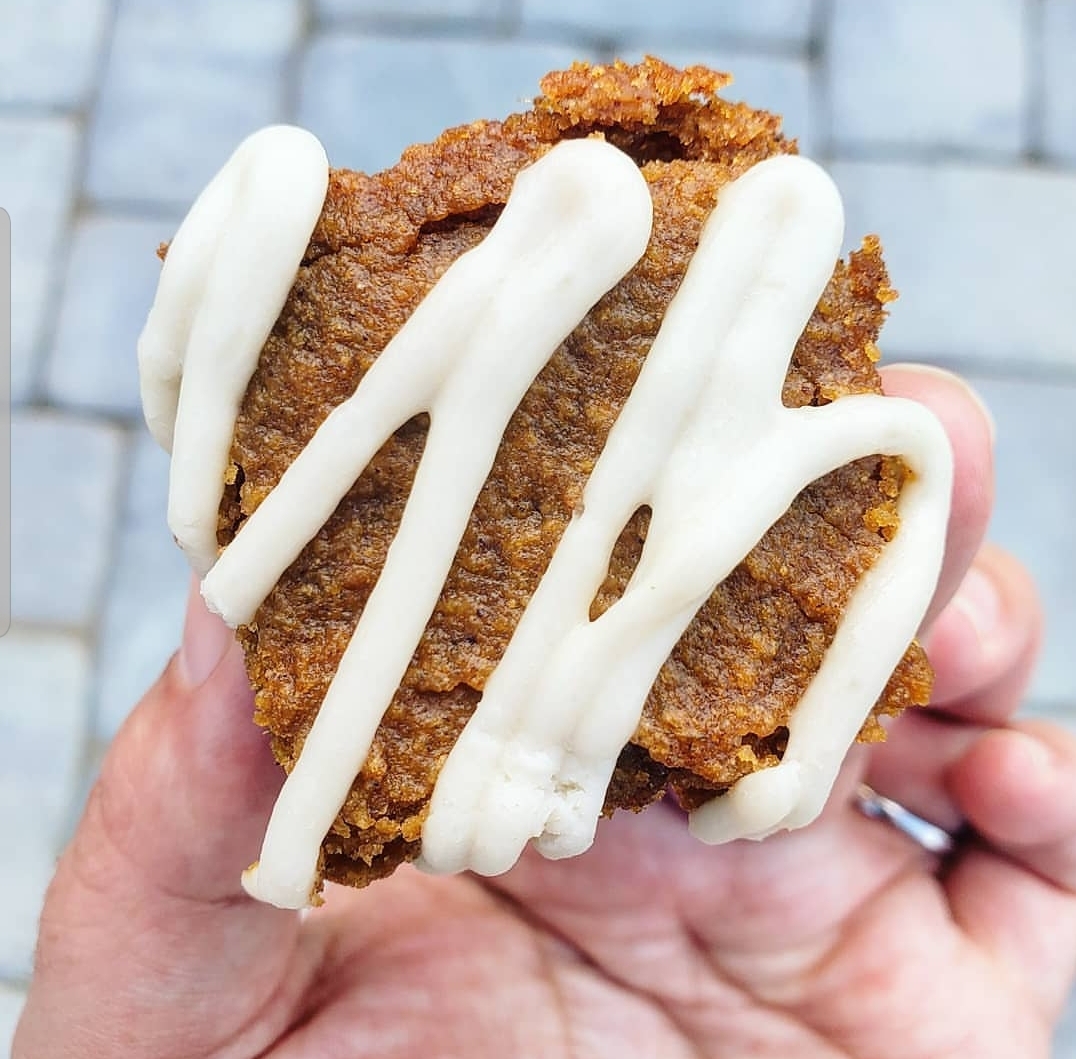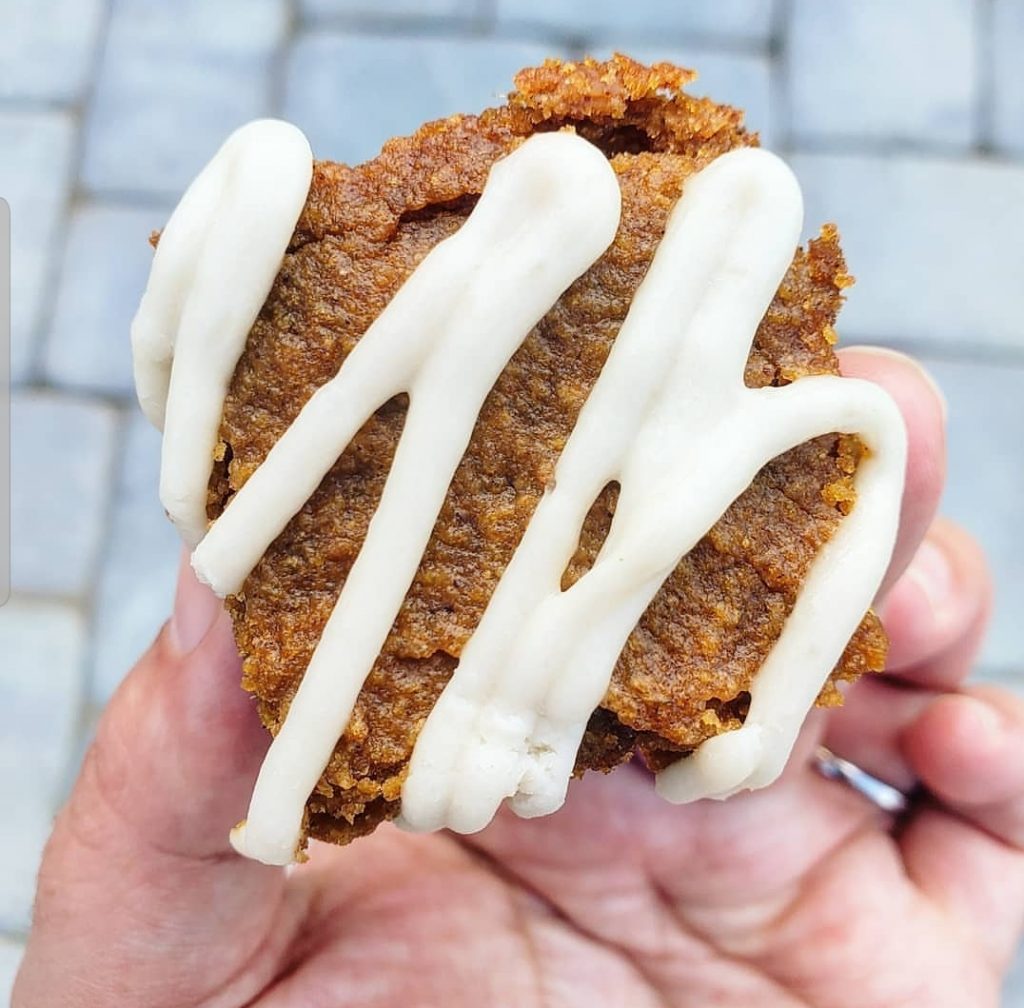 Some of the links on this page are affiliate links for products that I truly love and recommend. By clicking on one of the links, I may receive a small amount of commission. This helps me continue to provide you with new spinachandbacon recipes. Thank you for all of your support!