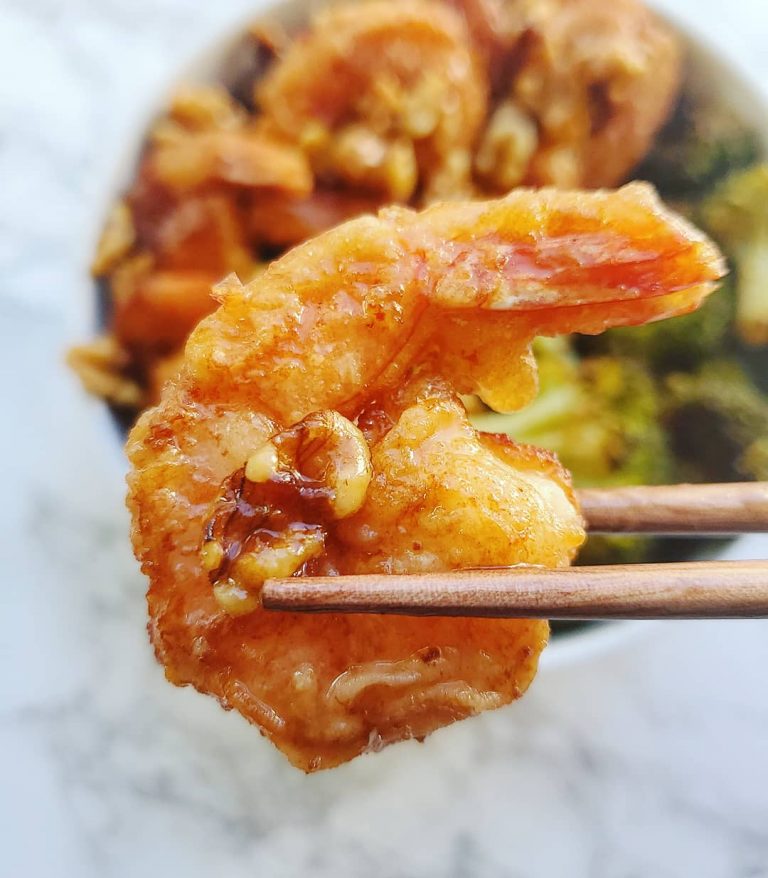 Honey Walnut Shrimp
Honey Walnut Shrimp | 🍯🌰🍤 With a side of Broccoli! I have been craving shrimp lately, so I decided last week that I was going to make something "shrimpyyy". Well, here we are. This recipe absolutely delivered! Here's my secret though, I used maple syrup instead of all honey just because I am obsessed with maple, but feel free to use honey. I used tapioca starch to create a crispy delicate shrimp batter that is sooo light and delicious. Tapioca starch is so magical! This recipe is paleo, gluten free, and can easily be adapted to be keto using some Lakanto sweetener.
Ingredients:
1 cup chopped walnuts
1.25 tbsp oil/grass fed butter
1 tbsp maple syrup
1/4 tsp salt
1.5 tbsp mayo
1.5 tbsp coconut cream
1 tbsp honey(sub with Lakanto monkfruit sweetener if keto)
1 tsp fresh lemon juice
25-30 Shrimp, rinsed, with shells removed, and deveined. I buy these from Trader Joes.
2 egg whites
3 tbsp tapioca starch
1/2 cup avocado oil

Directions:
1. Add walnuts, 1.25 tbsp butter, maple syrup, and 1/4 tsp of salt to a saucepan on lowest heat setting. Stir occasionally and cook for 10 – 15 mins or until they brown slightly. Remove from heat and set on a baking sheet or plate to cool.
2. Make the sauce by adding 1.5 tbsp mayo, 1.5 tbsp coconut cream, 1 tbsp honey, and 1 tsp fresh lemon juice to a medium sized bowl. Whisk until smooth and set aside.
3. Add two egg whites to a new medium sized bowl and whisk until it is very frothy. Next, add 3 tbsp tapioca starch and 1/2 tsp salt to the egg whites. Whisk until smooth and batter forms.
4. Add the shrimp to the batter. Coat all shrimp well.
5. Heat 1/2 cup of avocado oil on medium heat. Cook the shrimp in batches. Cook for 2 minutes per side, then place shrimp on a wire rack to cool slightly and firm up. Shrimp are cooked when they are no longer translucent.
6. Once shrimp are all cooked, toss shrimp into the sauce and distribute evenly.
7. Top with walnuts and serve with a side of veggies.