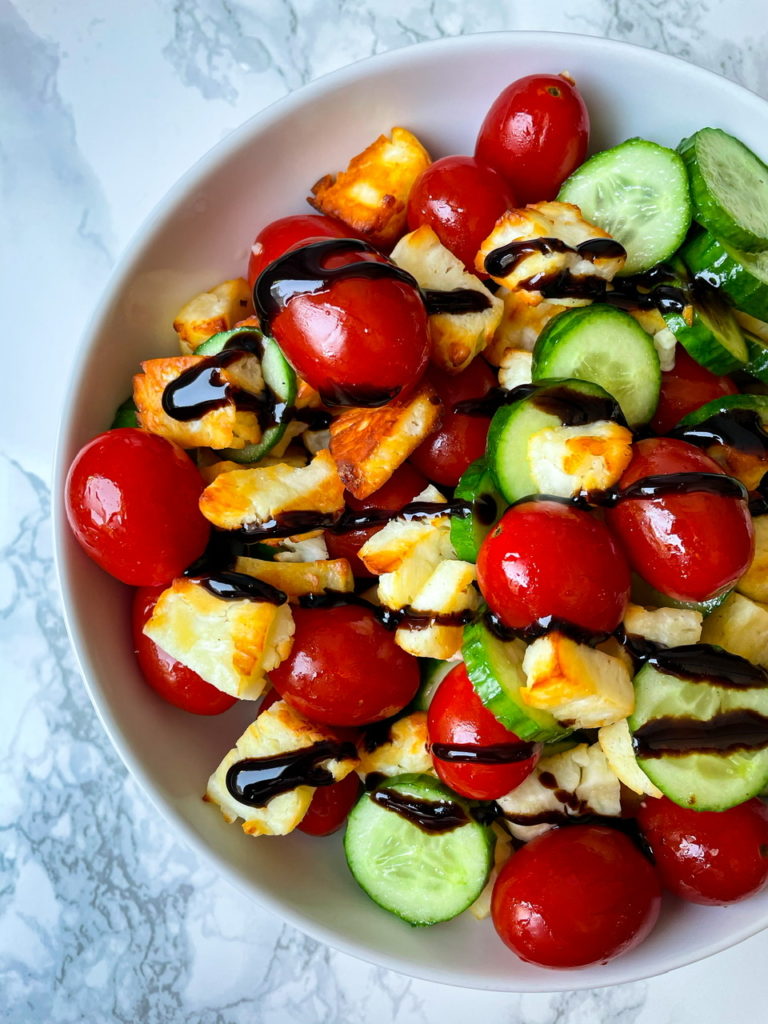 Halloumi Salad
This Halloumi Salad recipe is an amazing addition to your summer line-up. This salad comes together in about ten minutes and it unbelievably tasty. The combination of warm crispy cheese plus fresh cucumber and tomato is LEGENDARY! If you bring this to a BBQ, you will be the MVP for sure! Or, make this as part of your meal prep for the week and love yourself all week long!
What does Halloumi taste like?
For those of you who have never tried halloumi cheese, it has a taste similar to feta cheese, but it has much less moisture so you are able to brown it in a pan, grill, or air fryer very easily! The cheese is naturally salty, so when you pair it with fresh fruit or vegetables it is an amazing combination.
How do you eat halloumi cheese?
One of the easiest but most effective ways to cook halloumi is to cut it into slices and heat it in a pan or air fry it. Here is the recipe for my Air Fryer Halloumi . It doesn't require any additional ingredients, just keep an eye on it as it cooks quickly – once it's golden, it's good to go.
Ingredients for Halloumi Salad:
Halloumi Cheese
Grape Tomatoes
Mini Cucumbers
Olive Oil
Balsamic Glaze
Be sure to check out the video of me making this Halloumi Salad on my Instagram account @spinachandbacon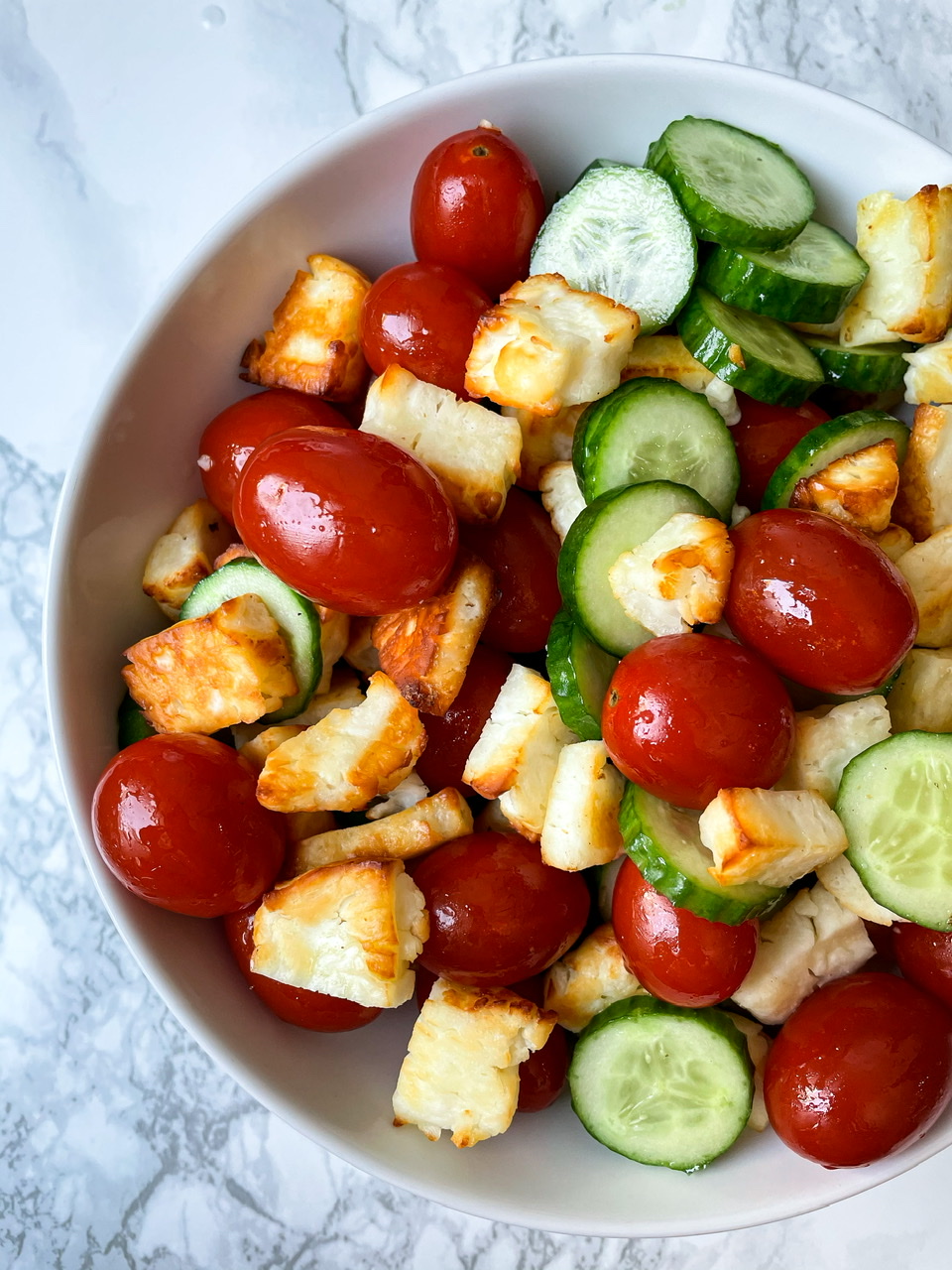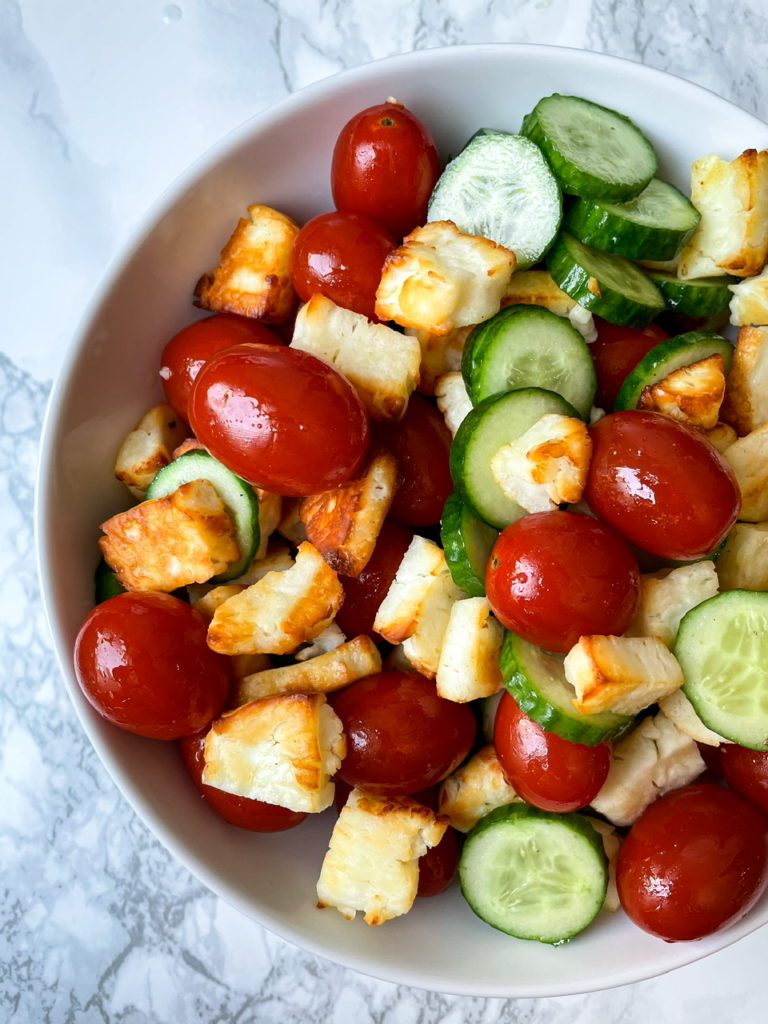 Halloumi Salad
This Halloumi Salad is made with crispy halloumi, cherry tomatoes, mini cucumbers, olive oil, and a drizzle of balsamic glaze.
Course
bbq, dinner, lunch, Salad
Ingredients
1

pack

Halloumi Cheese

cut into cubes and heated in a pan or air-fried

4

Persian Cucumbers

1

pack

Grape Tomatoes

or Cherry Tomatoes

Olive Oil

1 to 2 tablespoons

Balsamic Glaze

For drizzling
Instructions
Cut and cook the halloumi cheese. You can either heat the cubed pieces on a pan until they get golden brown or you can air fry them. I have included a link to my recipe for Air Fried Halloumi above.

Slice the cucumbers into 1/4 inch wide slices

Pour the cooked cheese, tomatoes, sliced cucumbers in a large mixing bowl and mix it.

Add 1 – 2 tablespoons of Olive Oil to your liking. Mix!

Pour ingredients into a serving dish an drizzle on some balsamic glaze.
Keyword
bbq, cheese, halloumi, salad