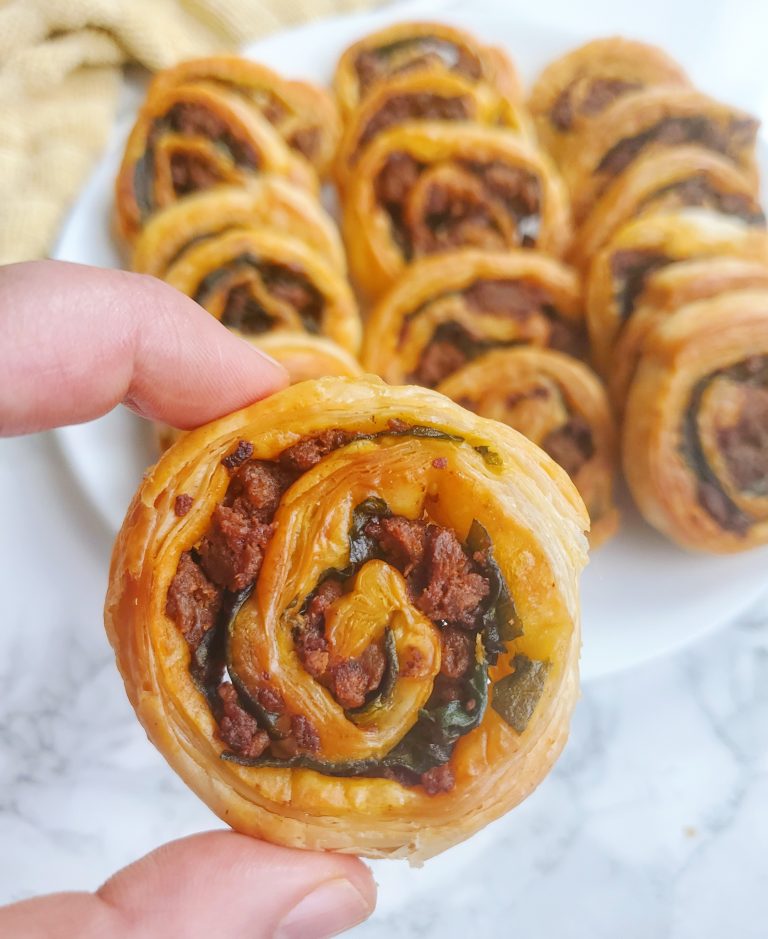 Chorizo and Spinach Pinwheels
| CHORIZO AND SPINACH PINWHEELS | 🍥Seriously, these need an instagram page just for themselves. My mom started making Chorizo Pinwheels somewhere around 20 years ago. She would take chorizo sausage out of the casing, cook it up in a pan, let it cool, and then roll it up in a sheet of puff pastry. I am a Spinach loving human so I added some veggies to this…just to make it a tad healthier. 🙂 Also, these days, no need to take chorizo out of the casing, because Hatfield Meats makes ground chorizo AND I am obsessed with it.
Ingredients:
2 sheets puff pastry(regular or gluten free), thawed but still cold
1 lb of ground chorizo
1 bag of fresh spinach, cut up

Directions:
1. Cook meat completely and then add to a large bowl.
2. Add spinach into bowl and mix fully.
3. Preheat oven to 400°F
4. Roll out 1 sheet of puff pastry slightly
5. Crumble half of the meat/spinach mixture on to the sheet, spreading it all over evenly.
6. Carefully start rolling the puff pastry into a log shape, starting from the longer side and roll down. You can start rolling by first folding over the edge, and the using the sides of your hands to encourage the rest to roll into a log shape. Try to keep the rolling tight because if you roll too loosely the filling will fall out after you bake it.
7. Repeat with 2nd puff pastry and the rest of the filling.
8. Put the log on a flat surface and put into the freezer for 15 minutes.
9. Take out of the freezer and cut the log into 1/2 inch wide slices.
10. Place circles on a parchment paper lined baking sheet.
11. Bake for 15 – 17 minutes, flipping over to the other side after 12 minutes.