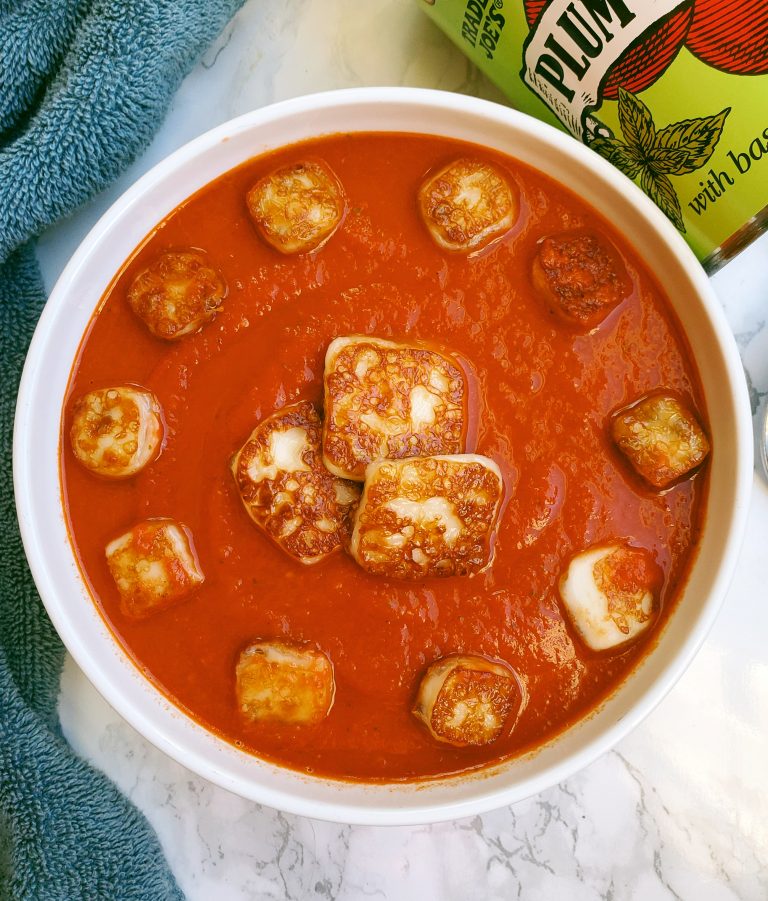 Tomato and Grilled Cheese Soup
| TOMATO AND GRILLED CHEESE SOUP | A classic creamy tomato soup topped with "grilling cheese". Grilling Cheese is a type of cheese that comes in a block – just slice it, heat it, and eat it! Peep my stories to see what brand I used. I made a version of this soup a couple of weeks ago, using pumpkin puree for extra creaminess. This version is more traditional and straightforward. I used typical tomato soup ingredients like tomatoes, shallots, onions, garlic, broth, olive oil, and a touch of almond milk for creaminess. The soup itself is paleo, but the cheese topping obviously is not.
Ingredients:
2 – 28 oz cans crushed plum tomatoes, unsalted
1- 15 oz can of sliced carrots
3 shallots, roughly chopped
1 medium yellow onion, roughly chopped
2 tbsp pesto (I used @traderjoes Vegan Pesto)
1 clove of garlic, diced
2 tbsp olive oil
1 tsp sea salt
1.5 cup broth
1 cup of almond milk(or milk/cream of your choice)
8 oz grilling cheese(Yanni Brand, Queso Frito, or Bread Cheese)

Directions:
1. Cook onions/shallots/garlic/carrots for 5 mins on low heat.
2. Add pesto, stir, and cook for 2 – 3 minutes
3. Add tomatoes, bring pot to a simmer on high heat, then bring back on low.
4. Add the salt and the broth. Cook uncovered on lowest heat for 20 minutes.
5. Blend the soup in a blender or food processor until smooth.
6. Bring back to the pot and add almond milk.
7. Let simmer on lowest heat and start making your cheese.
8. Cut cheese into 1/4 inch slices, and then cut each slice into 3 pieces so that you have little squares.
9. Put the cheese on a greased pan and cook until both sides are golden brown.
10. Ladle soup into bowls and top with cheese.