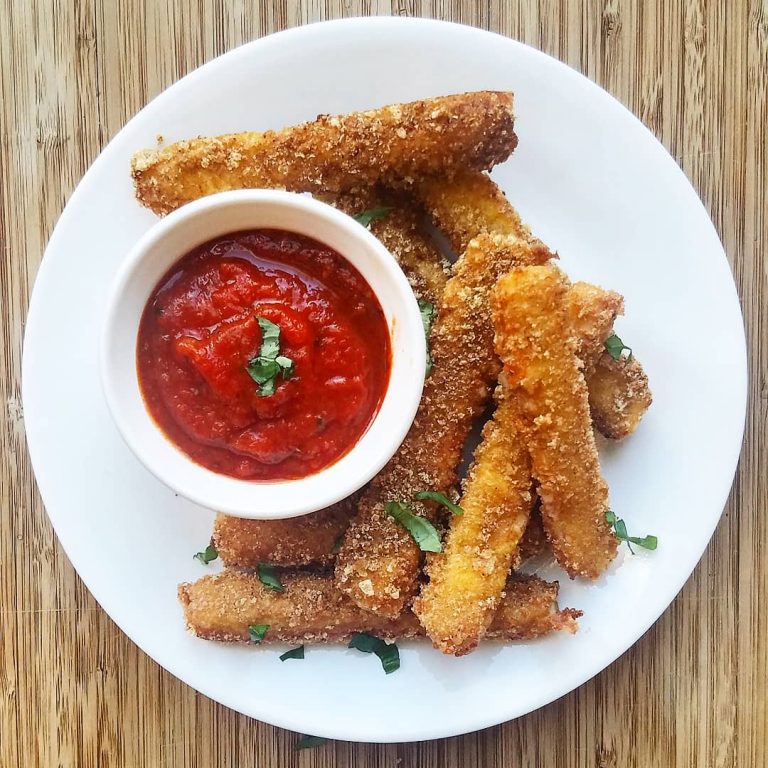 Keto Mozzarella Sticks
I ate approximately 4,000,000 Mozzarella sticks in college and I am proud of it! I almost entered a mozzarella stick eating contest, but I figured I'd feel sick so I didn't apply. 😏 They are one of those foods that I have a hard time eating in moderation so I most of the time I tell myself to avoid them entirely. Well, I don't really like feeling like I am holding myself back so I created a low carb and gluten free version of this childhood favorite! And, as you all know, I am obsessed with 4505meats porkrinds. In this recipe, I crushed them up and used them for the coating. OMG! So gooood! 🤤
Ingredients:
1 Bag of Pork Rinds (I used Jalapeño Cheddar by @4505meats )
1 Block of Mozzarella Cheese, cut into long cubed sticks, roughly 1/2 an inch thick. Slide ➡️ for photos!
2 eggs
Directions:
1. Add pork rinds to a food processor and pulse until they resemble bread crumbs. Make sure all big pieces have been broken down. Add to a bowl.
2. Crack 2 eggs into a bowl and mix well.
3. Dunk each piece of cheese into the eggs and then into the pork rinds. Make sure it is lightly coated and then add it to a parchment paper lined baking sheet.
4. Once all pieces have a coating, put the tray in the freezer for 45 mins to 1 hour. Do not throw away the eggs or pork rinds because you will use them again for the 2nd coating.
5. Remove tray from freezer and give each mozzarella stick another dunk in the eggs and then another dunk in the pork rinds.
6. Put enough oil in a skillet to coat the bottom. Heat on medium.
7. Lightly fry each stick, turning a few times during the process so that it doesn't burn. Once cooked, add them to a paper towel lined plate.
8. Serve immediately with tomato sauce.
---