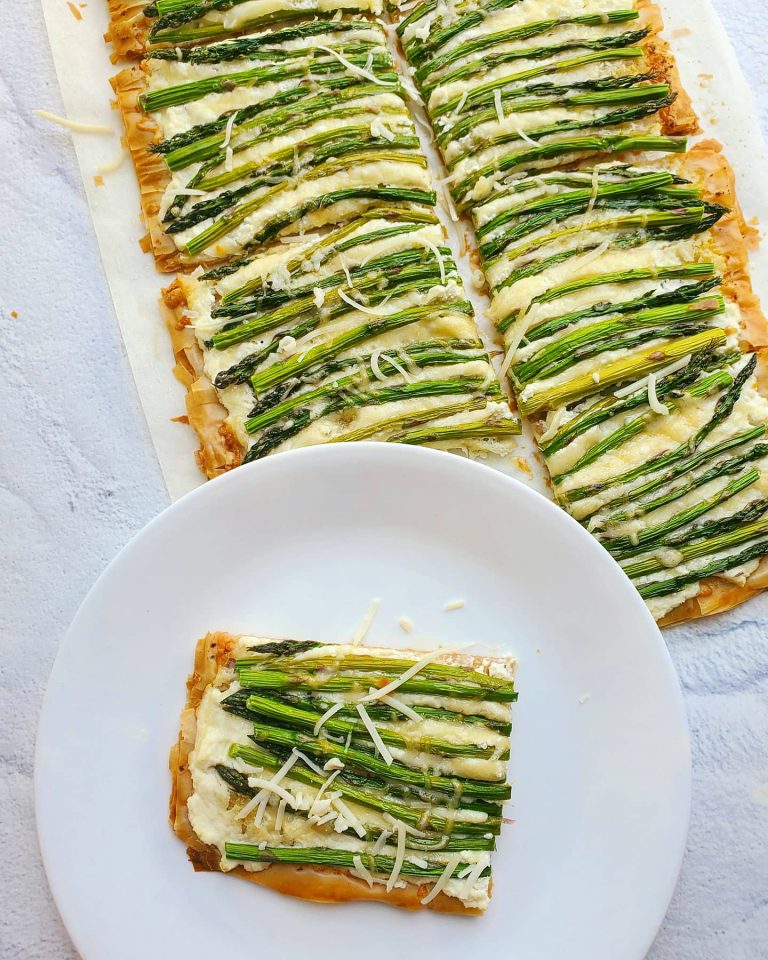 Lemon Asparagus Ricotta Tart
This LEMON ASPARAGUS RICOTTA TART 🍋 is where it is AT! I've been using up all the random doughs and crusts in my freezer lately because literallly…what else is there to do? This phyllo dough from @athens_foods was one of those things. I wish I had 12 sheets to use, but I only had 8 so I just made it work. I layered each sheet with a combo of melted ghee and lemon juice, then I put a combination of ricotta cheese, milk, and parmesan cheese on top, followed by raw asparagus, a touch more lemon juice, and a little bit more of parmesan! Then I baked it for 22 minutes until the asparagus was nice and brown. Bake at 400°F. This was so easy to make and would be perfect for any brunch you host!
Ingredients:
8 to 12 sheets of thawed phyllo dough
1 bundle of trimmed thin asparagus spears
1/4 cup melted ghee (or olive oil)
Juice of 1 lemon
1/2 cup ricotta cheese
3 tbsp milk of your choice
Shredded parmesan cheese
Salt and pepper
Directions:
1. Preheat oven to 400°F
2. Carefully unroll first sheet of phyllo dough and lay it on a parchment paper lined baking sheet.
3. Add a thin layer of ghee, plus a little lemon juice on top of the phyllo sheet
4. Add a second sheet if phyllo dough in top, and add a little more ghee and juice.
5. Repeat with remaining sheets of dough.
6. Mix ricotta and milk together. Spread it on the top layer of dough.
7. Sprinkle 1/4 cup of shredded parmesan on top.
8. Add asparagus spears
9. Sprinkle salt and pepper on top
10. Add a bit more lemon juice on top
11. Bake for 22 minutes
12. Optional- add shredded parm on top when it comes out of the oven.