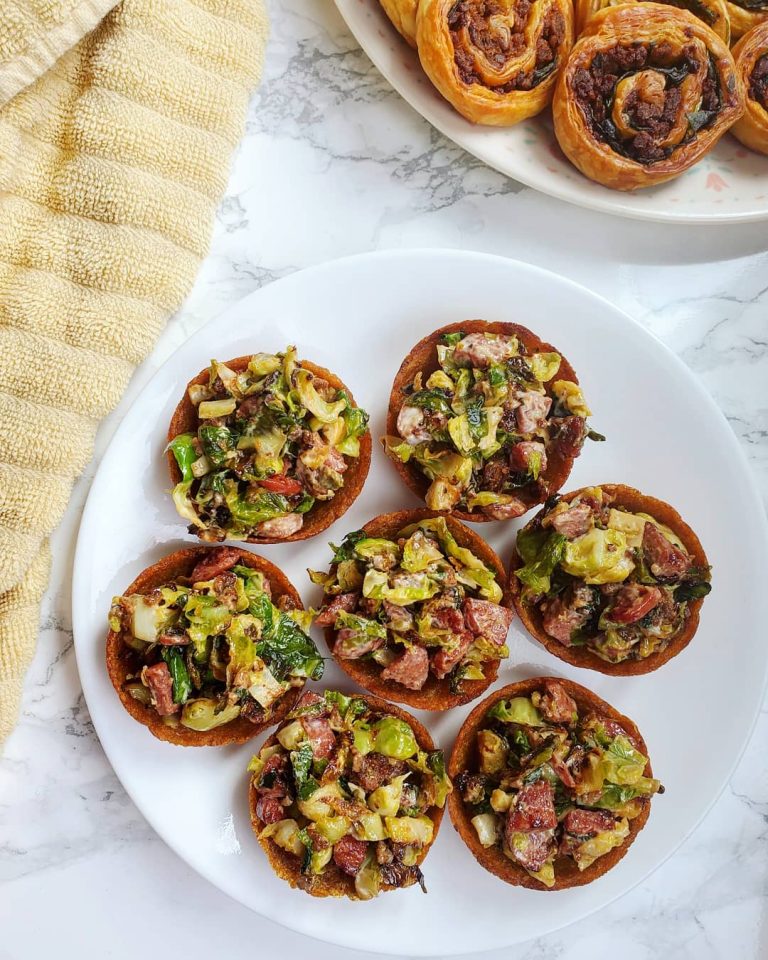 Yuca Cups
| YUCA CUPS FILLED WITH SAUSAGE, BRUSSELS SROUTS, and LEMON AIOLI | These paleo and gluten free yuca cups can be stuffed with anything your heart desires. I made these with seasoned grated yuca, pressed them into a cupcake pan to form the shape, covered them, and baked them plain for about a half hour. Then, I created a filling of brussels sprouts, chorizo, and lemon aioli which I portioned into the baked cups to form cute little appetizers. You can make any filling you want – dip, chicken salad, use it as a base instead of crackers, etc. They are super versatile! I find my yuca already grated in the freezer section of Latin grocery stores, but you can get a frozen bag of peeled yuca, and use a food processor to grate it. I always squeeze out the water, and season it with a mix of my favorite Puerto Rican spices.
To make the Yuca Cups you will need a 2lb bag of Grated Yuca and fillings of your choice.

Ingredients
For Yuca:
2lb grated yuca, defrosted and drained
1/2 tsp garlic powder
1/2 tsp dried chopped onion
1/2 tsp oregano
1/2 tsp sea salt
1/4 tsp black pepper
1/8 tsp achiote powder
1/2 tbsp Adobo
For added orange color use 1 tbsp prepared achiote oil (homemade)

For Lemon Aioli:
1/2 cup Mayo
1 tbsp lemon juice
1 pinch sea salt
1 pinch black pepper
1/2 lemon rind, grated
1/2 tbsp garlic powder

Directions:
1. Remove thawed yuca from the package and remove all of the water.
2. Once all water is squeezed out, mix yuca and spices until completely combined.
3. Spray or light grease a cupcake tin.
4. Take some yuca into your hands and put some yuca into one of the spots in the cupcake tin. Press the yuca into the mold, make sure to press up the sides and the bottom of the mold. You want to only keep a thin layer of yuca all around. Aim to fill no more than half way up the sides depending on how big you want your cups.
5. Repeat until yuca is used up.
6. Cover the cupcake pan tightly with aluminum foil and bake at 400°F for 27- 30 minutes.

Directions for the Lemon Aioli
1. Combin the mayo, lemon juice, sea salt, black pepper, grated lemon rind, and garlic powder. Mix and set aside.