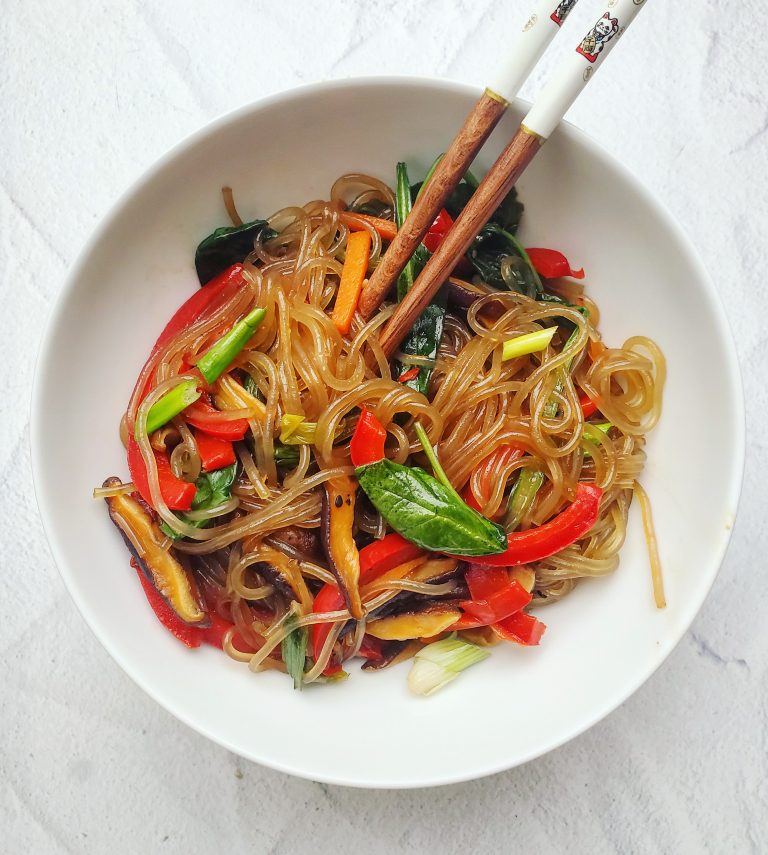 Jap Chae
🍜 Jap Chae 🍜 This delicious Korean Stir Fry Noodle Dish is made from Sweet Potato Starch Noodles and Veggies, and a delicious sauce! These noodles, also called Glass Noodles, have the most amazing texture and can be found at any asian supermarket. I made a veggie Jap Chae because I wanted to use the veggies in my house, but you can also make this dish with meat too! JUST A WARNING: Make a lot..because you will eat this fast!
Ingredients:
10 oz Sweet Potato Starch Noodles
1 Red Pepper, sliced thin
1 pk Shiitake Mushrooms, sliced
8 Green Onions, cut in 1 inch pieces
1 Carrot, peeled and thinly sliced
2 Cloves Garlic, finely diced
3 Handfuls Fresh Spinach
1.5 TBSP Avocado Oil(or any cooking oil)
1/4 Cup Tamari (or Soy Sauce)
2 TBSP Maple Syrup
1 TBSP + 1 tsp Sesame Oil
Directions:
1. Boil noodles according to package directions. Then strain, rinse with cold water. Once all water is strained, add a tsp of sesame oil to the noodles and mix in a bowl to keep noodles from sticking. Tip: use a scissor to cut into the noodles a little so that it makes it easier for the vegetables to be mixed into then later on.
2. Add the Tamari (or soy sauce), maple syrup, and 1 TBSP of sesame oil to a small bowl and mix until combined.  Set aside.
3. Add the avocado oil to a pan and bring the pan to medium high heat.
4. Add garlic, half of the green onions, and red peppers to a pan until fragrant. Around 2 minutes
5. Add the carrots and mushrooms and stir. Let cook for 4 minutes or until veggies are cooked.
6. Add the rest of the green onions, noodles, and sauce. Mix so that the veggies and noodles are fully incorporated.
7. Turn off the heat and add the spinach and mix until spinach has wilted and is fully incorporated.
8. Taste and season with black pepper!
9. Serve immediately!
*This post contains affiliate links