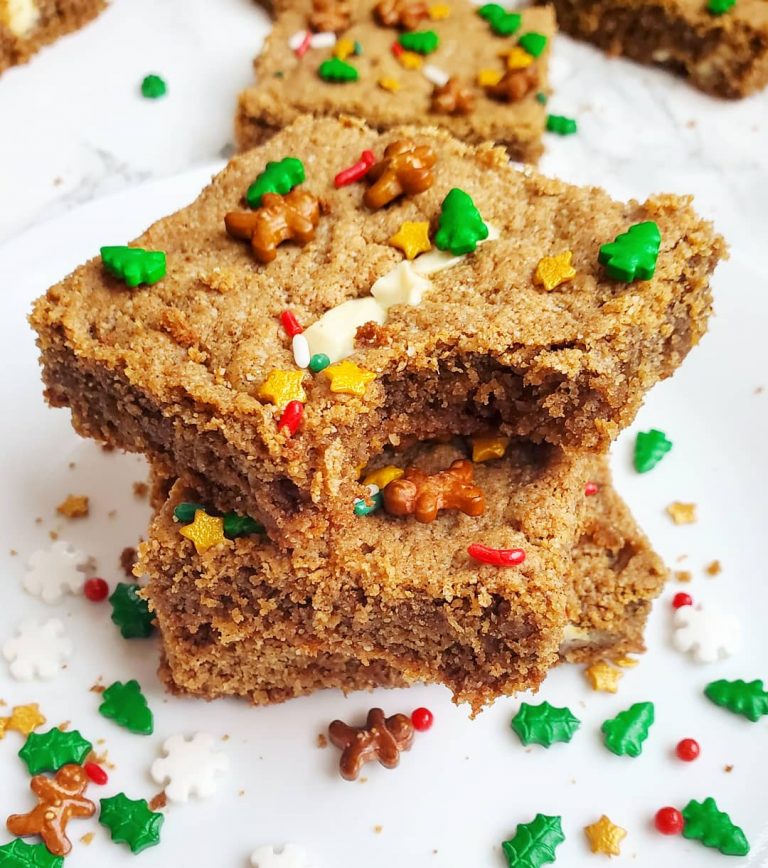 Gingerbread Blondies
| GINGERBREAD BLONDIES with WHITE CHOCOLATE | 🍬🎄 a few weeks ago, I was on a quest to find some healthy white chocolate. If you look for it in stores you have two choices. Some are made with sugar, vegetable oil, milk, and some bs ingredients..and others are made with sugar, cocoa butter, milk and some ok ingredients. So I went with the one with cocoa butter and called it a day. I was convinced I was just going to make my own white chocolate but it has just been too hectic around here and I dont have the time for that project right now. Maybe in 2020?  Also, side note, I hated white chocolate for 37.4 years..and all of a sudden this past Fall..it grew on me. So..all hope is not lost for you and whatever food you still don't like. 😜
Without furtherrrr ado…Here is my recipe for Gingerbread Blondies with White Chocolate!
Ingredients:
1.25 cups blanched almond flour
1/2 tsp baking soda
1/2 tsp salt
1.5 tbsp gingersnap spice by @primalpalate
1 egg
1/4 cup creamy almond butter
1/4 cup coconut oil, melted
1/4 cup brown sugar (sub coconut sugar + 1 tbsp maple syrup if paleo)
3 tbsp molasses
1 tsp vanilla extract
Optional – 3 oz white chocolate, cut into small pieces
Optional – Christmas sprinkles

Directions:
1. Preheat oven to 350°F
2. In a medium size bowl, mix together all wet ingredients, including brown sugar( coconut sugar), until smooth.
3. In a large bowl, mix all dry ingredients, including spices
4. Pour wet ingredients into dry ingredients. Mix well and add white chocolate.
5. Line an 8×8 brownie dish with parchment paper(or grease the dish with coconut oil if you dont have parchment paper)
6. Pour batter into dish and bake for 20 minutes.
7. Remove from oven and let it cool.