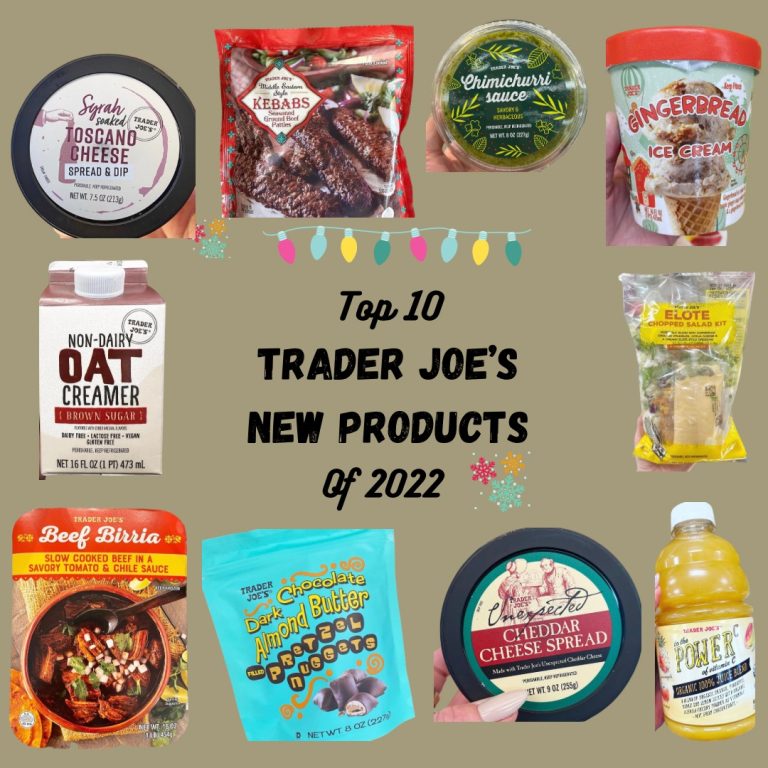 Best New Trader Joe's Products of 2022
The top ten best new Trader Joe's products that came out in 2022!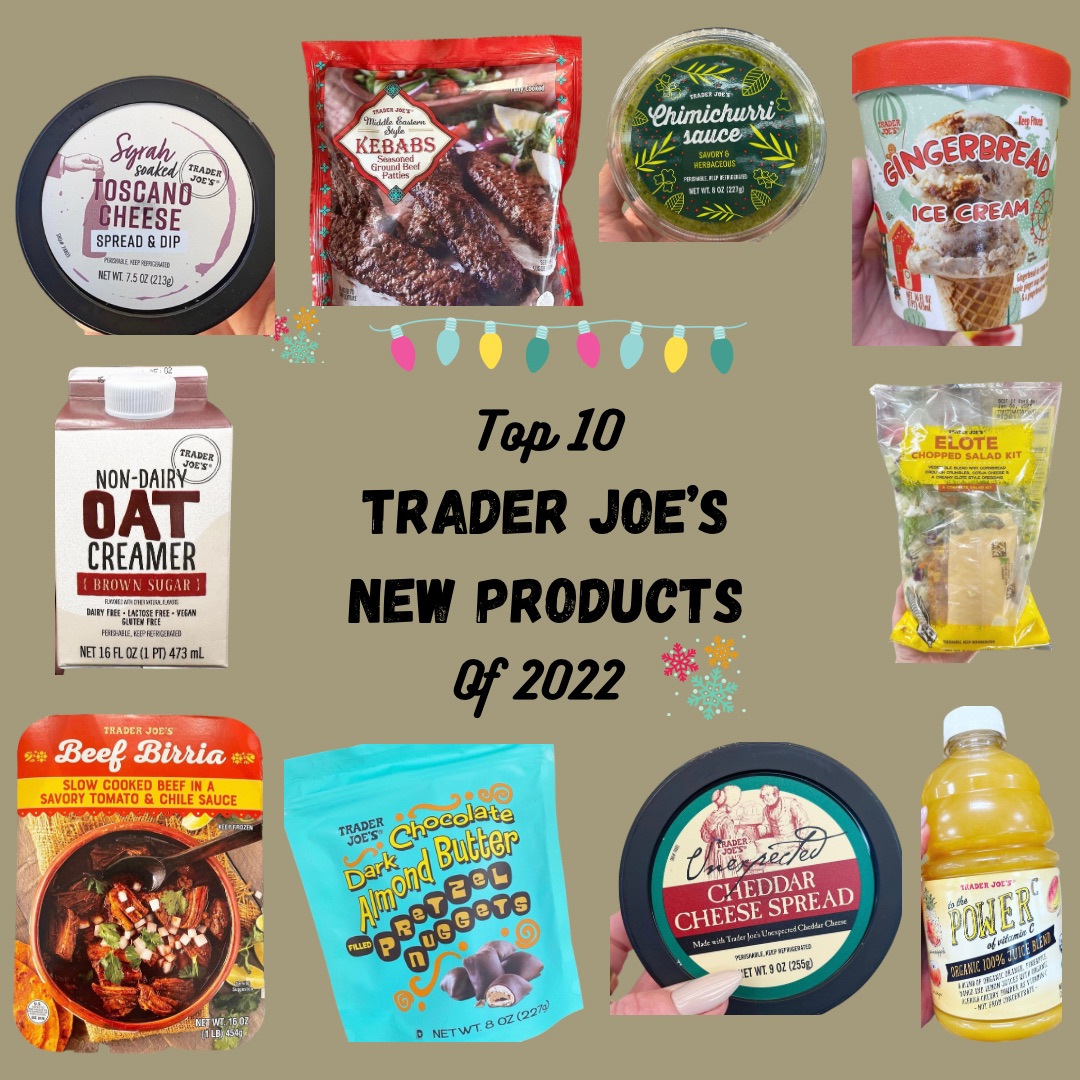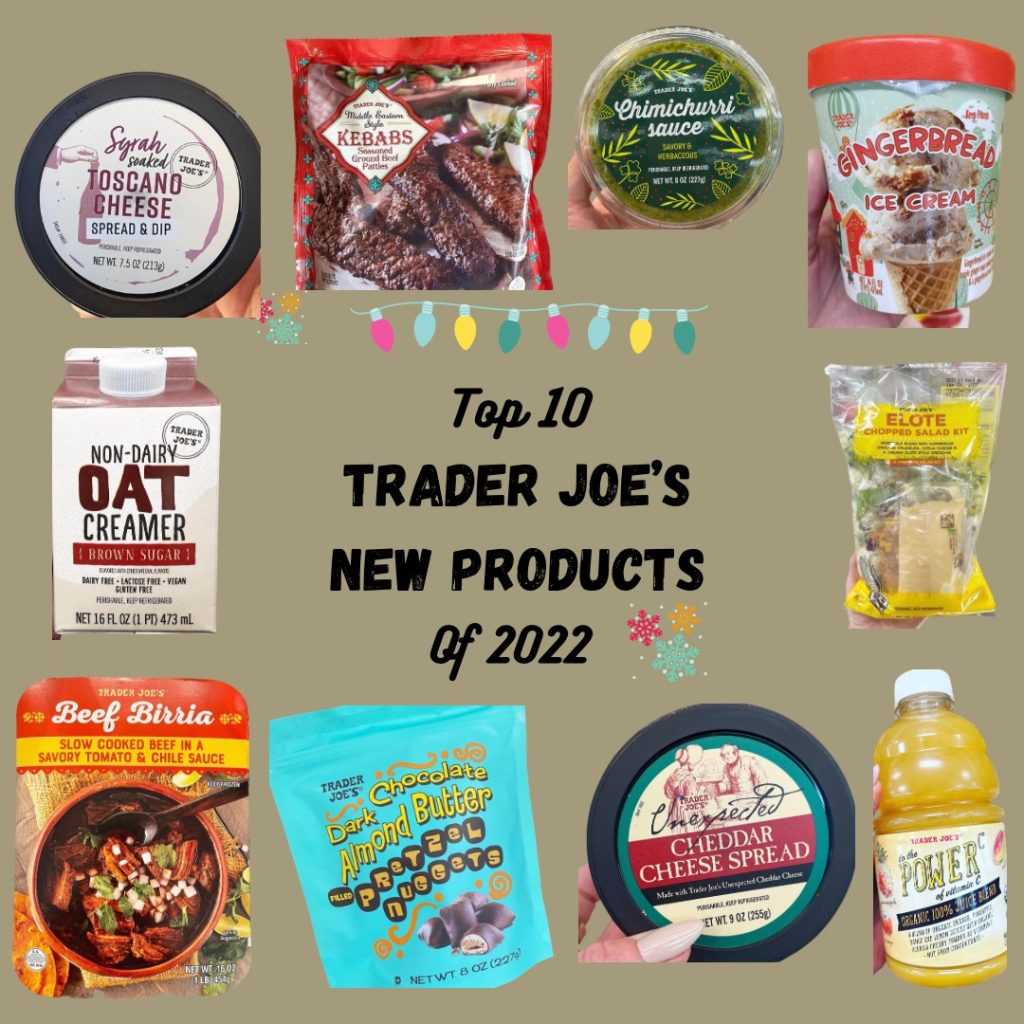 I am back with a new list! The Best New Trader Joe's Products of 2022! Last year I made a list ranking the best Trader Joe's products that came out in 2021, and this year I did it again. In order for a product to make it to this list, they have to have come out as a new product during this calendar year. That is really the only requirement. These are not my favorite Trader Joe's items of all time. These are only my favorite new items of this year.
I consider myself "qualified"(haha) to make this list because I am married to a Trader Joe's employee and Trader Joe's is our default grocery store. Also, I am not a picky eater, nor do I think I am too good for frozen food, so I feel like I give everything a good try. I aim to try every new product that comes out, but I don't always get around to everything. So, I guess this list is really only the best new items out of the new items that I have tried, but trust that I have tried mostly everything that comes out at Trader Joe's. If I have missed something that you are really passionate about, leave me a comment below so that I can give it a try.
What are the most popular items at Trader Joe's?
I am in a lot of Trader Joe's groups on Facebook and one thing I notice is that their frozen foods and snacks seem to be the majority of people's favorites! People always rave about the Orange Chicken and Party Meatballs. You won't find either of those items below because they are older items, but scroll down to see my favorite products that came out in 2022!
Top 10 Best New Trader Joe's Products of 2022
10. Gingerbread Ice Cream
I was the type of kid who would only eat Chocolate ice cream, and as I grew into a teen, I would occasionally eat chocolate ice cream mixed with toppings. But, I never really experimented outside of that. As an adult, my tastebuds have expanded and I have really gotten into spiced cake. Carrot Cake, Pumpkin Cake, Zucchini Cake, and Gingerbread. I love all the different flavors going on in spiced cakes, and it is just so much more interesting to me than the basic chocolate I loved growing up.
So, without further ado, I am starting my list with this Gingerbread Ice Cream. This ice cream was delicious. I think we bought 2 pints of it this year, and for the most part it was deliciously creamy with warm spices of gingerbread throughout the ice cream. You could feel and taste the pieces of gingerbread cookie in there and I absolutely loved that. I did have one or two bites that were a bit too gingery for me, but all in all eating this was a delicious experience.
9. Unexpected Cheddar Cheese Spread
Mmmmm! Pure yumminess! There were two new cheese spreads that came out this year, and this one, although DELICIOUS, is rated lower than the other. I'll explain why. I love the unexpected cheddar cheese block at Trader Joe's, but it isn't my favorite cheese. The taste is a delicious, but it is still a little basic for me. It is nice option for kids, when you want them to try something other than American cheese. I do, however, LOVE the spread more than I like this actual cheese. The actual block of cheese is a little annoying to add to a cheese board because it crumbles when you cut it. The spread eliminates that problem and that's why I love it. The taste is a mixture of parmesan cheese and sharp cheddar and it goes so well on a pretzel thins! You gotta try that!
8. To The Power of Vitamin C Juice Blend
I never cared for juice, but I really loved this juice this year. It tastes like a combination of orange, mango, and cherry, and it honestly makes me feel so perked up every time I drink it.
The real reason it is making this list, though, is because it is the only liquid with a strong enough taste to mask the taste of my daughters infant tylenol. No, I am serious. This juice is god-sent. My child is the type of kid that refuses all medicine, even when she is in serious pain due to an ear infection or teething. I have tried everything to give her medicine, and this juice helped me give her a half dose of motrin once, and I am eternally grateful. It also is a great boost of Vitamin C, no sugar added, so it really is just a great benefit all around. I love this juice and now it is a staple in my life.
7. Elote Chopped Salad Kit
This product was a late add to my list. It just came out at Trader Joe's and I was eating it as I was finishing up this list. But when I tried it, I thought, OH WOW this has to now make the "Best New Trader Joe's Products of 2022" too. Elote has been super trendy for years, but it has been a super hot item to cook in recent years. Elote is the word for "corn on the cob" in Spanish, and in Mexico they grill the corn and then add cotija cheese and creamy toppings.
It is delicious, and anyone who tries it fall in love. This salad kit is awesome, because you are essentially eating a bowl of vegetables but it doesn't feel like that. It is a mixed green base, with lettuce and cabbage, and then there are pieces of crunchy corn, corn bread croutons, cotija cheese, and the most delicious creamy dressing with a kick. It is super delicious and it would make a great side dish to any meal.
6. Dark Chocolate Almond Butter Pretzel Nuggets
Holy Sh*t these are good! It has all my favorite things. And to be honest, I definitely love peanut butter more than almond butter, but the Almond Butter just works in these snacks. Trader Joes makes a version of these with peanut butter, but it is also made with milk chocolate. These almond butter nuggets are made with dark chocolate, and that is what really seals the deal for me. The taste is insane and these will forever own a piece of my heart. I also like the fact that you feel satisfied after eating 3 or 4 of these. It is a satisfying snack, and although it has sugar, it also has protein from almond butter so you can feel good about enjoying it. And also, some would say dark chocolate is a health food, so there is just a lot to love here.
5. Syrah Soaked Toscano Cheese Spread Dip
When I first saw this product I was super excited. The Syrah Soaked Toscano Cheese is my favorite Trader Joe's cheese of all time. I love buying this cheese for cheese boards or anytime I have people over. The spread is perhaps not as amazing as the actual chunk of cheese, but the spread still has all the delicious unique flavor of this cheese. I used this to spread onto crackers and ate that with a side of mini salami and grapes. It was the perfect little snack.
I think Trader Joe's must know that this and the Unexpected Cheddar are two of their best selling cheese and that is why they decided to make both of them into spreadable versions this year. I am unsure if these are seasonal products or if they are both here to stay, but I will definitely continue to buy this product for as long as I can.
4. Middle Eastern Style Kebabs
This is one of my favorite products of the year because of how satisfying it made dinner every time we made it. I definitely ate these for dinner twice in one week too, so I knew it had to make the "Best New Trader Joe's Products of 2022". These Middle Eastern Style Kebabs are similar to Kofta Kebabs. Kofta Kebabs are made with seasoned ground meat molded on to a skewer and then grilled. These frozen kebabs taste just like the real thing and they pair perfectly with some of the Trader Joe's Pita or Naan, freshly sliced cucumbers, and tzatziki sauce. They also were great with a side of rice instead of the pita. I loved the seasoning on the kebabs and I hope they keep this product around for a while.
3. Brown Sugar Oat Creamer
Wow! This creamer made me want all things "brown sugar" this year. I went back and forth about adding a creamer to this list because it really only has one small use, and barely makes a "blip" on my daily radar, but the taste of this one was too good to pass up. It transforms any boring coffee into a gourmet drink, with just 2-3 tablespoons. I mention the measurement, because the packaging makes it clear that only 1 tablespoon is the serving size, and that annoys me because no one ever uses that much.
1 tablespoon of this creamer does not change anything about your coffee, but 3 tablespoons may change your life. Is that crazy to say? You'll have to try it and see. Trader Joe's was having issues keeping this on the shelf after they debuted this product, but I think headquarters now understands that this product is popular and you should have no issues finding it. Enjoy!
2. Beef Birria
Beef Birria has been a popular menu item on local Mexican Menus for about 3 years, but it has been around since the 1980s. It seemed to be everywhere in 2020 and Trader Joe's finally made their own version this year. It is in the freezer section and it makes about 6-8 tacos tacos. If you have ever tried to make homemade Birria you would know that it takes a long time because the meat needs to slowly cook for hours. Also, some of the ingredients you need such as dried chiles are not available in all supermarkets so you need to go to a specialty store to grab them.
This version of Beef Birria is super convenient and delicious. I have read a lot of people say that the quantity of how much meat you get varies from one container to the next. That is kind of annoying, but I will still buy it. This box makes about 6 tacos. Birria Tacos are not meant to be stuffed full of meat. They are thinner, almost like quesadillas. You take a tortilla, dip it in the birria sauce, then you lay it on a very hot fry pan. You add a little of the beef onto the tortilla, followed by white cheese, and then fold it over. Once both sides are crispy it is ready to be enjoyed! This product is also great just to eat Slow Cooked Beef with a side of rice or mashed potatoes. So many fun things to do with this product and I loved it!
1. Chimichurri
Here it is! Number 1! Chimichurri! If this product ever gets discontinued I will be pretty sad. I think I over did it with this product in the Spring but that was because I was absolutely obsessed. And listen, I've been to Argentina, and this product is not even really like authentic Chimichurri, but I don't really care about that. All I know is that this product is super delicious and versatile. Authentic chimichurri should be made with parsley, and this product is made with cilantro. It is a delicious sauce to add to cooked meats, and can be even be used as a marinade because of the vinegar and oil in it.
I also used this as a base for a pizza in my White Pizza with Chimichurri and it became a delicious topping to my Chimichurri Steak Flatbread Sandwich. It tastes great with eggs, mixed it into avocado, and used it as a topping for rice. I love this stuff. It has a lot of flavor without being super spicy like the Trader Joe's Zhug. It just makes such a lovely accomplice for all of your culinary adventures and for that reason, it is number 1 for the year!
And that's a wrap for the Best New Trader Joe's Products of 2022! I have so much fun creating this list every year and I hope you enjoyed reading it!