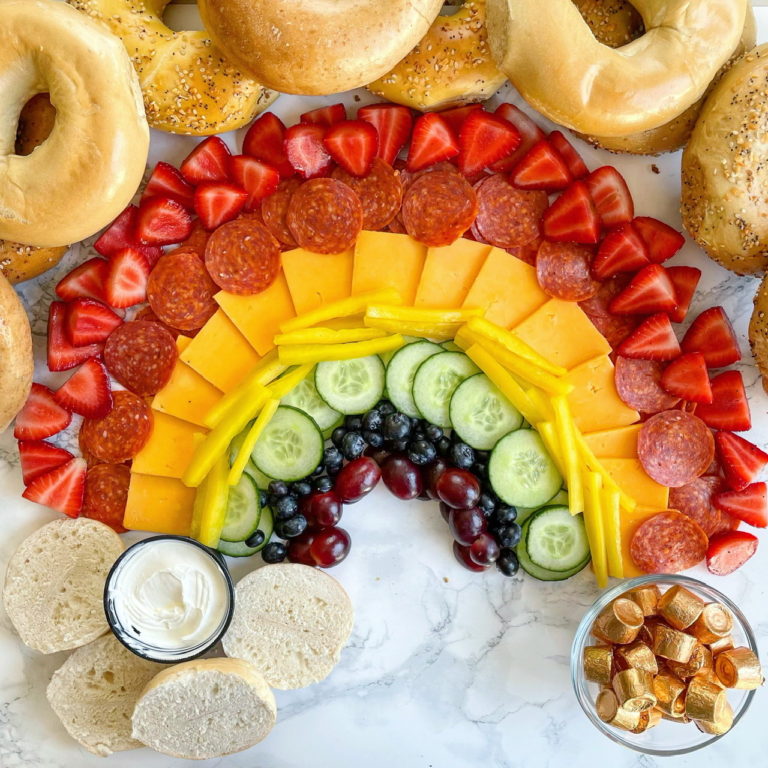 Rainbow Brunch Board
Yesterday, I made a little Rainbow brunch board in honor of St. Patrick's Day, but really my whole life is one giant gay pride flag, so that is the OG inspiration! I filled this board with fruit, veggies, pepperoni, cheese, and bagels. My friends came over for a brunch spread and I had this to offer them. They loved it! We got out bagels from NY Bagel Butler, based out of Philadelphia, PA. They get their bagels delivered from NYC in the morning. There is just something about NYC bagels that will forever just be my favorite.
What do you put on a brunch platter?
I filled this brunch board with strawberries, pepperoni, cheddar cheese, yellow peppers, cucumbers, blueberries, and grapes! Then I added some full size bagels, mini bagels, cream cheese, and some Rolos for a cute pot of gold! This was so easy to put together once I sliced everything and so cute to look at!
What type of board do you use for a Charcuterie Board?
I love to use a wooden board when I have guests over, but I have also just laid out the ingredients on my kitchen table or island.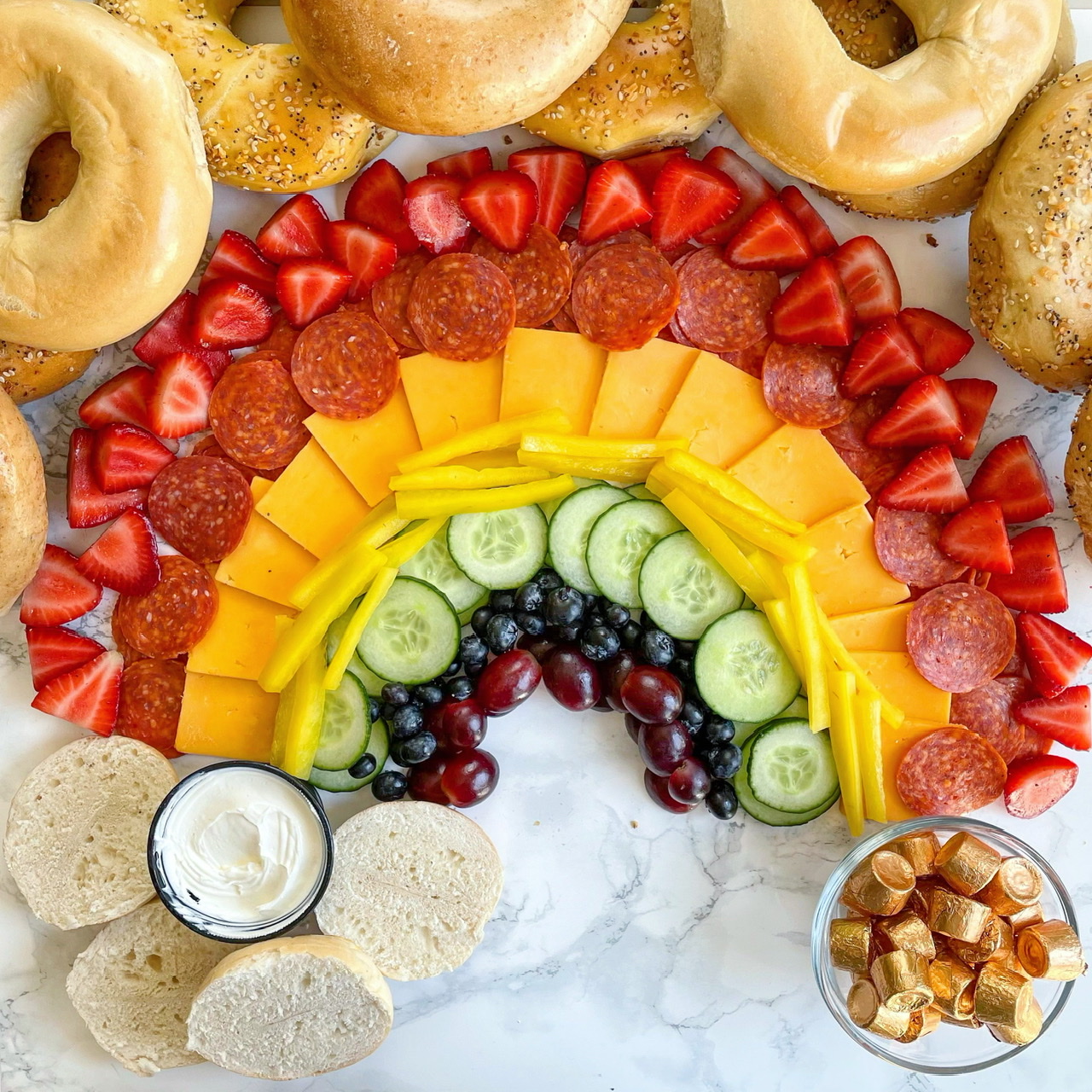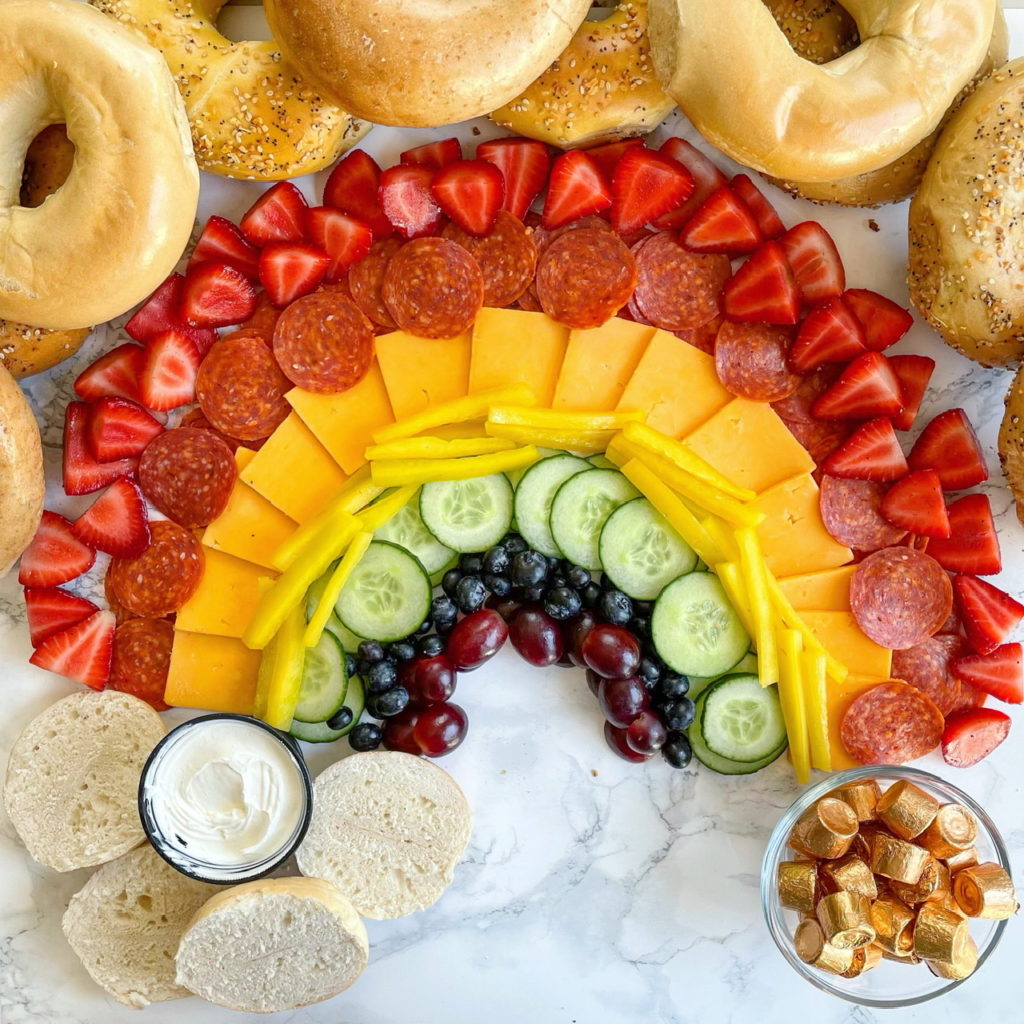 Ingredients for Rainbow Brunch Board:  
Bagels
Strawberries
Cheddar Cheese
Yellow Peppers
Cucumbers
Salami or Pepperoni
Blueberries
Grapes
If you love this Rainbow Brunch Board, you may also like:
Ham, Egg, and Cheese Stuffed Biscuits
Everything Bagel Sausage Strata
Rainbow Brunch Board
A colorful brunch board filled with fruit, cheese, meat, and bagels
Ingredients
Bagels

Strawberries

Cheddar Cheese

Yellow Peppers

Cucumbers

Salami or Pepperoni

Blueberries

Grapes