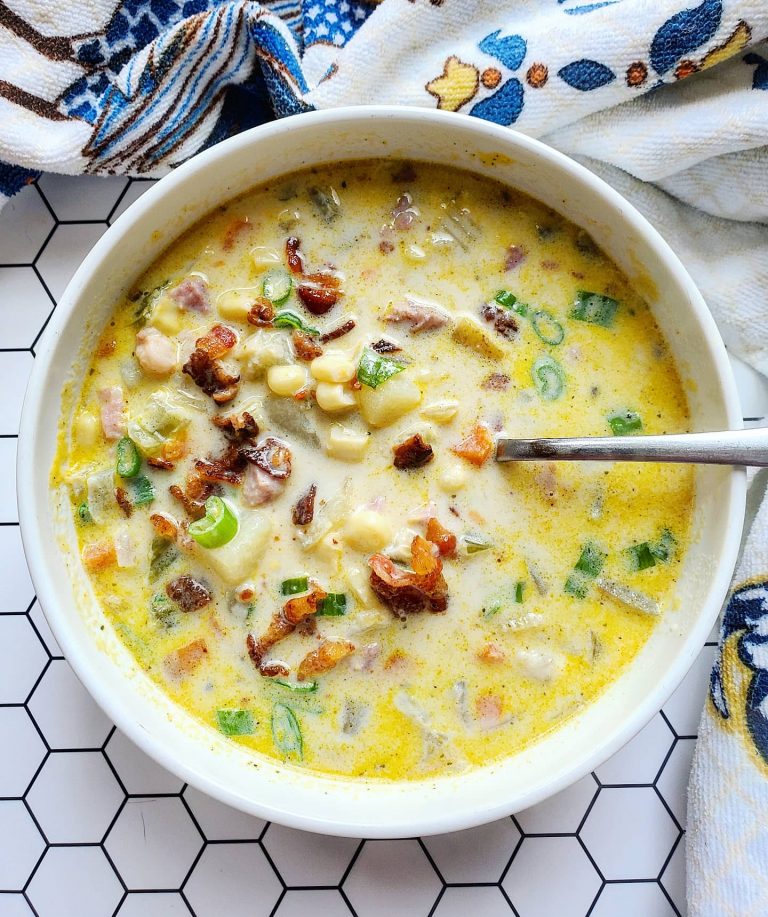 Creamy Ham and Corn Soup
🐰💐 Creamy Ham and Corn Soup with Bacon and Green Onions! Not gonna lie..this was supposed to be a chowder, but then I realized I didnt have heavy cream and I didn't have anything to make a roux…so..here we are: Creamy Ham and Corn Soup! This is a great soup to make with any leftover ham you may have from Easter. The grocery stores are stocked with Ham so perhaps you can get one on sale and make lots of yummy recipes with it. I have a few up my sleeve! 🙂
Ingredients:
1 package Mirepoix (I got mine at Trader Joes)
2 cups leftover cooked ham , diced into small chunks
6 slices bacon, pre-cooked and crumbled
1 1/2 Tbsp oil of your choice (I used ghee)
32 oz Chicken Broth
5 medium potatoes, diced into 1/2″ cubes
2 cups Frozen Corn
2.5 cups of whole milk (or thick non-dairy milk)
1.5 tsp Garlic and Herb Seasoning (I used @primalpalate
Salt and Pepper to taste
Chopped Green Onions
Directions:
In large 8 quart soup pot, heat the oil and add the mirepoix. Stir!
After about 5 minutes, add the chicken broth, potatoes, and garlic and herb seasoning. Bring mixture to a boil and then reduce to medium low heat. Cook covered for 15 minutes.
Stir and then add in ham and corn and cook uncovered for an additional 5 minutes.
Remove from heat, add milk and stir.
Add bacon and chopped green onions. Season with salt and pepper to taste!
*This post contains affiliate links