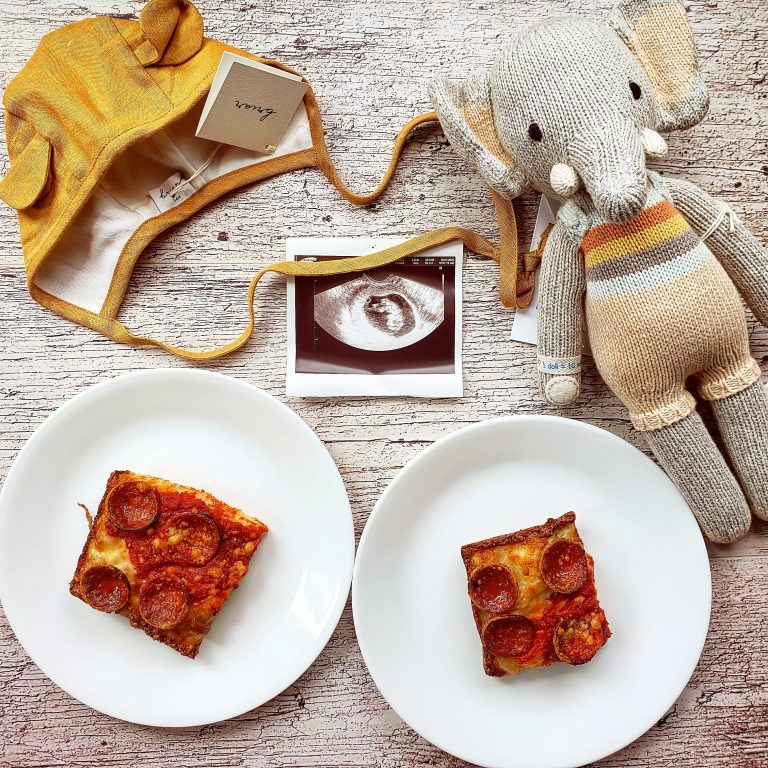 Hello Baby!
Currently, "eating for two", but more like one and a half. I am happy to announce that Allison and I are going to be mommies. I met Allison three years ago, but being a mommy was a dream of mine for as long as I could remember. When I first met Allison, I feel as though I was very forthcoming with my desire to be a parent. Up until I met her, I had thought maybe I would be a single parent because none of my previous relationships had worked out. Here I was – 35 years old, single, and I didn't want my dreams of being a parent to be pushed back any longer. But then came along Allison, calm as could be, the necessary drizzle of water on my fiery spirit. She is cool, calm, and collected, but also super emotional and able to give any living being all the love they've ever deserved. So, thus began our journey into relationship-hood, and somewhere around 1/1/2019 I started to have panic attacks. I had realized I was turning 37 that year and that I still hadn't done anything to prepare myself for pregnancy. Two lesbians cannot get pregnant the "traditional" way, and the endless list of things I needed to complete before I got pregnant was so long, so daunting, that I just didn't think I would ever complete it.
Somewhere around April 1st, 2019 I made an appointment with one of Philly's top gynecologists. I had to visit one first to just make sure everything was looking good and healthy. Because she was one of the best doctors, I had to wait until July to get an appointment. I did a lot of research before choosing this doctor, so I just decided to wait for it and be patient. My July appointment finally came, and I got a clean bill of health, plus the recommendation for Fertility doctors that I wanted.
We made an appointment with the fertility doctor for the beginning of September. We arrived there super early and super eager. I had an initial ultrasound just to check things out, and then we had a consultation with a doctor that will soon become so meaningful to us, Dr. Gocial. He gave us a huge checklist of things we needed to get done before we had our first IUI procedure (Intrauterine Insemination). One of the things on this checklist, was a MANDATORY appointment with a psychologist who specialized in third-party reproduction. The fact that this was mandatory bothered us a bit. There are so many people out there making babies who have never had any sort of wellness check. And then here we are, two people, who really want a child, and we need to be "evaluated". But the appointment went really well. It was more of an information session, than an evaluation. The doctor gave us so many great resources about IUI and gave us so many great things to think about before we chose a donor. We actually ended up really valuing that session.
The next thing on the checklist was to get a crazy amount of blood work done. Both of us had to get it done because we needed information about Allison as well, before we chose a donor. Then came the part that we thought would be exciting – Choosing a donor. This part was way more stressful than I ever anticipated. And while I felt stressed, all my friends that have done this prior to me kept telling me "Erin, you will literally never think about this donor once the baby is here. Don't stress". We looked through three cryobanks – Seattle Cryobank, California Cryobank, and Fairfax Cryobank. There were a lot of great donors out there, so how could we choose? We had some specific things that were important to us, so we used those attributes in our searches. For most of the donors, you get to see a baby photo, plus there is family medical history, essays, genetic testing, voice notes, and just so much information to go through. We did this over and over again for weeks. We loved some donors, but then saw things in their family medical history that made us worried. Then there were some donors that had great genetics, but we didn't like their essays and felt weird when we heard their voice. We wanted someone that we just felt a connection with right away. It took a while, but we finally chose a donor. So this is where it became really real!
When you are getting IUI done, you will basically be at the doctors office like twice a week for monitoring. The doctors need to have a lot of information about your cycles, uterus, ovulation, everything. I had been tracking my cycle on an app since like 2014, and truly, this wasn't even that helpful because things that I thought I knew were actually wrong. These appointments will be uncomfortable and they will be often. There will be so many options for you(as far as meds), and you need to do what is best for yourself.
We had our first IUI procedure on November 11th. Leading up to this day, the doctor was tracking my cycle continuously, and I had been in his office 4 times in the past two weeks. Also, might I add – you get blood taken at every appointment. They need to see your hormone levels as well. I felt like I was going to run out of blood at some point, but yeah…that isn't possible. So, we went for our procedure, and we waited a while in the waiting room, but it seemed even longer because this was our first time and we were a little nervous. But finally, we go into the room and everything turned out really great. The doctor even let Allison help, so that she felt as included as possible. I cannot say enough great things about this fertility clinic. I will leave all contact information at the end of this post.
Once the procedure was over, we felt euphoric. Our dreams were coming true. Or so we thought. We spent the next two weeks really giddy, taking long walks together, just taking it all in, and trying to be as positive as possible to help the chances of this leading to a positive pregnancy. After about a week, I had to return for blood work to check my progesterone levels. My levels were low so the doctor started me on a some progesterone suppositories. They said the low levels were nothing to be too concerned about, they just wanted me on the meds because it will help my chances. After about 11 days, I bought some pregnancy tests because the curiosity was just too much to bear. I took one test and it came back negative. I was sad, but I just thought maybe I tested too early. Then I tested again on day 13. Negative. Day 14. Negative. But I said to myself, my period hasn't come, so could I still be pregnant? Well, if I wasn't going through a clinic, YES. But, what I didn't know is that the progesterone I was taking will prevent me from getting my period no matter what. So my false hope turned into sadness really quickly. I went back in for blood work the next day and it was confirmed – NEGATIVE. When the nurse called me to tell me the result, I was at work. I had taken the call in the hallway and then when we got off the phone I went to the bathroom and just started hysterically crying. I don't know why I had expected to get pregnant on the first try. I actually knew the chances were low(only 10%), but for some reason I had my hopes up anyway. I was really upset. I couldn't breathe. I just sat in the bathroom for about 15 minutes, then composed myself and went back to my desk like nothing happened. I went home that night and just laid in Allison's arms till I fell asleep. But, the next morning I was brand new again. It was Thanksgiving week and I had something to focus on – Cooking. I was hosting the holiday so I poured my heart into that, and tried to just move on quickly. By black friday, I was back at the fertility clinic checking out my current cycle. As soon as I stopped taking the progesterone, my period came back, so I was able to start over again. One thing though – because I was on the progesterone, my period started later than I had originally thought it would..and as it turns out, I will be in Florida the next time I ovulate. I was super annoyed. I had planned the trip thinking that it wouldn't interfere with anything, but now it did because of that f*cking progesterone. I calmed myself and just kept going for my appointments. We decided to use "Clomid" for this cycle. One of the things my doctor learned about me from monitoring me during the first cycle is that I had a very short ovulation period, which meant that my eggs would probably never grow big enough to be considered "mature". If there is no mature egg, it will be hard for an egg to ever be fertilized. He wasn't sure that this was the case for me every cycle, but this was something that did happen with age, and I was 37.5 at the time. So, he told me about "Clomid", and what this does is makes sure my egg grows to size big enough to be considered "mature". It was a small pill, so I decided to do it even though just 30 days prior I said "I want to do everything as natural as possible". Here's the thing though – Sperm vials are expensive. And we have a limited amount of them. So, I quickly changed my mind about meds.
Right before I went on vacation the doctor checked me out and said there was a small chance I could have my IUI the day after I come back. So, I went on vacation holding on to the sliver of hope. I tried to relax as much as possible and sit in the sun as much as possible. One of the things I found out about myself during this process is that I am very very deficient in Vitamin D. So, the sun felt good. I also had a few cocktails, and I had been staying away from alcohol for a long time so it felt really good to drink. I also ate so much fresh seafood. It was such a great long weekend and I came back to Philadelphia fully charged. The day after vacation, December 10th, I was supposed to go back to work. However, I had an appointment with the fertility clinic first. The doctor checked me out and said "It's go time!". So then I quickly went to the nurse who gave me a "trigger shot" in my belly. It was a small needle, I didn't even feel it. Then I went to Allison's job and she drove us to the the clinic where we would get our 2nd IUI.
The 2nd IUI was a little bit more painful than the first. It could have been me – I could have been more tense than the first time. I'm not sure. The whole procedure lasted about 5 minutes, but it seems long in your mind when it is happening. They let Allison "help" again, which is one of my favorite memories of this whole experience. We went home that afternoon, but we weren't as giddy as our first time. I just didn't want to get my hopes up. So for the next two weeks, we took it very easy. I bought some more pregnancy tests, and like a crazy person I tested myself on day 10 – Negative. I criedddddd and crieddddddd – ugly crying for at least an hour while Allison tried to calm me down. Then the next morning I realized I miscounted the days and "yesterday" was actually Day 9. So I told myself to not check for 2 more days. So on Day 11, before we went over to my parents house, we did a pregnancy test together. And there it was…the faintest little line we ever did see…but it was there. And we thought "could it be??". So we decided it was a bit inconclusive and that we would check tomorrow. Well, while I was at my parents house I went to the bathroom and saw "inplantation bleeding". There was no mistaking it. I had read about this type of bleeding and it was not my period. It was most certainly from "implantation", which is what I wanted to happen. So I went back to the couch, and whispered in Allisons ear..and we had a little "secret". We tested the next morning and we saw a darker line. POSITIVE! We were over the moon…just ecstatic. I had to chill out though because I was getting blood work in a couple days and that will truly confirm the results.
It was the day after christmas, and my nurse was calling me with the results. She knew I loved cooking so she tried to have some small talk with me at first asking me what I was cooking today, etc. Then she said…"Erinnnnnn! You are pregnant". I am actually really overwhelmed writing that right now. It was the best call I ever received. I couldn't even wait until Allison came home to share with her. I called her immediately and gave her the great news.
Since then, so much more has happened, but the rest is very much like a "traditional" pregnancy. Although, when you get pregnant through a fertility clinic, you get your first ultrasound at Week 5, and you get one every week until Week 10. You get to see the baby much earlier than you would if you had gotten pregnant on your own. So, this is a plus. We saw the heart flutter at 7 weeks. And then at 10 weeks, they transfer you to a regular OB. It was really hard to say goodbye to my fertility clinic. They gave me such great care, but I will see them again when we try for baby #2.
Fertility Clinic – Mainline Fertility, 932 Pine Street, Philadelphia, PA 19107. We worked with Doctor Gocial 215-398-1733
Cryobank – Fairfax Cryobank – fairfaxcryobank.com
Fertility Psychologist – Andrea Braverman, PhD, Jefferson University Hospital, 833 Chestnut Street, Philadelphia, PA 19107 215-955-5000
OB – Penn Ob/Gyn and Midwifery – 800 Walnut Street, Philadelphia Pa 19107 , 215-316-5151
Follow me on Instagram @spinachandbacon