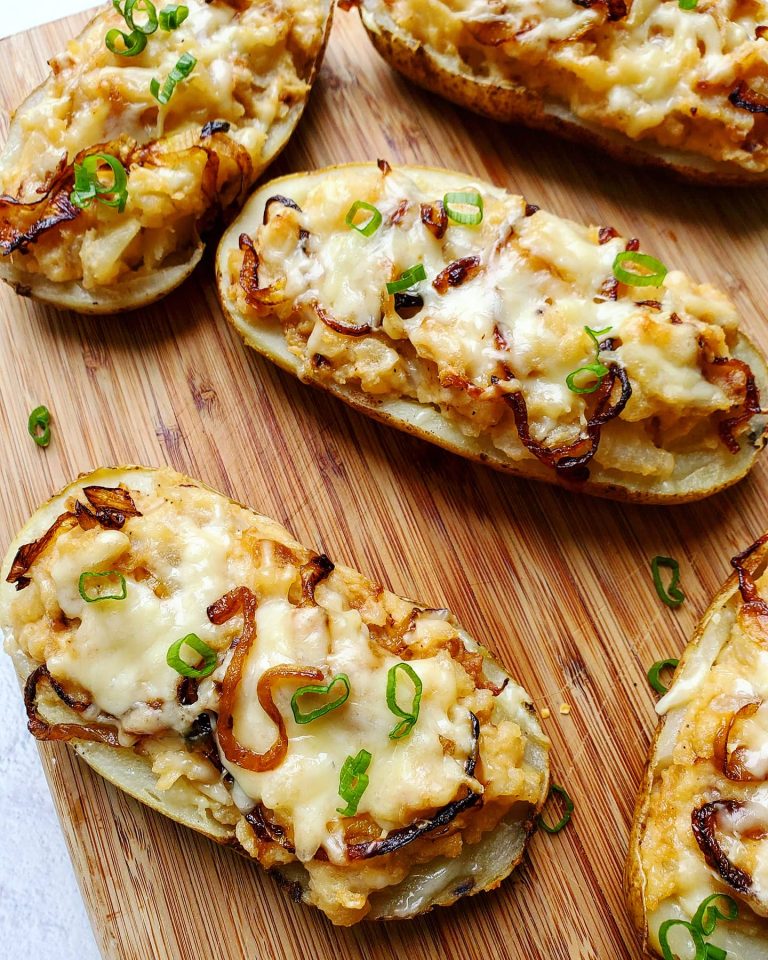 French Onion Soup Stuffed Potatoes
FRENCH ONION SOUP STUFFED POTATOES! these taters are 100% inspired by the French Onion Soup Dumplings at @continental_midtown . Those dumplings are for sure on my "Best Things I Ever Ate" list. I used to frequent all 3 of the restaurant locations in the Philly area because I could never get enough. These stuffed potatoes are a great grain free and gluten free substitute and they are so filling! These are great on their own or would make the perfect side dish!
4 Russet Potatoes
Salt, Pepper, and Olive Oil for Baked Potatoes
1 and a half Yellow Onions, sliced thin
2 tbsp butter
2 tbsp Olive Oil
1/2 cup Sour Cream
1/2 cup Beef Broth
1/2 to 3/4 lb Gruyere Cheese(or Swiss)
1/4 tsp Salt
Black Pepper
Optional: Green Onions for topping
Directions:
Preheat the Oven to 425°F
Wash and Dry the potatoes
Place whole potatoes on a parchment paper lined baking sheet.
Poke holes in each potato. Drizzle a little olive oil on each potato and then sprinkle each potato with salt and pepper. Bake for 45 minutes.
While potatoes are baking, caramelize the onions by placing 2tbsp of butter and 2tbps of olive oil in a pan on medium low heat with thinly sliced onions. Stir them very frequently until they get a deep color. About 25 to 30 minutes.
Once potatoes are done baking, let them cool enough to handle them.
Cut potatoes in half, scoop out the potato insides, being careful not to tear the skins. Leave about a 1/4 inch of potato around the edges. Throw the scooped out potato into a bowl.
Combine scooped potato with sour cream, beef broth, half of the gruyere, majority of caramelized onions(leave some to use as a topping), and 1/4 tsp salt. Add black pepper to taste.
Add mixture to scooped out potatoes, top with remainder of cheese and some caramelized onions.
Baked at 400°F for 20 mins. You can also broil for a few minutes to brown the cheese on top.
Top with green onions.
** This post contains affiliate links.
Follow me on Instagram @spinachandbacon