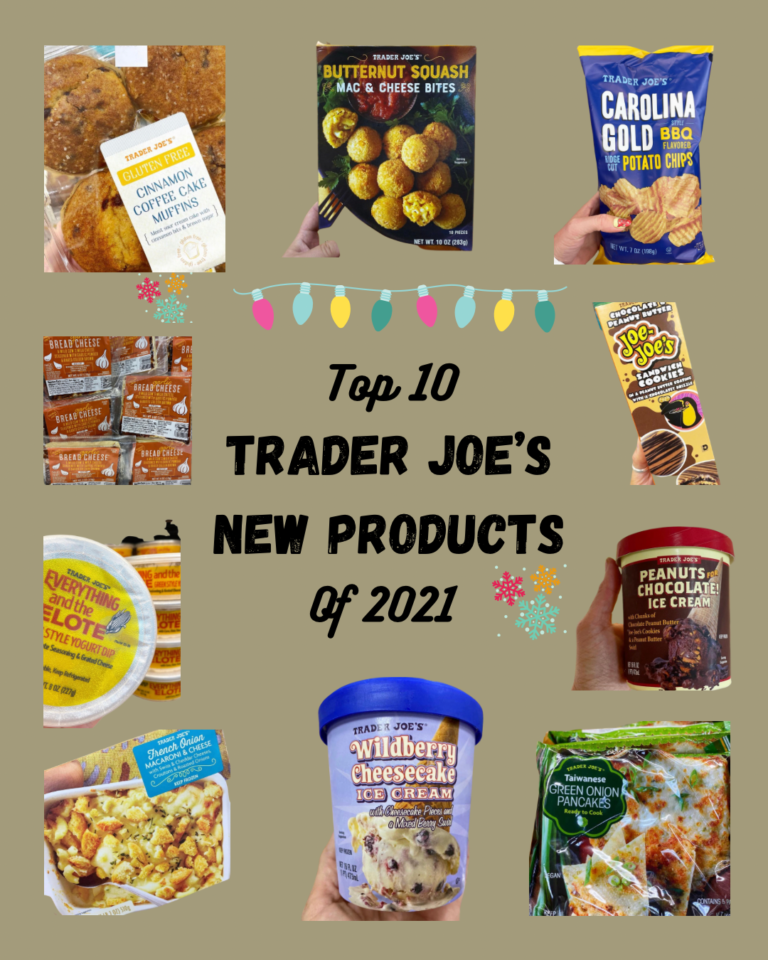 Best New Trader Joe's Products of 2021
I am back with a new list! The Best New Trader Joe's Products of 2021! Last year I made a list ranking the best Trader Joe's products that came out in 2020, and this year I have done it again. In order for a product to make it to this list, they have to have come out as a new product during this calendar year. That is really the only requirement. These are not my favorite Trader Joe's items of all time. These are only my favorite items of this year.
I consider myself "qualified"(haha) to make this list because I am married to a Trader Joe's employee and Trader Joe's is our default grocery store. Also, I am not a picky eater, nor do I think I am too good for frozen food, so I feel like I give everything a good try. I aim to try every new product that comes out, but I don't always get around to everything. So, I guess this list is really only the best new items out of the new items that I have tried, but trust that I have tried mostly everything that comes out at Trader Joe's. If I have missed something that you are really passionate about, leave me a comment below so that I can give it a try.
What are the most popular items at Trader Joe's?
I am in a lot of Trader Joe's groups on Facebook and one thing I notice is that their frozen foods and snacks seem to be the majority of people's favorites! People always rave about the Orange Chicken and Party Meatballs. You won't find either of those items below because they are older items, but scroll down to see my favorite products that came out in 2021!
Top 10 Best New Trader Joe's Products of 2021
10. Butternut Squash Mac and Cheese Bites
These came out during the Fall as a seasonal product. Trader Joe's knows how popular their butternut squash mac and cheese is and they also know how popular their mac and cheese bites are so they were smart and created a hybrid product. These little mac and cheese bites were delicious! Definitely on the "sagey" side, but at the beginning of Fall, this is completely the flavor profile I crave. We probably only bought these twice, as to not be those people who buy out the whole supply and leave nothing for anyone else, but I probably could have enjoyed another box. I am hoping these come back next year for sure! I hope they somehow figure out a way to make this gluten free so that everyone can enjoy, so that's why this item is not higher on my list.
9. Carolina BBQ Chips
MMMMmmm! I am a huge potato chip lover so when these came out, I had to try them. Trader Joe's has a popular BBQ sauce called "Carolina Gold BBQ" sauce which is tangier than regular sweet BBQ sauce, so they used this to create a tasty and delicious chip. It is like BBQ meats Salt and Vinegar and I loved them! It's not a chip I would buy all the time, but it is really delicious and I like them because they are just a little bit different than regular BBQ chips.
8. French Onion Mac and Cheese
This product came out in the winter months and I remember tasting this and being like "damnnnn that's good". I love the flavor of caramelized onions and french onion soup. Add that to some mac and cheese and its just a really great match! It is definitely not light, but it makes a delicious and quick side dish!
7. Gluten Free Cinnamon Coffee Cake Muffins
Wow, they really hit this one outta the park. These are magnificent! I have more of a savory palate but there are a few desserts on this list and this one was really special. I love that they made this Gluten Free so that more people can eat this, but I think maybe because it is GF that people who don't need to eat GF didn't give this the proper love it deserved. Even if you do not need to eat GF, I am telling you, YOU HAVE TO TRY THESE! Run, don't walk!
6. Elote Dip
AKA…a party in your mouth! I am a big fan of Mexican Street Corn and this dip puts all the delicious creamy and cheesy flavors of Mexican street corn into a dip! Dip some corn chips in here and send your mouth to flavor town! It is truly a wonderful summer dip, and great to bring to any BBQ. It is a TAD spicy, but really, I wouldn't let that deter you from trying this, as all the creamy cheese and yogurt are very cooling!
5. Peanuts for Chocolate Ice Cream
Ok, we have reached the half way point and we are making our way to the top of the list! This ice cream could probably be even higher on the list, but I keep second guessing myself, so just note that #5,#4,and #3 are all pretty equal in my opinion. This ice cream is LEGIT! I actually was talking to a Trader Joe's employee this morning (not my wife) and she really hit the nail on the head when describing this ice cream. This ice cream isn't just for the Peanut Butter lovers, it is for the chocolate lovers. Usually PB Chocolate ice creams focus on the peanut butter, but this ice cream has the most luscious and rich tasting chocolate as well. The chocolate was not an after thought here! If you love PB and Chocolate this is a must try!
4. Taiwanese Green Onion Pancakes
So, not only are these incredible, they save so much time than if you make them yourself. These are the scallion pancakes you would get at a Chinese restaurant or dim sum establishment. While, they are similar to the Korean scallion pancakes (from an American perspective) they are completely different. The Korean ones are more of a batter over scallions, while the Chinese scallion pancake is a hand rolled dough that is coiled and rolled out several times and then cooked in a pan. I was so happy when these came into the store. If you were to make this from scratch, it would take a couple of hours, but having these in my freezer is pure convenience and automatically elevates any Asian inspired meal I make. They are thin and flaky and cook up in about 3 minutes! I absolutely love these!
3. Chocolate and Peanut Butter Joe Joe's
Joe Joe's are Trader Joe's version of the Oreo. They frequently put seasonal twists on their Joe Joe's and this year they made a chocolate peanut butter version and all the Trader Joe Stans lost their minds! 🙂 This is my second chocolate peanut butter item on the list, so clearly I am a fan. I do have one complaint about this product though. They only put like 6 of them in the box or something ridiculous like that. C'mon Trader Joe's, make a bigger package, please!
2. Garlic Bread Cheese
Truly, it was a difficult decision to put this at number #2 instead of #1 of the Best New Trader Joe's Products of 2021. I love bread cheese! First things first, Bread Cheese is a type of cheese. I have tried other bread cheese before, and just fell in love. The reason it is called bread cheese is because you can place it directly on a hot pan, much like any Halloumi, or any other grilling cheese. Then you let it cook a little, brown it to deepen the flavor, and then remove and enjoy it. It is the definition of TASTY! And then the added flavor of garlic really makes this even better. I cannot urge you enough to try this cheese. It isn't currently in stores because they could not keep up with the demand, but if you see this next summer, buy one or two!
1. Wildberry Cheesecake Ice Cream
WHAT A TIME TO BE ALIVE, Y'ALL! Just thinking about this ice cream gives me all the feels. i don't think I ever raved about one product so much, except for last year's number 1 product (the gingerbread sandwich cookies). It is funny because I don't even consider myself as having a sweet tooth, but two years in a row, the number one product was a dessert. I think I just like more savory products for day to day, but then there will be these dessert type products that just blow me away.
This ice cream is perfect! Honestly, just perfect! It was like the most perfect homemade pop tart, but in cheesecake ice cream form. It was hard to only limit myself to two pints of this product this year, but we really try to live in moderation, especially with stuff like this. Trader Joes, thank you so much for creating something so delicious. I am sure there is a recipe developer out there that I need to thank, and so if you are reading this now, THANK YOU! 🙂
Ok, well that is my list! I hope you enjoyed reading my list "Best New Trader Joe's Products of 2021" Were your favorites also on this list? You can let me know in the comments below, or come follow me on instagram. I will link my profile below! I am always raving about Trader Joes products and cooking with them in my stories!