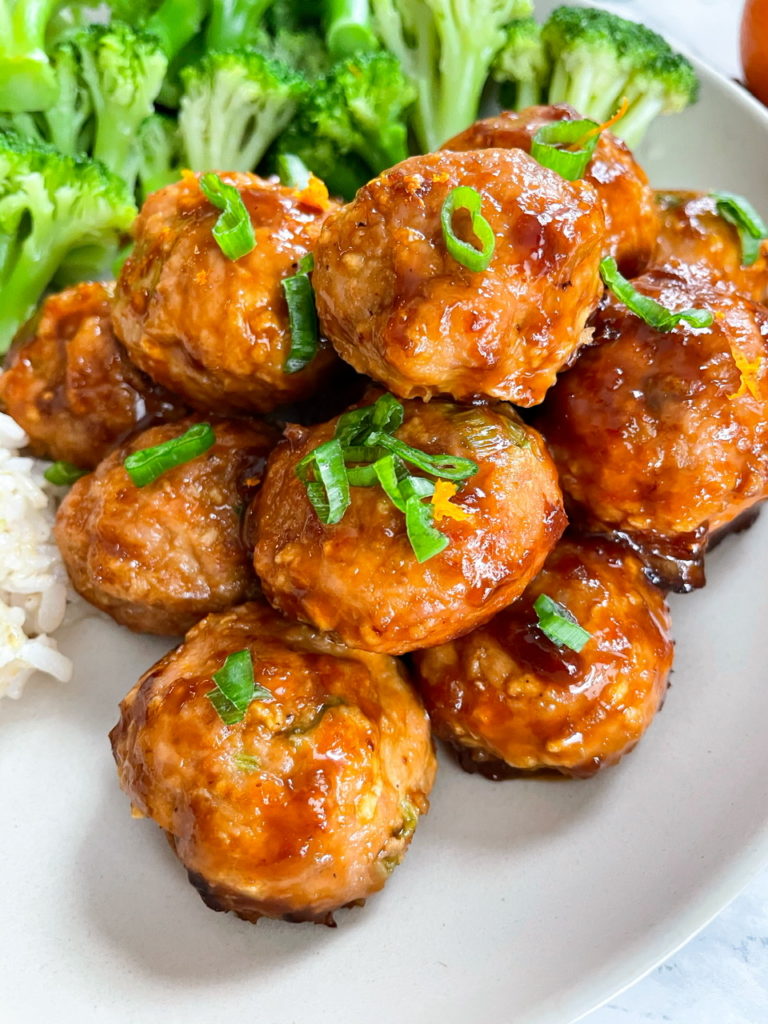 Orange Chicken Meatballs
Oookkkay, so theseeeee are tasty! Allison and I have been trying to eat a tiny bit lighter, so this Orange Chicken Meatballs recipe is one of the recipes we have been enjoying lately.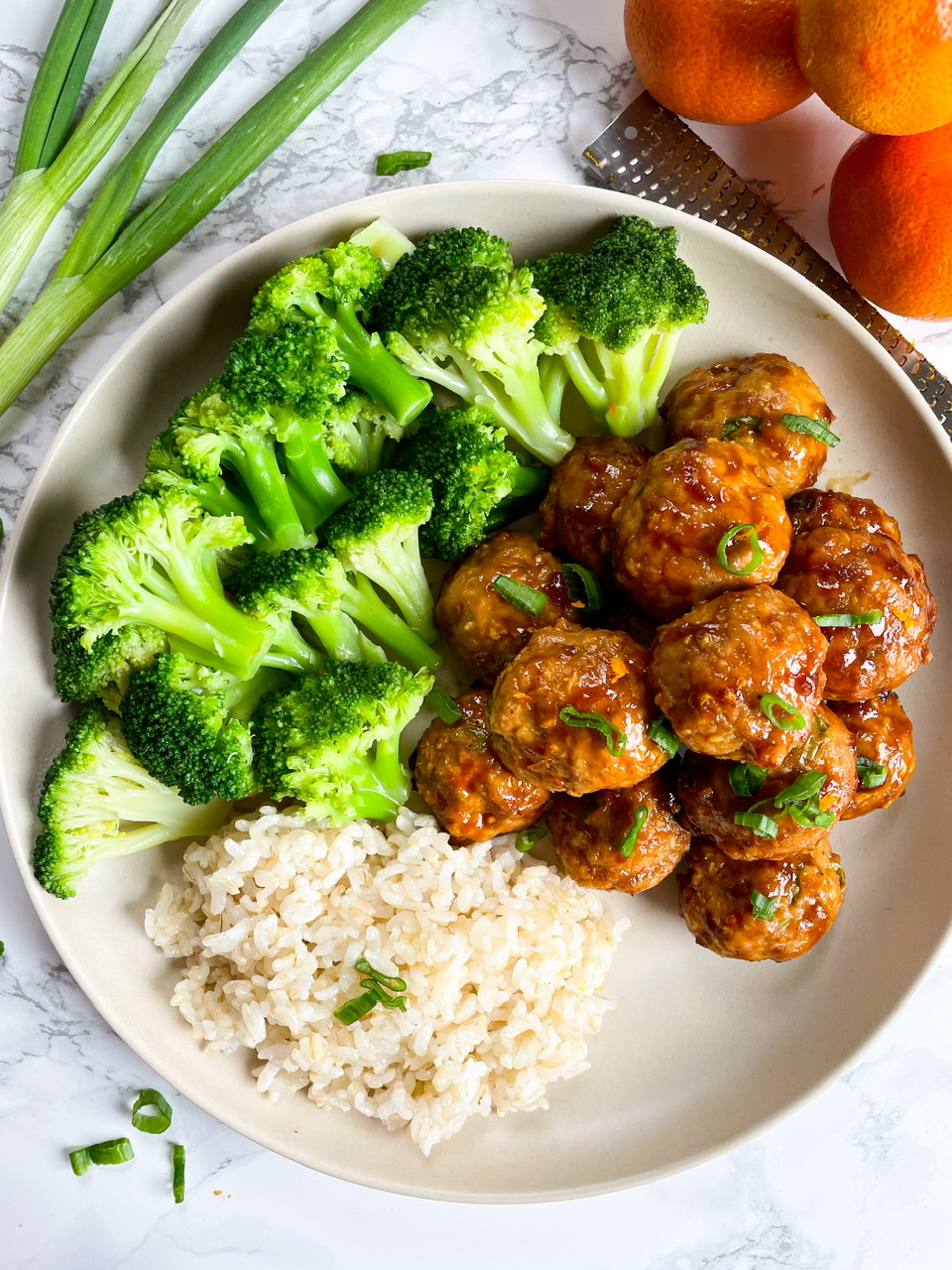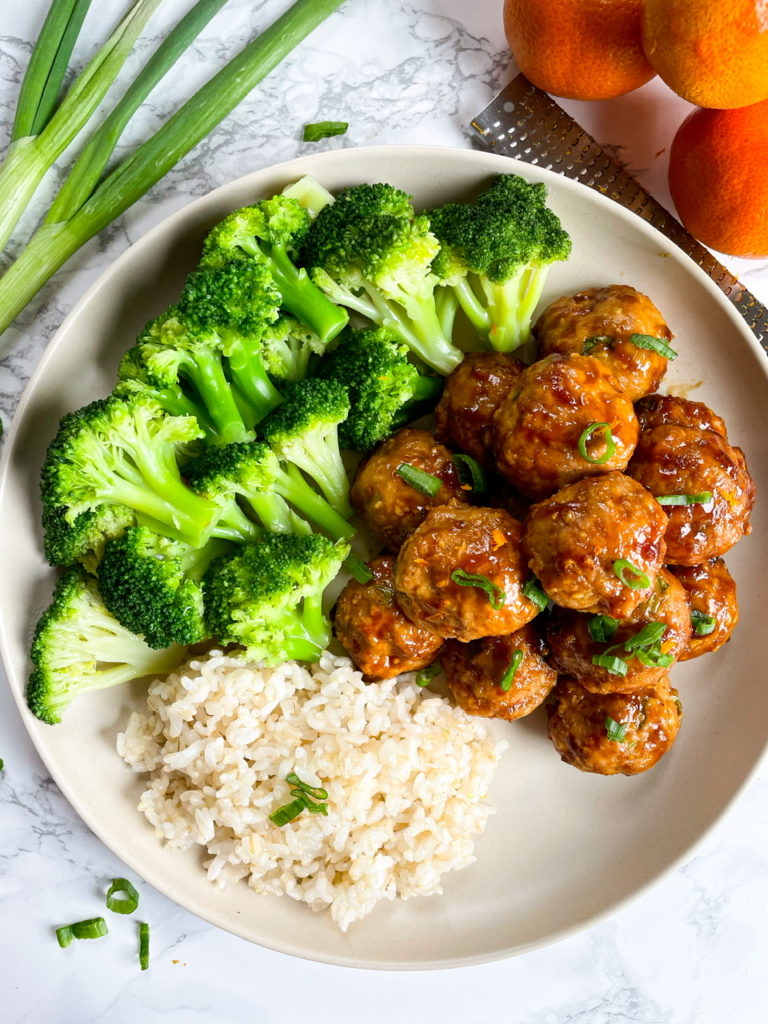 We eat it with a side of broccoli and some cauliflower rice mixed into either regular white rice or brown rice. It's hard sometimes being a food blogger. I want to bake goodies like biscuits stuffed with delicious things for my Blog, but my day to day diet isn't like that. We normally eat a protein, veggie, and either rice or potato for our meals. We also love eating biscuits, and prior to having a baby, fitting in time to cook was so easy. I always had time to make some "blog worthy" food during the week or on a weekend. Nowadays, I have to cram in all my cooking on Saturday or Sunday, do all of the photography, and film videos, and sometimes it will be three meals of biscuits! We have a tiny freezer, and we fill it with as much as possible, but sometimes there is overflow. So, then it's stuffed biscuits 5 days in a row. I guess my point here is that I love when I can create a lighter meal that I also find blog worthy so then I am not eating biscuits 5 days in a row! This Orange Chicken Meatball recipe is one of those recipes. These almost didn't make them into the photo because we kept eating them right out of the pan! 🤣
Cooking Equipment:
Large Sauté Pan
Orange Chicken Meatballs
Erin Aronowitz
A lightened up Orange Chicken recipe in Meatball form! This recipe is gluten-free and can very easily be made paleo!
Course
Appetizer, dinner, lunch
Ingredients
Meatballs
1

lb

Ground Chicken

1/2

TBSP

Sesame Oil

1/2

tsp

Ginger Paste

2

TBSP

Tamari (Reduced Sodium)

you can use low-sodium soy sauce if you aren't gluten-free, or you can use coconut aminos if you are paleo

2

Green Onions, chopped

just the light green portion. Save the bright green part for later

1

TBSP

Garlic Paste

This is equal to about 3 or 4 cloves of garlic

1/4

cup

Unsweetened Almond Milk

Any milk is ok

1

Egg

1/2

Cup

Gluten-Free Panko Bread Crumbs

You can use almond meal, or omit this step if paleo

1/4

tsp

*Salt* Optional

Only use this if you have chosen to use Coconut Aminos instead of Tamari or Soy Sauce
Sauce
1/2

Cup

Orange Juice

No need to buy expensive Orange Juice for this. It can even be from concentrate. Just make sure there is no additional sugar in the ingredients.

1/4

Cup

Tamari (reduced sodium)

substitute Low Sodium Soy Sauce or Coconut Aminos. If you use coconut aminos, add a pinch of salt to the sauce

1

TBSP

Garlic Paste

Zest

of one Mandarin

or small orange

1/2

TBSP

Orange Preserves

optional

1/2

TBSP

Maple Syrip

Can be subsituted with Honey

1/3

Cup

Rice Vinegar

Apple Cider Vinegar can be used

1/2

tsp

Sriracha

1/4

tsp

Ginger Paste

3/4

tsp

Cassava Flour

tapioca flour, arrowroot flour, or cornstarch can be used
Instructions
In a large mixing bowl combine the first set of ingredients for the meatballs.

Take out a large baking sheet and line it with parchment paper.

Roll your meatball mixture into balls, making sure you wet your hands in between every few so that the mixture does not stick to your hands. Place the meatballs on the baking sheet, with a little space in between them.

When there is 5 minutes left of baking time, add the ingredients for the sauce (except for the flour/cornstarch) into a large sauce pan.

Cook the sauce on medium heat, stirring frequently.

Add the 3/4 tsp of flour and raise the heat to high. Stir frequently.

Once it boils, you will see the mixture start to thicken. (This will take less than a minute). Once the mixture is thick, set the heat to low or turn off the heat and wait for the meatballs to be cooked.

Once the meatballs are done cooking, add the meatballs into the large sauce pan and roll them around in the mixture. Your heat can be set to low at this point.

Serve with Steamed Broccoil and Rice!
Keyword
gluten free, meatball, orange chicken, paleo