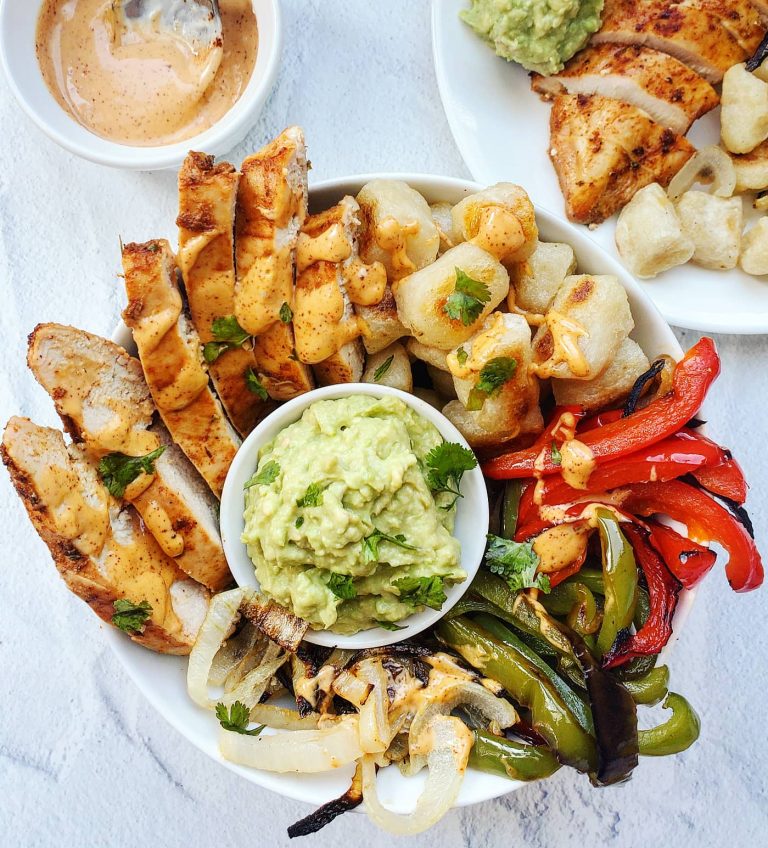 Sheet Pan Fajitas
Actually, Sheet Pan Fajita Cauliflower Gnocchi Bowls!! Forgive me, I have a lot going on right now and I can't think of a shorter, cuter name. So this will do for now! However, I am still taking suggestions! 😄 All of the bowl ingredients are cooked on the same sheet pan which leads to super easy clean up! The gnocchi is a nice filling alternative to tortillas, and they are made from veggies..soo 👍👍. I also made a spicy mayo and a fast smashed avocado spread (just avocado, lime, and salt) to top it all off!! It created the most satisfying meal!
Chicken Marinade Ingredients:
2 large chicken breasts (1 and 1/4 lb)
2 tbsp ghee or oil butter of your choice
1 tsp chipotle powder (or chili powder)
1 tsp cumin
1.5 tsp garlic powder
1/2 tsp oregano
1/2 tsp paprika
Little less than 1/2 tsp salt
2 shakes of black pepper

You will also need 2 peppers, an onion, a bag of cauliflower gnocchi, and the ingredients to make the spicy mayonnaise below.

1. Combine chicken marinade ingredients and marinate chicken for at least 30 minutes.
2. Slice 2 bell peppers (1 red and 1 green for more color) plus 1 small onion
3. Open 1 bag of cauliflower gnocchi
4. Once chicken is marinated, add all ingredients to a parchment paper lined sheet pan.
5. Bake at 450 for 25 mins.
6. At 17 mins remove the chicken and stir other ingredients on the pan.
7. Let chicken rest on a cutting board until the other ingredients are finished cooking.
8. While the chicken is resting, make the spicy mayo!
Spicy Mayo Ingredients:
2 tbsp mayo
2 tsp avocado oil
1 tsp chipotle powder
1/2 tsp garlic powder
1/8 tsp salt
1/4 tsp franks red hot
3/4 tsp lime juice
9. Assemble your fajita bowl!