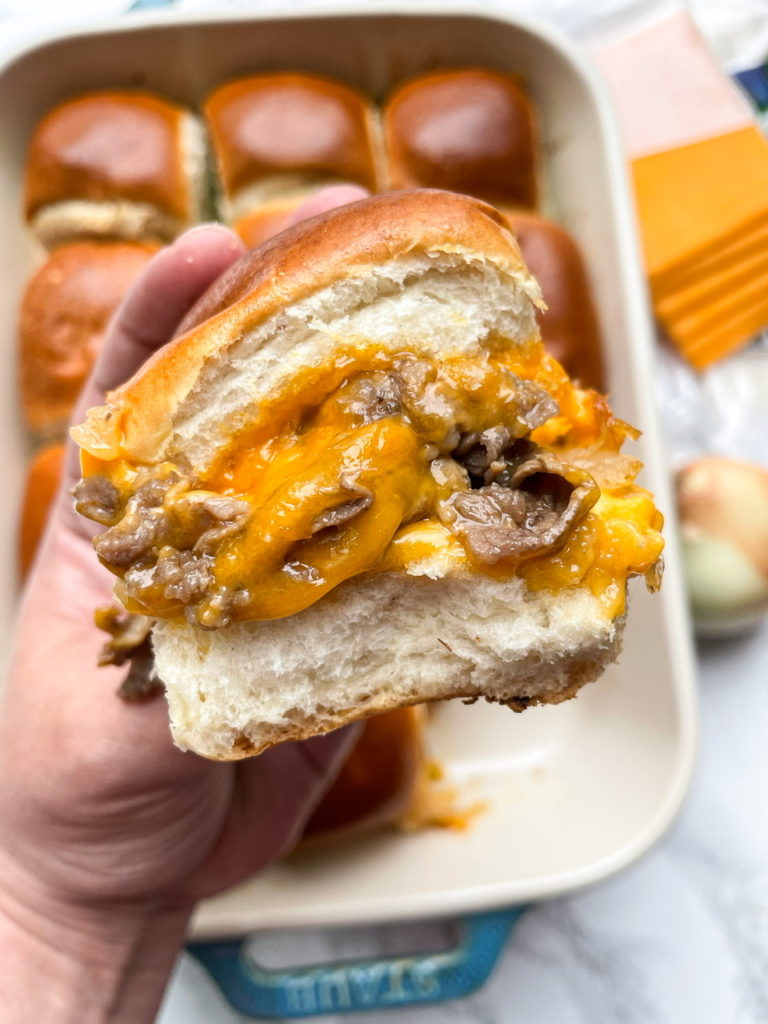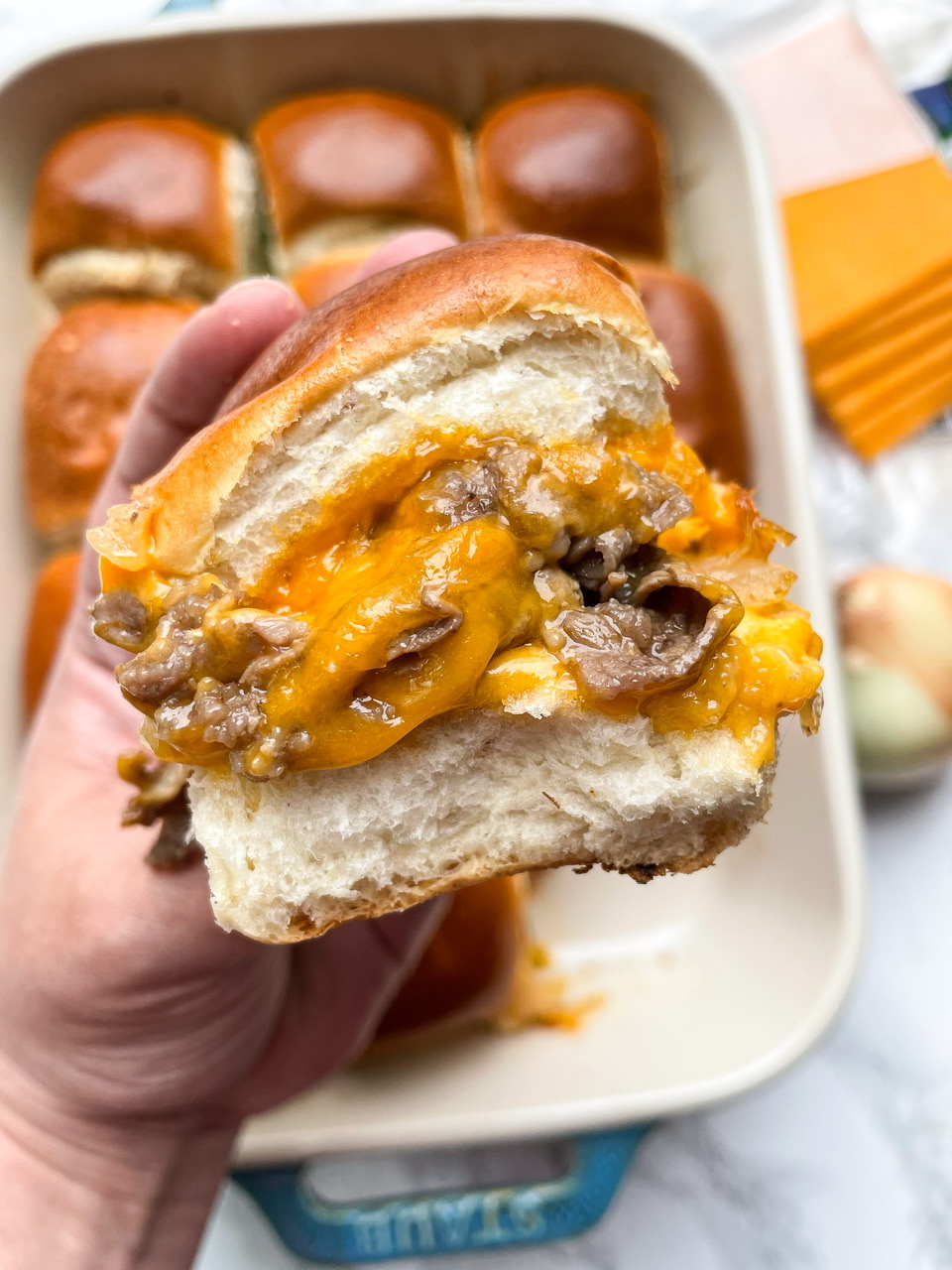 Cheesesteak Sliders
This Philly Cheesesteak Sliders recipe is so easy to make and feeds a nice size crowd. And the best part? These are so unbelievably delicious. I lived in Philadelphia for 6 years and trust me – I know what a good cheesesteak should taste like. A good cheesesteak should have a good cheese to meat ratio, and the beef should be tender. Also, the onions should be well cooked, almost caramelized.
What are two famous Philly Cheesesteak places?
I love this city so much, and I love the food, but you know what's crazy? I don't love the cheesesteaks. I've had some good cheesesteaks, but they are not from the two most popular places – Pat's and Geno's. My favorites in Philly are Angelo's and Dalessandro's.
However, I love making my own because it has the ratio of cheese to meat that a good cheesesteak should have. The first word in cheesesteak is "cheese", so why are most of the cheesesteaks I've had so dry? Well, these cheesesteak sliders are not dry, I can promise you that.
What type of meat is good for Philly Cheesesteak?
Ribeye is great, but I also really love using shaved beef steak. Shaved beef is super thin slices of beef, like steak-ums, but they are higher quality. . They cook super fast because they are so thin, and they layer with the cheese so well. If you buy ribeye, you will have to cut it thinly on your own, so I prefer to just have the meat already thinly cut. I have seen shaved beef in several grocery stores, so just check with your favorite store to see to see if they carry it.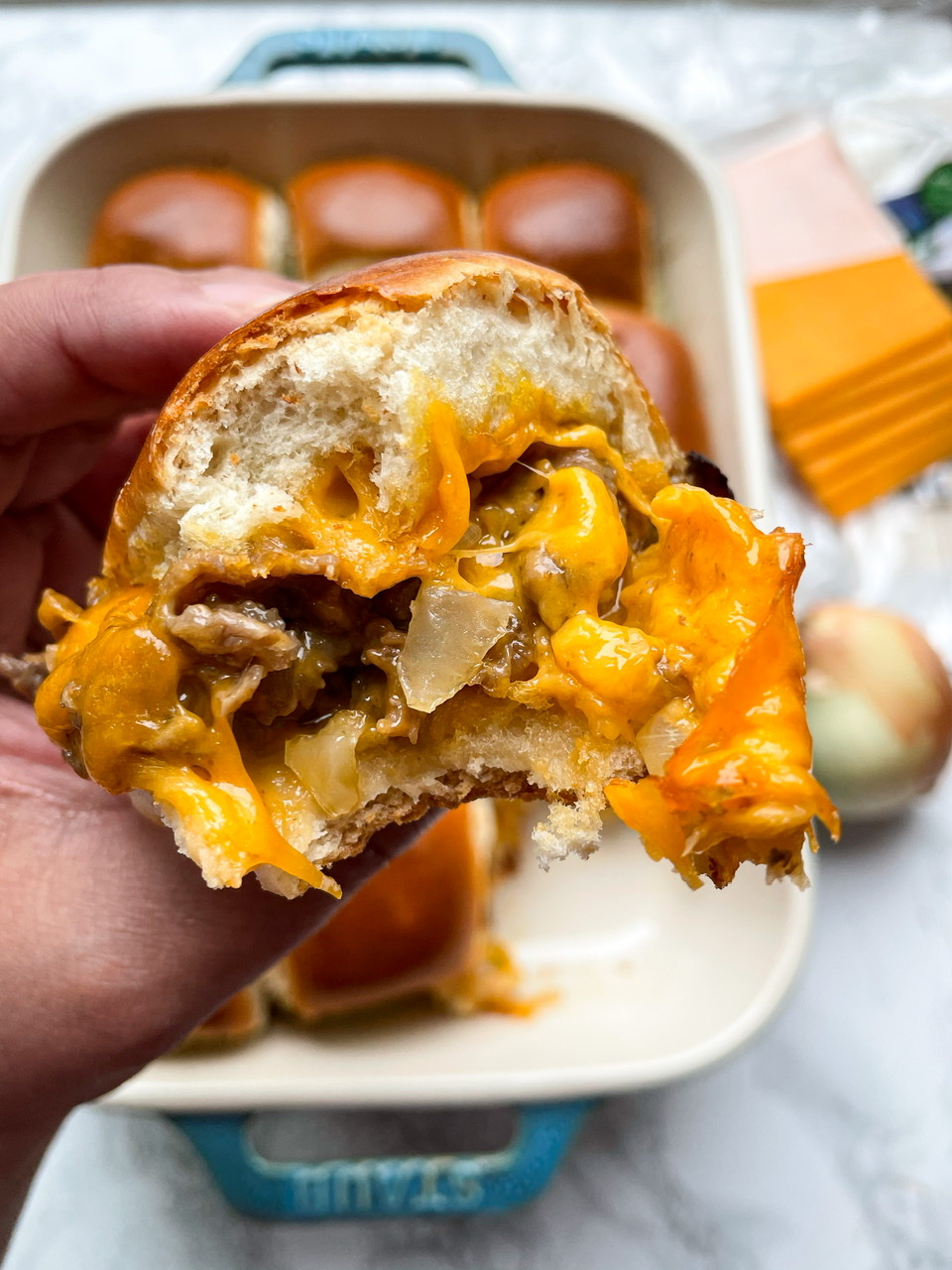 These cheesesteak sliders are my first slider recipe in a long series of flavor combinations I have planned. I started stuffing yummy fillings into biscuit dough recently, and just changed it up a bit to create even easier recipes for stuffed sliders! Check out my Ham, Egg, and Cheese stuffed biscuits and my Pork Belly Bao Biscuits.
Baking Dish is 10.5″ x 7.5″ Baking Dish by Staub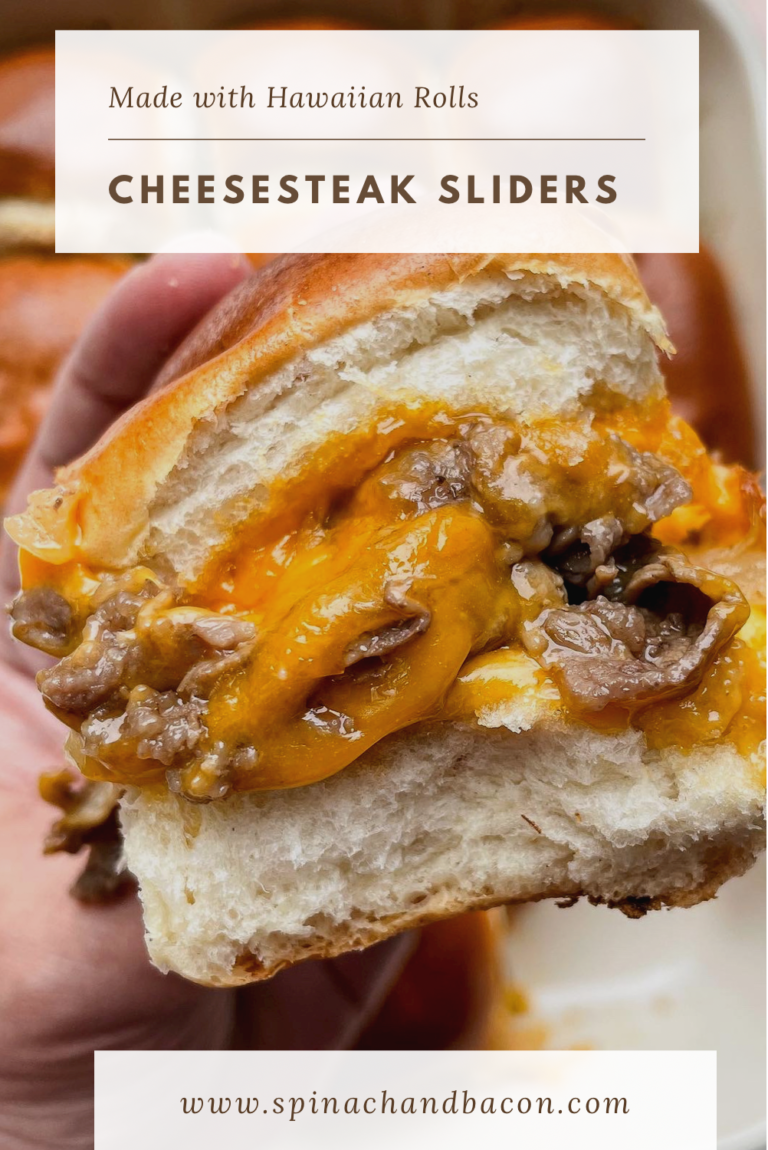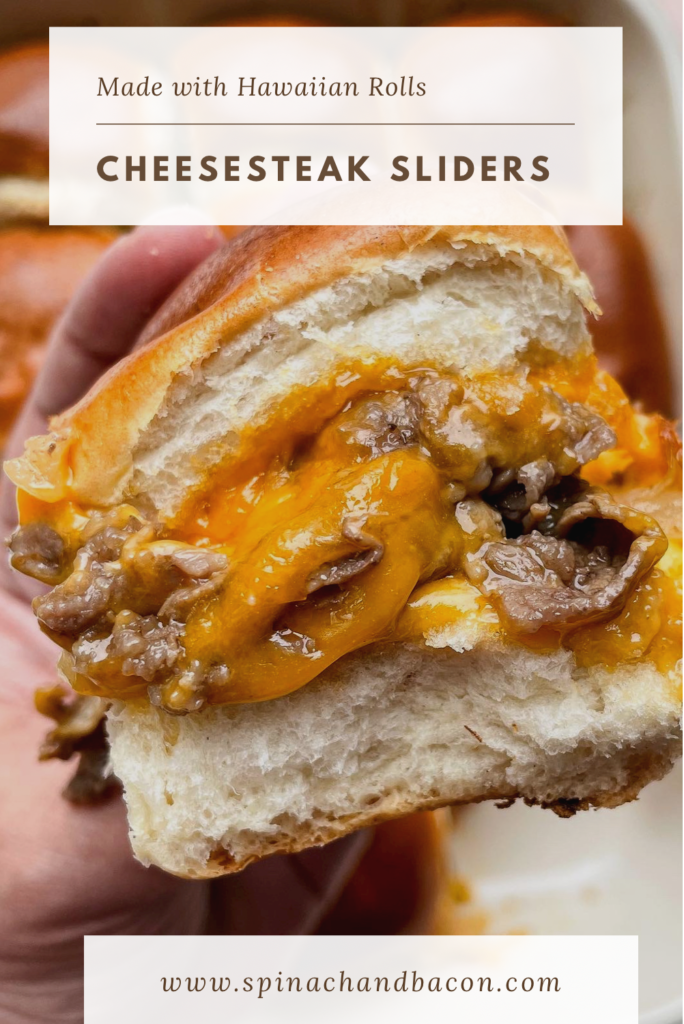 Cheesesteak Sliders
Cheesesteak Sliders on Hawaiian Rolls baked till crispy on the outside and melty on the inside
Course
Appetizer, dinner, lunch, Snack
Ingredients
1

lb

Shaved Beef

I bought mine fresh at Trader Joe's but you can also use Steak Ums

Vidalia Onions

3 or 4

12

Hawaiian Roll Sliders

Aloha Rolls from Trader Joes or King's Hawaiian Rolls

12

Slices

Cheddar Cheese

1

tbsp

Butter

1

tbsp

Olive Oil

Salt, Pepper, Garlic Powder
Instructions
Slice and then chop the onions into quarter slices

Heat a pan on medium low heat and add 1 tbsp butter and 1 tbsp olive oil. Cook onions on low heat, stirring frequently until onions are golden in color. I like my onions well cooked for cheesesteaks, so this takes at least 20 minutes.

Put onions in a bowl and set aside.

Cook your beef with a little salt, black pepper, and garlic powder.

When beef is only a little bit pink, add the onions to the pan with the steak and finish cooking until steak is fully cooked.

Slice the slider bread in half, so that you can seperate the tops from the bottoms

Place the bottoms in a Baking Dish. I like to seperate each bottom piece, but I still keep the sliders in the original shape of 3 sliders wide, 4 sliders long. Then I cut each slice of cheese into 4s and place 2 pieces on each piece of bread(half will be used on top). Then I top the cheese with the meat and onion mixture. Then I add two squares of cheese to each slider, and finally, I top it with the tops of the bread.

Tightly wrap with aluminum foil and bake for about 15 minutes.

After 15 minutes, take off the aluminum foil and bake until cheese is very melty and the tops of the buns are lightly golden.
Keyword
cheese, cheesesteak, slider
Find me on instagram @spinachandbacon