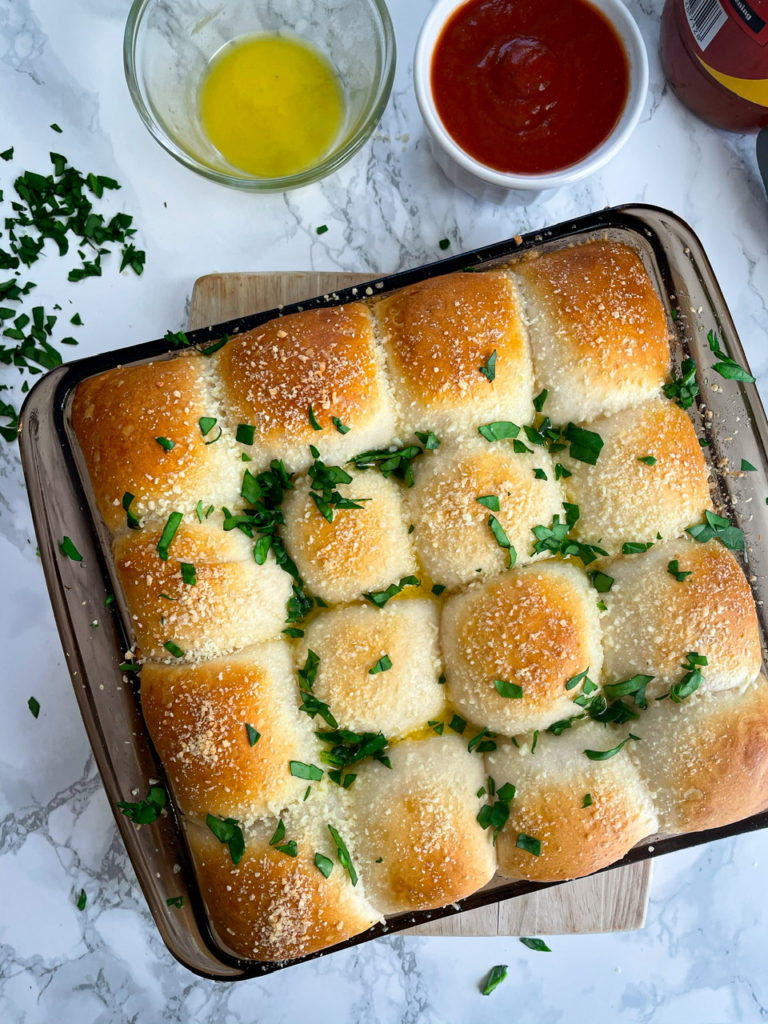 Meatball Stuffed Biscuits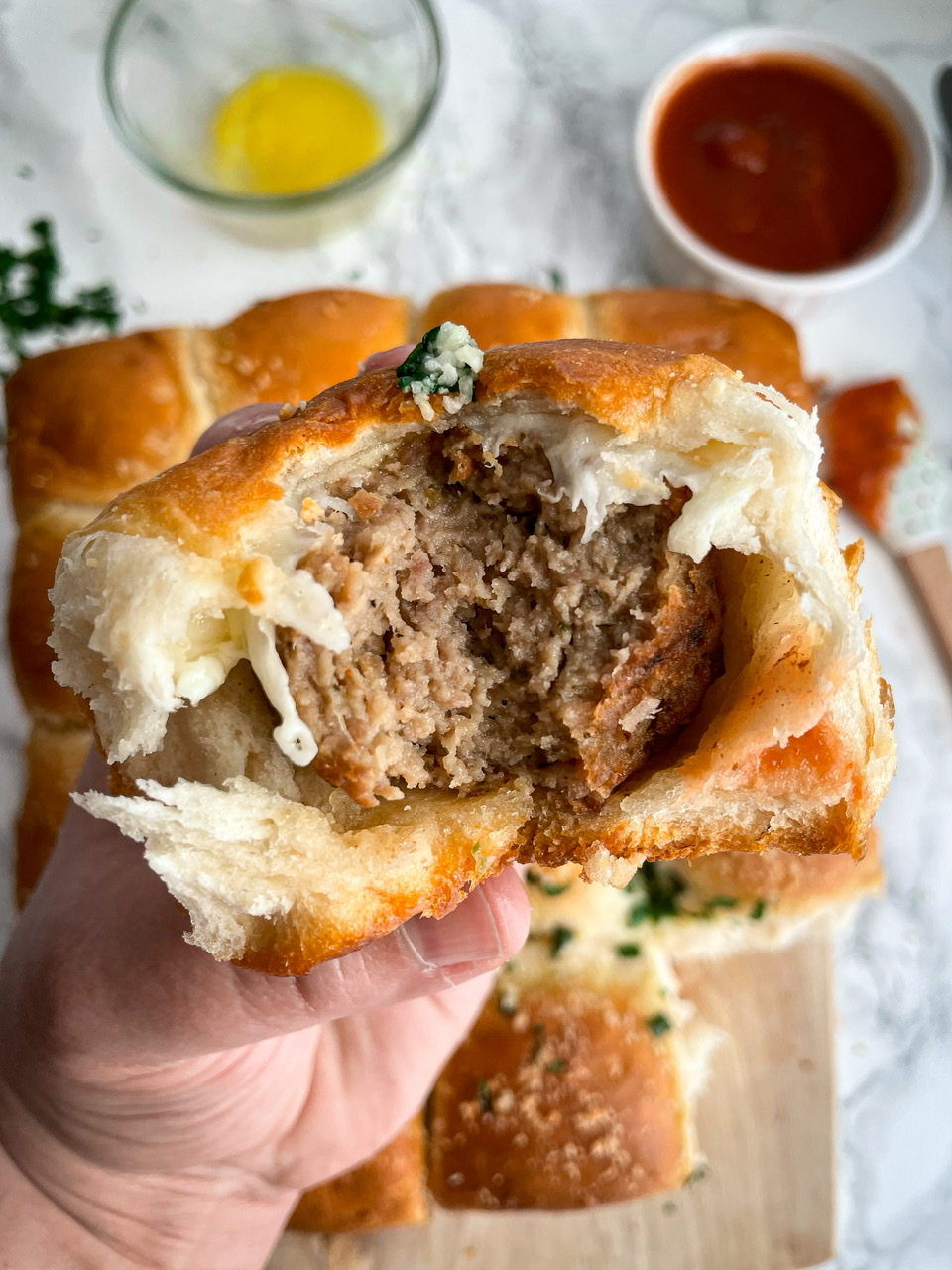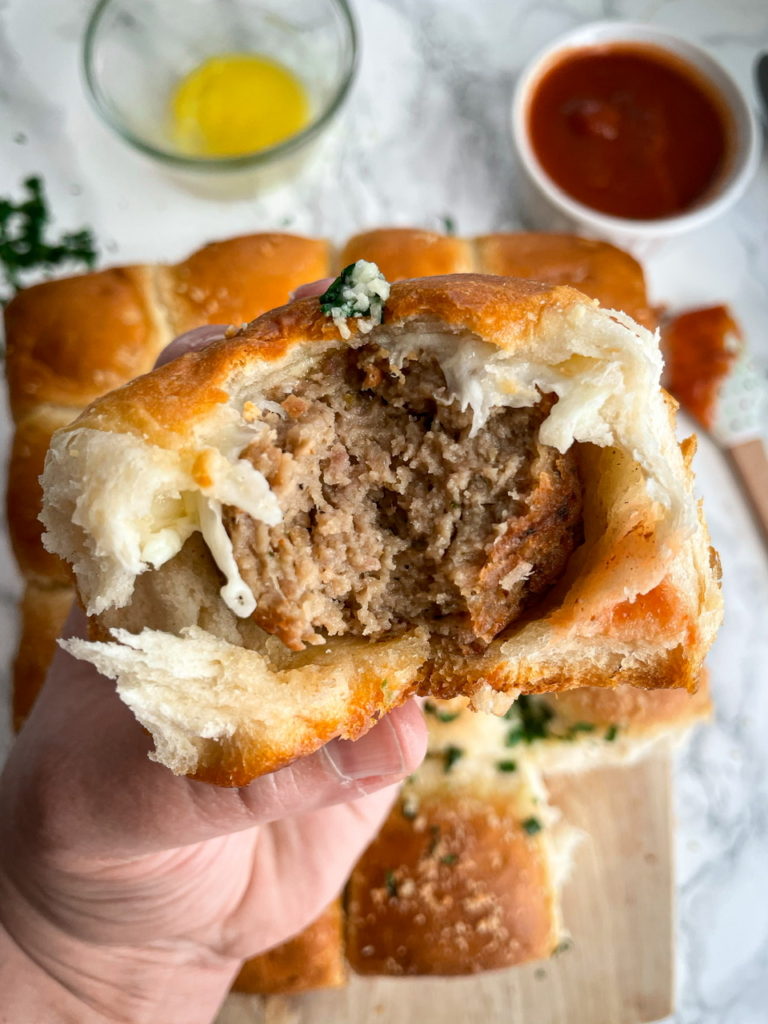 I hope you're hungry because I just made these delicious Meatball Stuffed Biscuits! Flattened out biscuit dough, loaded with mozzarella cheese, meatballs and with parmesan butter! Ever since I made my Biscuit Bao Buns last winter, I've been stuffing biscuits with anything and everything! This combo was inspired by Molly Yeh but I changed it up by using pre-made meatballs to cut down on the time! I used my favorite pre-made meatballs by Trader Joe's. Then, I used some low moisture mozzarella cheese, biscuit dough, Parmesan, butter and marinara sauce for dunking!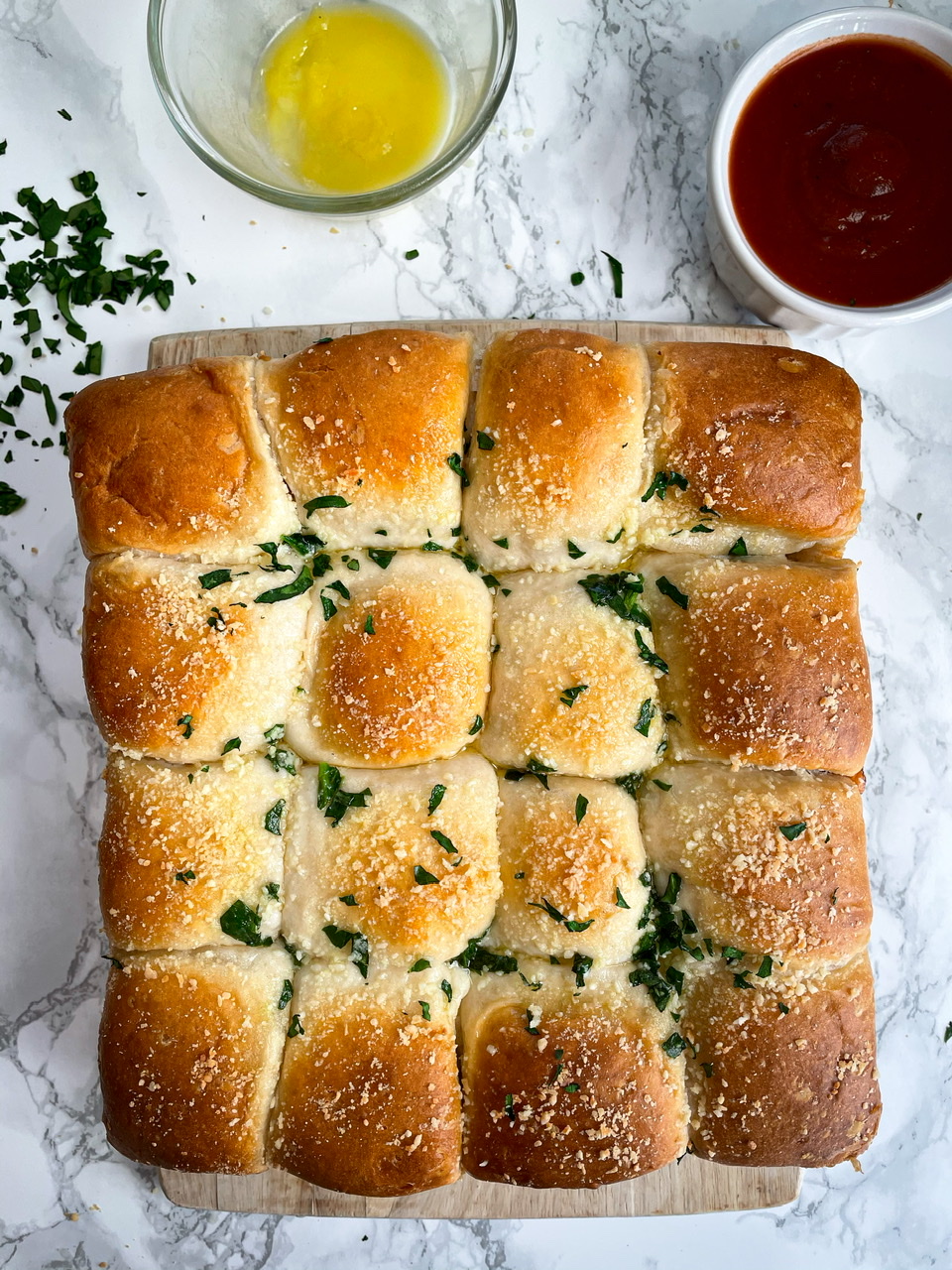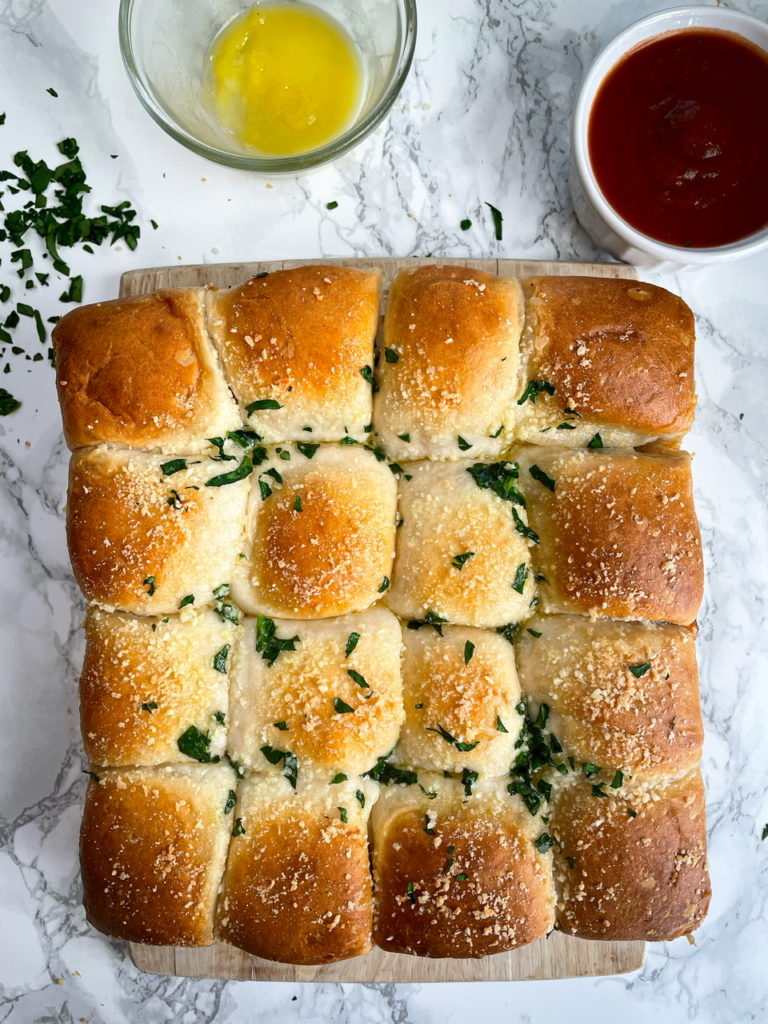 How do you make store bought meatballs taste better?
Bake them inside of a biscuit! These meatball stuffed biscuits are made using pre-made meatballs made this meal, but I also tried this recipe using homemade chicken meatballs and they were equally delicious!
Is it better to fry or bake meatballs?
My favorite meatball recipe is by Pinch Of Yum. I bake them and they come out perfect every time! These recipes are awesome to make for a quick weeknight meal, and super impressive to make for guests!

I made sure that the meatballs were thawed before I put them in my dough so that I did not have to cook them separately. The pre-made brand I used is fully cooked, anyway, so this is safe!
Here is what I used:
9 x 9 Baking Pan – I tried using an 8 x 8 pan, but the biscuits in the middle do not cook correctly, so use a 9 x 9 baking pan or larger. Even a rectangle baking pan will work.
Pastry Brush – Super useful to baste everything in your life with butter!
Rolling Pin – I use this to roll out each biscuit dough into a perfect circle!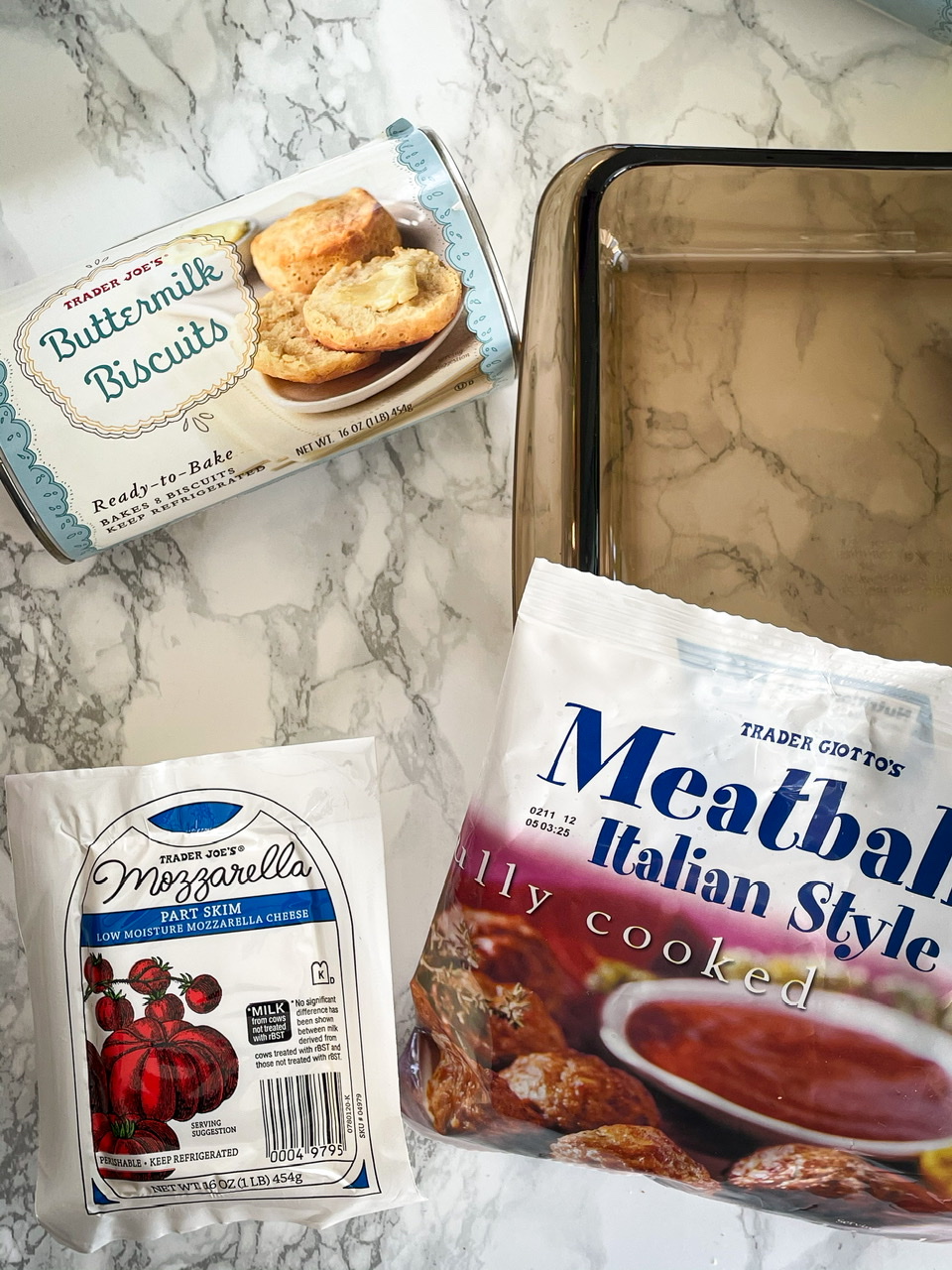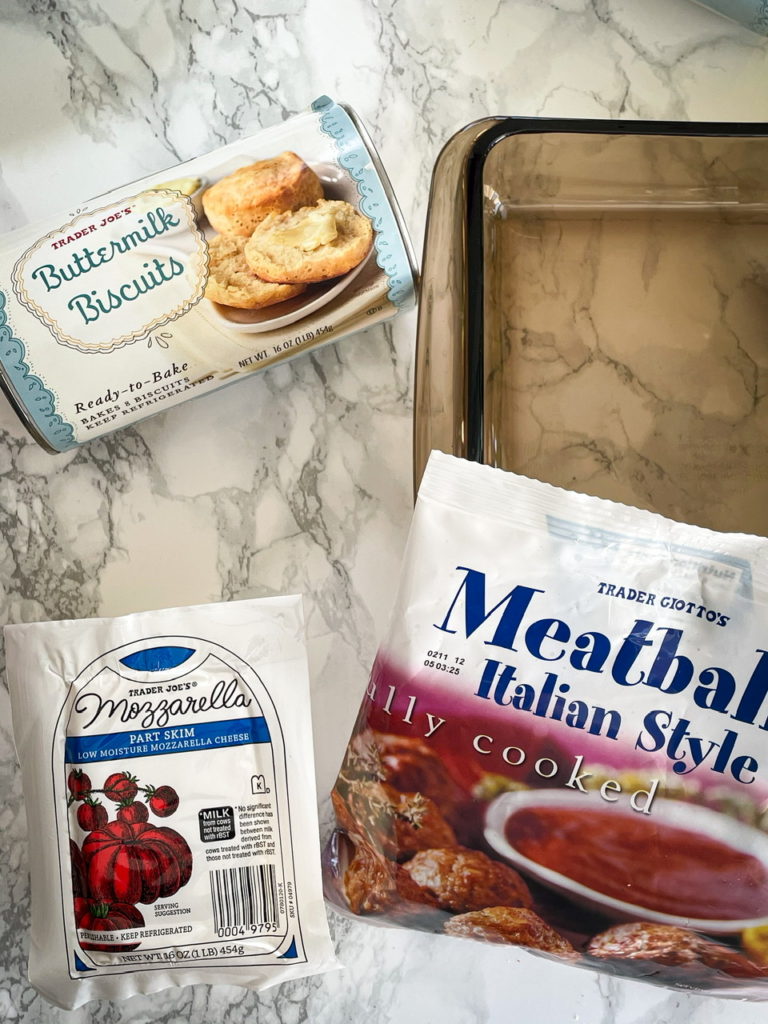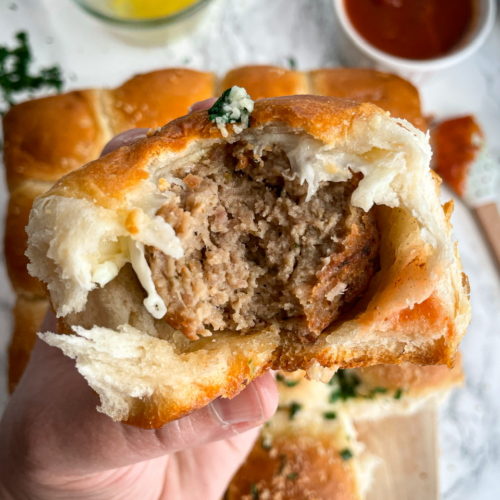 Meatball Stuffed Biscuits
Erin Aronowitz
Biscuit Dough stuffed with Meatballs and Cheese, then baked, topped with Parmesan butter and herbs!
Course
Appetizer, dinner, lunch
Cuisine
American, Italian
Ingredients
2

Packs

Buttermilk Biscuit Dough

16 biscuits alltogether

16

Meatballs

Frozen

16

pieces

Mozzarella Cheese

low moisture

2

tbsp

butter

unsalted

1

tsp

garlic power

1/8

cup

grated Parmesan

you can use more or less

marinara sauce

for dunking
Instructions
Grease a 9 x 9 baking dish on all sides and bottom

Flatten each biscuit dough

Place a piece of Mozzarella Cheese in the center

Place a meatball on top and then close the biscuit dough around the meatball. Place the meatball seam side down in the greased baking dish

Repeat with remaining dough, cheese, and meatballs

Bake for 30 minutes and when the time is almost done, melt the butter

Remove the biscuits from the oven and spread the butter evenly over the top. Sprinkle evenly with garlic power and parmesan cheese.

Put back in the oven to bake for an additional 8 minutes or until browned.

Let cool slightly and enjoy while dunking in marinara sauce!
Keyword
biscuit, butter, cheese, meatball