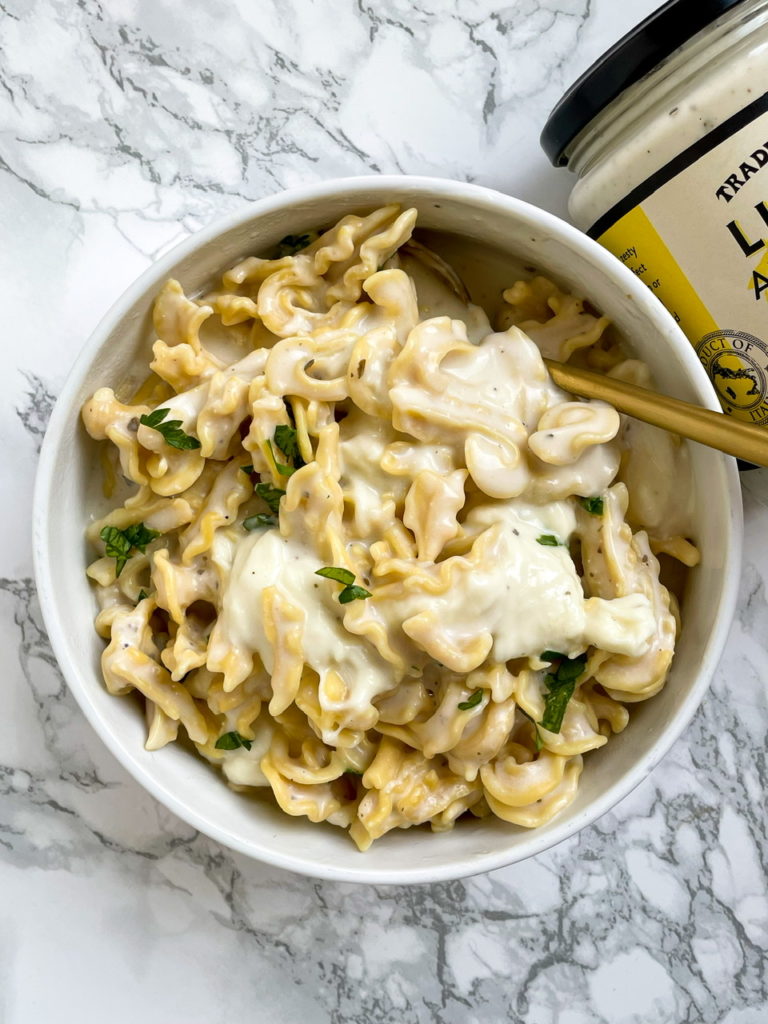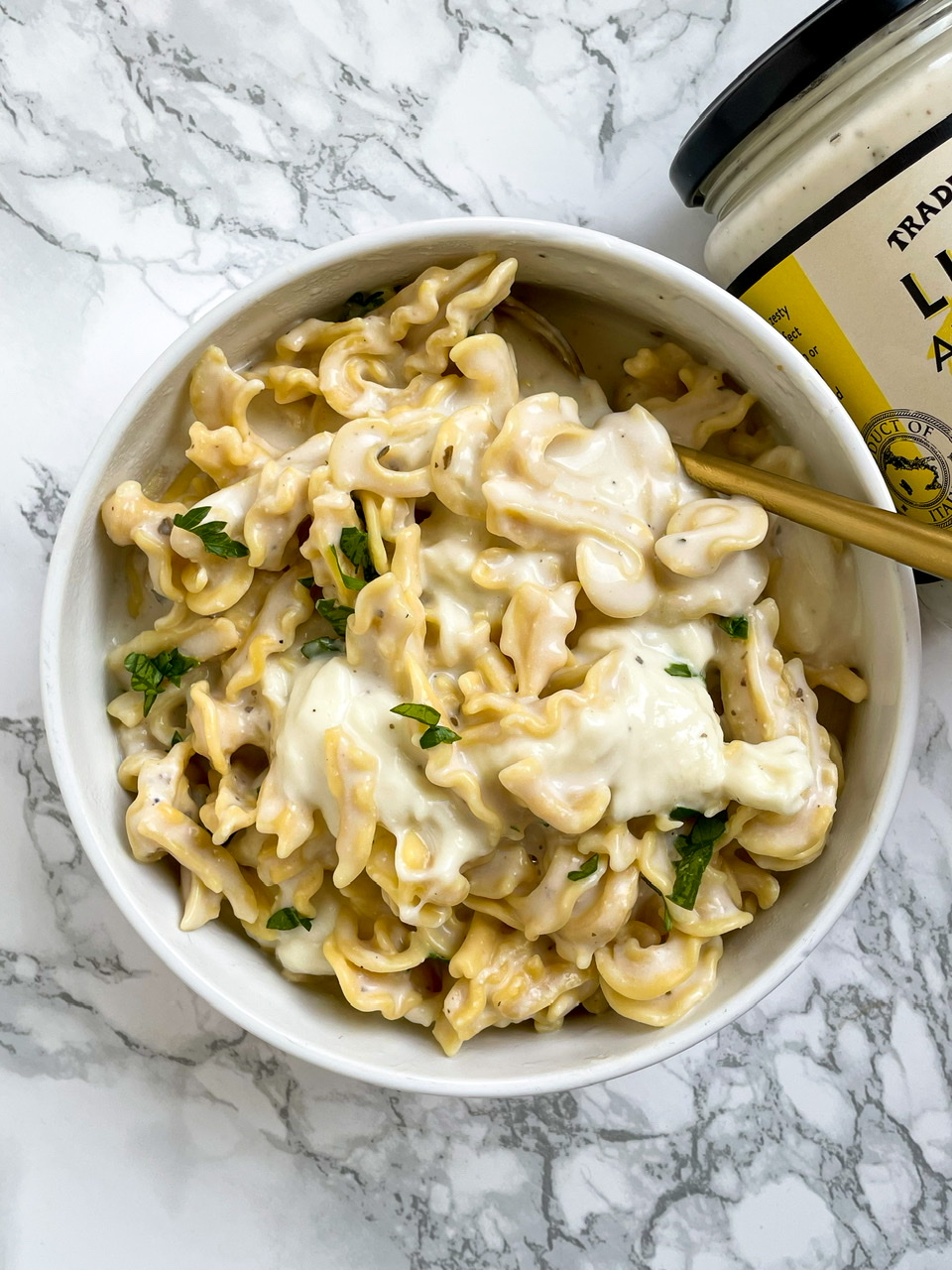 Cheesy Lemon Alfredo Pasta
I love a quick weeknight meal and I especially love a three ingredient meal. This Cheesy Lemon Alfredo pasta is made with only three ingredients, Lemon Alfredo Sauce, Pasta, and Mini Mozzarella Balls. I used Banza pasta because it is made with chick peas, and it is the best gluten free pasta on the market. Also, I feel pretty awesome about the fact that I ate a full plate of chickpeas no matter if it was tossed in creamy alfredo sauce or not! 🙂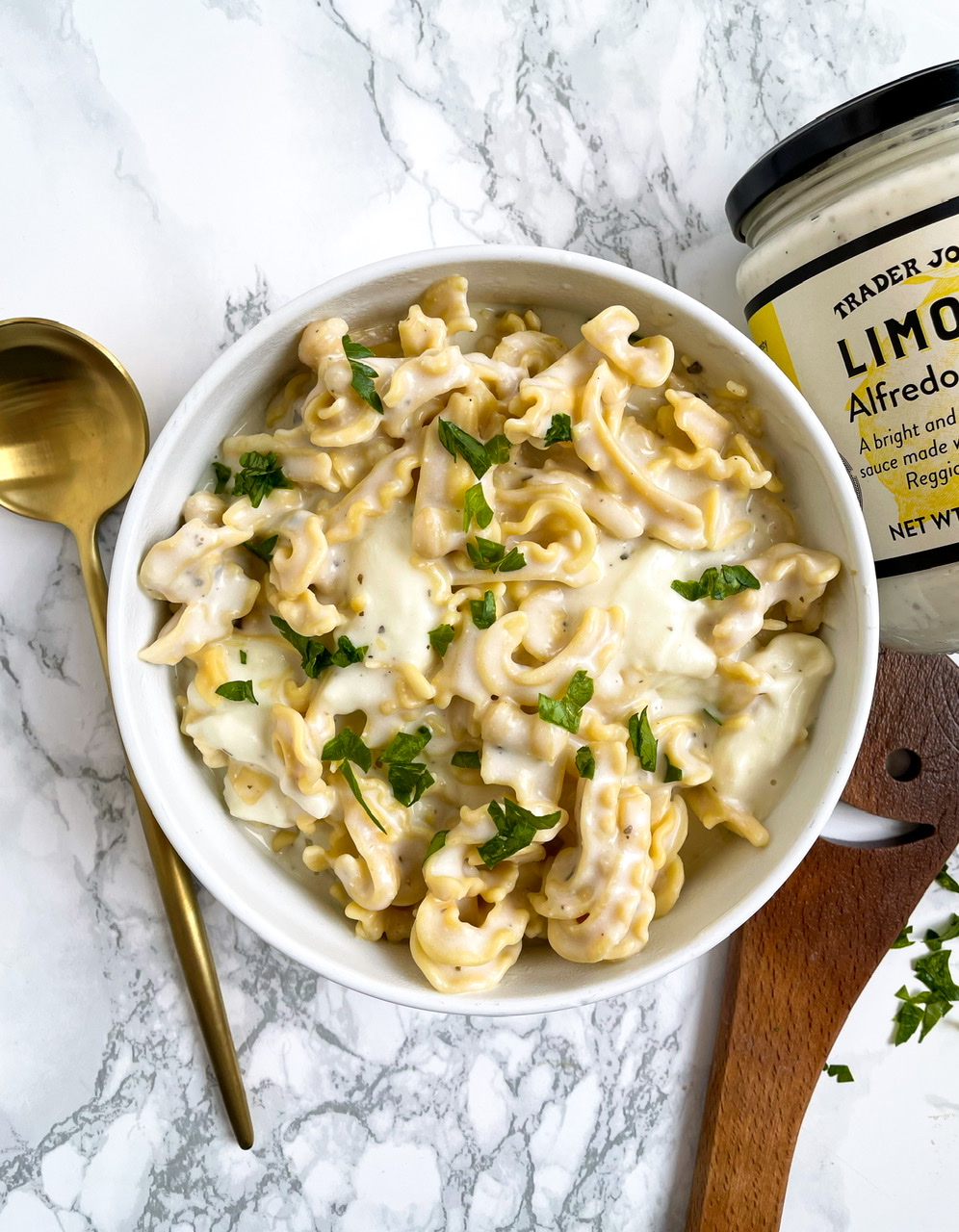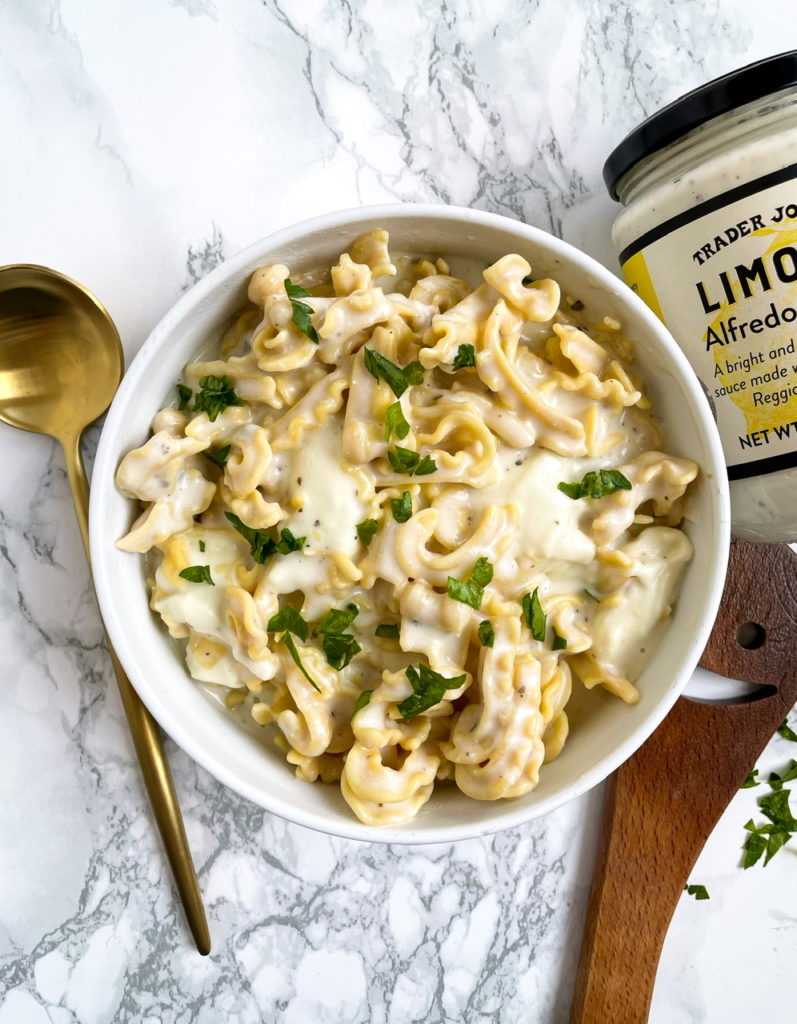 This is a Trader Joe's appreciation post, and it isn't sponsored, although I wish it was! I love all the unique products Trader Joe's comes out with every year. They aren't always a 10/10, but I like they they always have something new for me to try. There is always a new pasta sauce, always a new frozen entree, and always a new cheese. As a food blogger, and now a mom, I like having these options available to me. Trader Joe's lets me get creative in the kitchen in a way some other stores just do not. It's true that a good food blogger doesn't need fancy ingredients to make something delicious, but a good food blogger gets excited about new types of food and new items to taste!
This Cheesy Lemon Alfredo Pasta was a lot of fun to make. I love adding those mozzarella balls to pasta recipes lately. They give the dish such a fun spin. You only need three ingredients to make this easy meal. I used the Limone Alfredo sauce by trader joes, but any lemony alfredo sauce works, and then I combined it with boiled pasta and mini mozzarella balls. You can also add broccoli or asparagus to this dish to jazz it up a bit.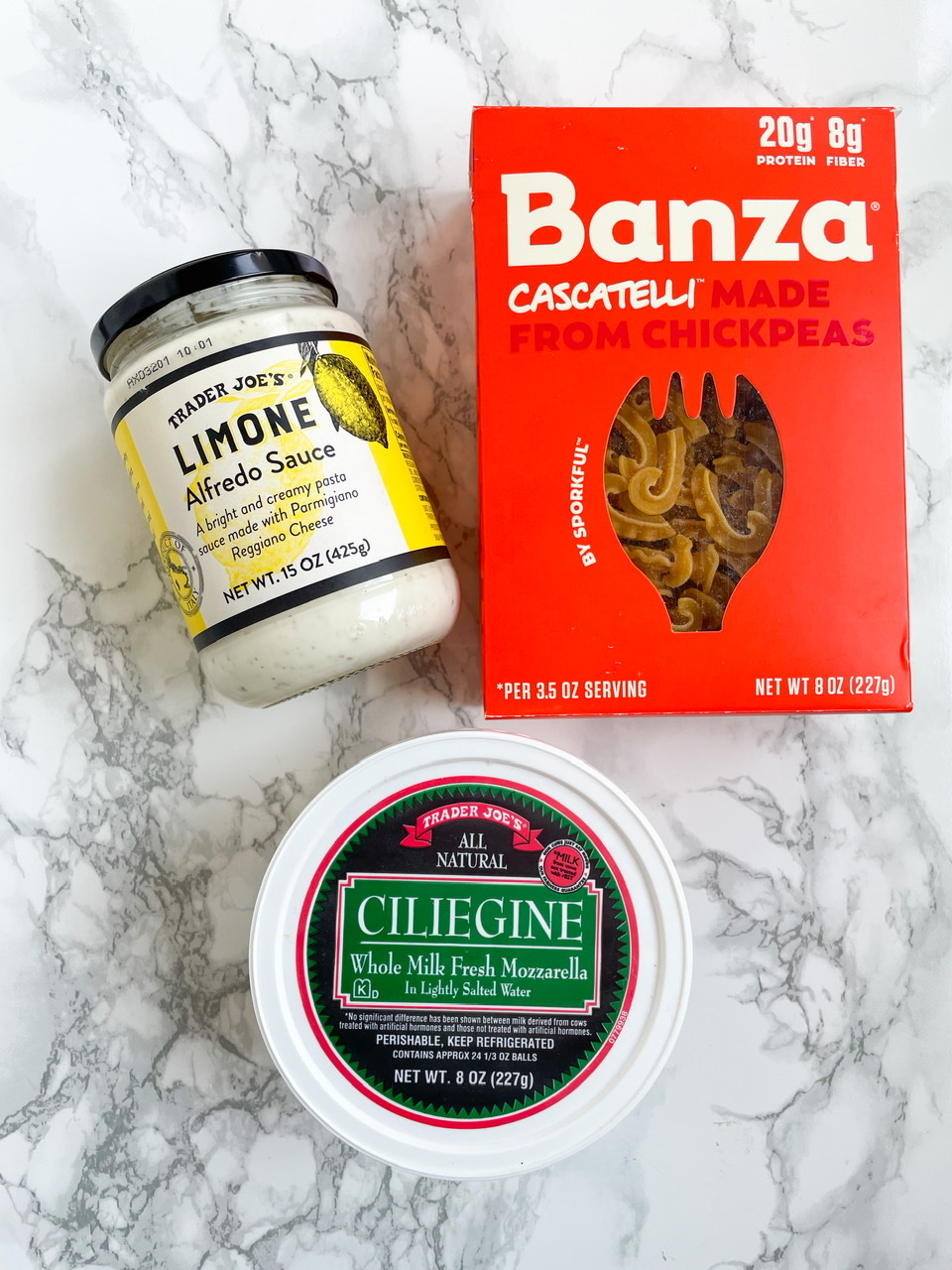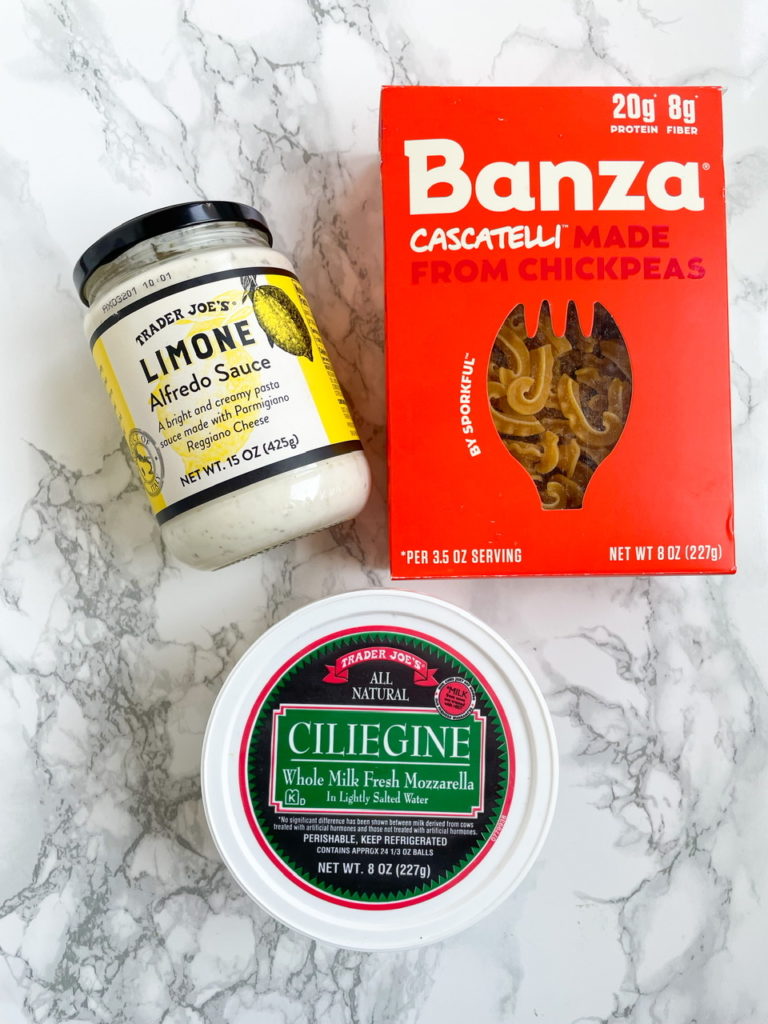 If you like this recipe, you may also like:
Lemon Asparagus Pancetta Pasta
Roasted Cauliflower and Lemon Pasta
Cheesy Lemon Alfredo Pasta
I combined three ingredients to create this delicious and cheesy Lemon Alfredo Pasta
Ingredients
8

oz

Dried Pasta

I used Banza Chickpea Pasta

8

oz

Mini Fresh Mozzarella Balls

Ciliegine

7.5

oz

Lemon Alfredo Sauce

I found this at Trader Joes

water
Instructions
Boil your pasta until cooked. Drain and toss back into the pot.

Add your alfredo sauce and mozzarella balls and stir on low heat.

Add water (1/4 cup) and mix, so that the sauce thins out a bit and it helps the mozzarella to melt a little.

Once sauce is heated through and the balls start to get a little melty, serve and eat.