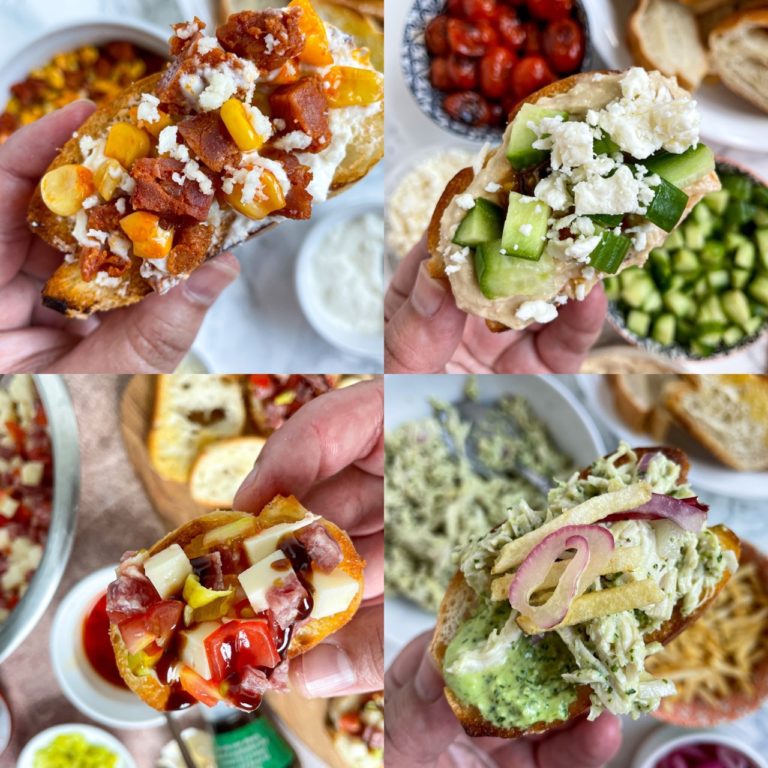 Crostini Toppings
Things have been getting back to normal around here and we have been hosting friends. I love making food for my friends to try and one of my favorite summer appetizers is crostini. The options are endless and the ingredients make the majority of people happy. Also, when I am hosting, I like to make a lot of "easy to customize" food. I lay out the ingredients and then, everyone takes what they like. I feel like the vibe becomes way more relaxed and everyone is fed and happy. Below, I am showing you four of my favorite Crostini Toppings so that you can make some new and tasty appetizers at home this summer.
*Check out my video below each recipe to watch how I made them!
Chorizo and Corn Crostini with Whipped Queso Fresco and Cotija Cheese!
This Chorizo and Corn Crostini is grilled bread, slathered with whipped queso fresco. Then, I topped them with a delicious mix of chorizo and corn. It is heavenly, HEAVENLY! I made this for a few a friends that came over a few weeks ago just to see what their opinions were, and they were blown away by the flavor. I recommend using Mexican chorizo for this recipe. You can use chicken chorizo but it will produce a different result. I find my Mexican chorizo in the refrigerated Latinx section of my grocery store.
Recipe: Chorizo and Corn Crostini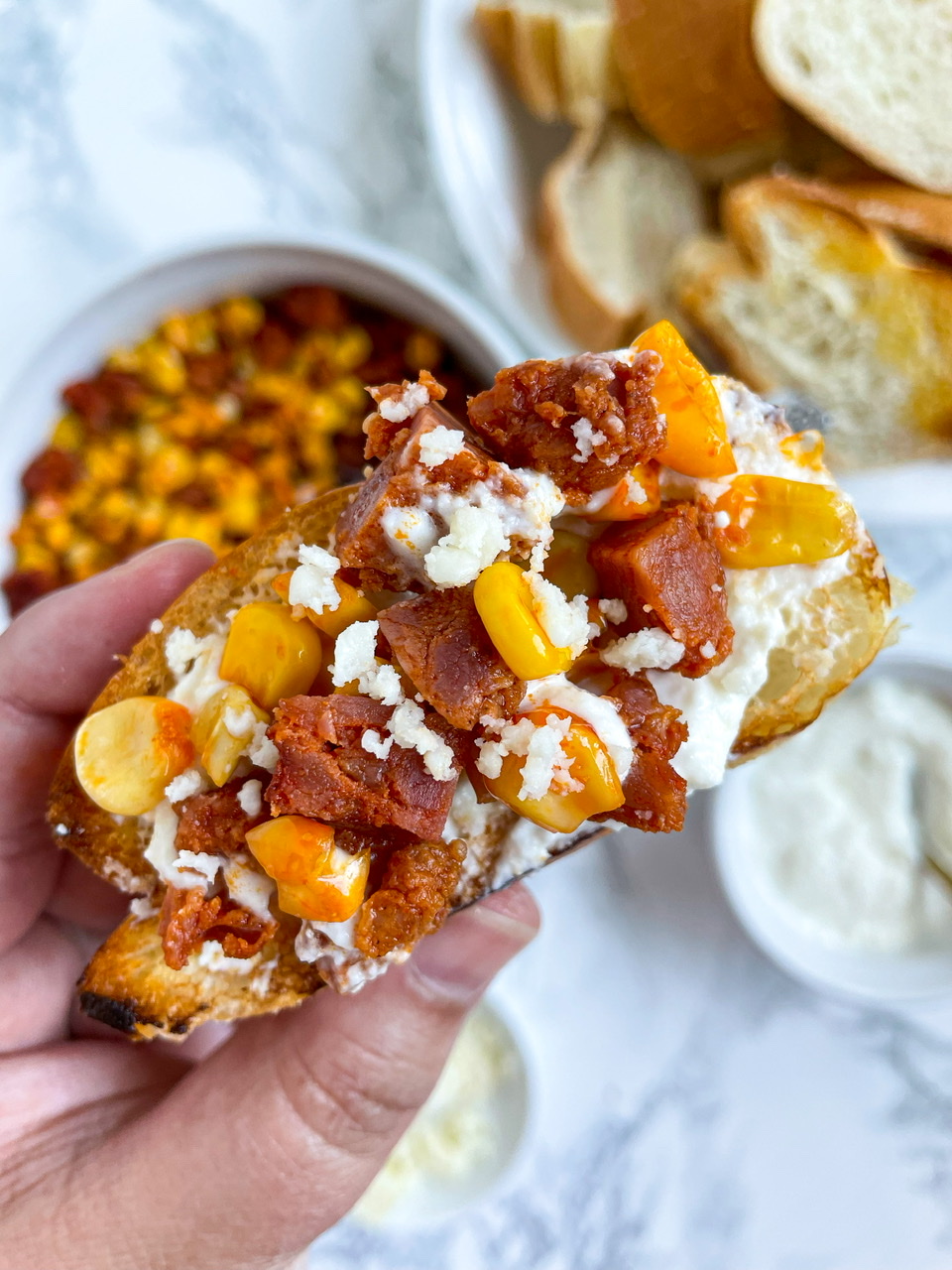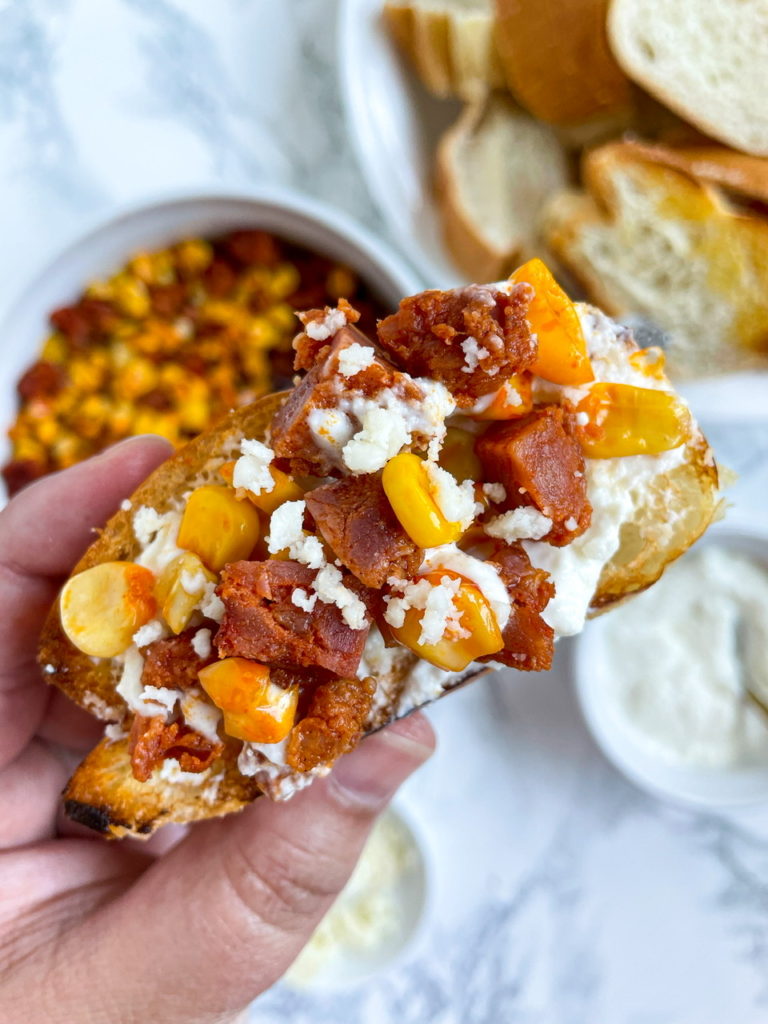 Video:
Feta and Cucumber Crostini with Hummus and Roasted Cherry Tomatoe

s
I love a good easy appetizer to make for my family and friends and this Feta Bruschetta is it! This recipe is serving you full on Mediterranean vibes! I paired some warm grilled crostini with creamy hummus. Then, I added warm blistered grape tomatoes, crumbled feta cheese and chopped cucumbers. This recipe is crispy, warm, fresh, and dare I say, healthy? This recipe is a great recipe to throw into the mix if you will be hosting some vegetarian friends. Also, this can easily be made vegan with some vegan feta!
Recipe: Feta and Cucumber Crostini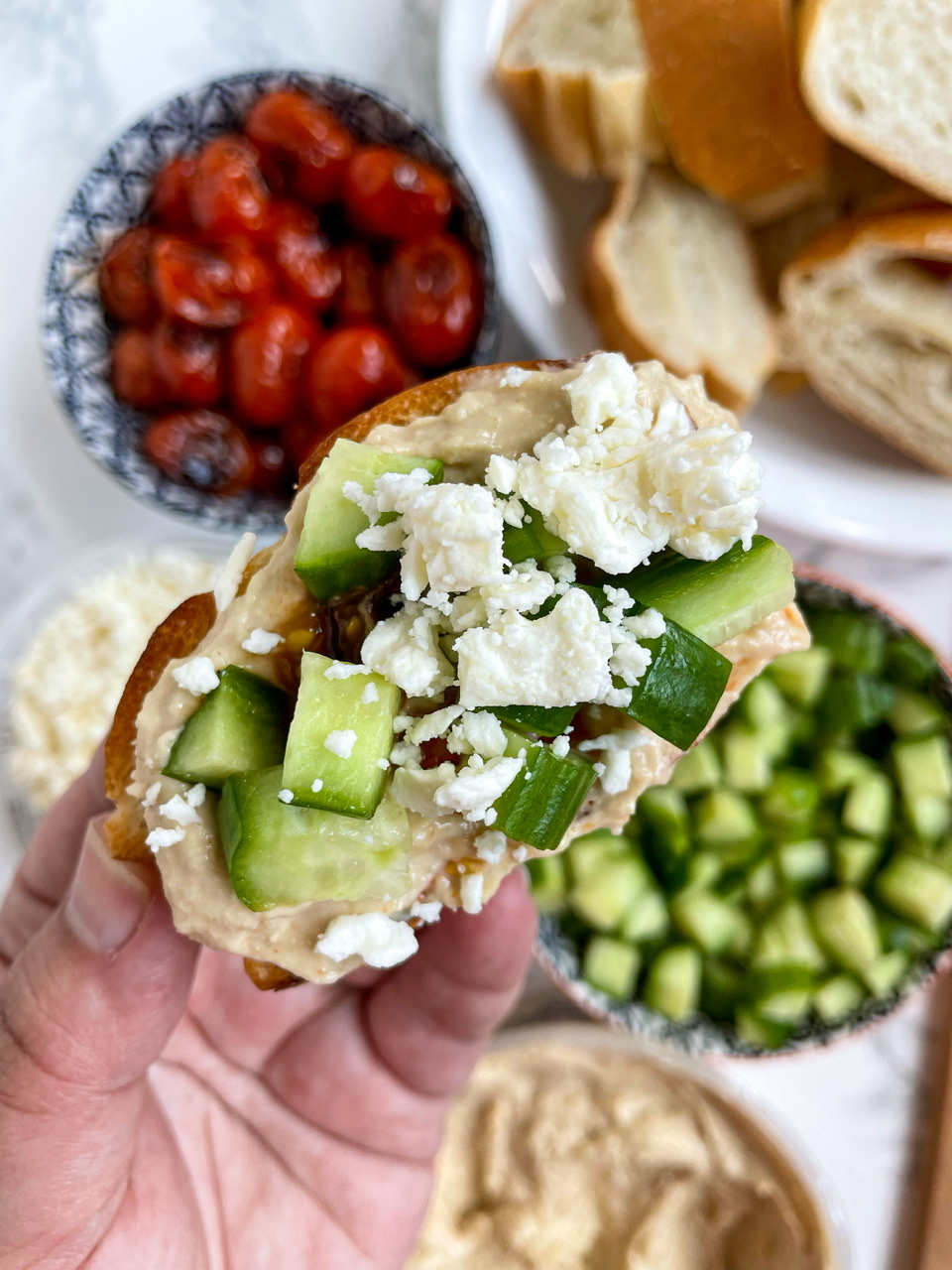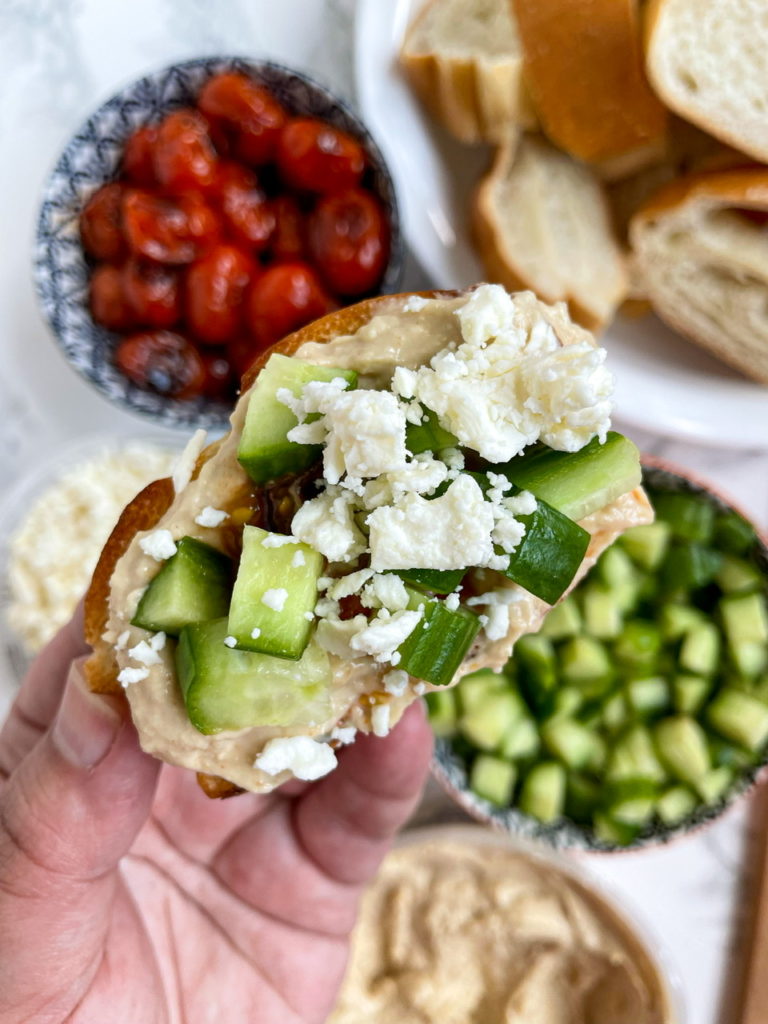 Video:
Antipasto Crostini with Salami, Aged Provolone, Tomatoes, and diced Pepperoncini
These Antipasto Bites have all the fun flavors of an antipasto salad, but on a crostini. First, I mixed tomatoes with aged provolone and diced salami. Then, I combined a hot pepper paste with olive oil to dilute it a little and make an easy and delicious spread for the crispy bread. Afterwards, I topped this with diced pepperoncini and then added a little balsamic glaze to balance out all of the flavors.
Recipe: Antipasto Crostini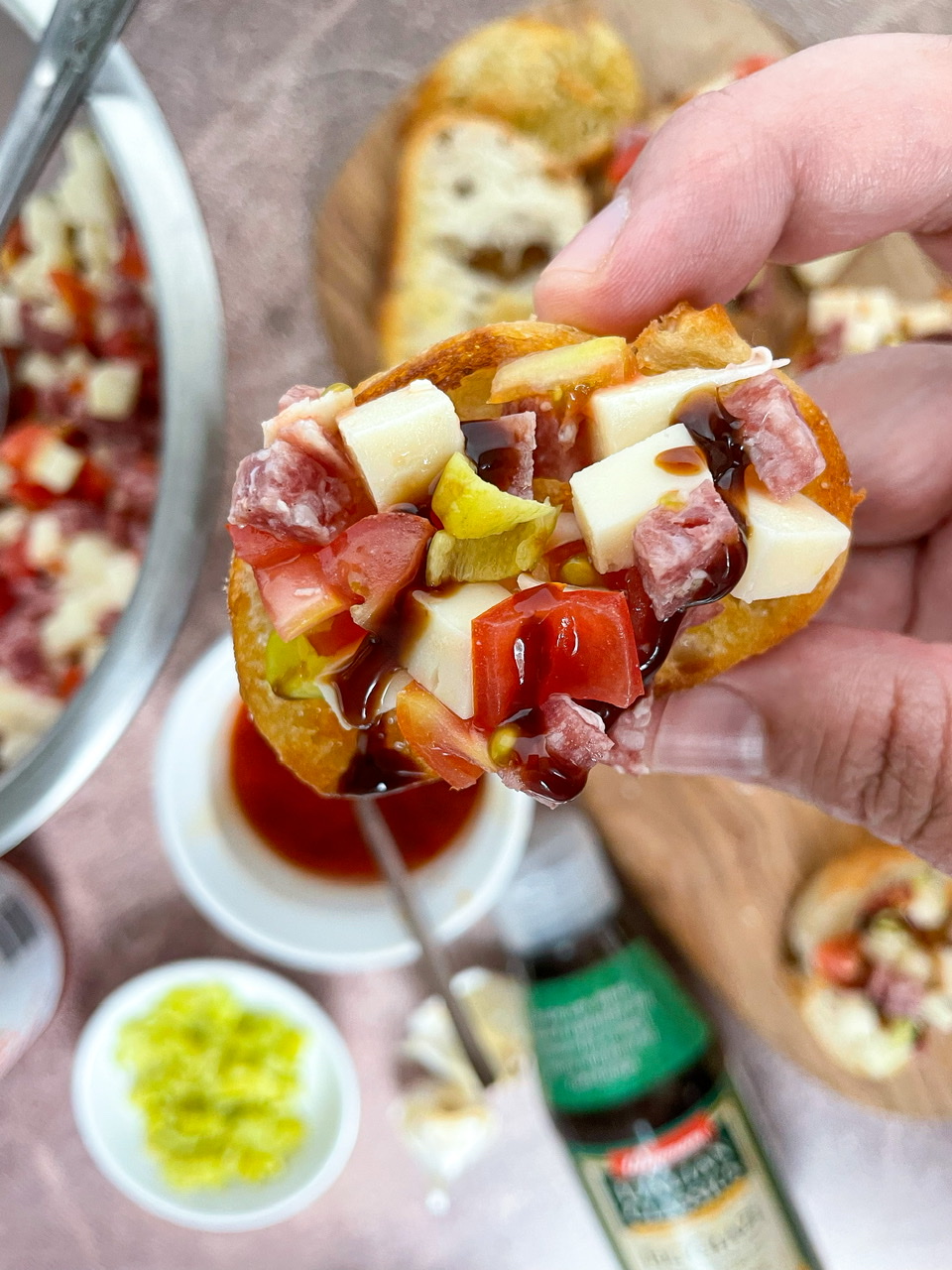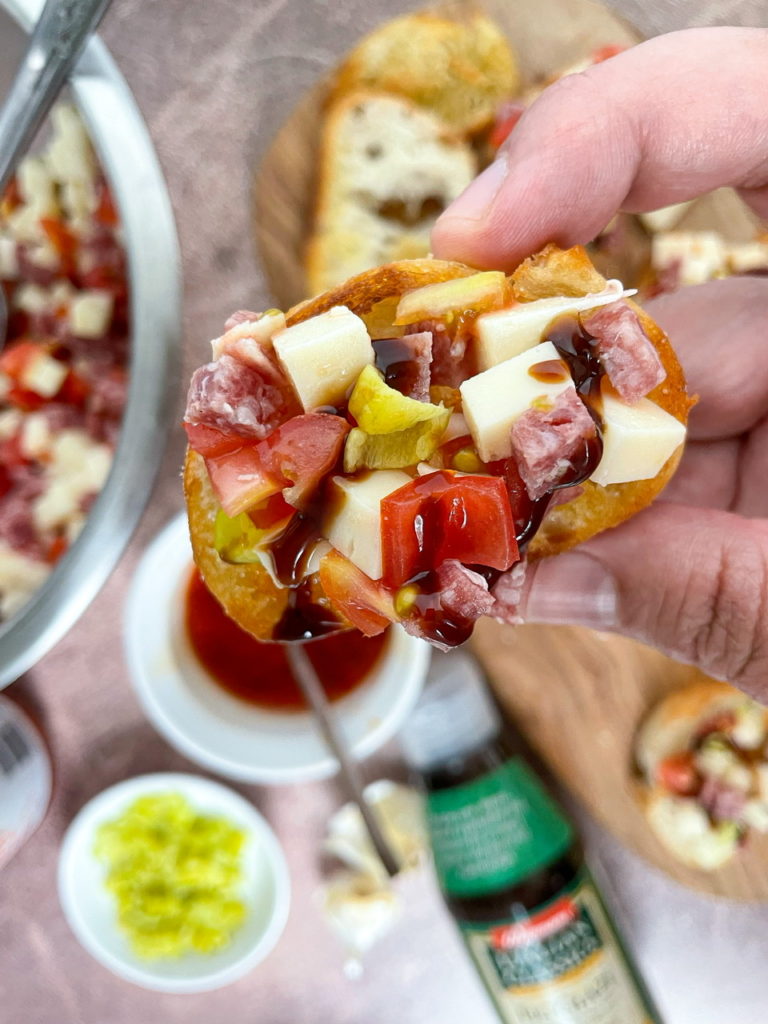 Peruvian Chicken Salad Crostini with Aji Verde, Pickled Red Onion, and Potato Sticks
This recipe is an accurate description of the type of food I wish I were eating all the time. This recipe is colorfu and flavorful. It also has a fusion of flavors and a potato element. This Peruvian Chicken Salad is served on a grilled crostini with creamy aji verde and then topped with pickled red onions and potato sticks. First, I add a creamy aji verde to my warm bread. Then I add some chicken salad mixed with aji verde on top. Then, I add some pickled onions and potato sticks. I love that crunch!
Recipe: Peruvian Chicken Salad Crostini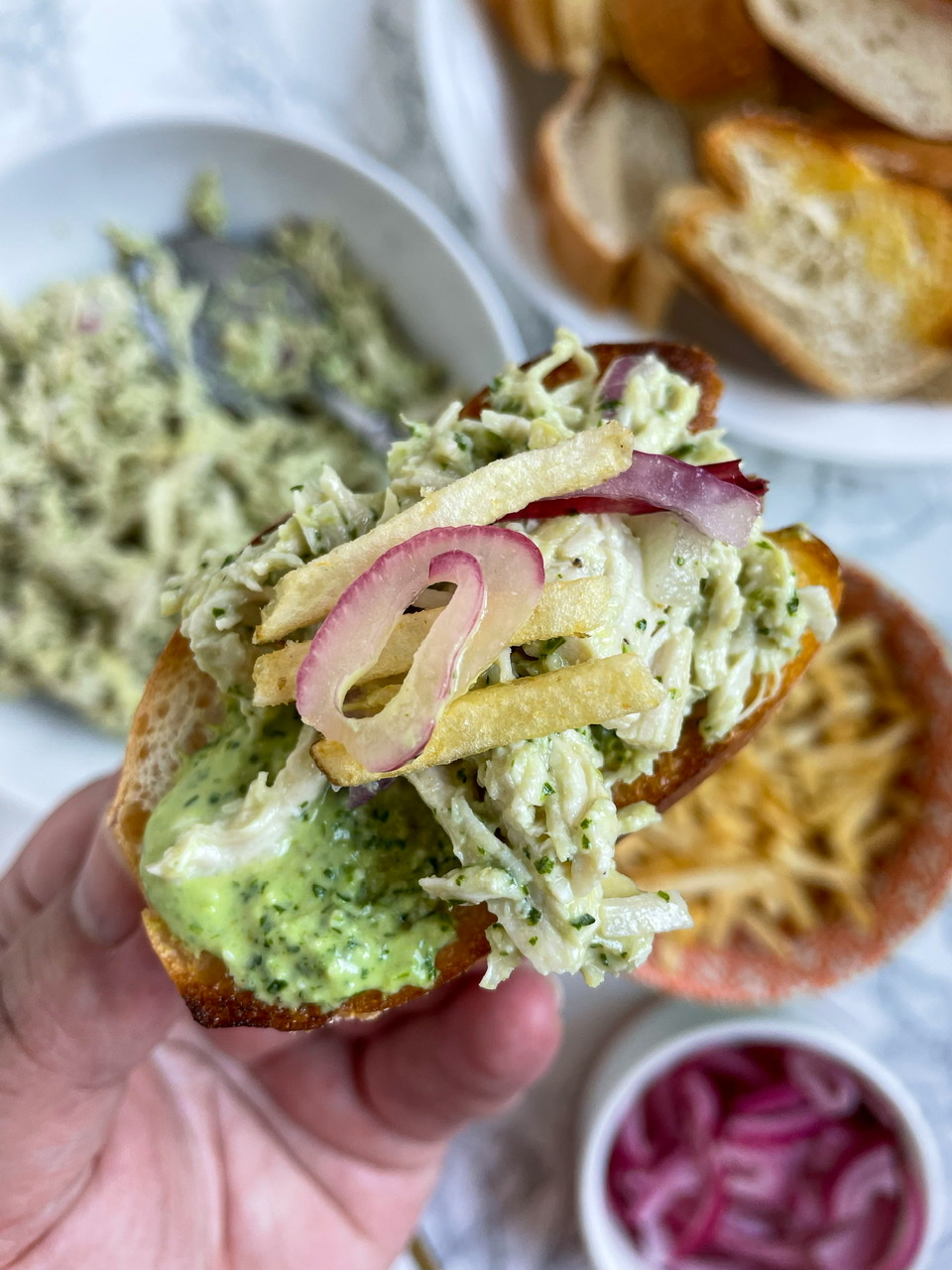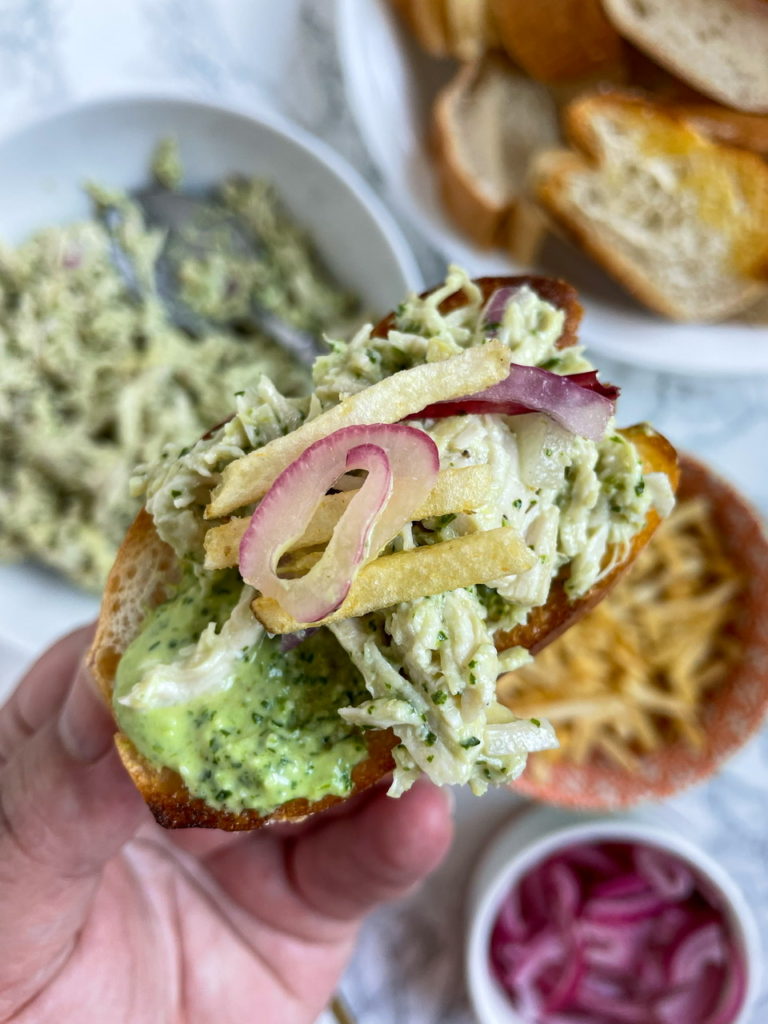 Video: