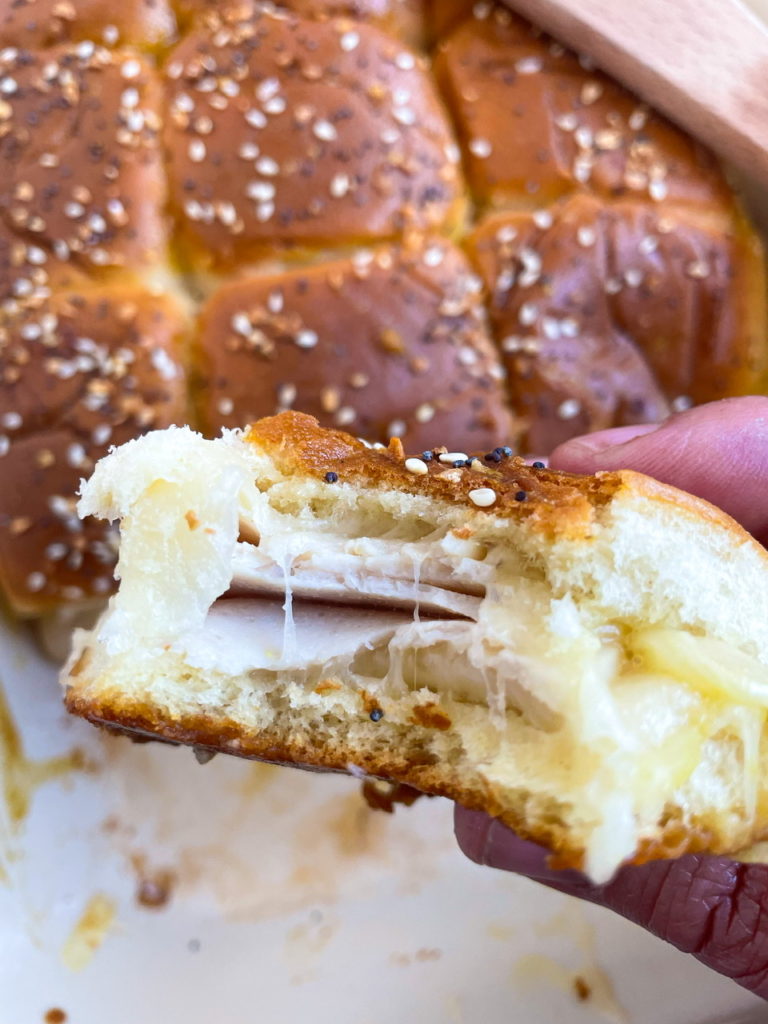 Turkey Sliders
Last year was the year of the slider for me. I started buying the cute little Hawaiian rolls from Trader Joe's or by King's Hawaiian and I put so many delicious combinations in them. They fed my family really well, were really easy to make, and really tasty. These Turkey Sliders are my easiest slider recipe yet. I wanted to create a warm sandwich for a few guests of mine, and instead of making individual sandwiches, I thought it would be best to create them all at once in the form of sliders. These turkey sliders are assembled and then baked in the oven for 25 minutes.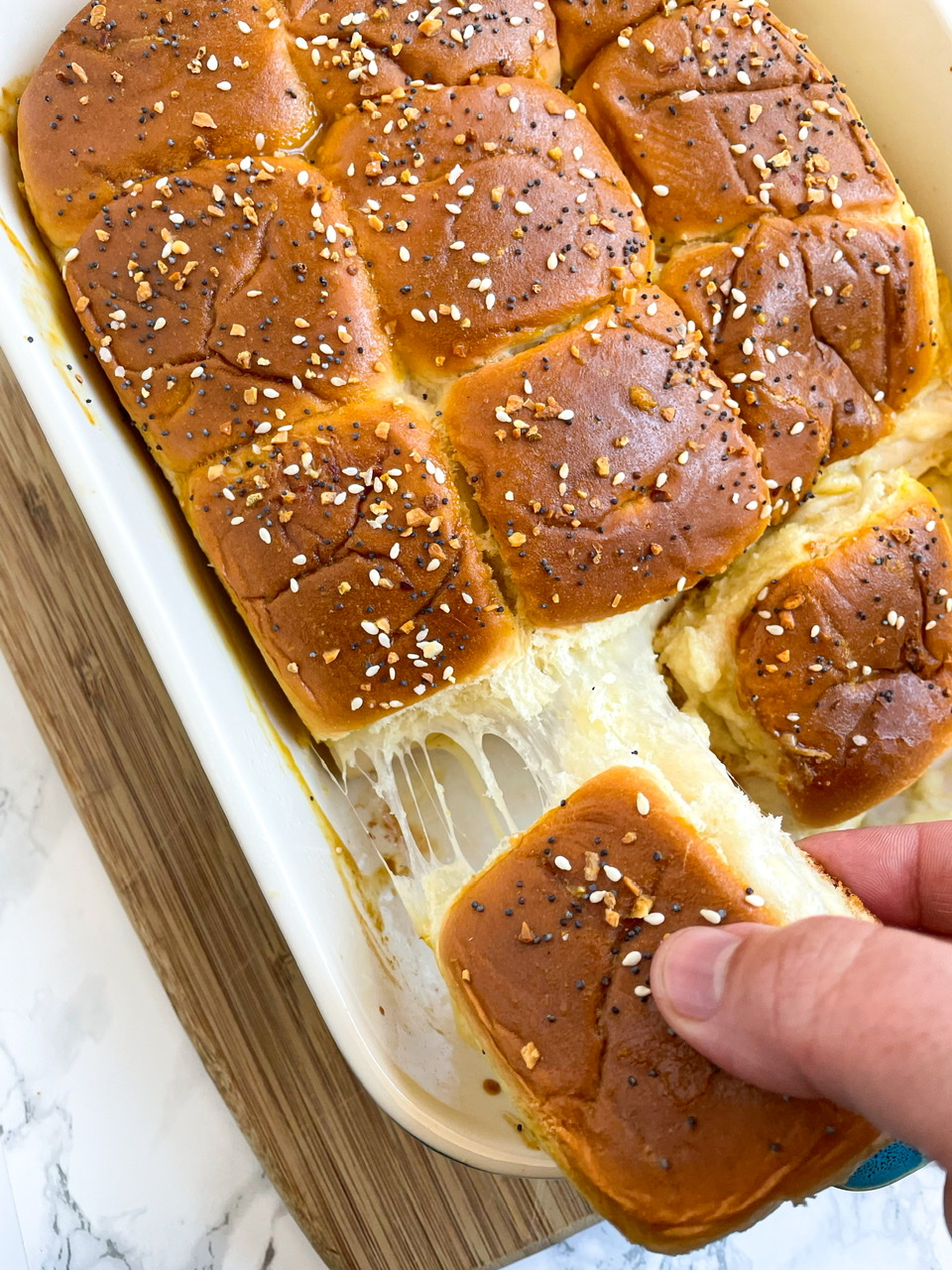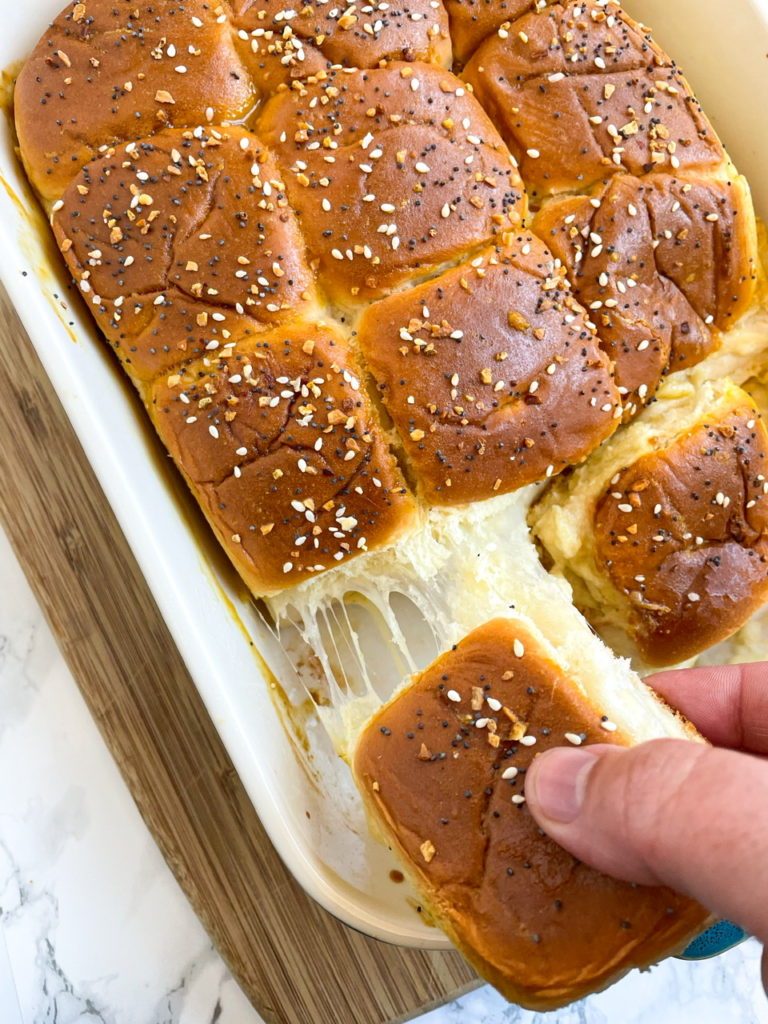 This cute little portable sandwich is made with sliced deli meat and cheese. You can either choose your favorite brands, or use the type I bought from Trader Joes. I love turkey and swiss together best, but my wife likes turkey and provolone. I have made this recipe with both types of cheese and they are both delicious. Cheddar cheese is also super delicious on this sandwich. The thing that elevates these sliders is the addition of a maple mustard. You can use honey mustard if you prefer, but I am partial to maple syrup and it is so much easier to measure out. I used regular yellow mustard but you can also use dijon mustard or spicy mustard.
What toppings go well on Turkey Sliders?
I love using swiss cheese, but provolone and cheddar are also super delicious. If you do not like mustard, another delicious sauce would be either cranberry sauce or pesto sauce. Bacon would be a fabulous addition to this sandwich, as well.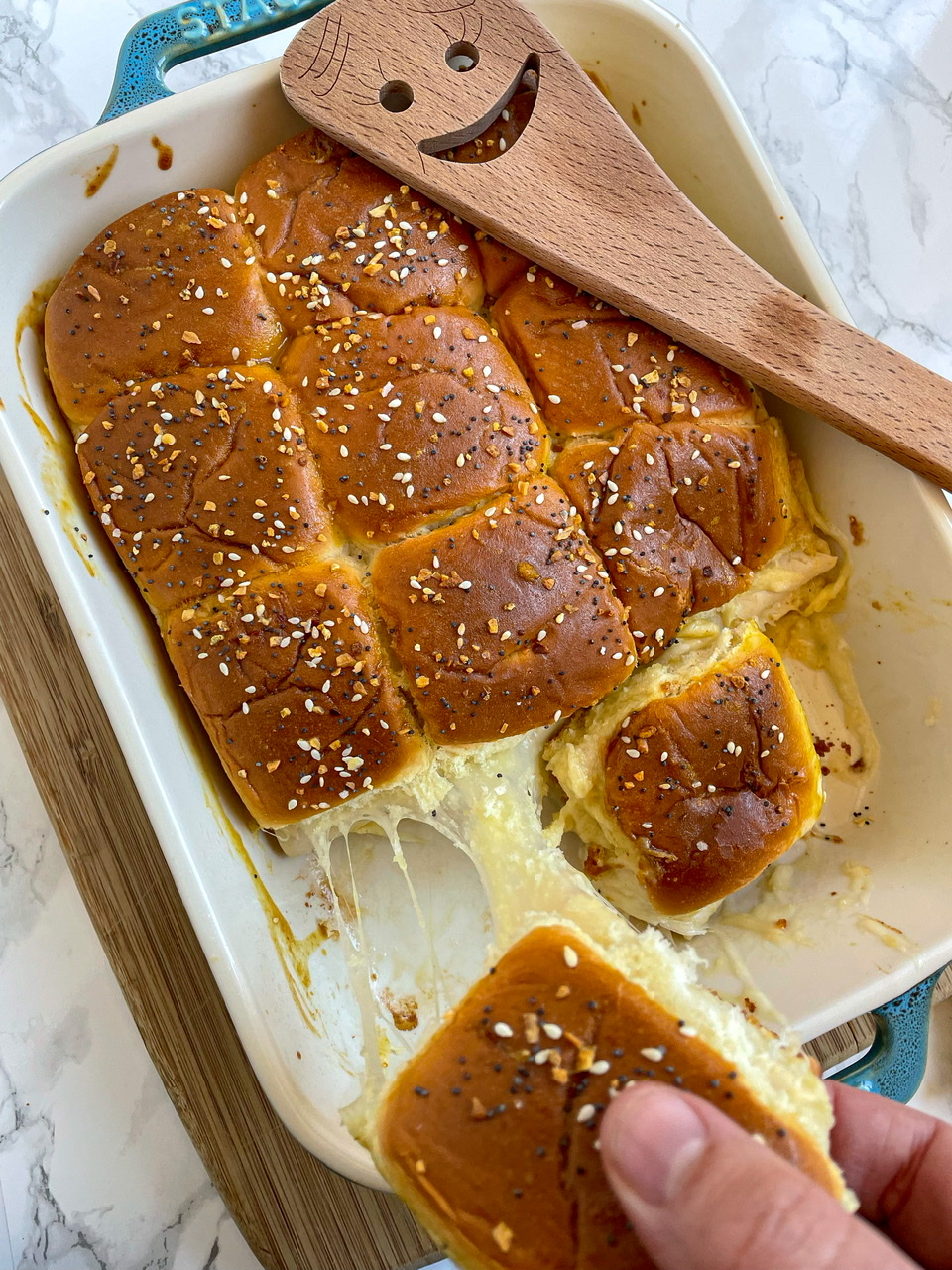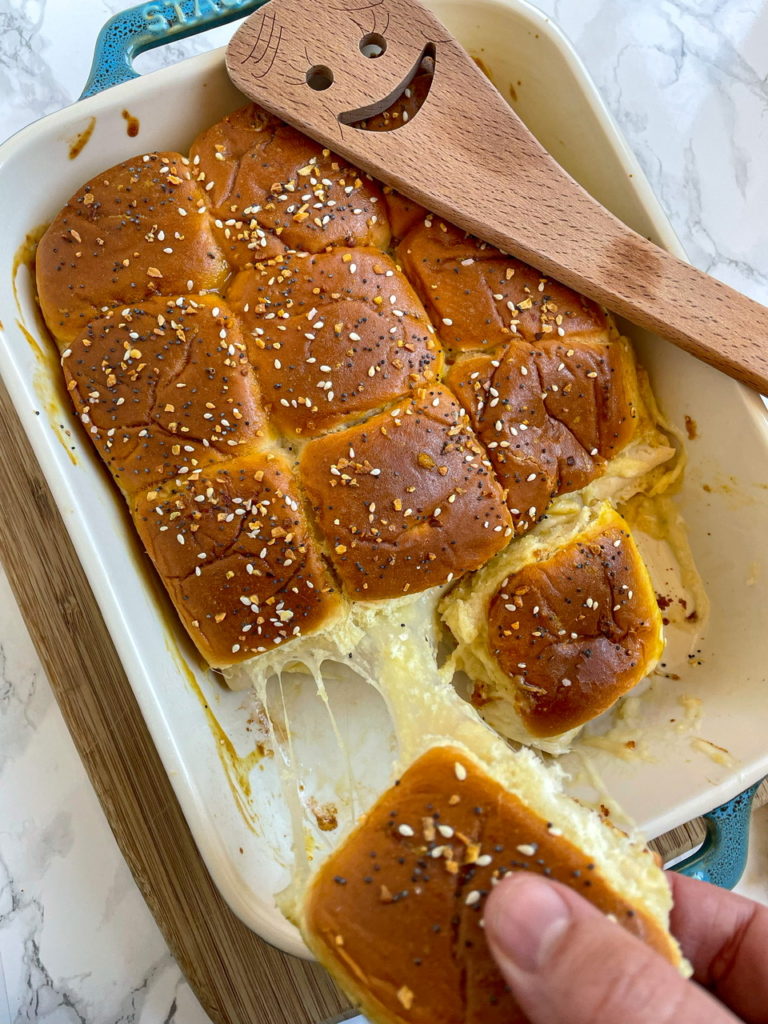 What type of Turkey should you use on a turkey slider?
I like to use sliced deli turkey, but you can also use leftover thanksgiving turkey.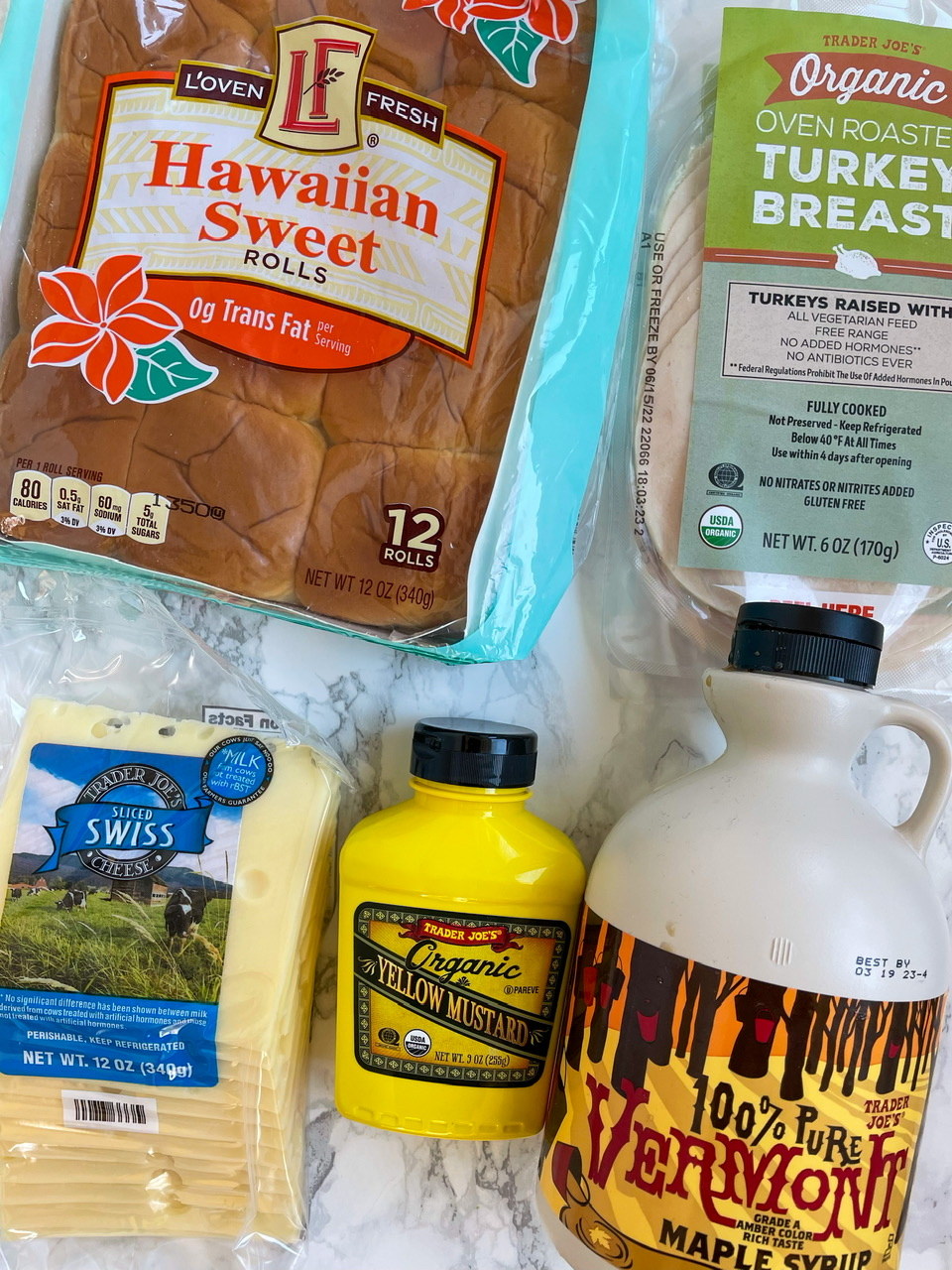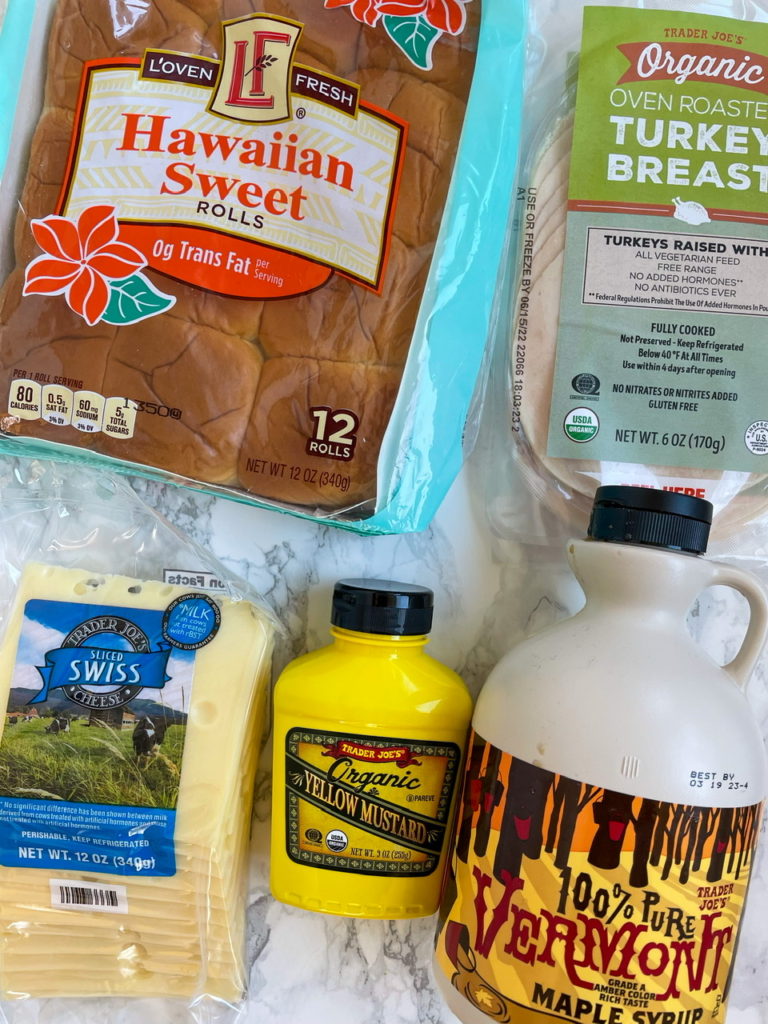 If you like this recipe, you may also like: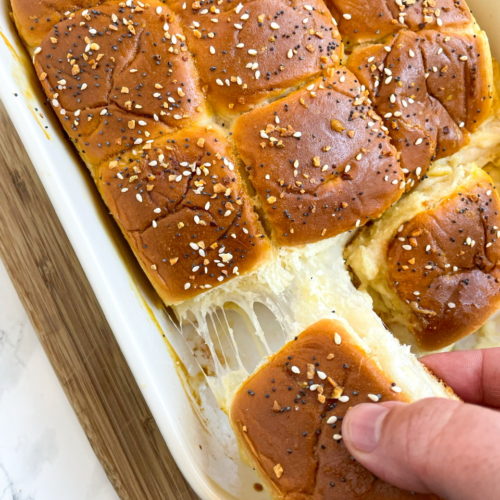 Turkey Sliders
Turkey and Cheese with a sweet and savory sauce on Hawaiian Rolls
Ingredients
12

Slices

Turkey

12

Slices

Swiss Cheese

12

Hawaiian Rolls

2

tbsp

Yellow Mustard

2

tbsp

Maple Syrup

everything bagel seasoning, poppy seeds, or sesame seeds

optional
Instructions
Cut the rolls in half. You can do this by cutting out each individual roll and then cutting it in half, or you can cut the entire sheet in half. Do it slow and carefully.

Place the bottom half of the rolls in a baking dish. I use an enameled cast iron dish and absolutely nothing sticks to it. If food normally sticks to your baking dish, give the dish a light coat with avocado spray or use butter.

Cut or fold each slide of cheese in quarters. Add two quarters to the bottom of each roll. You do not need to cut the rolls apart. You will be able to pull them apart after this cooks.

Add one slide of turkey on top of each cheese pile. It is important to not have the turkey overlap rolls, but to actually fold them and place them where each roll is. This will make it possible for you to pull the rolls apart. If the turkey overlaps the rolls you will not be able to get a clean pull.

Add two more quarters of cheese on each roll, and then top with

Make your sauce by putting 2 tbsps of maple syrup in a bowl and adding only 1 tbsp of mustard. Mix this and taste it. If you want more mustard, add it in little by little until you get your desired taste. I like all 2 tbsp of mustard, but some people like less.

Add a little sauce on the top of the cheese, and then add the top part of the rolls, and add remaining sauce on top of the rolls. Sprinkle some everything bagel seasoning, poppy seeds, or sesame seeds.

Cover with aluminum foil and Bake for 15 minutes. Remove the aluminum foil and bake for another 5-10 minutes or until cheese is melted and tops are lightly brown.