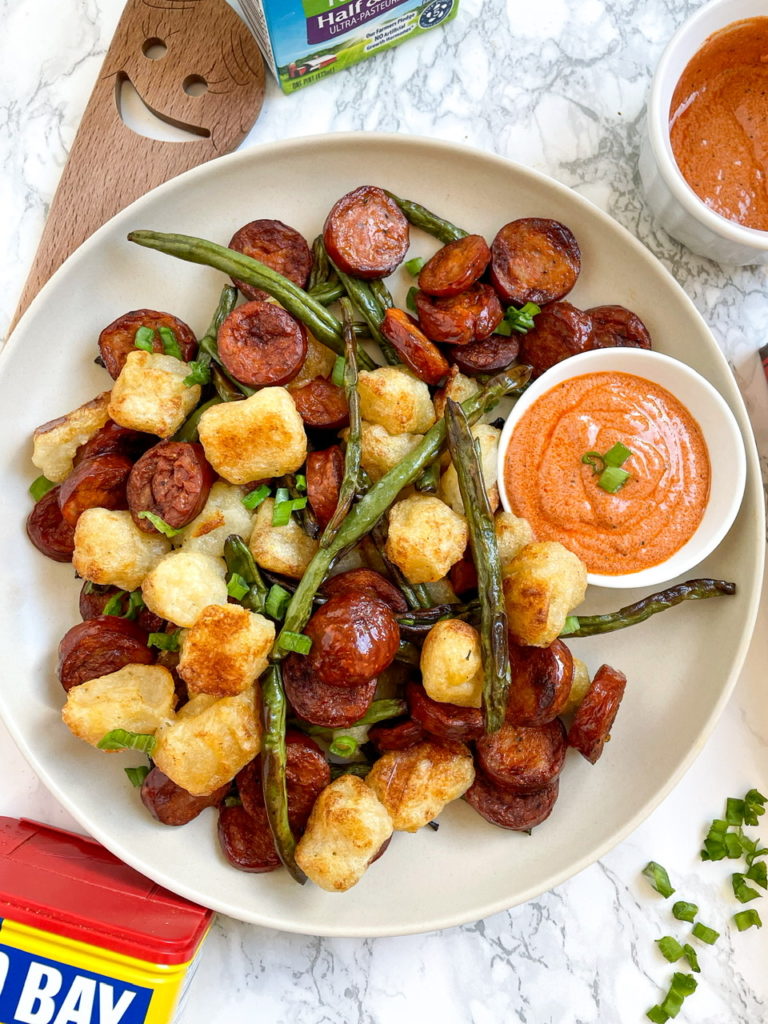 Air Fryer Cauliflower Gnocchi
This quick 3 ingredient meal is made with Andouille Sausage, Cauliflower Gnocchi, and Fresh String Beans! I took a note from the Andouille Sausage and then paired this with a creamy cajun sauce. This Air Fryer Cauliflower Gnocchi meal can be made with any style of sausage but I knew Mardi Gras is soon and I was feeling festive!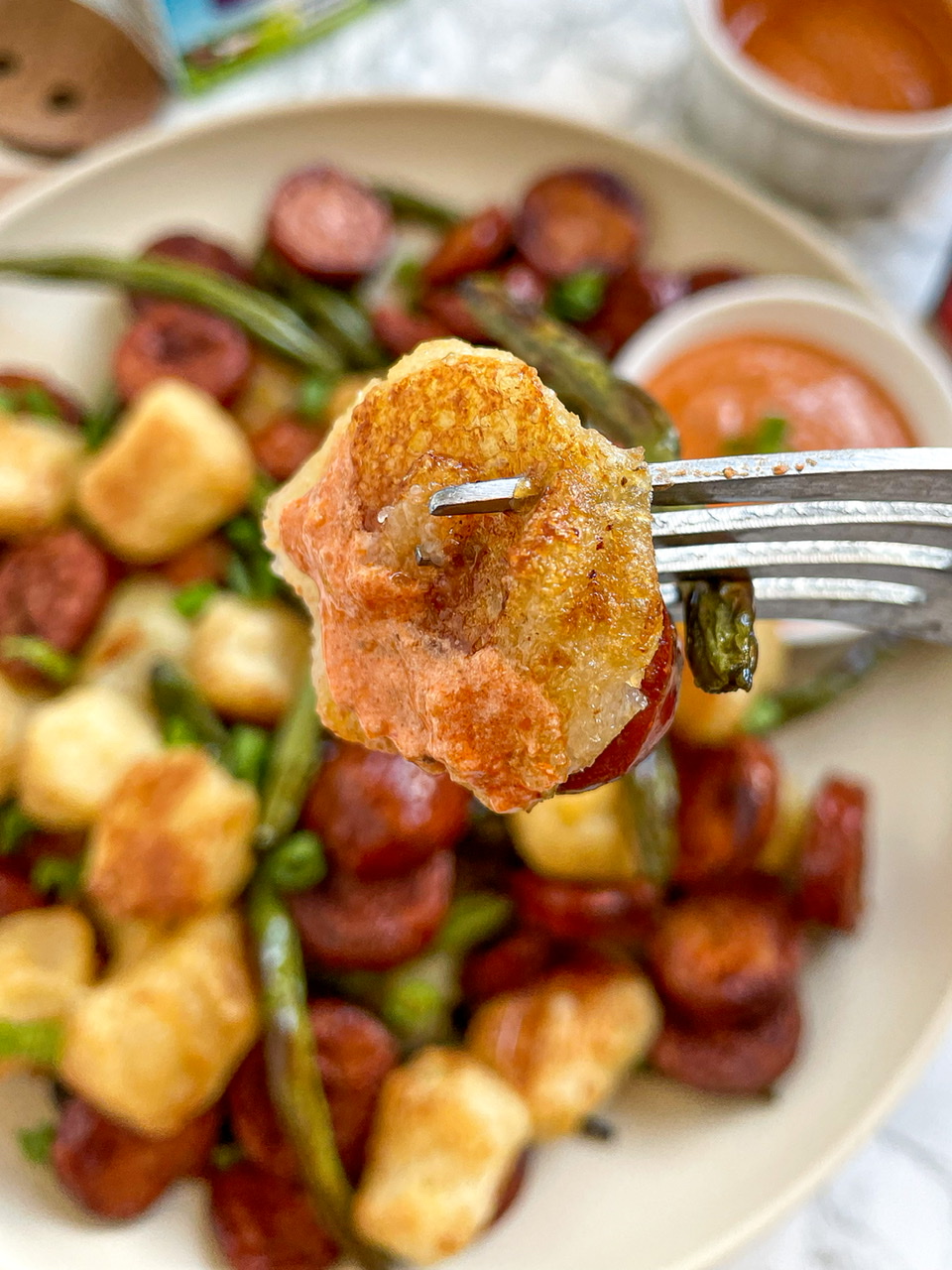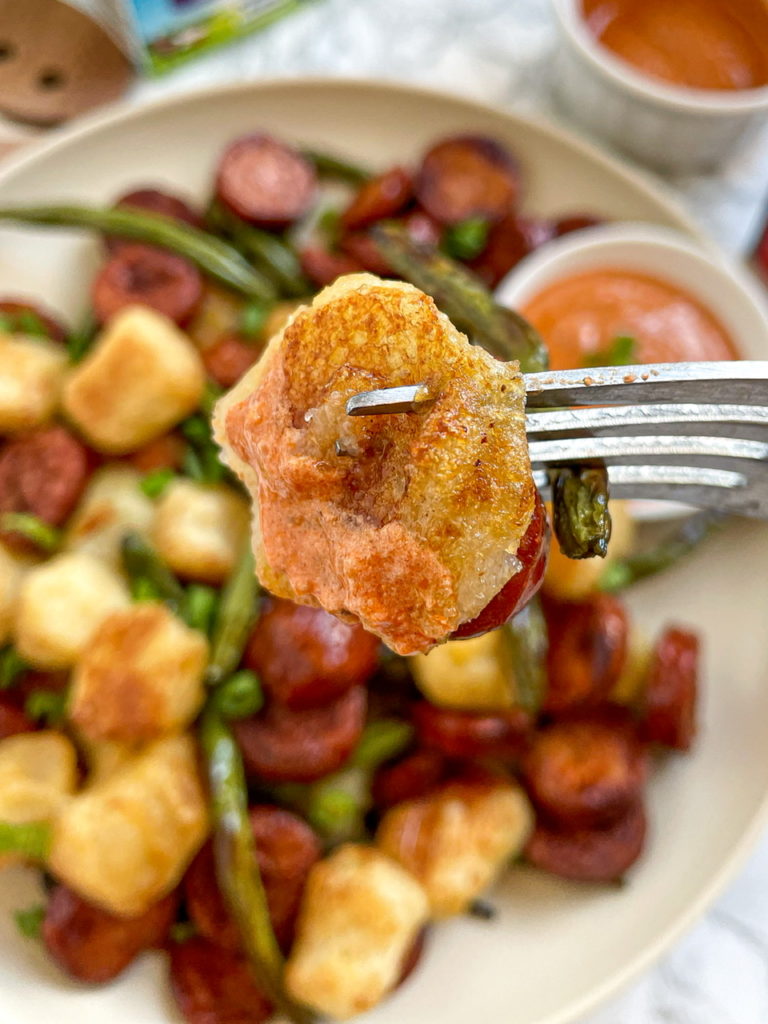 This Air Fryer Cauliflower Gnocchi meal is packed with flavor and vegetables and even somewhat low carb since I am using the cauliflower gnocchi! It is a great meal to make for dinner and then pack for lunch the next day! I love meals like this where all the ingredients can be thrown together and cooked at the same time.
Tips and Tricks for Air Fryer Cauliflower Gnocchi
If the cauliflower gnocchi isn't browned, the texture can be gummy. It is important to cook the gnocchi for a long enough time. I have a large air fryer basket which allows the gnocchi to spread out and not touch each other. If you have a small basket, you may want to cook the gnocchi separately although I realize that this defeats the whole purpose of being able to cook the meal together.
Alternately, you can cook the gnocchi in the air fryer for 20 minutes and cook the other two ingredients on a sheet pan in the oven for 12-15 minutes.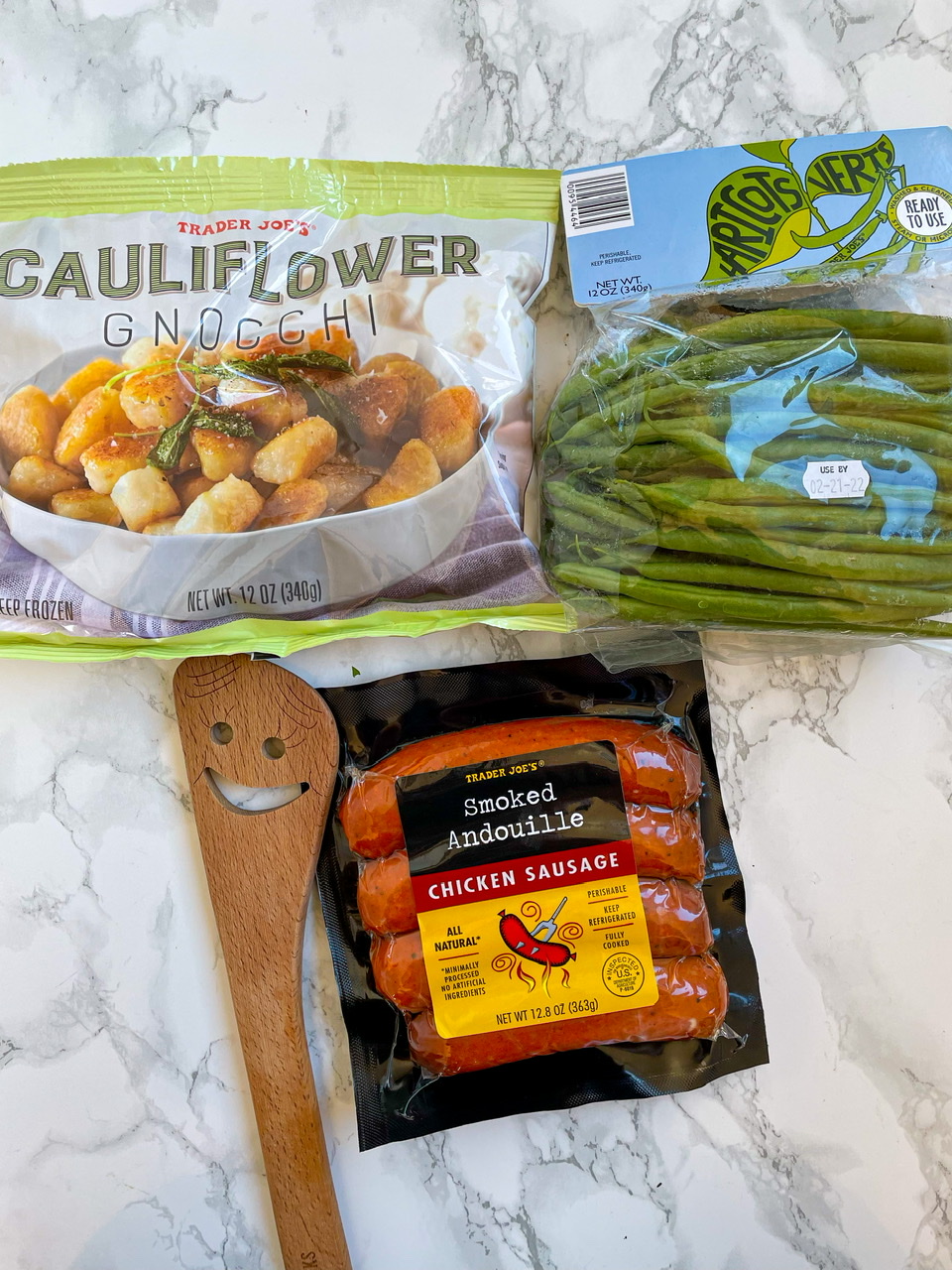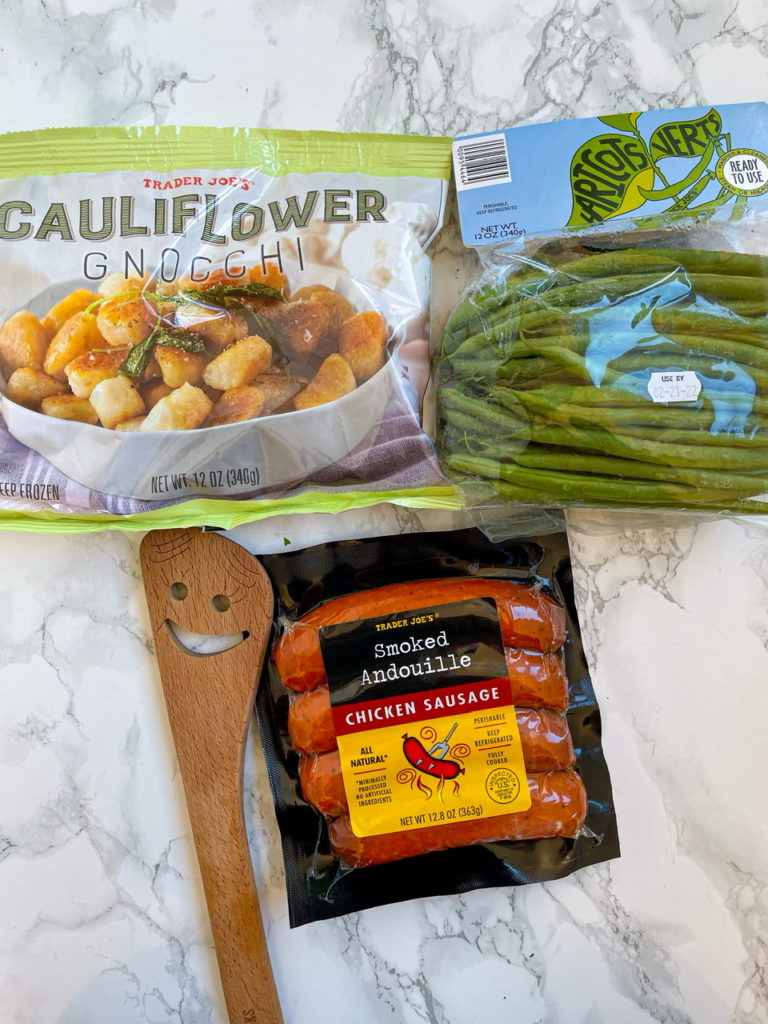 Can you make this recipe in the oven?
Yes, you can make this meal on a sheet pan but the overall cook time would be longer. Also, the benefit of this recipe is you can cook everything at the same time. Using an air fryer is a lot more convenient if you are looking to throw everything in at the same time and let it cook together.
If you like this recipe, you may also like:
Gnocchi, Sausage, and Brussels Sprouts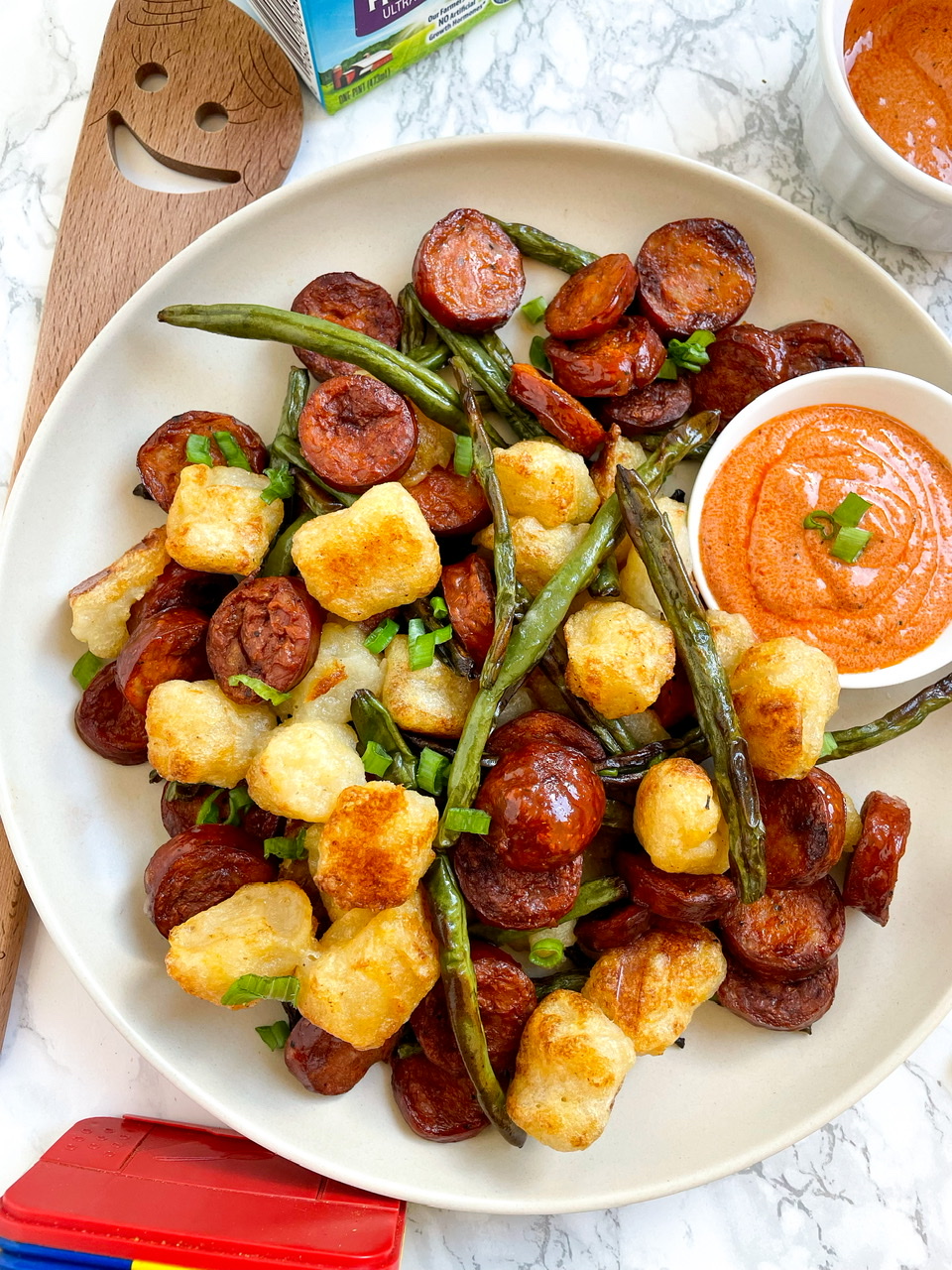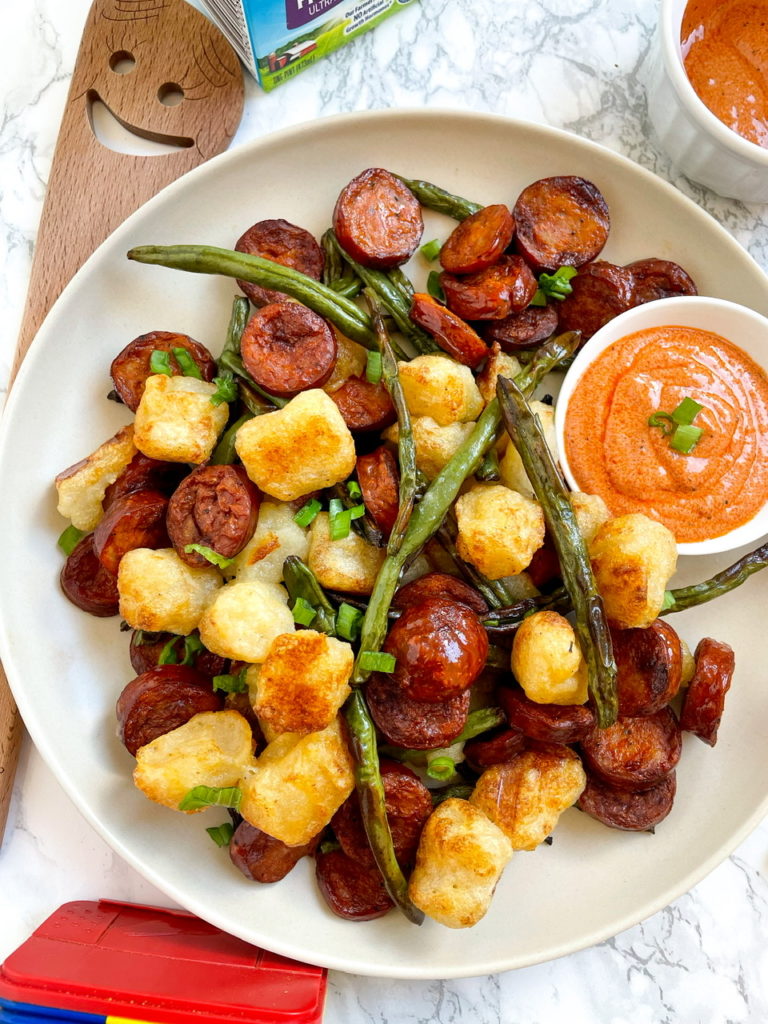 Air Fryer Cauliflower Gnocchi
A delicious three ingredient meal that is easy to make and loaded with vegetables
Ingredients
8

oz

Fresh Green Beans

Cut in Half on a diagonal

1

pk

Andouille Sausage

5 links came in a pack

1

bag

Cauliflower Gnocchi

I got mine at Trader Joes.

1/2

tbsp

Olive Oil
Creamy Cajun Sauce (optional)
1/2

tsp

Minced Garlic

3/4

tsp

Old Bay Seasoning

add more after you taste it

1/2

tbsp

Tomato Paste

1/2

cup

Mayo

1/2

tsp

Olive Oil
Instructions
Add the green beans and gnocchi to a mixing bowl with the olive oil and use your hands to make sure each peice has a light coating of olive oil

Slice Sausage into 1/2" thick slices and then add them to the air fryer

Add the green beans and gnocchi to the air fryer

Cook for 20-25 minutes or until the gnocchi is brown.

While this is cooking, make the sauce. Add all of the ingredients in a bowl and mix together. Serve on the side.