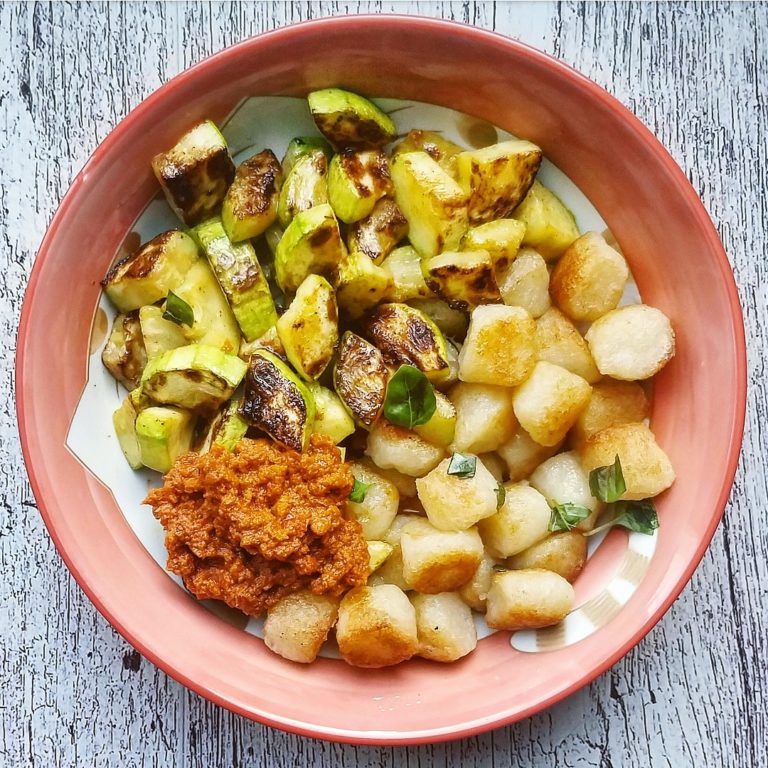 Sauteed Zucchini + Cauliflower Gnocchi topped with Sundried Tomato Pesto
Look Ma, I'm eating my veggies! After a longgg and delicious week of dumplings, tacos, and chocolate, my body was due for a plant based meal. I sauteed some zucchini with nutritional yeast and olive oil, cooked up some cauliflower gnocchi, and added sundried tomato pesto. This combination was amazing and dinner was ready in 20 minutes!
Method:
I peeled and cut my zucchini into 1/2 inch slices and then cut the slices into 4 pieces. I cooked them fast on high heat with a little avocado oil, salt, garlic powder and nutritional yeast. I let them cook for about 5 minutes and then I stirred. *Do not cover – you want any moisture to be released and not be trapped in the pan.* Cook until most have crispy sides. While the zucchini is cooking, heat up a little avocado oil in another pan and add frozen cauliflower gnocchi. Cook until most sides are completely golden. (I heard the air fryer works great for these too)  Put in a bowl with the zucchini. Top with pesto! Enjoy!