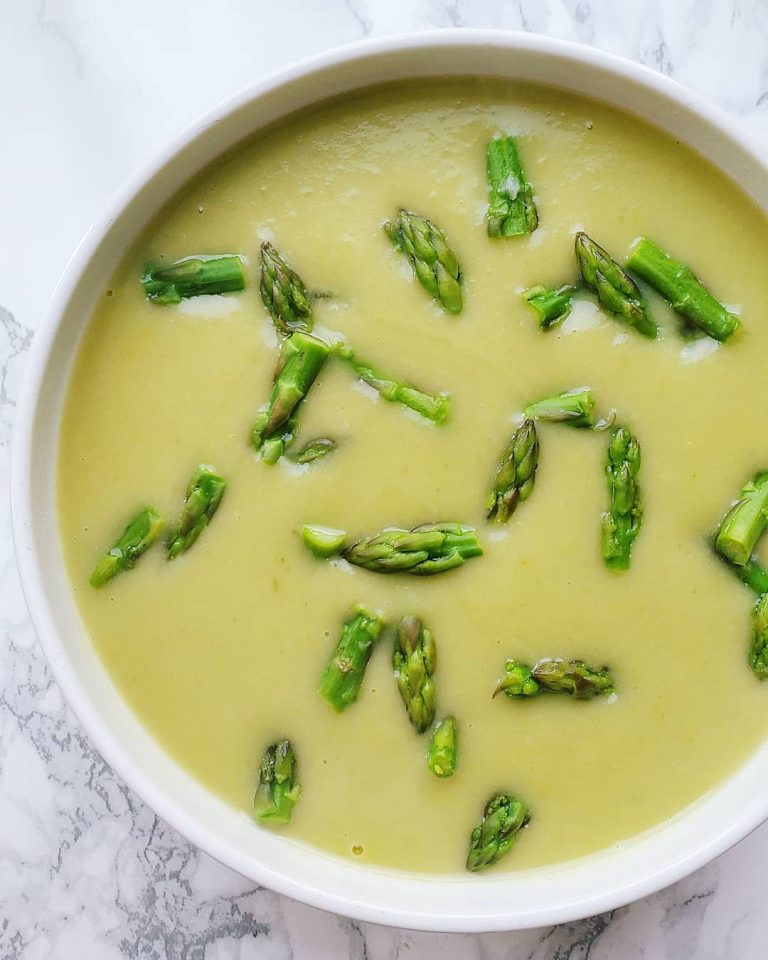 Vegan Asparagus Soup
This vegan asparagus soup is dairy free and super creamy. It is even Whole 30 friendly, and you would never know. Soup is one of those foods that I eat year-round. The creaminess of it is super comforting and sometimes I will add some rice in to it to make it more substantial. Turning vegetables into soup was how I got into most vegetables. I still remember the first time I tried cream of cauliflower soup. It looked like potato soup so it wasn't very scary looking and then I tasted it and I was shocked that it was good! There was probably so much cream in it, but that's besides the point. Since then I have been making creamy soups with all sorts of vegetables I never ate as a kid. I wish this type of soup was an option back when I was a kid because I surely wouldn't have refused to eat vegetables for as long as I did.
Nowadays, I love giving my daughter tastes of my soup. She loves it! I give her a little bit in a bowl or sometimes I mix this with rice for her dinner. Also, this is a vegan recipe, but I am not vegan. Because of that sometimes I add sausage into this soup. If you are vegan, there are tons of vegan meat substitutes like tofu or impossible meat that would taste awesome in this soup.
Vegan Asparagus Soup is a great soup to make for a mixed crowd because it is vegan, kosher, gluten free, dairy free and yet DELICIOUS! This recipe even makes great baby food if you would like to make this for a friend. If I do make it as baby food, I add less water at the end so that it is a bit thicker.
What part of asparagus do you not eat?
You can eat the whole asparagus spear except for the purple-ish brown part on the bottom. If you hold the asparagus spear on each end firmly, you can gently bend the asparagus so that it bows out away from you. It will naturally split off the part that you should not eat.
Can I freeze homemade asparagus soup?
Yes, you can easily freeze this soup. Once you make it, let it cook, and then add to freezer safe containers. It will last in your freezer for about 6 months.
Ingredients:
asparagus
potatoes
green onions
salt
broth
If you like this recipe, you may also like: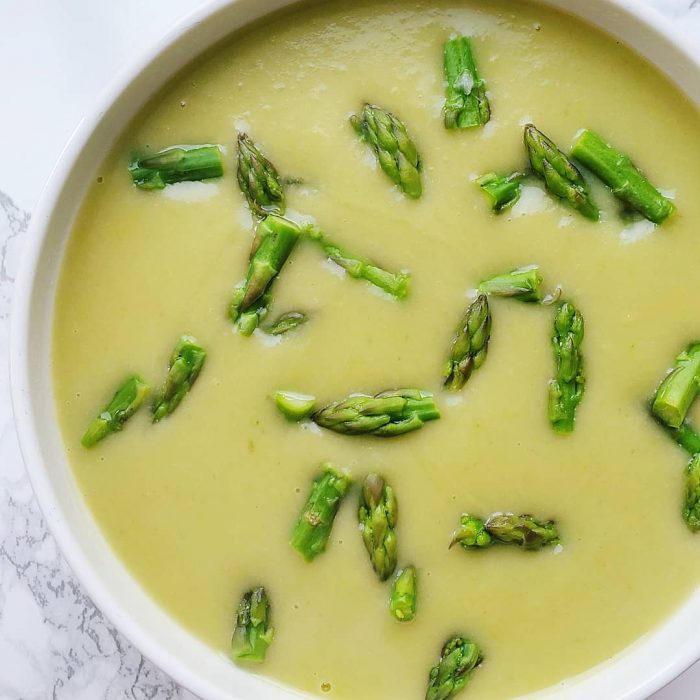 Vegan Asparagus Soup
A dairy free creamy asparagus soup
Ingredients
1

bunch

Asparagus

tips removed and set aside

2

Potatoes(medium/large)

peeled and diced

6

Green Onions

roughly chopped

2

tsp

Coconut Oil

3/4

tsp

Sea Salt

1.25

tsp

Salt-Free Poultry Seasoning

2

cups

Broth

1/2

can

Coconut Milk

1/2 – 1 cup of Water, added at the end to thin it out. Add little by little
Instructions
Cut tips off of asparagus and set aside. Remove the purple ends of the asparagus and toss. Cut the rest of the asparagus in 1 inch pieces.

Add coconut oil to pot and turn heat to medium low.

Add green onions to the pot. Stir, and then add asparagus

After 3 mins add potatoes, salt, poultry seasoning, and broth.

Switch heat to high and boil, and once it boils immediately turn heat to low to simmer. Cook covered until potatoes and asparagus are very soft.

While soup is cooking, add asparagus tips to small sauté pan and add a little water to cover. Turn the heat to high, let the water boil. Once the asparagus tips turn bright green(a few minutes), remove them from water and rinse under cold water to stop the cooking process. Set aside.

Once the soup is cooked, use an immersion blender to blend the contents in the soup pot. Add 1/2 cup at first to make it easier to blend. Then add additional water as needed to thin out the soup.

Add coconut mil to soup and give it a quick blend with the immersion blender until creamy. Taste soup and add salt if needed.

Add asparagus tips to soup as a topping*Optional* Add cooked sliced sausage on top.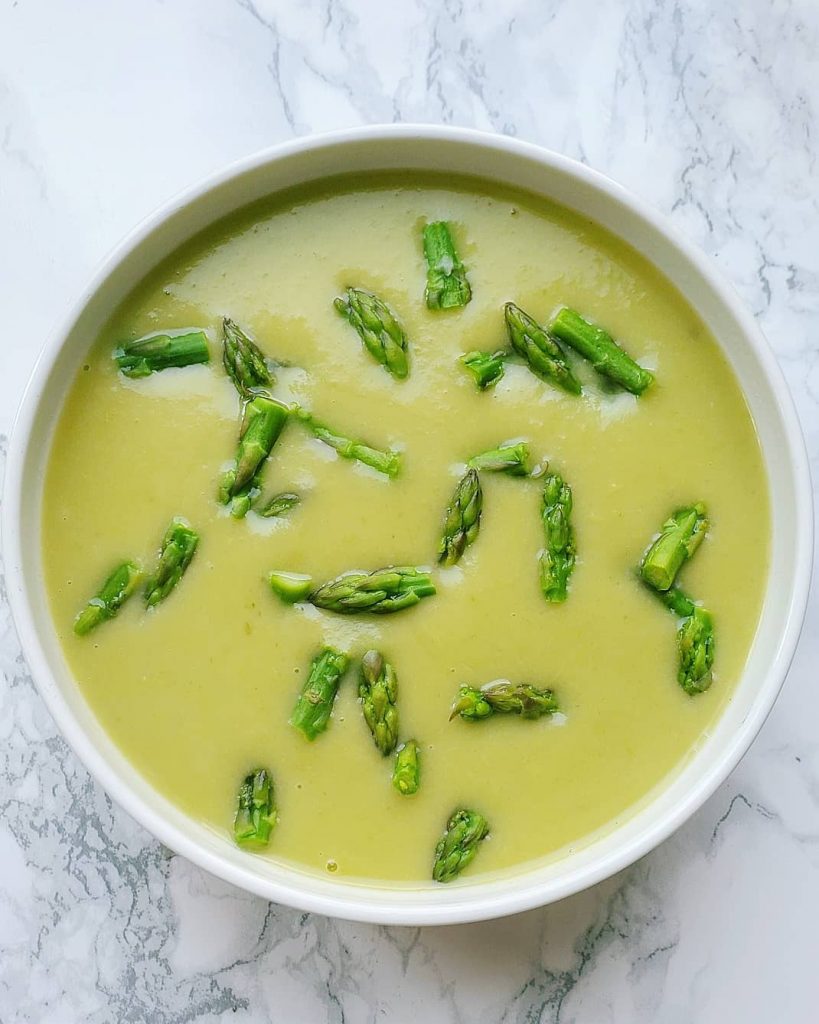 *Some of the links on this page are affiliate links for products that I truly love and recommend. By clicking on one of the links, I may receive a small amount of commission. This helps me continue to provide you with new spinachandbacon recipes. Thank you for all of your support!