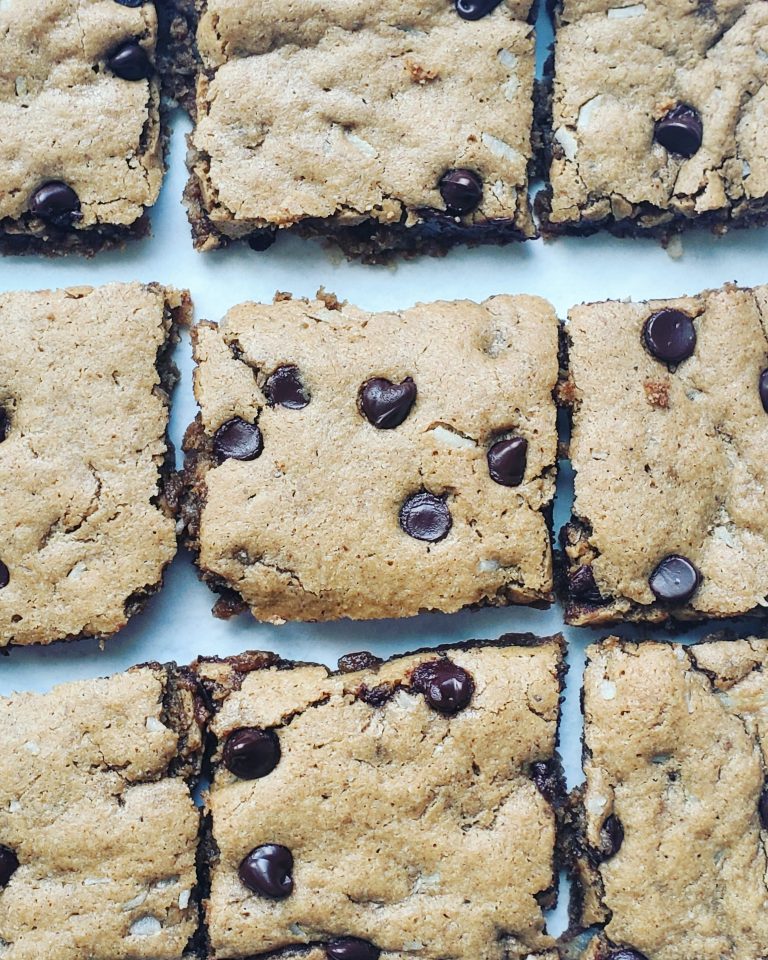 Almond Butter Blondies
| ALMOND BUTTER BLONDIES | I thought it would be a good idea to start putting some baked goods on this page because I basically have…none. So, in time I hope to fill this feed with a small amount of sweet #paleo treats. 🍪🥧🍰 My friend Sam has the biggest sweet tooth I know. She told me about how she has a separate shelf in her stomach for dessert. Meaning..no matter how full she is after dinner, she always has room for dessert. When she told me that I thought that was just the cutest thing and I quote it often. 😚 I don't often eat dessert because I don't have that shelf. If I stuff myself on dinner..I want to fall asleep..not eat dessert. How about you? Do you have a dessert shelf too??
Ingredients
3/4 cup blanched almond Flour
1/2 cup cassava flour
1/2 tsp baking soda
1/4 cup coconut oil
2/3 cups smooth almond butter
1/4 tsp salt
1 egg
1tbsp maple syrup
1/2 cup coconut sugar
2 tsp vanilla
1/4 cup unsweetened coconut flakes
1/4 cup paleo friendly chocolate chips
Directions:
Preheat oven to 350°F
Grease an 8×8 baking dish
Combine flours, baking soda, and salt in a small bowl.
In a separate bowl, combine egg, melted coconut oil, almond butter, vanilla, coconut sugar, and maple syrup
Mix the dry ingredients into the wet ingredients little by little until fully incorporated
Add chocolate chips and coconut flakes
Add mixture to the 8×8 baking dish. In order to move the batter around, don't be afraid to wet your hands slightly and mold batter to fit the inside of the greased pan. Add a few more chocolate chips to the top.
Bake for 20 minutes
*Some of the links on this page are affiliate links for products that I truly love and recommend. By clicking on one of the links, I may receive a small amount of commission. This helps me continue to provide you with new spinachandbacon recipes. Thank you for all of your support!