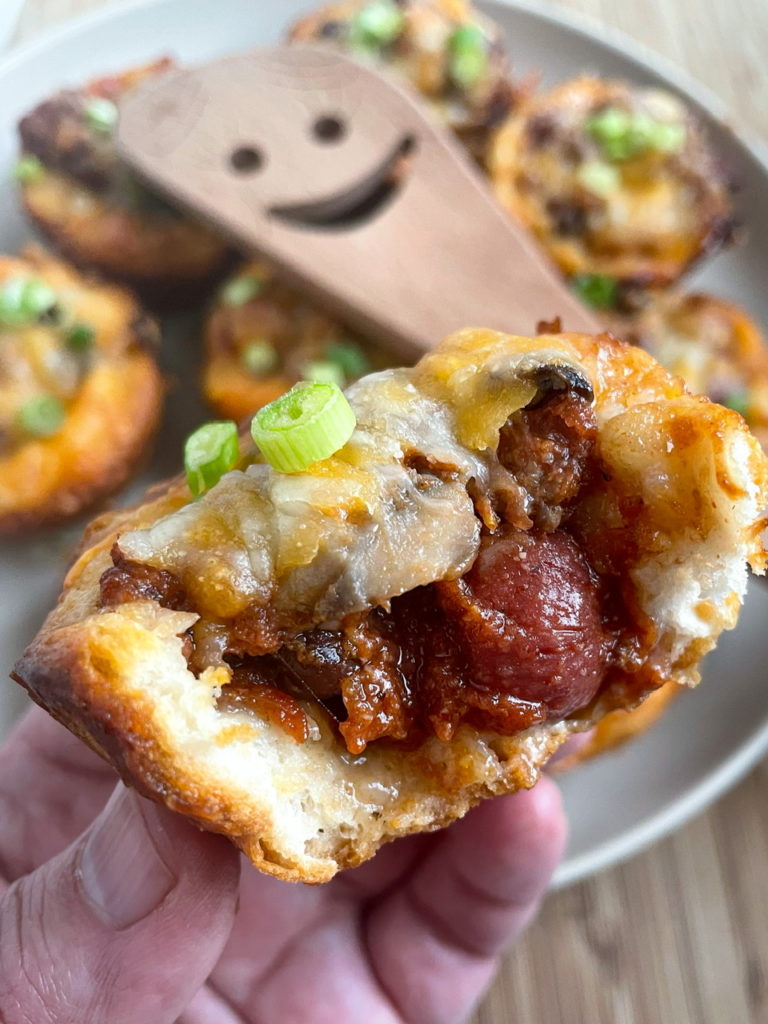 Cheesy Chili Dog Cups
It is cold outside and I have been making a lot of chili. Each week I make a new batch of chili, and sometimes at the end of the week I get a bit bored, so I think of a new way to use it. These Cheesy Chili Dog Cups were one of those ideas and I thought they would be perfect for Super Bowl Sunday too! You do not have to make a fresh batch of chili for this recipe. You can always buy some canned chili, by hormel or even Trader Joes. Any grocery store should have a version. I use my own chili recipe because that's what I had, but you should always choose what is best for you.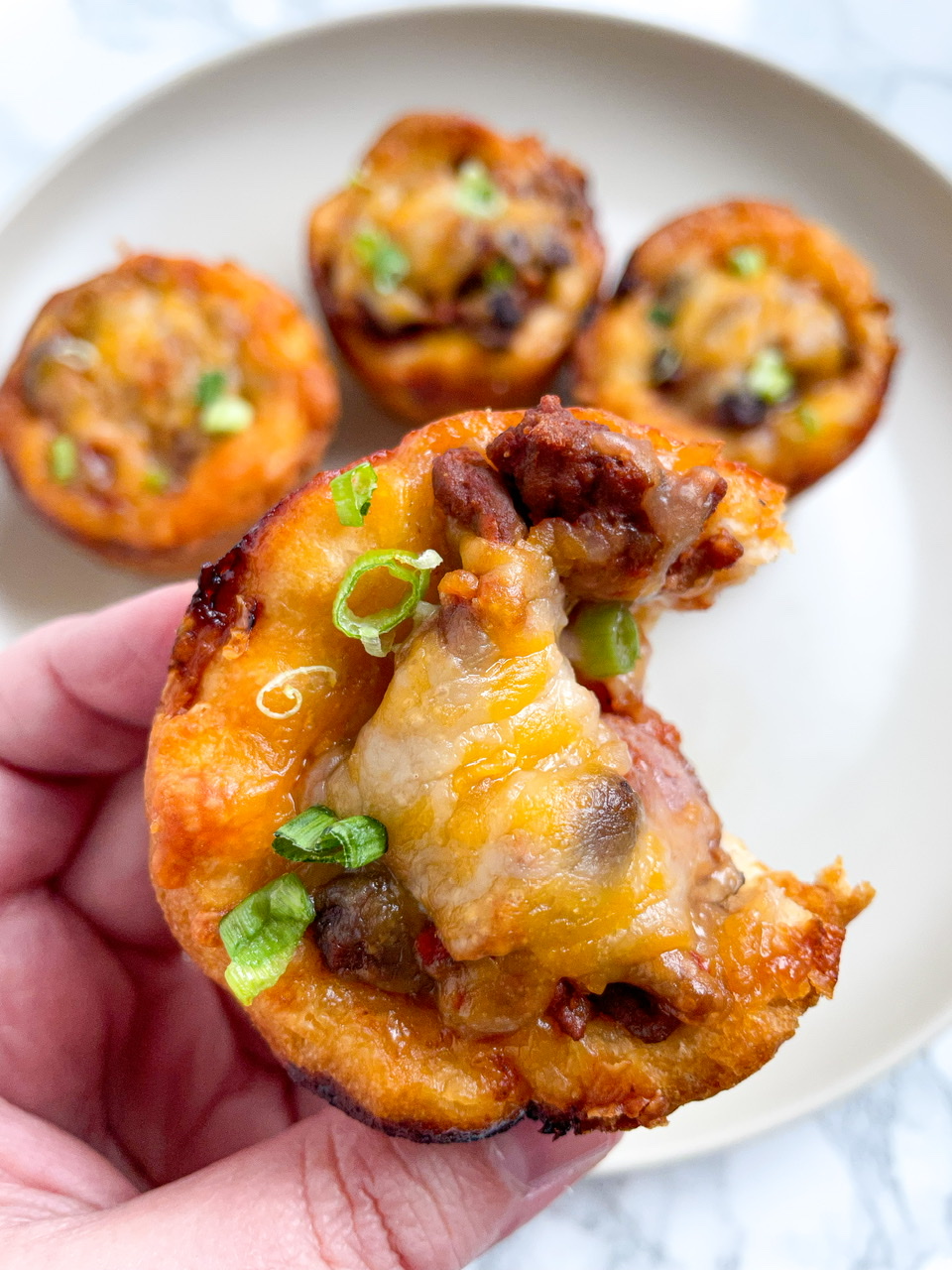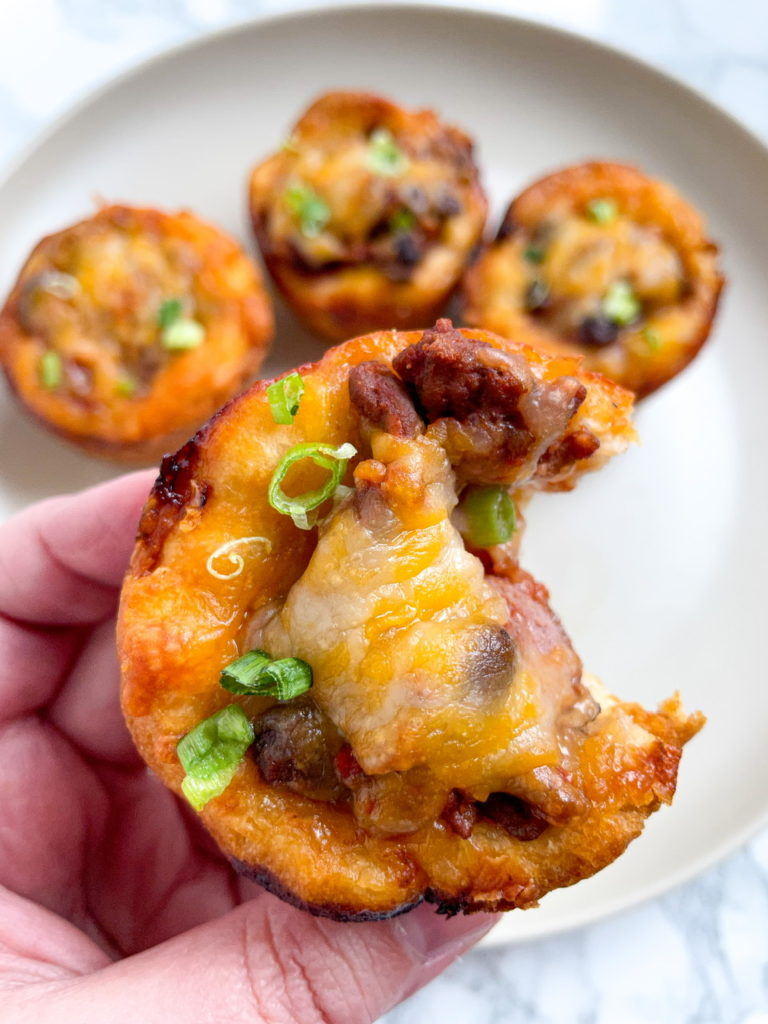 Here is my Chili Recipe. It is made with ground beef and beans, and I think it goes perfect with this recipe. I love stuffing things into biscuits. My Pork Belly Bao and Char Sui Biscuit dough recipes are popular, as well as my Breakfast Sandwich stuffed biscuits and Cheesy Meatballs Stuffed biscuits. Honestly, I recommend them all. One thing that is unique to this Cheesy Chili Dog Cups recipe is that I half the biscuits. So instead of eating a full biscuit in every piece, you are only eating half a biscuit. I feel like in my heart, it feels a little bit better that way. These are meant to be a snack, so most people don't want to eat 4 biscuits as a snack. 2 seems a little bit more reasonable. 🙂
What is a Chili Dog?
A Chili dog is a Hot dog topped with Chili. It is normally also topped with cheese unless you are lactose intolerant. This style of hotdog is popular all across the United States with each region putting a little twist on it.
Ingredients:
Chili, Biscuit Dough, Hotdogs, Cheese, Green Onions! So Simple!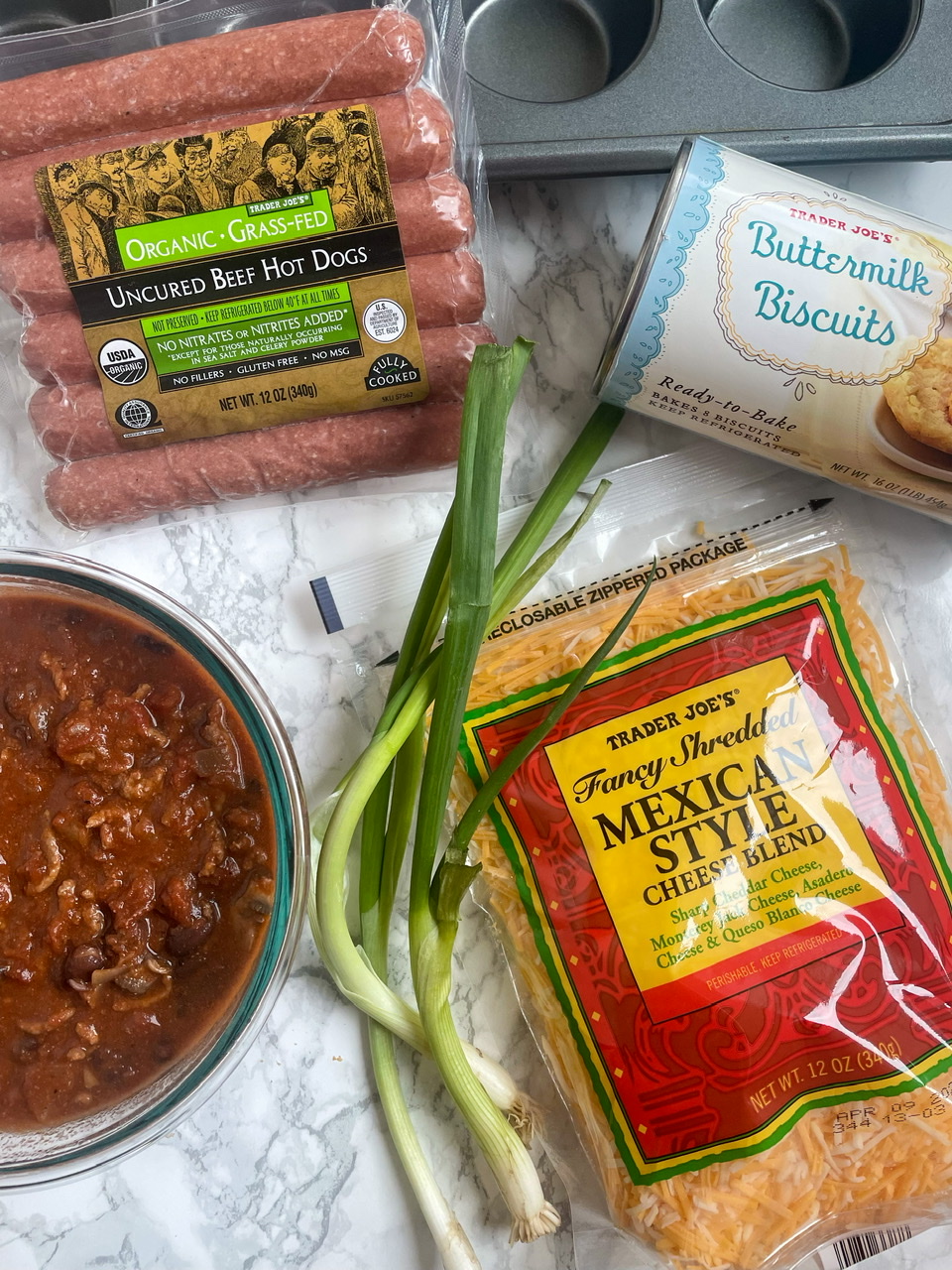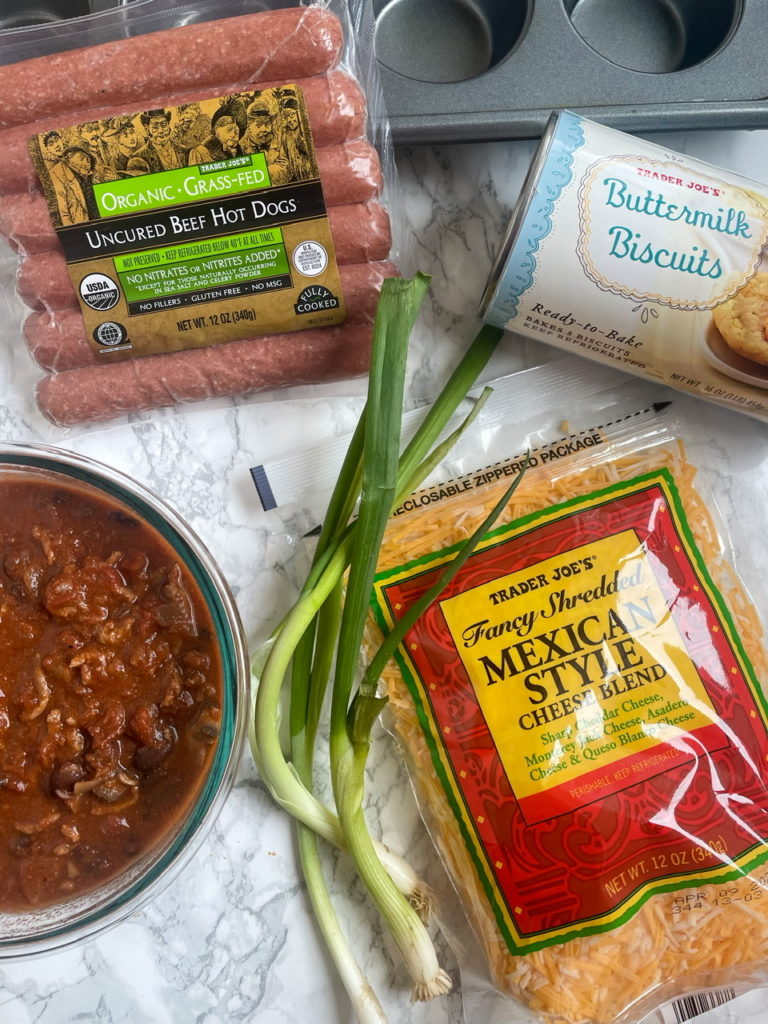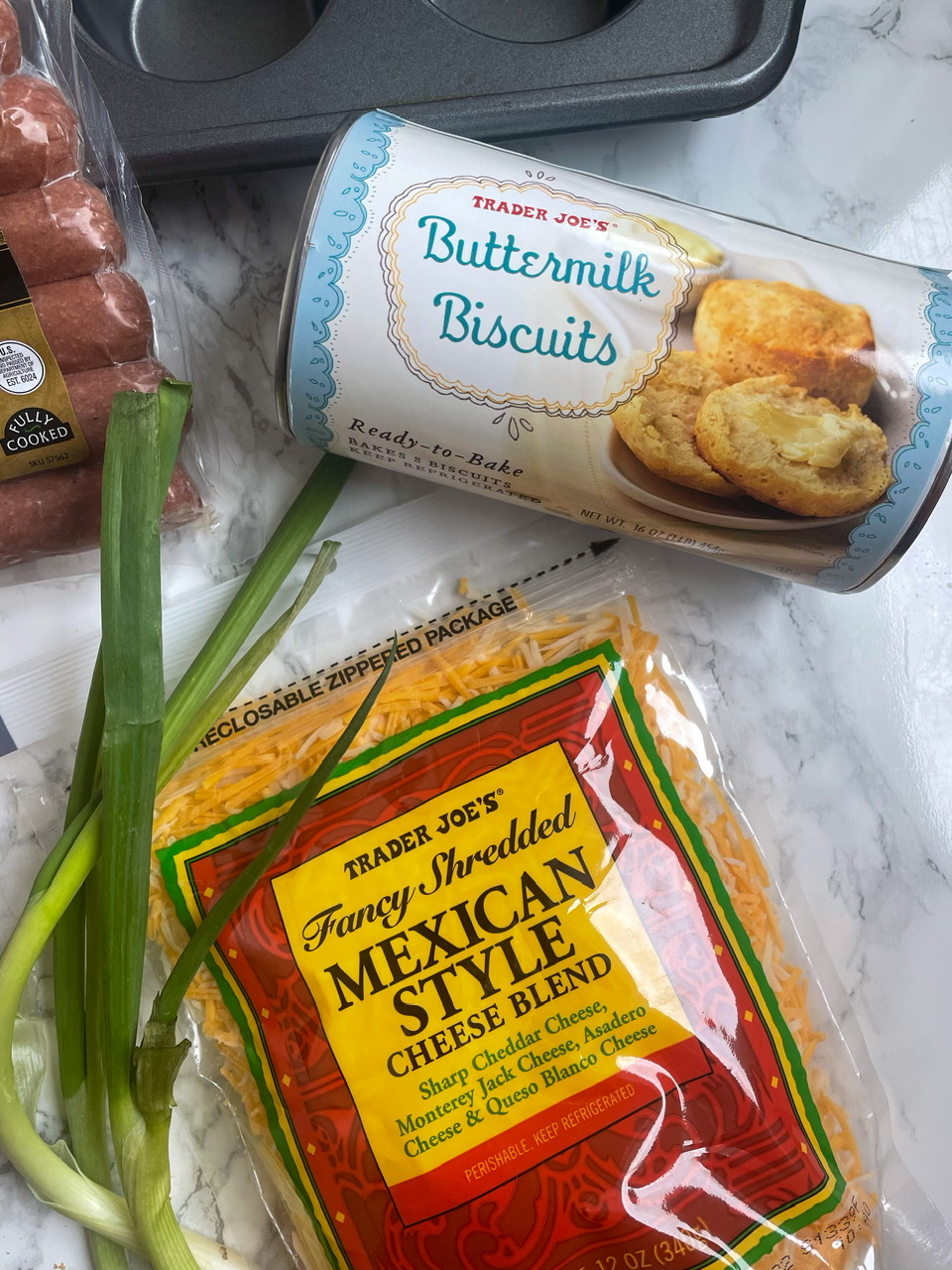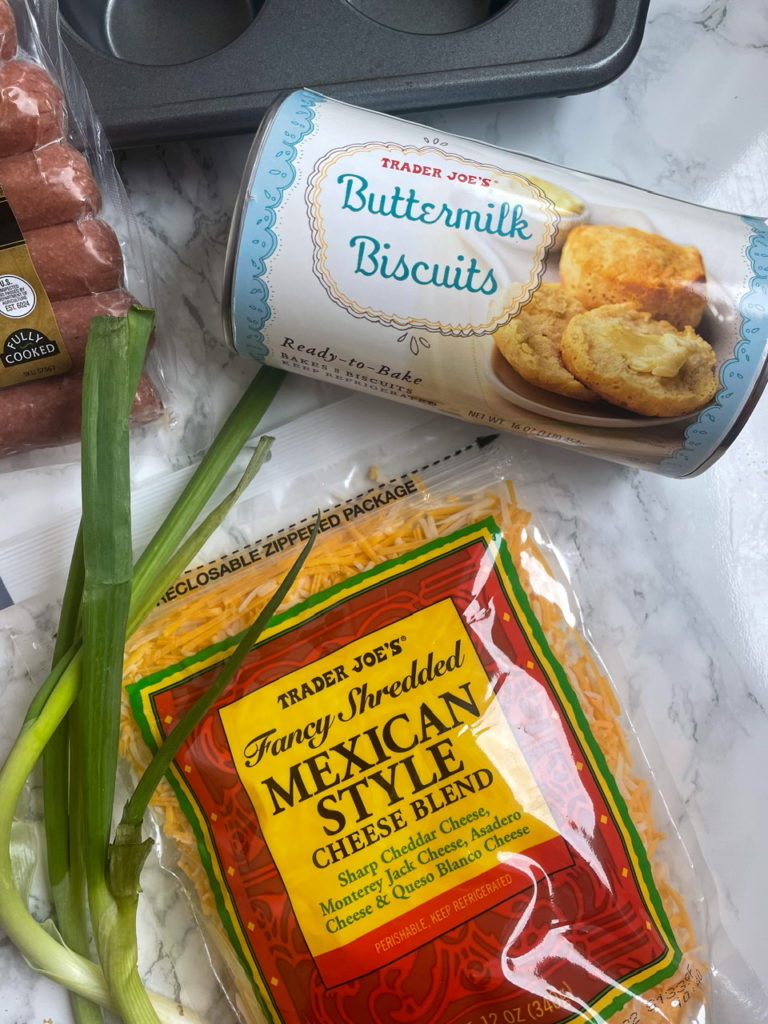 Cheesy Chili Dog Cups
Ingredients
1

can

Buttemilk Biscuits

8 count

6

oz

Mexican Style Shredded Cheese

about half a bag of shredded cheese

3

Green Onions

diced. These are optional but I love the way they look.

6

Hotdogs

sliced

2.5

cups

Leftover Chili

storebought canned chili can absolutely be used
Instructions
Seperate each biscuit in half. You can start by sliding a knife into it and then gently pulling it apart. I demonstrate this in my video on instagram and tiktok @spinachandbacon

Spray a 16 ct cupcake tin, or two 8ct cupcake tins with cooking spray

Add one half of a biscuit into each space on the cupcake tin.

Then, fill each biscuit with some sliced hot dog, top with chili and cheese.

Bake for 15-16 minutes. Remove from the oven and let them cool in the pan before you take them out. Top with some green onions and serve alone or with sour cream.