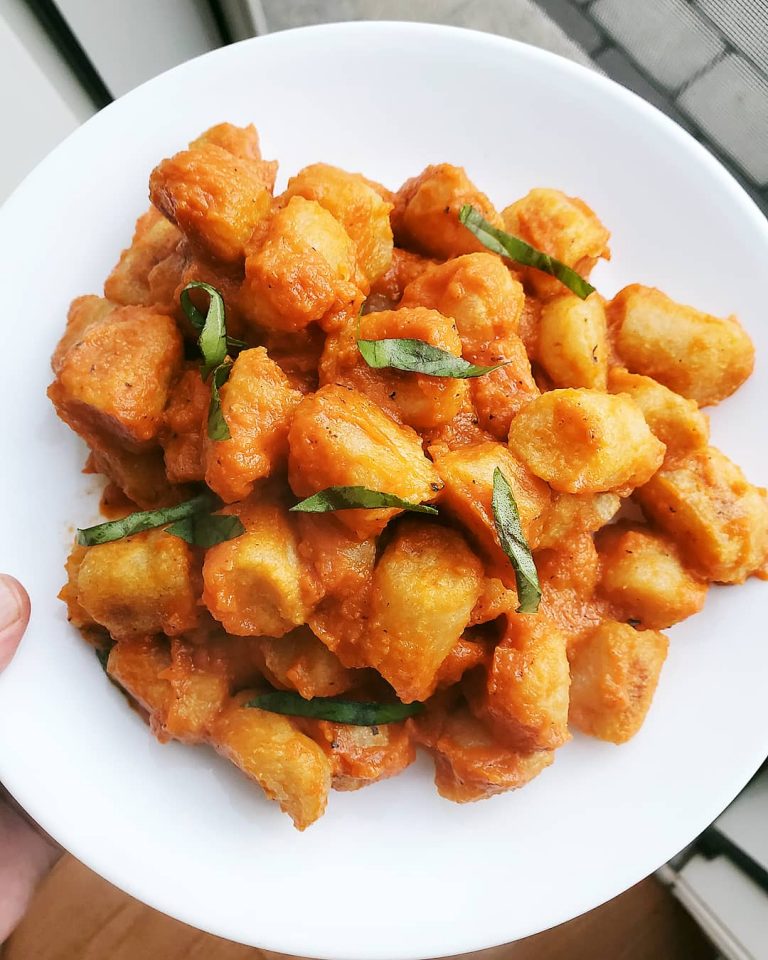 Harvest Pasta Sauce
| HARVEST PASTA SAUCE | with Cauliflower Gnocchi! This comforting pasta sauce has been all over my food the past few weeks and I haven't grown tired of it yet. I've even added it to some eggs..basically like a "basic b*tch shakshuka" haha. What can I say? I like foooood a lot! I used Trader Joe's Cauliflower Gnocchi, but I do have a homemade cauliflower Gnocchi recipe on my blog for those who prefer homemade or don't live near a Trader Joe's.
Ingredients:
3/4 Cup chopped onion
2 cloves of garlic, finely diced
1 tbsp olive oil
2 28oz cans of Whole Peeled Tomatoes
1 15 oz can of pumpkin puree
1 15 oz can sliced carrots
1 tsp sea salt
1/4 tsp black pepper
1/2 cup water
2 pinches of nutmeg
2 pinches dried rosemary
1 tbsp Grass Fed Butter (or 4 tbsp cream or coconut cream)
Directions:
1. Add onions, garlic, and oil. Cook till translucent (dont let them get too brown)
2. Add tomatoes. Bring to boil. Turn heat to low and let it simmer for 15 minutes.
3. Add all other ingredients except for butter.
4. Simmer for additional 15- 20 mins.
5. Use immersion blender, food processor, or vitamix to create a sauce like consistency. (Add a bit of water or sauce to thin it out if it's too thick for your preference)
6. Add butter(or cream) and stir with spoon.
7. Taste and adjust seasoning if needed.