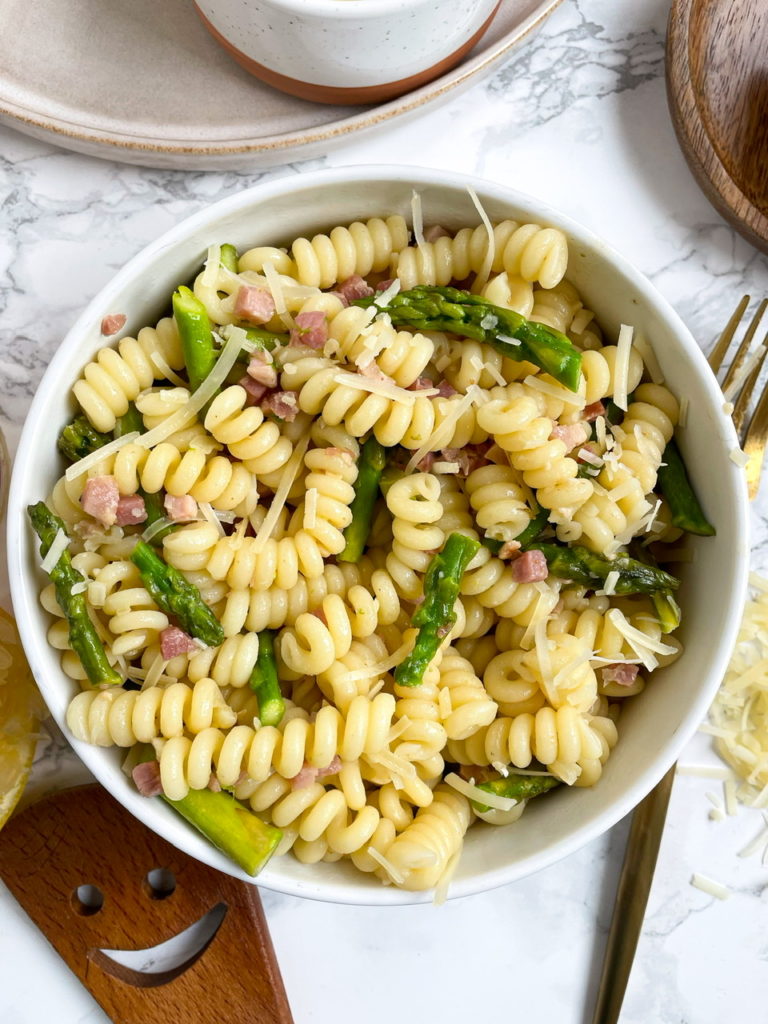 Lemon Asparagus Pasta
This Lemon Asparagus Pasta is an ultra comforting pasta dish, with tons of vegetables, crispy pancetta, garlic, wine, and a flavorful light lemony sauce.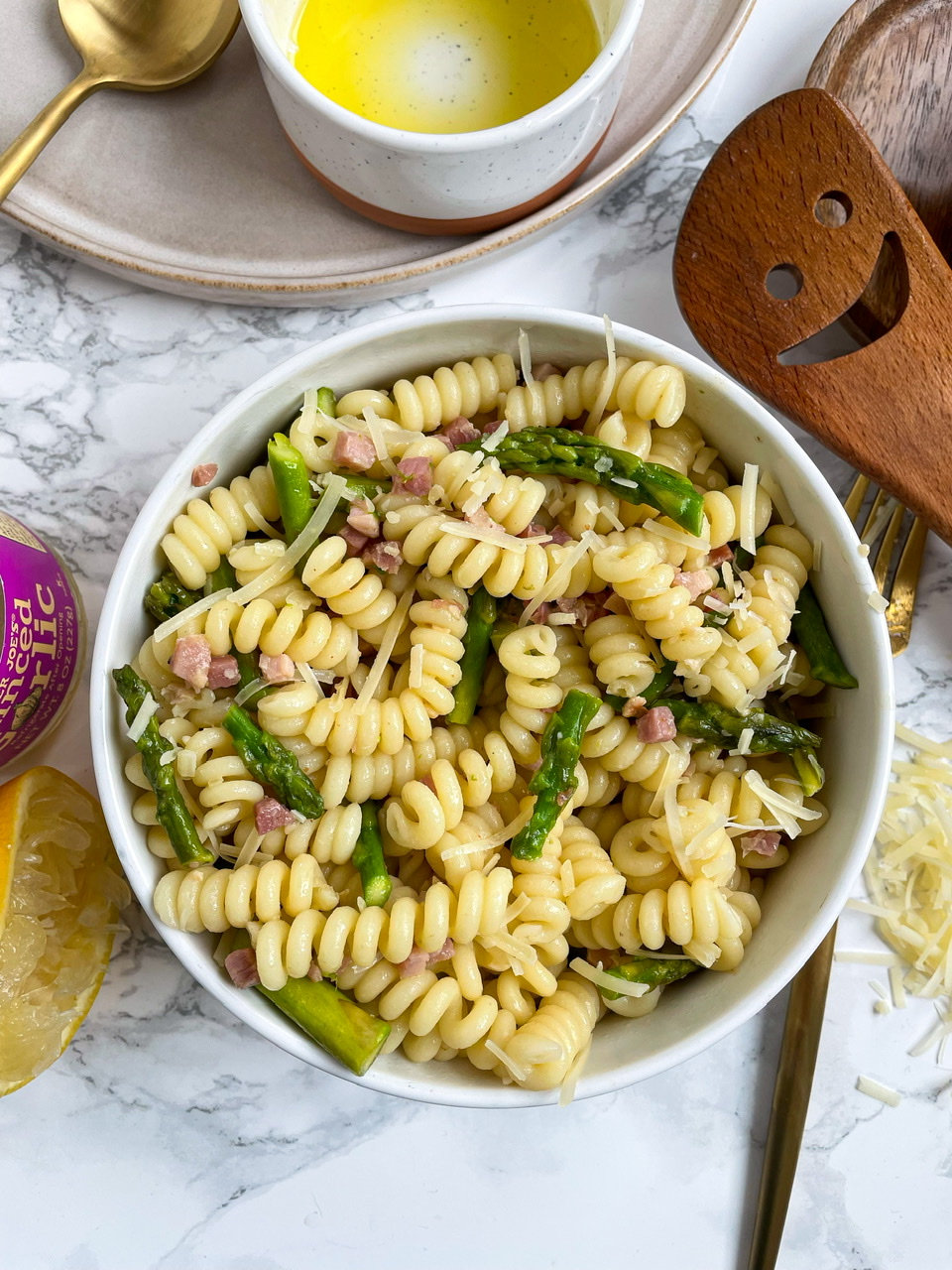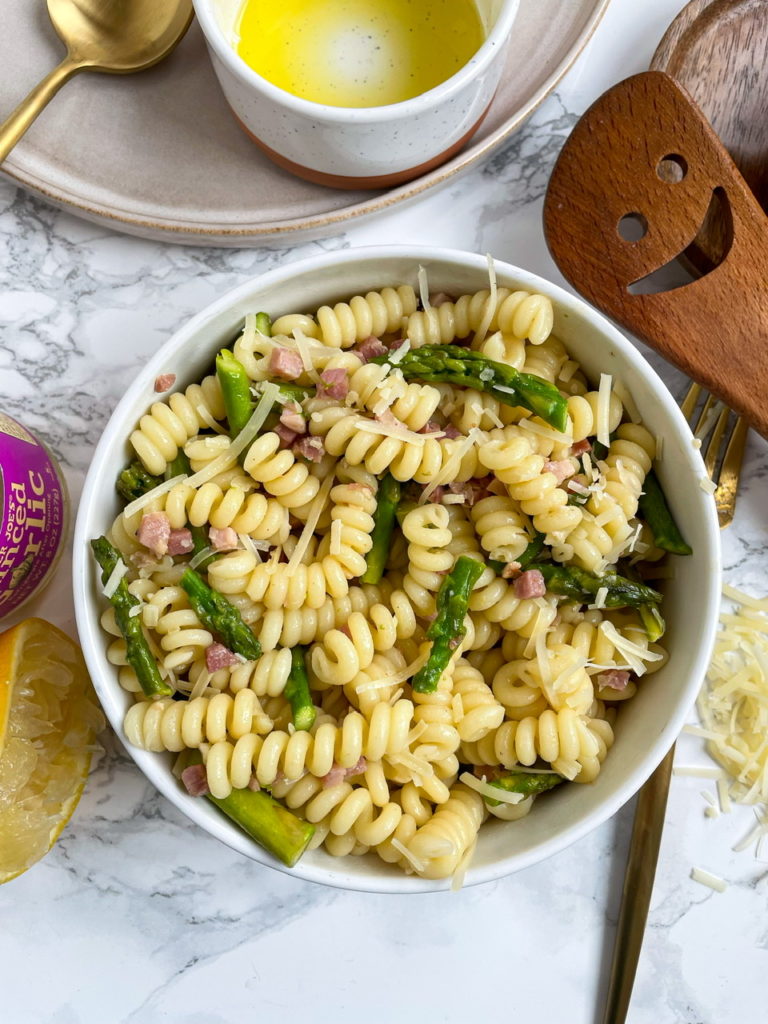 Lemon Asparagus Pasta No Cream
An easy weeknight pasta dish with the delicious seasonal flavors of lemon and asparagus. I even added some crispy pancetta to give this a little saltiness, but you can keep it vegetarian and just add extra parmesan cheese.
I never really was a big pasta eater, my carb of choice has always been potatoes, but lately I have been leaning into pasta for its versatility and fun shapes. My daughter loves picking up each pasta shape and inspecting it. I am sure she is amazed that there are so many different shapes. She also seemed to be into the pancetta and she absolutely loves asparagus.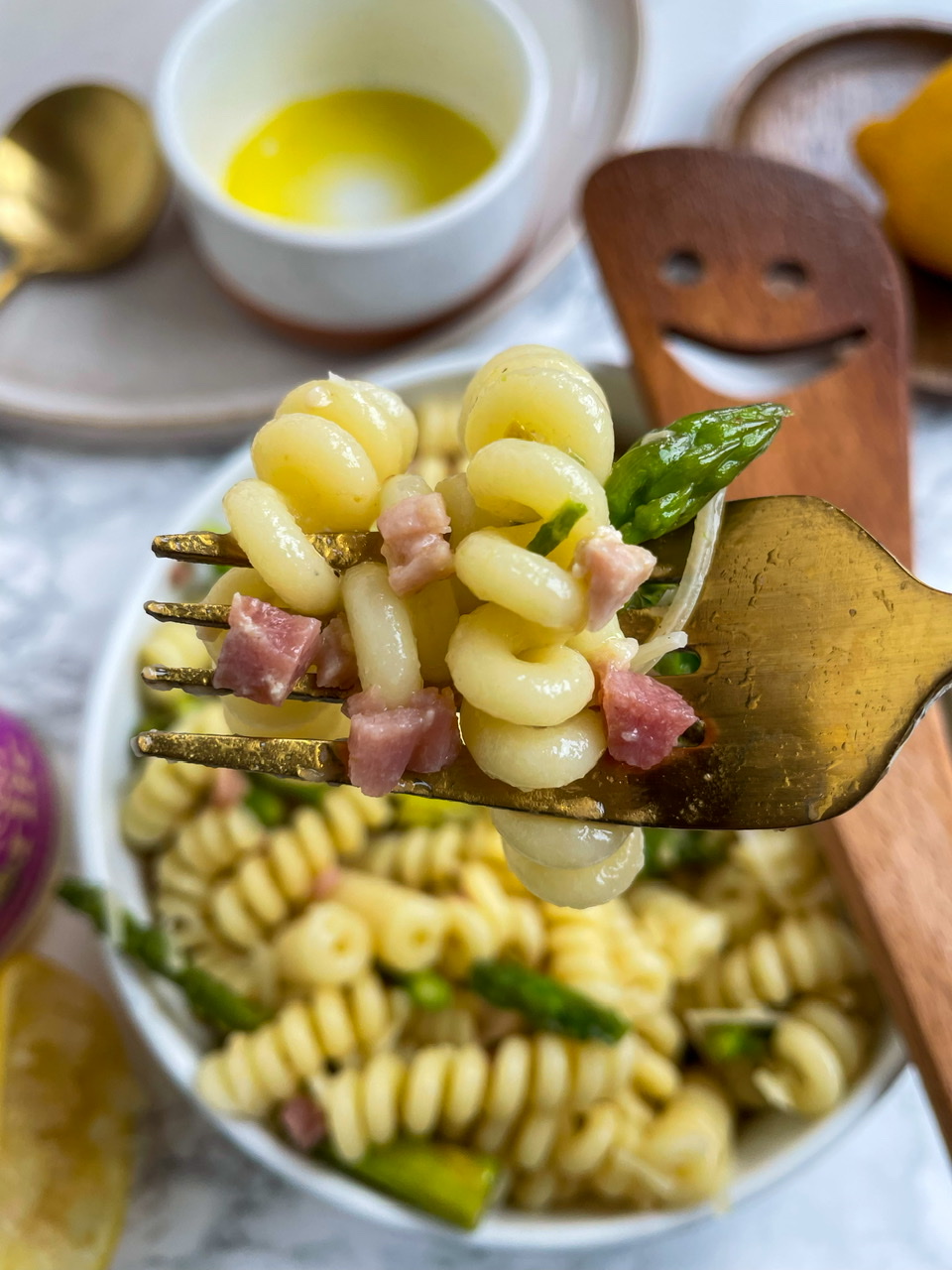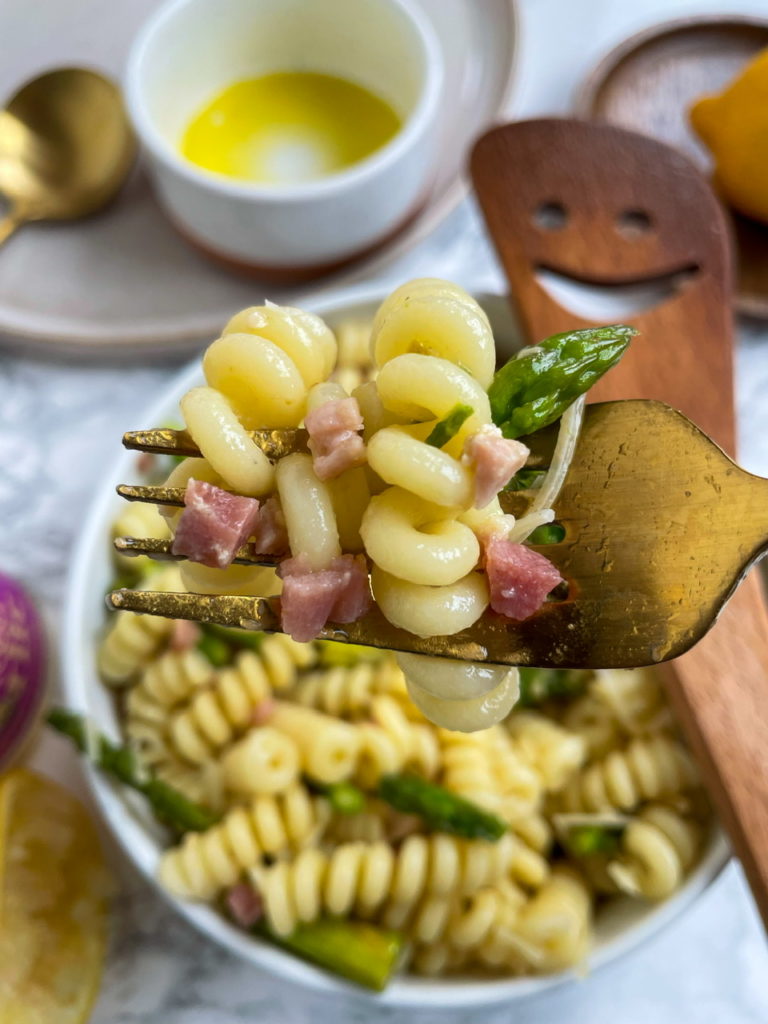 What does Pancetta taste like?
The taste of pancetta is very similar to bacon, but without the smokiness. Pancetta is very "porky" and delicious and is great to use in any recipe where bacon can be used.
What is an alternative to Pancetta?
If you don't have pancetta, you can omit it completely and use parmesan cheese. Or, you can also use some bacon bits and use those, as well. Keep in mind that bacon has a lot more fat than pancetta. If you use bacon, you will need to drain the oil a bit.
How do you make Lemon Asparagus Pasta:
INGREDIENTS
8 oz Pasta
4 oz Pancetta
1 lb Asparagus
1 Lemon Large
1 tsp Minced Garlic
1.5 tbsp Olive Oil
1/3 cup White Wine
1/4 tsp Kosher Salt
1/2 cup Shredded Parmesan optional
INSTRUCTIONS
Boil Pasta.
While pasta is boiling, cut the purple ends off of the asparagus and discard. Then, cut the rest of the aspargus into 1-2″ pieces.
Heat 1 tbsp Olive Oil in a saute pan and add the pancetta. Once it starts to get crispy add the asparagus pieces and cook until tender and pieces are bright green. Remove from pan and set aside.
Add 1/2 tbsp Olive Oil to the pan and cook the garlic and 1/4 tsp of salt at medium low heat. Once it starts to brown, add in the wine. Cook at medium high heat for 3 minutes and then turn the heat to low.
Slice a lemon and squeeze the juice into a small bowl. Remove the seeds. Pour the juice into the pan and stir. Cook for an additional minute and then turn off the heat.
Add the boiled and drained pasta to the pan and stir. Add the pancetta and asparagus and stir. Top with Parmesan cheese (optional)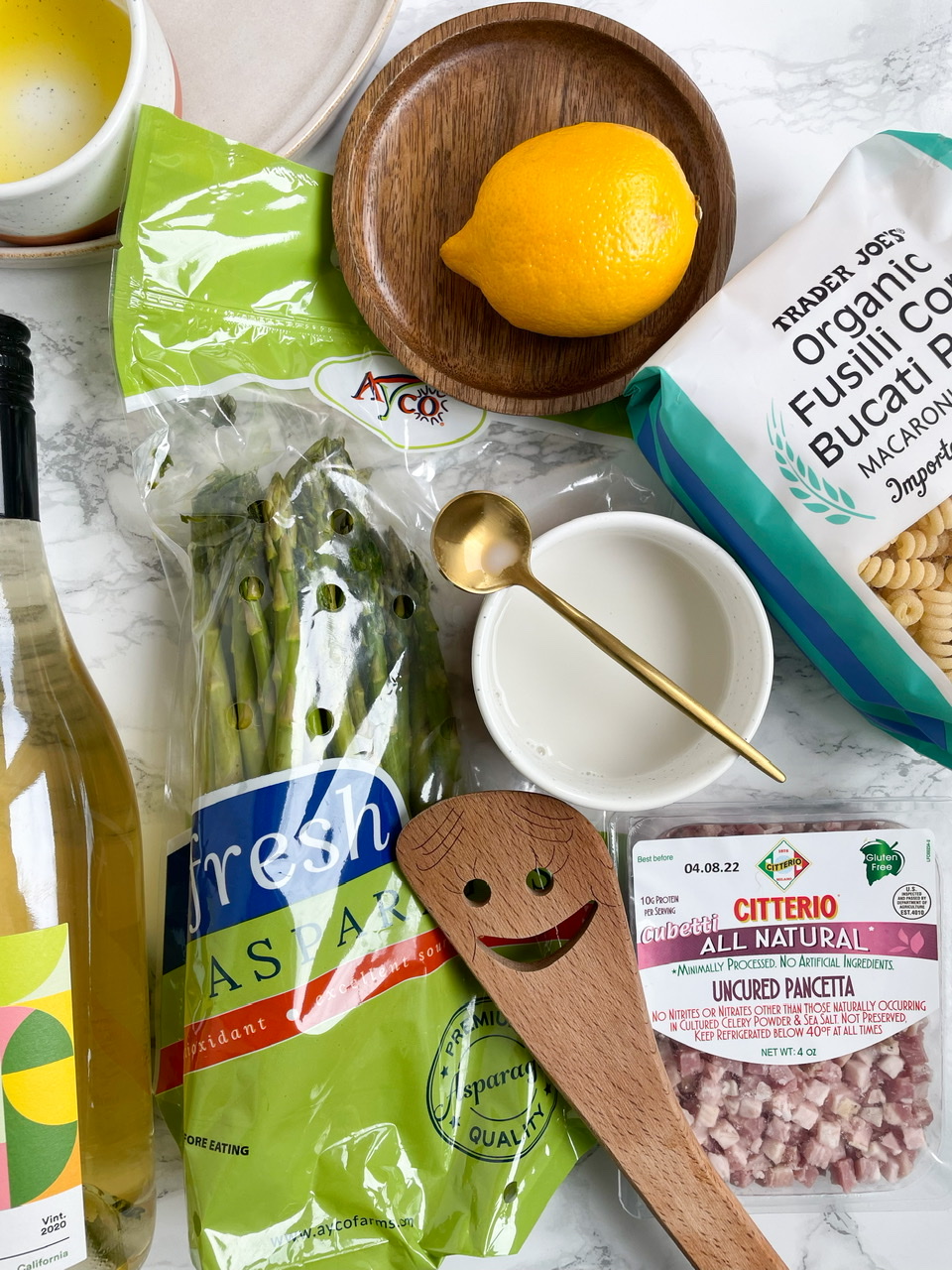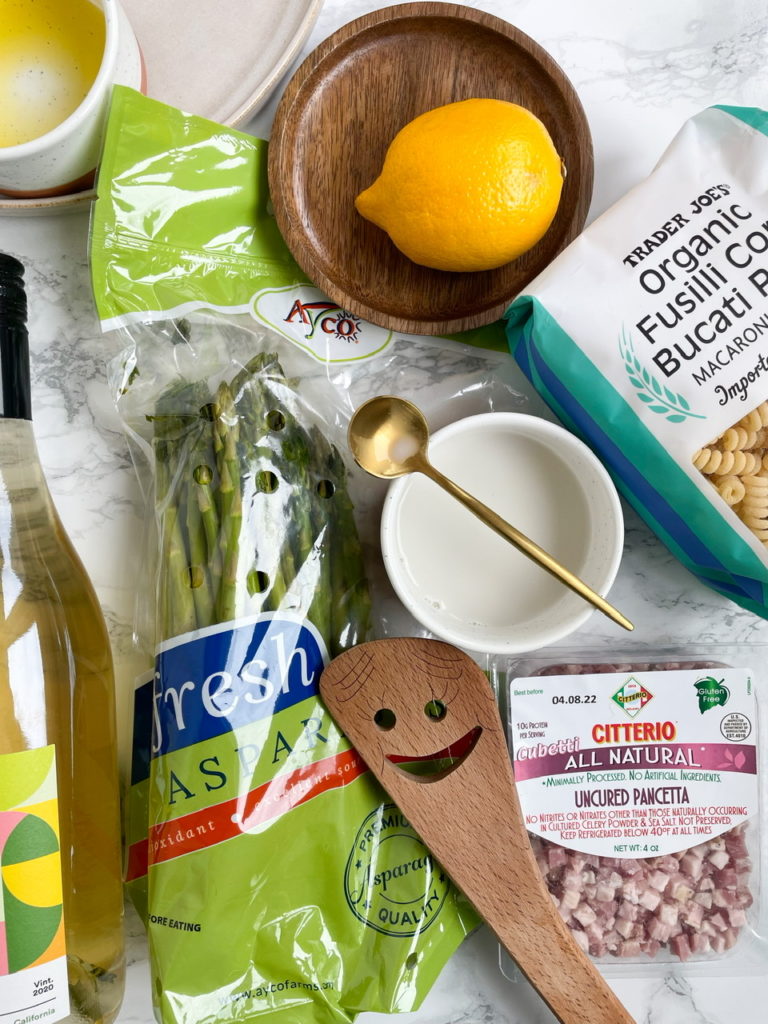 If you like this recipe, you may also like:
Roasted Cauliflower and Lemon Pasta
Healthier Homemade Hamburger Helper
Lemon Asparagus Pasta
An easy to make pasta dish full of lemon, asparagus, and pancetta!
Ingredients
8

oz

Pasta

4

oz

Pancetta

1

lb

Asparagus

1

Lemon

Large

1

tsp

Minced Garlic

1.5

tbsp

Olive Oil

1/3

cup

White Wine

1/4

tsp

Kosher Salt

1/2

cup

Shredded Parmesan

optional
Instructions
While pasta is boiling, cut the purple ends off of the asparagus and discard. Then, cut the rest of the aspargus into 1-2" pieces.

Heat 1 tbsp Olive Oil in a saute pan and add the pancetta. Once it starts to get crispy add the asparagus pieces and cook until tender and pieces are bright green. Remove from pan and set aside.

Add 1/2 tbsp Olive Oil to the pan and cook the garlic and 1/4 tsp of salt at medium low heat. Once it starts to brown, add in the wine. Cook at medium high heat for 3 minutes and then turn the heat to low.

Slice a lemon and squeeze the juice into a small bowl. Remove the seeds. Pour the juice into the pan and stir. Cook for an additional minute and then turn off the heat.

Add the boiled and drained pasta to the pan and stir. Add the pancetta and asparagus and stir. Top with Parmesan cheese (optional)